OT: Ndamukong Suh for Heisman
Opening disclaimer: I already thought Rittenberg was... non-thorough, this is but the latest confirmation. If there was a chance Brandon Graham was in this discussion, I would be doing such an analysis for him, too. Graph credit to EDSBS.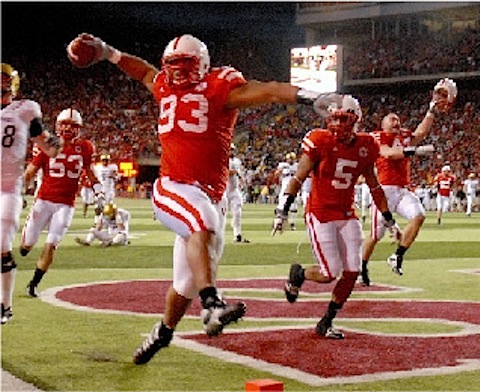 I've been beating this drum for a little while, but a recent post by ESPN's Big Ten blogger Adam Rittenberg really steamed me, so I can't help but post about it. Forgive me. Here's the offending passage:
Ingram and Spiller sparkled in the spotlight Saturday, and both men have had huge performances all season long. Nebraska defensive tackle Ndamukong Suh also stepped up in the biggest game of his season, and it was great to see him get an invite to New York City. But in the end, my decision came down to the player who consistently produced week in and week out against top competition.
We'll ignore the fact that Ingram wasn't even always the best back on his team (he was pulled from a couple contests for lack of production, and Trent Richardson had to step in), and look at the accusation of Suh.
So, he didn't step up "against top competition," eh? That's thinly veiled code for "A team that loses 4 games should not produce the Heisman winner." While that may occasionally be true, it's not like any of Nebraska's 4 losses were really Suh's fault. Here they are:
Virginia Tech 16, Nebraska 15
In their home stadium, the Hokies were held to 278 total yards, and would have lost but for a miracle 81-yard pass late in the game that Suh cannot be held accountable for. Only Alabama and North Carolina held the Hokies to fewer offensive yards. Without that pass, Virginia Tech is held to 197 yards, and Nebraska starts the season 5-0.
In that game, Suh had 8 total tackles, including 1 sack. He also broke up 4 passes (this is a defensive tackle, people!).
Texas Tech 31, Nebraska 10
The Red Raiders were the only team to score more than 20 points on the Huskers. In scoring 31, however, they were held to just 259 total offensive yards, as Nebraska was the only team to hold them below 350 yards offense, and one of a select few to hold them below 400 (something Texas couldn't do). In that game, Nebraska fumbled inside the Texas Tech red zone, and the Red Raiders returned it for a score. That's a 10-14 point swing on a single play, and with the momentum it created (Texas Tech led 21-0 before Nebraska scored a single point), it could have meant the difference in the game. The Huskers also missed a field goal in this game, in addition to their 2 turnovers.
In that game, Suh had 4 total tackles, including 2 for loss. Every stop he made was solo. He also added 4 QB hurries.
Iowa State 9, Nebraska 7
The Cyclones notched only 239 yards of total offense, but won the game due to 8 turnovers for the Nebraska offense. The Cyclones' scoring drives covered 4 and 83 total yards. Without a 4-yard scoring drive for the opponent, Nebraska wins this game. If Nebraska doesn't fumble the ball on the opponent's 38-, GOAL-, GOAL-, and 5-yard lines (yes, they fumbled into the endzone twice, and another time in the redzone), or even throw picks on three possessions, including one in the red zone, the Huskers should have run away with this game. It is CLEARLY Suh's fault that Nebraska lost.
In that game, Suh had 8 total tackles, including a solo sack for a 6-yard loss. He also hurried the quarterback 3 times, and blocked 2 FUCKING KICKS IN ONE GAME.
Texas 13, Nebraska 12
This game was like, 3 days ago, so it should be fresh in all of our minds. Texas gained 202 yards, by far their season-low offensive output. But for an unfortunate kick out of bounds and a horse collar penalty on the final Texas drive, Nebraska would have knocked the Longhorns out of the National Championship discussion. This is clearly not what Rittenberg meant by performing against top competition.
In that game, Suh had 12 total tackles (10 of them solo). He made 4 solo tackles for a loss and assisted on 2 others, for a total of 22 yards. He made 4 solo sacks and assisted on another, for a loss of 21 yards.
The Whole Package
For the year, Suh made 50 solo tackles and 82 total tackles, leading the team. He is a defensive tackle. He led the team in total tackles. He plays on the interior of the defensive line. I will keep repeating this until it gets in Adam Rittenberg's unintelligent little brain. He made 19.5 tackles for loss (tied for 14th in the nation), and 12 total sacks (9th in the nation). He made an interception. He defended 10 passes (from the defensive tackle spot, people!), forced a fumble, hurried the quarterback 21 times(!), and blocked 3 kicks. None of Nebraska's losses, except maaaybe the Texas Tech game, can be attributed to some deficiency by the Huskers' defense that Suh could have prevented.
He obviously did this against inferior competition, as well. Let's look at Nebraska's opponents this year:
Florida International: #22 nationally in total offense (held to 3 points)
Arkansas State: #95 nationally in total offense
Virginia Tech: #55 nationally in total offense
Louisiana-Lafayette: #74 nationally in total offense
Missouri: #32 nationally in total offense (held to 12 points)
Texas Tech: #7 nationally in total offense
Iowa State: #75 nationally in total offense
Baylor: #86 nationally in total offense
Oklahoma: #28 nationally in total offense (held to 3 points)
Kansas: #26 nationally in total offense (held to 17 points)
Kansas State: #86 nationally in total offense
Colorado: #105 nationally in total offense
Texas: #20 nationally in total offense (held to 13 points)
Nebraska's defense was #11 nationally against the run, #3 nationally in pass efficiency, #9 in total defense, and #2 in scoring defense. Suh was its unquestioned star. If you wonder about his role in the #3 pass defense, remember his 10 PBUs, 12 sacks, and 21 QB hurries.
What does a guy have to do to earn the Heisman defensively, Rittenberg? And why do you make an argument ("production against top competition") that is the EXACT OPPOSITE of what the truth is?
last, and most importantly, his name is HOUSE OF MOTHERFUCKING SPEARS.