Offense - Football Position Group Analysis Next 2 Years
Thought I'd take a look at UM Football position by position (as a group not player by player) for 2015 and 2016 so we can have a little bit of an understanding of what is coming down the pike.   Of course going out even 1 year is fraught with unknowns (who will bust, who will come out of nowhere) so looking out 2 years will provide you with many more LOL moments when we look back at this in December 2016.   But we have a long offseason ahead with a lot of open spots on our roster and this helps one begin to roadmap where we really need players in the 2015 class.
My caveats are I don't give a damn what a guy did in HS or how many stars he has, I need to see it on a college football field.  I've been burned too much - and yes I will root for every damn 5 star to show up on campus and drink Maize Kool Aid when it happens but I've seen enough Henrys (throwaway 3 star added to the class in the closing days) over Pipkins to take HS ranks with anything but lots of grains of salt.  So my "assessment" will be more pensive than yours will be, because there are certain positions we are relying on guys that have not done much at all.   I realize most today will just say "Harbaugh" as an answer - and I hope it is simple as that!
I'll do a 1-5 grade for 2015, 2016 (1 being best, 5 being Danger Will Robinson) and then a variability (1 being most certain and best, 5 being least certain).
This post will focus on offense
| | | | | |
| --- | --- | --- | --- | --- |
| Position | 2015 | Variability | 2016 | Variability |
| QB | 5* | 5* | 3 | 3 |
2015 - I starred 2015 to allow for a senior grad transfer which would raise my grade from 5 to 2 overnight.  Right now I am scared and not afraid to say it.  Wilton Speight is an unknown product assessed by Borges, and Morris is a semi known product... and what is known is not good.  Yes limited action and Devin Gardner looked a mess in spot duties before taking over mid way in 2012.   But it is the most important position in this sport and we have nothing established coming back.  Yes I know Harbaugh but I'm still scared - you don't need Harbaugh to be an accurate QB and I see a QB who has a cannon but lacks accuracy.  I don't know what Wilton is and won't until I see him in a game.  The prospect of a true freshman worries me too (yes Henne but massive exception).  Most young QBs ripping up CFB are RS FR not true FR.   Please come here Hogan or Golson.  While a longshot this late in the process a 2nd QB may be added to the 15 class.
2016 - 2015 grad transfer (if any) will have come and gone and SR Morris, RS SO Wilton and (presumed) RS FR Malzone will be in competition after a year of Harbaugh whisperings.  I feel better at that stage that we will at least have someone average.   DeWeaver may or may not be part of the 2016 class, but I would bet the 2016 class has 2 QBs.   Jim Harbaugh signed 7 QBs in 4 years at Stanford.  Expect 2 most years at UM and I love that.  You want 2 lottery tickets not 1 at this critical position.  The 2016 signing(s) will be more of a 2017-2020 story but again 3 guys competing in 2016, we should be able to shake out 1.
| | | | | |
| --- | --- | --- | --- | --- |
| Position | 2015 | Variability | 2016 | Variability |
| RB | 3 | 3 | 2 | 2 |
2015 - I thought Drake Johnson was a product of his opposition when he ripped thru Indiana, and then did little vs NW the next week.  But good performances vs an average Maryland team, and an OSU D that is not elite but full of elite althletes made me happy and disgusted at our offensive staff.  Worst case Drake Johnson looks like the 2nd best RB on the 2014 squad and if not for a myriad of injuries would have never seen playing time in conference.  Pathetic.  But I digress.  Unfortunately Drake is coming off another ACL and will be an unknown quantity by fall 2015 healthwise.  If he comes back there is a 3 headed group of Isaac, Green, and Johnson.  That should be good even if we dont know what Isaac is.  As a FR he was 4th on the depth chart at USC, and was beaten out by another FR - and most of his yards came against bad teams in junk time.   Green lacks the ability to break tackles IMO, and his vision lacks at times but seemed to improve before he got hurt.  He has nice burst for his size but when I contrast him to a Henry of Bama who he was rated ahead of, I mumble.   But he should be an adequate back as a floor.  So we should have 3 backs as a floor with hopes for Isaac upside and Green putting it all together with Drake healing - still a lot of variables.  I've seen enough from D. Smith to see him as a guy with a lot of heart but tough to bring down but little in speed and escapability.  Behind Wisconsin's OL he probably runs for 800 yards.  I have him as a 4th back.  Hayes had opportunities in 2014 and did little.
2016 - everyone returns with Green, Johnson and Smith seniors.  Isaac a RS JR.  The backfield should be very good but again is there a star there? We won't know until next fall.  The 2016 recruiting class needs 2 RBs especially if we dont get 1 in 2015.
| | | | | |
| --- | --- | --- | --- | --- |
| Position | 2015 | Variability | 2016 | Variability |
| FB | 2 | 2 | 4 | 4 |
2015 - welcome back to the UM offense fullbacks!  Well that is not fair, we started seeing some nice Kerridge action mid 2014.  I think a healthy senior Kerridge could do some beautiful things.  SR Houma seems mostly a special teams player.  I would like to see Shallman get involved as well as he is going to be the man in 2016 from all appearances.
2016 - Dunno man.  Shallman or bust with Kerridge graduating  Might need to recruit a FB in the 2015 class or else Shallman's backup is a true FR.  Or you are counting on a walk on. Which is not out of the question but not ideal.  The other wildcard is trying to convert Deveon Smith to a FB.  Not sure if he will buy that stock.
| | | | | |
| --- | --- | --- | --- | --- |
| Position | 2015 | Variability | 2016 | Variability |
| OT | 3 | 3 | 2 | 2 |
2015 -  I will be starting into the OL guys now and I am going to be a lot more bullish than the crowd.  I do think bringing back the same players matters and you don't need to have a bunch of stars at all 5 spots to have a good OL.  A lot of guys on Wisconsin's lines or UM's 1990s lines were not stars - they were grizzly veterans and offset by 2 stars on a typical line.  Of which we will begin having in 2015 and a bevy of in 2016.  And Drevno is a serious OL coach.
It looks like we have a potential future all conference player in SO Mason Cole; a year of S&C to get him up from mid 280s to 300ish plus the strength that comes with that with a year of technique - yes please.  The other side is not so certain with RS JR Ben Braden who many who know OL much better than me said was the weak link of the 2014 OL.  But you now can have a true competition with RS JR Erik Magnuson.   The better man wins, the lesser man backups the tackle spots.  As for the 4th tackle, we see RS SO LTT and RS FR JBB.  Chris Fox has disappeared and I wonder if he is one of the medical departures Brian and Hoke hinted at.  Don't take that as gospel just conjecture.
2016 - our top 3 all return! And will improve even more! This is the year Cole is probably All Conference.  Guys like JBB and LTT will have Grant Newsome and Jon Runyan Jr behind them but that is a 2017 competition if no injuries.  We are set here for recruiting.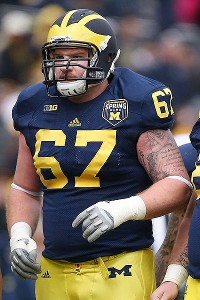 | | | | | |
| --- | --- | --- | --- | --- |
| Position | 2015 | Variability | 2016 | Variability |
| OG | 3 | 3 | 2 | 3 |
2015 - I am cheating in this group by putting Magnuson in both the tackle and guard group as he can flex between them.  I am going to assume RS JR Kalis and RS SR Glasgow retain their jobs.  But I assume Magnuson can challenge here too.  Kalis came to UM as a 5 star labeled "the most college ready" lineman we recruited.   Not so much.  A disaster 2013 campaign led to an inconsistent but meh 2014.  In a normal world Kalis should have not played in 2013 and 2014 should have been his first taste of real football, but UM has been living in the Twilight Zone lately.   Glasgow is like an old shoe - not appreciated but gets the job done.  Backups are a bit more troublesome past Magnuson as we have unknown quantities such as RS FR Dawson and I assume Bosch.  Bosch played 1 game in 2014 and we dont know why he left or if he is eligible for a medical redshirt.  Blake Bars is an older player who has never made any noise so seeing that change would be unlikely.
2016 - if RS SO Dawson or Bosch is not available to start I assume RS SR Magnuson starts at the guard opposite from RS SR Kalis.  The backups are Bosch and Dawson I presume with not much behind them so injuries could hurt this position.  Again this 2016 line should be loaded with experience at starters - with a potential star LT so I am very bullish on the 2016 line.  I would like to see a guard in the 2015 class as depth in 2017 becomes an issue.  If not 2015, there should be two in the 2016 recruiting class.
| | | | | |
| --- | --- | --- | --- | --- |
| Position | 2015 | Variability | 2016 | Variability |
| C | 3 | 2 | 4 | 4 |
2015 - if Glasgow is a shoe the UM fan base does not appreciate, than RS SR Jack Miller is the shoe they don't want to even look at.   Until the UFR's disappeared into the night in Brian's disgust, Miller seemed to be doing ok.  Nothing above average, nothing horrid - he is an ok player.  And he will be a stronger, smarter ok player in 2015.  If Kyle Kalis was the most "college ready" lineman of the past few classes, RS SO Patrick Kugler would have been 1B.  Thus far he not been seen which is fine - we've seen enough underclassmen offensive linemen the past 2 years for my lifetime.   That said I don't know if he is any good either.  Yeah yeah blood lines and all that but until he is seen we don't know what we have.  Again in case of Kugler bust and Miller injury Glasgow can be a center so we're ok in 2015.
2016 - Miller and Glasgow gone - it's all up to you Kugler.  A complete unknown quantity at the NCAA level.  A center is needed in the 2016 class.
| | | | | |
| --- | --- | --- | --- | --- |
| Position | 2015 | Variability | 2016 | Variability |
| WR | 3 | 4 | 3 | 4 |
2015 - I am going to throw all the WRs together, whether outside or slot.  UM has relied on a star system the past 2 years with Gallon as the lead in 2013 and Funchess in 2014.  2015 probably brings a more balanced approach.  The recruiting loss of Treadwell stings here as he is a mega star for Ole Miss and would have been the obvious center of the 2015 passing attack (with Butt).  Instead solid if not spectacular RS JR Darboh will be the #1 option.   After an injury nixed 2013 he should come back, improved and confident with a year under his belt.  He showed enough in 2014 to expect year over year growth.  Behind him are a lot of questions. 
RS JR Jehu Chesson is supposed to be a burner... but you almost never seen him fly past a defensive back.  IMO 2014 was a disappointment for this guy, who might turn out to be one of the best blocking WRs in UM history (and is a special teams ace).  But as a 3rd WR last year he did not  improve on 2013 (less catches, less yards).  And the speed is not as advertised.  He needs to be MUCH better for a very young group in 2015 but I don't know if his ceiling allows for it.   SO Freddy Canteen was recepient of the most hyped spring ball player and it was impossible to match expectations.  Some bad drops marred his 2014 and 5 catches for 22 receiving yards is basically zilch.  Throw in SR Dennis Nortfleet's 111 receiving yards at the slot and that is pretty much all the production you return.  It's not great.
Someone needs to catch lightning in a bottle in 2015 if not Canteen.  The 2 top candidates will be RS FR Ways and RS FR Drake Harris.  It is difficult to count on Harris who has essentially not  played a game in 2 years due to hamstrings.  Until he goes a full year healthy you simply cannot count on him due to these injuries which could be chronic.  Ways was making some noise in practice according to Hoke but according to Hoke we have the #1 team in America in practice so I don't know what to make of it -until it is seen on a NCAA field against real opponents salt must be ingested.   Guys like Dukes and Jones are from a lost class of WR (with York the 3rd) and seem like bit players at best - a damaging haul for a team in need of stud skill players.  FR Cole joins this group but again, counting on true FR is dangerous so we'll hope he sits, learns and makes an impact in 2016.
2016 - EVERYONE comes back but 'fleet.  With all these candidates you just hope somewhere a star can be born.  Darboh should be an efficient polished #1 and my hope is Canteen has a very good 2015 to grab the #2, while either Ways or Harris breakout as a "potential star" at #3.  Harris seems like the 1 guy with "OSU speed" - if those hamstrings can stick.  But it's all projection at this point outside of Darboh.  RECRUIT SPEED PLEASE HARBAUGH.
| | | | | |
| --- | --- | --- | --- | --- |
| Position | 2015 | Variability | 2016 | Variability |
| TE | 2 | 2 | 1* | 3 |
2015 -  In my estimation, relative to position, JR Jake Butt is the best offensive player Michigan has.  That doesn't mean more athletic than a Gardner or Funchess but in terms of what his position is, he is the best.  I hope in 2015 we have the QB to prove me correct.  He was probably the most hurt by Devin's inability to find his 2nd or 3rd options on a read.  I can recall maybe 2 drops from Butt all year.  Unfortunately that number - 2 - is about how many times he was targeted most games. Which is criminal.   His blocking seems adequate if not special. Behind Jake is ....welp.  I'll skip him.  And then SR Heitzmen who is basically a DE playing TE.  RS FR Ian Bunting enters the fray and if is anywhere near the hype could be a big thing down the road as a flex TE in a Harbaugh offense.  But my entire 2015 grade revolves around Butt - he must remain injury free.  I hope Chris Clark returns home - he is already NFL size at 6'5 250.
EDIT - as noted in comments I forgot about RS SO Khalid Hill here.  Hill was injured (ACL) just as he seemed to making some modest strides.  2014!  Won't change the  grades much as we don't really know what he is but looks to have some upside and givesmore depth. 
2016 - The 2 little used backups graduate.  I think Butt is the one player on the 2015 offense that has the chance to declare early.  He blocks ok, he catches well, he is 6'6 250 lbs.  A 40 catch 2015 campaign could send him to the NFL - see Minnesota's Maxx Williams.  But if Butt returns, RS JR Khalid Hill is a contributor, RS SO Bunting is all that and RS FR/SO Chris Clark joins the team - oh boy.  But there are a lot of moving parts here.  No Butt means relying on 2 guys who have not played 1 single NCAA game in their life.
------------------
Overall - QB and WR are the worries in 2015.  For the first time in 3 years I see "average" as the floor for the OL.  With significant upside in 16 - I'd rather have experienced 2-3 year starters at OL who are "average in skill" then "high upside RS FR" in most cases at OL.  Butt should be a star.   RB is not a 3 headed "monster" but should be 3 headed - the hope is Isaac is near the hype but at minimum we should have guys who can get you 4 yards a pop.  Kerridge could be a surprise player in 2015.   2016 should bring stability to QB and OL, a senior laden RB core, and hopefully someone pops out of the WR corps to be a stud.  If Butt returns and a top 4 Big 10 QB emerges, that 2016 offense could be cool.