Odds On Favorite: Welcome To Chalktober?
(Guess what? I published a book this offseason. It's about baseball. The Cubs. The White Sox. And that one time they played each other in the World Series. Check it out. It's only available via Amazon Kindle right now, but a paperback, print on demand option is in the works)
Good morning, everyone! Tomorrow is the first day of October. Or should I say Chalktober?
I'm beginning the middle month of the regular season by making it rain chalk dust. It's a full slate of conference games in the B1G for the first time this season. And I'm picking heavy chalk in five of them. Those who have been following all along know I am not much of a chalk player. I am an Underdog Whore. I don't care who knows. But there are a couple major drop offs in quality down the B1G pecking order, that a lot of games require you to side with the favorite because there is absolutely nothing to hang your hat on with the underdog. The favorite is just significantly better. Or the underdog is significantly worse. Looking at you, Northwestern. Later in the post, we go a bit coast to coast and find our underdog groove. But locally, we're dining on chalk. Let's roll through the picks. And if you like a game not shown below, don't hesitate to shout it out in the comments section. We're all here to help each other.
(Season Record, 8-8-1. B1G Conference Games, 3-1. Picks are in bold with team selected listed first.)
Maryland -10.5 over Purdue: Maryland has put together a solid start to their season. They've been efficient, but not explosive with solid run blocking. There's not much to say on this game, so instead I'm going to call out a Pick To Click. It'll be one of my new favorite players: Lorenzo Harrison.  The freshman has already emerged as Maryland's top tailback, leading the team in carries and averaging 6.5 yards per rush in non conference play. He's a player to watch as conference play begins. If he becomes a 20-carry back for Maryland this fall, then they've discovered a nice weapon. He'll get those carries against the Boilermakers. He'll go over the 100-yard mark for the first time and score two touchdowns. His second score will clinch the win and cover for the Terrapins. Obligatory Perry Hills Interception Watch: Since the Terps did not play a week ago, Hills is still at zero. And a team that led the nation with 29 picks a year ago, including nine games with at least two interceptions and six with at least three,  still has not thrown the ball to the other team in 2016.
Indiana +7.5 over Michigan State:  OG Anunoby flirts with a triple double, Thomas Bryant owns the paint, and James Blackmon hits key 3s down the stretch. The defending league champion Hoosiers, finally getting MSU on their home court, run the Spartans off the fl---Wait. This is a football game? Crap. The Hoosiers have no chance.
Or do they? They're ranked two spots ahead of MSU in the latest S&P. Those projections actually give the Hoosiers a 56-percent chance at winning. What in the name of KenPom is going on in that computer? Here's what: An Indiana pass offense that's 8th in yards per attempt and 24th in passer rating should have their way with an MSU pass defense that's 70th in yards per attempt allowed and has struggled so far on passing downs this year. At least in a perfect world that's what happens.
The winner of this game will be decided by which quarterback bounces back from a shaky outing in a loss a week ago. Hoosier QB Richard Lagow's bad outing included a school record 496 passing yards against Wake Forest. But five back breaking interceptions undid it all. His first two picks resulted in at least a 10-point swing against Indiana. The Hoosiers chased those points the rest of the game and never back
caught up. As for Michigan State's Tyler O'Connor, his shaky day included 4.86 yards per pass, four sacks and three picks, giving the Spartans their own turnover problems. On paper, the Hoosiers secondary (and maybe their overall defense) is performing better than State's. I cant believe I just wrote that sentence. It's probably not true. But some of the early numbers on the Hoosiers defense are pretty good (for them) and is a huge leap forward from all the previous years in, well, pretty much the history of time. If those numbers even hold up a bit after playing an alleged B1G heavyweight, you can bet you'll see a chart in next week's column showing the improvement. I like Indiana to stay within a touchdown and if Lagow averages less than one pick per half, they might just pull off the upset and finally bring home the Old Brass Spittoon.
Ohio State -38.5 over Rutgers: It's time to put at least one rivalry aside. #GoRutgers #BeatOhio #ShockTheWorld. What a rotten two week stretch for the Knights. After Ohio State this week, they play Michigan next Saturday. The real betting for this game should be on Over/Under props for the combined margin of defeat the next two weeks for Rutgers. Last year, it added up to 75 points. The Knights enter this stretch-and the rest of their season--without their best weapon Janarion Grant who tore his ACL last week. That seems bad. I'm betting the combined margin the next two weeks goes over 90 points. And the Buckeyes will provide half of that this week in a 45-0 shutout.
Iowa -13.5 over Northwestern:  Here are two offenses that succeed on just a couple of drives and basically stink the rest of the game. Eleven of Iowa's last 21 real drives have ended with a punt or turnover after five plays or less. Against lowly Rutgers, they had two nice drives at the end of the first half, but moved the ball only 3.75 yards per play on their other nine possessions. As for Northwestern, they don't have good drives. They just hit 2-3 plays a game and pray their defense can make it stand. Guess what?  It is not working. After a 10-win campaign a year ago, they're headed towards a 3-win season unless something changes fast. I suggest beginning with the offensive coordinator. The Wildcats are 111th in yards per play and 102nd in offensive success rate. Neither team is living up to their defensive hype either. Northwestern could not get off the field  in losses against Western Michigan and Nebraska. The Wildcats are 74th in yards per play allowed, a year after ranking 7th in the country. Iowa has been pushed around trying to defend the run and rank 86th nationally in yards allowed. Over the last two weeks, Iowa has faced 112 rushing attempts as North Dakota State and Rutgers controlled pace and the ball. Northwestern could probably run Justin Jackson for 30 carries and 103 yards, shorten the game and try to win it in the end like the Bison did and the Scarlet Knights almost did. Both teams are near the top of the charts in defensive field position, so look for long fields that neither offense will be able to traverse competently. In the event either offense marches deep into opposing
territories, both teams are pretty solid at red zone defense. Either way, this will be an ugly game to watch. The Hawkeyes will be without their best wide receiver Matt Vandeberg, whose caught more balls this year than the rest of his positional group has combined. But a return home peaks the Hawkeyes interest after sleep walking in New Jersey a week ago. Northwestern could run like the last two teams did against Iowa, but they wont. Their offensive line is a disaster. And it's always been a little sneaky how bad the Cats rushing offense is despite Jackson's eventual yardage number. It'll be like every game so far for Northwestern: A fight to get to double digits. CJ Beathard will hit tight end George Kittle on two big pass plays that put the distance between the Hawkeyes and the Wildcats. Iowa wins 25-9.
Minnesota +3 over Penn State:  How does Penn State's football season go off the rails? Coming home and losing to the Golden Gophers in front of a restless Happy Valley crowd days after James Franklin received the dreaded vote of confidence from his AD. You know what? I think that's going to happen. The Gophers are in the top-20 in both offensive and defensive success rate and are in the top-10 in success rate on both sides of the ball on standard downs.  Penn State, meanwhile, is not efficient at anything, except ensuring their quarterback is under constant siege. Meanwhile, on defense, they're 103rd in yards per rush allowed. In their two games against Power-5 foes, they've given up 6.35 yards per carry. Now they play a Gopher team with a hot stable of backs and a decent running quarterback. Tailbacks Rodney Smith, Shannon Brooks and Kobe McCrary combined for 197 yards on the ground a week ago and are
averaging 6.1 yards per carry on the season as a trio.  Watching Penn State live last week, only two positives really stood out. The brilliance of Saquan Barkley and punter Blake Gilliken. But the Gophers are holding foes to just 3.1 yards per carry and they have a great punter in their own right in Ryan Santosa. Besides, I have a rule. If you just watched a team in person lose by 39 points, bet against them the next week as a favorite. Alright, I just made that rule up. But it's bucking for formal approval this weekend. While only catching a field goal in this match, it's worth pointing out Minnesota is 14-6 ATS in their last 20 stabs as an underdog. Prediction: James Franklin tapes 49-10 on the lockers of his players next year during Michigan-Penn State week. Unfortunately, his players at Florida International won't understand the message.
Nebraska -21 over Illinois: Nebraska is looking like Nebraska again. That's not a statement that their 4-0 start means Nebraska is back. It's just their style of play and identity looks familiar: A fanatical devotion to the running game. Their standard down run rate is 70.7%, 15th highest nationally and eleven points above the national average. A year ago in Nebraska's 6-7 season, they only ran the ball on standard downs 60% of time. So far this added determination to the run the football is working. Their 51% success rate running the football is 13th annually and 9.5 points better than the national average. They're back to running their quarterback. Tommy Armstrong has had at least 11 carries in every game this year, after only two such games a year ago. He's coming off his best back-to back-starts of his career, averaging 7.4 yards per pass or rush, en route to 673 total yards in wins and covers as chalk against Oregon and Northwestern.  Devine Ozigbo has emerged as the lead back. His stats aren't eye popping, but he's given the Huskers a physical presence running between the tackles. He and Terrell Newby are a solid 1-2 punch to go with Armstrong's legs, pacing Nebraska to 5.15 yards per rush and 242 yards on the ground a game.
The Cornhuskers start has pushed them into contention for the B1G West crown. The oddsmakers at Sportsbook.com have Nebraska, Wisconsin, and Iowa all at 7/1 to win the B1G, so it's basically a betting dead heat. Nebraska's schedule does set up for a run in October. After this game against Illinois, they travel to Indiana and host Purdue. They should be 7-0 and entrenched in the top-15 of the national polls heading into a showdown in Madison in Week 9. But considering the Badgers play Michigan and Ohio State these next two weeks and how shaky Iowa has looked so far, the Cornhuskers will probably enter November controlling their own fate in the division even if they lose to the Badgers later this month. But here's something else to consider. Does any team in the West have an offensive weapon like Tommy Armstrong? Some might say that's a back handed compliment. But consider me another buyer on Armstrong's conference player of the year candidacy. The often maligned senior is well on his way to authoring a special season. And at this point, it would not be a surprise to see them in the B1G Championship Game.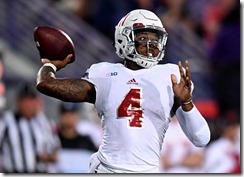 So far the opposite of what happened last year is happening to Nebraska. They are Team Regression To The Mean, but in their favor. All those close losses a year ago? They're 1-0 in tight games this year with that big win over Oregon. They were -12 in turnover margin last year. They're +6 so far this year. Last year, Northwestern's Clayton Thorson nearly outgained the whole Nebraska team in a Wildcat win. Last week, it was Armstrong who almost outpaced Northwestern's 388 yards with 378 yards on his own as Nebraska cruised to a win. How does that impact this week? Last October, Nebraska blew a 13-0 fourth quarter lead in a loss to the Illini and Armstrong had one of the worst games of his career. This October? Armstrong continues to put himself in B1G Offensive Player Of The Year talk with another game of over 300 yards in offense. One of Ozigbo and Newby goes over 100 yards. And the fourth quarter lead will be beyond insurmountable. Nebraska wins 45-16.
Michigan –10.5 over Wisconsin:  Michigan, Wisconsin, Ohio State, and Nebraska are a combined 12-2-1 against the spread this year. The rest of the conference? Try 11-23 ATS. Can you say Big 4, Little 10? The first of at least five games between the Big 4 sees Michigan installed as a whopping 11-point favorite over the Badgers. Since the Badgers already own big wins over LSU and MSU, most people who I've bumped into express amazement the line is so large in UM's favor. I mostly nod in agreement. The reality, however, is this number is the exact number Books hung in the summer when they released their Games Of The Year lines. So not much has changed. Well, except for everything. The Badgers are suddenly playoff contenders. And Michigan's cake early season schedule has a major speed bump in front of it.
Look for the defenses to dominate the game. Michigan is the most disruptive team in the nation, ranking first in  havoc rate and second overall in defensive success rate. That Badgers aren't too shabby themselves, ranking 12th and 13th in those categories against a harder schedule. They have a zillion linebackers all automatically programmed on a simple, yet lethal high motor, tackles for loss setting.  They'll need to pluck a clone off the bench to replace injured star Vince Biegel. Michigan at least has the offensive weaponry to challenge Wisconsin. Their offensive line against Wisconsin's front is a much better match than it is for the Badgers when their offensive line goes against the Michigan D. The Wolverines have DeVeon Smith, whose been a stud in pass protection. Their top three pass catching targets will be playing in the NFL next fall. I will not lie. I am not convinced Wilton Speight can handle the Badger D. The clunkiness against Colorado lingers in my thoughts. Please don't tell Dad. But at least he has a supporting cast.
What does Wisconsin have? Keep in mind this is the 90th ranked team in yards per play going against the 13th ranked defense in yards per play allowed. The Badgers are rushing for just 3.94 per attempt. They have not been able to run the football in 17 games. It's the new normal. And it's not changing against Michigan. Troy Fumagali will be a thorn. Most of his catches have moved the chains for the Badgers. But I'll believe Wisconsin quarterbacks not committing killer turnovers when I see it.  Remarkably, the Badgers have possessed the football for 50:16 of a possible 60 first quarter minutes this season. They have had at least 10:44 minutes of possession in every opening frame so far.
If Michigan is able to run enough offense early in this game, they might end up playing with a comfortable lead the rest of the way. Otherwise, it'll be a rock fight. DeVeon Smith's generally aces his blitz pickups. An assortment of Wolverine defensive ends finally expose Ryan Ramczyk, the Badgers transfer from UW-Stevens Point at right tackle whose been stellar so far through the first four games. And Michigan dials up some well timed big plays en route to a 24-10 win.
Before getting deeper into this post, let's point something out. Check out some of Saturday's Big-12 games: Oklahoma (-3.5) at TCU, Kansas State at West Virginia (-3.5), Texas at Oklahoma State (-3). Those are three pretty good games. And nobody is talking about them. But when you've seemingly fallen out of the playoff chase--save for one team that never, ever plays any interesting games this early in the season and is a total disgrace off the field--you get lost in the shuffle. Most of the Big-12 chatter the last couple of weeks has centered around crazy expansion talk. It might as well be May. It'll probably be a crazy chase for their league title. But who knows how to factor it or the games this weekend? I'm pulling for Oklahoma and Texas to win this week, but only so there is at least some positive buzz and excitement for next Saturday's Red River Shootout.
Now the rest of the post and more picks.
Stanford +3.5 over Washington: Tune in to see what a Christian McCaffrey "slump" looks like. It features ranking second nationally in rushing yards per game and being on pace to rush for over 2,000 yards if Stanford at least reaches the Pac-12 Title Game like a year ago. He's been more workhorse than explosive runner in the early going. He only had five games of 26 or more carries in 14 games a year ago. He's already done that twice in three games this year in conference wins over USC and UCLA. But he has not had the impact in the receiving or return game yet. He's averaging almost 5 yards less per catch this season. If you take out his longest--a 56 yard catch and run against USC--he's going for less than six yards a reception. He returned his first punt of the season back for a touchdown against Kansas State, but it was nullified by a penalty. Since then, he's only had two punt returns. And his kickoff return yards are down from 28.9 per return to 21.3.  Getting back to those decreased receiving numbers, it's probably not a good sign McCaffrey leads the team in catches and yards. First year starter Ryan Burns is throwing for 2.5 yards less per attempt than the departed Kevin Hogan did a year ago. Somebody in the Cardinal wide receiver group needs to step up.
Washington has come out of the gates like gangbusters, averaging 45.8 points per game and ranking 3rd nationally in offensive success rate. Sophomore QB Jake Browning and his band of tiny receivers have been torching teams. They have weapons in the backfield with Myles Gaskin and Lavon Coleman. And while McCaffrey has been struggling to get his return game going, the Huskies are in the top-20 nationally in punt return and kickoff return average thanks to Dante Pettis and John Ross. The Huskies are rolling, but they've played, per the S/P rankings, 95th ranked Rutgers, 111th ranked Idaho, 62nd ranked Arizona and FCS team Portland State. They needed overtime, albeit on the road, to defeat that 62nd ranked team. Stanford is way more battle tested with all three of their opponents this year ranked 34th or higher. This Washington program has been hunting a breakthrough win for years. Do they finally bag one?  Stanford's defense is 15th nationally in havoc rate causing a disruptive play on 21.1% of defensive snaps.  That could come into play after Washington gave up four sacks a week ago to Arizona, one of the least disruptive defenses in the nation.
What will happen? Stanford's Solomon Thomas and Harrison Phillips pick up where they left off a week ago against UCLA and take over the game up front. It's enough to keep the Huskies' offense at bay. The Cardinal are without a couple corners, but it's a deep spot on Stanford's depth chart. Christian will be Christian. That's enough to keep Stanford in any game. This will be a fun game. Somebody will win by a field goal, but I don't know exactly who. So we're taking the field goal and the hook with the underdog Cardinal.
One other quick Pac-12 note. All of us here are #TeamBuffs after Colorado upset Oregon last week. What an unexpected SOS boost for Michigan. Hopefully, it's the gift that keeps on giving all fall. This week, Colorado is favored over Oregon State. It's only the third time the Buffs have been chalk in a Pac-12 game since joining the league. And what a favorite they are! Right now, it's by 19.5 points. Or, more points than Michigan was favored over them 2 weeks ago. The last time Colorado was double digit chalk? Try Week 10 of the 2008 season against Iowa State when they were still in the Big 12. In other Pac-12 games, Arizona State is at USC (-10), Oregon (-2.5), on a 2-game losing streak, travels to Washington State, Arizona is at UCLA (No Line Yet) in the Pac-12 After Dark Game on ESPN, and Utah goes to Cal.
Wait. How about a second Pac-12 pick....
Utah +2 over Cal: The Utes have historically been one of the game's best underdog programs. And that tradition has carried over to its new league. Since joining the Pac-12, the Utes are 17-9 ATS as an underdog. In this game, you get a team catching points that's 22 spots ahead of it's opponent in the S&P Rankings. Cal has showed a lot of offense in the early going, but they face their first real, physical defense of the season. Utah is 4th in sacks per game, 24th in tackles for loss per game, and 5th in havoc rate. Cal is 110th in yards per play allowed. They Bears do not play much defense, unless missed tackles count. Utah's power run game should own this contest.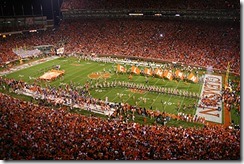 Clemson +2.5 over Louisville:  Bettors love Louisville. Do you recall their Week 3 beatdown of Florida State? The line opened that week at FSU -3, was steadily bet down to -1, and on the morning of the game swung all the way to Louisville -1. Everyone jumping on the bandwagon won easily. This week against Clemson? The same thing happened, but swifter with a heavier swing. Most books posted an early line favoring Clemson by 3 or even 3.5 points. By Tuesday, every book had done a 180 and listed Louisville a 2-point favorites. That's a 5-point line swing in less than 48 hours four full days before kickoff. And for good measure, the line has sprouted a hook since then. Louisville is everybody's team this year. And the momentum has made the Clemson Tigers and DeShaun Watson a home dog in at night in Death Valley. We'll take the Tigers, almost on principle. It promises to be one of the best QB duels of the season. It's the preseason Heisman Trophy favorite in Watson going up against the current, overwhelming betting chalk to take the trophy in Lamar Jackson. Jackson started this race as a 50/1 shot, but is now -300 (must bet $300 to win $100). The next shortest odds are Christian McCaffrey at 8/1, while Watson is 10/1. All four of Louisville's games this year have gone over the total. All four of Clemson's games have gone under the total. Cue the Something's Got To Give sound effects. And good luck making heads or tails of it if you play the total.
Elsewhere in the ACC: Florida State (-11) plays North Carolina in a game between the 121st and 82nd defenses in yards per play allowed. And Notre Dame (-11) hooks up with Syracuse featuring the 104th and 112th defenses in yards per play allowed. That's probably why the totals have been set at 70.5 and 73.5 in those games. Did the Big-12 expand already?
This is your Official Hurricane Warning: Check out Miami. Don't look now, but the Canes are projected to go undefeated in the regular season. Brad Kaya has been solid. They're running the ball with so many different backs like it's 1999. Unlike a lot of teams in the league this year, at least they have good looking defensive numbers. But are they for real? They've rolled up numbers against nobody. We'll see them take on Georgia Tech this week in their first game of the season against a Power-5 club. The Canes are 7.5-point road chalk.
Navy +7.5 over Air Force:  Most folks probably don't know that Navy and Air Force play this weekend, beginning this year's Commander In Chief Round Robin. But rest assured Over/Under players are well aware. I have stated before that I do not play totals, especially unders. But if you like playing them, it is hard to overlook recent history when the Services Academies play each other head to head. Over the last 11 seasons, the under has cashed at a 25-7-1 rate when Air Force, Navy, and Army meet in their rivalry games. And it makes sense, doesn't it? All three teams love to run, run, run, run the football. Then, they run it some more. The result being a constant running clock, limited possessions, and just not enough time to score the points needed to go over the total. This trend is not a secret. The total for this game had plunged four points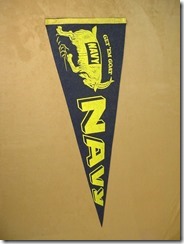 from 51.5 to its current number of 47.5 since the opening of betting. But the same thing happened in two of  the three games a year ago, and the unders still easily cashed. I've stated many times I dont play unders. I am the biggest Under jinx in the world. If I played this under, they would fly in Rich Rod and Mike Leach to be the honorary play callers. But I do like Navy catching these points. Navy as an underdog is my Jam. Like sexy red heads with glasses. Navy is 42-21 against the spread as an underdog since the start of the 2003 season. Giving them points against Air Force and you're just adding curves and swagger to that Ginger. Did you know the last seven times Navy has been an underdog against Air Force, they've won the game outright? My family knows. The Christmas presents were bigger those years. Anchors Away.
Teaser Toledo +11/Western Michigan +4: Here' what a teaser is. Don't judge me. It's a sucker bet, I know. But in my defense, I can be a degenerate at times and it's not as much as a sucker bet as a parlay. Whatever.
Michael Hickey/Getty Images
Let's take a tour of the Mid American Conference!
One of the best #RealRivals in the college game hits when Central Michigan and Western Michigan hook up tomorrow in Mount Pleasant. It's FIRE UP CHIPS! in one corner. And ROW THE BOAT! in the other. And if you can find a local book who'll let you take bets on blood alcohol content of random fans in Mount Pleasant, always roll with the over. This year, it's not just a party. The teams have three combined wins against Power 5 schools this season. They're led by two hot coaching commodities. And it's an early swing game in MAC title chase. The Broncos are skillful at the field position game and will spend all day giving the ball to Jamauri Bogan and Javarion Franklin. Their run success rate is almost seven points better than the season average. They are more than comfortable scratching and clawing their way to third or fourth down and shorts and pounding their way to a conversion. They're converting more than half of their third and fourth down attempts, with seven conversions on fourth down already on the year. The Chippewas lean on the talents of QB Cooper Rush and the explosiveness of his targets. Rush has 13 touchdown tosses, averages 9.2 yards per attempt and leads the conference in passing yards per game. They're fifth nationally with 28 plays of 20 or more yards, 25 of which have come off the arm of Rush. His top three receivers average over 15 yards a catch and a fourth goes for 14.3 yards a catch. Unfortunately, two of those targets are out of this game. Historically, the Mid American Conference turns with the hot quarterback, but Western will be too much here........Akron and Kent also hook up Saturday in another league rivalry game, but this would only interest me if the teams suddenly decided to play basketball against each other instead.....Is Northern Illinois suddenly the worst team in the MAC?  The Huskies have won three of the last five conference championships, at least a share of six straight MAC West titles, and played in eight straight bowl games. But they have hit rock bottom. They're out of the 2016 gates with an 0-4 start, have the 121st ranked total defense and just lost to Western Illinois. They open league play as 4-point underdogs at Ball State. It's just the fifth time since the start of the 2011 season that the Huskies have been regular season dogs in conference play.......Bowling Green is suffering a similar fall. The Falcons have won two of the last three league crowns and are coming off one the program's best seasons in school history. But their swagger might have left along with Dino Babers. They're off to a 1-3 start, but they're coming off a 74-point loss to Memphis. They've allowed 77 points in a game twice. They're only win is a one point squeaker against North Dakota. What's worse is they're only 2.5-point favorites against Eastern Michigan. That's significant because the foe is, well, Eastern Michigan. It's the 35th straight league game the Eagles have been the underdog, only the seventh of less than five points and, as long as the line doesn't increase, the first time of the less than a field goal. Pretty heady times over at Eastern. They're 3-1, defeated Charlotte two weeks ago as a road favorite and upset Mountain West Conference Wyoming at home a week ago. Was that the best 2-week stretch ever by Eastern? Pretty close. A win here matches last season's win total.......Meanwhile Toledo opens the weekend for the league on Friday night at BYU. What a great test for the Rockets, who enter the game averaging 563.7 yards and 42.7 points per game. The Cougars are already this year's hard luck team. After beating Arizona by 2 in the opener, they've lost by 1 point to Iowa, 3 points to UCLA, and 3 points to West Virginia, the latter ending with a BYU interception at the goal line. That's a challenging schedule for almost anyone. But Toledo isn't a breather for the Cougs. Not only are the Rockets ranked 11 spots higher
in the S&P than BYU, but they are also ranked higher than any of BYU's four previous opponents. The Rockets are on a 15-4-2 run against the spread. Toledo does not typically see the physical type of play, let alone this kind of road atmosphere--in the MAC. It will be interesting to see how they can handle it. I think they'll be alright, enough at least to cover the inflated line on the teaser card. If they win tonight and Western wins tomorrow, then the Rockets-Broncos match the day after Thanksgiving could not only be for the MAC West, but it could be a battle of 11-0 teams. If that happens, we'll all remember this teaser bet from 1,000 words ago that I didn't even attempt to give a rationale breakdown on.
Do we want to talk about the SEC? It is a bit of a snoozer this week in the Big 1, Little 13. League head to heads include Florida (-10.5) at Vanderbilt, Kentucky at Alabama (-35.5), Texas A/M (-18.5) at South Carolina, and Missouri at LSU (-13.5). I guess it'll be interesting to see how LSU plays in their first game after the Les Miles firing. I mean, Ed Orgeron will feature heavily in this game. All bets are off. These games only become interesting if any the favorites find themselves on the ropes in the second half.
The Game Of The Week in the league is Tennessee (-3.5) traveling to Georgia. The Vols are playing their second straight rivalry game. It's a question of  how much they have left in the tank after last week's emotional, breakthrough win over the Gators. If they win, they all but wrap up the SEC East crown. And they'll play Alabama probably twice. What does that mean if Tennessee goes 11-2 with both losses to The Tide? Maybe a lot of stupid SEC arguments about the need for a third game between the schools. PAWWWWWWL THE VOLS LOST BY 21 IN THE FIRST GAME, 10 IN THE SECOND, THEY EARNED A THIRD TRY. I am already annoyed. And pulling for Georgia to pull this out and take that far fetched talking point off any eventual agenda.
That's about all I have to say. I hope I have properly set enough of the table for the weekend. Our B1G picks are Maryland –10.5, IU +7.5, OSU –38.5, Penn St +3, Iowa –13.5, Nebraska –21, and Michigan –10.5. Nationally, we've got Stanford +3.5, Clemson +2.5, Navy +7.5, Utah +2 and a Toledo +11/WMU +3 teaser. Our national card is heavy on the BIG GAMES. We just can't seem to find much else for this weekend.
Good Luck and Go Blue!