Oaks Christian vs. Thousand Oaks
So with Jordan Payton's announcement coming soon (supposed to be expected at latest on Tuesday last I have read) I figured I would head out last night to Thousand Oaks to watch his team, Oaks Christian, play Thousand Oaks. I figured I would try to provide a little bit of information/impression that I gained from watching the game. 
Sadly, Payton got hurt on the second offensive drive of the game and missed most of the rest of the game, only coming in on defense for the couple final drives. 
I tried to get some video and pictures, but it is with my phone, and sadly I could not zoom for video so sorry in advance if it is not the best quality.
---
First some notes:
Oaks Christian on offense mostly ran the ball and combined it with screens. They didn't attack downfield much, especially when Payton was out of the lineup. 
Oaks Christian on defense played with 10 guys all close to the line, with Payton as the only deep man at safety about 20 yards from the line of scrimmage. Ocasionally he came up to press a reciever and a teammate would step back into the safety spot. 
As a result Thousand Oaks ran the ball most of the time, and rarely attacked downfield because they respected Payton's abilities deep. 
The other highly rated prospect out of Oaks Christian, Ishmael Adams (a 4 star CB and 5.8 rating on Rivals, same as Payton) did not suit up but was on the sideline. Not sure what his injury status was. 
---
Offense thoughts:
Payton just being on the field was able to attract most of the attention freeing up his teammates. As such Oaks Christian spread the ball around a fair amount, although they were most effective when they got the ball to Payton. On the first drive he caught two screens that didn't go for much as Thousand Oaks seemed to be playing to shut down the screens because they expected them. However this burned them as later on the drive Payton caught a fade at the 1. Three plays later he showed good hands in easily defeating a press from the cornerback on a quick slant for a touchdown. 
On the second drive he had a quick screen where he juked two defenders and gained 15 yards but it was negated by a holding by an offensive lineman on the other side of the field. Sadly soon after Oaks Christian threw a screen to him and he was tackled awkwardly and injured his ankle. He did not return to the game on offense. 
He caught the ball well (by my count he didn't have a single drop) and he looked like he knew how to use his size to his advantage. There were a couple times he was able to get open by beating his defender but his quarterback just didn't see him. Payton has some quickness and moves, but he won't get by anyone with burning speed. His run blocking was ok, but Oaks didn't run the ball towards his side of the field. The quick burst and moves he possesses reminds me of when Hemingway was able to juke a couple defenders against Illinois for the touchdown last year. 
I have him finishing the day (in very limited playing time) with the following line:
5 catches, 43 yards, 1 touchdown.
Here is video of his fade catch (sorry I fail at youtube imbedding so if someone could help on that I would appreciate it). He is lined up on the far right.
http://www.youtube.com/watch?v=HHJjiGByiFc
---
Defense thoughts:
Payton didn't see much action deep as Thousand Oaks seemed afraid to throw near him. He made a couple tackles in run support and looked like one of the better tacklers on his team, as he used his arms to wrap up ball carriers rather than just trying to run into them. 
When he left the game due to injury, he was limping around with a brace on his ankle before halftime. After halftime, he followed his coach around with his helmet on and seemed able to go back into the game if needed. Coming out of halftime, Thousand Oaks started throwing deep with him gone, and after two touchdown drives his coach put him back in for a couple final drives and that shut down Thousand Oaks' deep passing game. 
He seemed to follow the play well and I never saw him out of position. He took good angles to tackles and even if a teammate was making a tackle he would hustle to the area. Lastly when he was put back in defensively he huddled his teammates all up and got in their faces to fire them up. This worked as Thousand Oaks did not score once he came back in. He also stopped a running back who broke through all of his teammates and saved a touchdown on one of the final drives that would have tied the game up.
I have him finishing with 4.5 tackles in his limited time.
Here is a video of one of his tackles. He is the deep man.
http://www.youtube.com/watch?v=rb6M7cjoa3s&feature=related
---
The only two pictures I was able to grab: (he is #4)
I tried to maybe grab a couple pics of him to show his height, because he does look like all of the 6'2" that he is listed as. Sadly I pretty much failed at this part.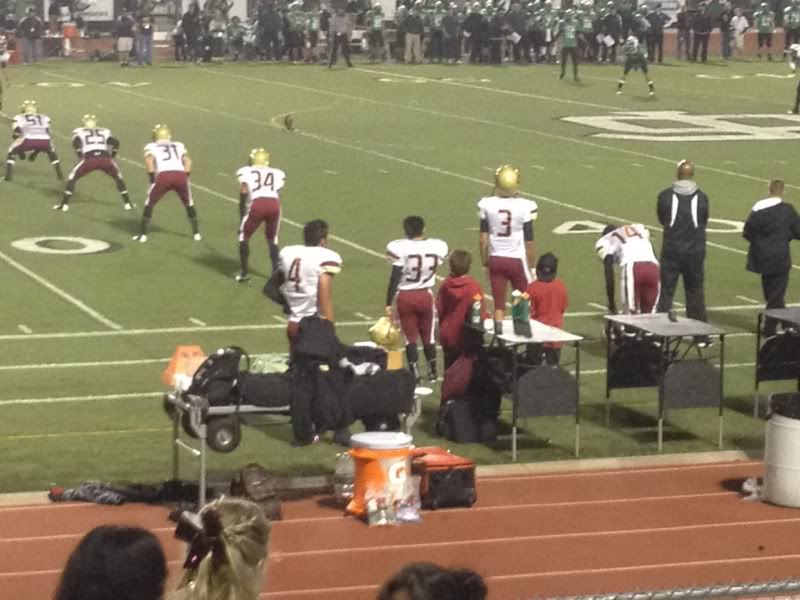 ---
Impressions of his teammates:
Three of his teammates stood out to me during the game. 
First was #5 who played as a reciever and punt returner. He was a smaller guy but he was very shifty and had good speed, so he was used often on screens. However he did not have the best catching ability as his only two deep routes he juggled and drop the ball despite being open and not hit on the catch. His name is Chris Davis, and he is a sophomore.
Second was #7. He is a 3 star LB commit to ASU, but to me he stood out on offense playing as a RB. He finished with 150+ yards, including a 73 yard td run and a 77 yard td run. For fun, he also hurdled a defender which drew some applause from the crowd. When Payton left the game Oaks Christian fed #7 the ball more and kept it on the ground and he responded well. His name is Carlos Mendoza, and he probably will play LB in college for ASU as he is listed as 6'2" and 215.
Lastly was #55. He was playing DE and he seemed to just live in the backfield constantly harassing Thousand Oaks' QB. His name is Ben Johnson and he is a senior, but I can't find him on any recruiting sites.
---
Final impressions:
Though I saw very little of Payton, I was impressed and have high hopes for him. I think in college he could probably play WR or CB. If he were to choose Michigan, I think he would play WR for us as he would give us a big target for the quarterbacks, especially downfield on those fades. Though I hope he chooses Michigan, I wish him the best of luck during his college career and can't wait to see him play on Saturdays and see what he can do.