Minimum Playoff Size, Part III
So here we go again, after
Part 1
and
Part 2
.  Before I dive in to this, I just want to remind everyone the point of this exercise.
At the end of the regular season, where can we split away the first group of teams and say "Everyone in this group is better than everyone else".  This allows us to figure out the minimum size of a college football playoff that would leave us with no teams who could complain about being excluded.
My work from the first two parts (which takes us up through 2005)  suggested that we've yet to exceed 4 teams.    
As we move forward I'm curious to see if the elite category always stays under 4, or if it exceeds it.  

2006/2007 BCS
Championship Game: #2 Florida blows out #1 Ohio State
Who Else Had A Claim:
Ohio State:  Ohio State finishes off the year undefeated, complete with defeating #2 Texas and then later #2 Michigan.  They also defeat #13 Iowa.   An undefeated season in which you defeat the #2 twice is a great resume.  
Florida:  Florida sufers a 10 point loss to #11 Auburn in mid October.  However they defeat #13 Tenn, #9 LSU, #25 Georgia, and #8 Arkansas.  4-1 vs ranked teams is a good record and in hindsight their defeat over tOSU proves they were an elite team.
ACC:  Wake Forest wins the ACC this year.  Their resume features them going 2-2 vs ranked teams (lost to #12 Clemson and #19 VT, beats #22 Georgia Tech and #16 BC).  They'd go to lose the Orange Bowl to #6 Louisville.  While Wake Forest offers a decent resume, they don't really stand out.  
Big 12:  Oklahoma started out the season struggling to beat UAB (24-7) which dropped them 5 spots in the polls.  They go on to lose to #18 Oregon by one point in Autzen and lose by 14 points to #7 Texas in the Cotton Bowl.  After that they go on to defeat #23 Missouri, #21 Texas A&M, and #18 Nebraska.  So they come out of regular season at 3-2 against ranked teams and no wins over a top 15 program.  Oklahoma reverts to early season form in their bowl and loses to Boise.  
Big East:  The Big East is actually decent this year.  Schiano actually looks like a real coach at Rutgers, WVU is humming along, and Lousville under Petrino wins the Big East.  Louisville defeats #15 Miami and #3 WVU but loses to #14 Rugters by three points.  What really hurts Lousville here is that aside from WVU, Rutgers, and Miami, their next best win was over a KSU team that went 7-6.  Losing to Rutgers is hard to recover from due to the weak overall schedule.  
Pac:  USC is its normal efficient self in terms of taking care of business, #19 Nebraska #20 Oregon, #17 California, #6 Notre Dame all fall to the Trojans.  However USC appears to forget it has games against Oregon State and UCLA, losing to both squads.  Oregon State does end up ranky #21 (10-4 record) but UCLA remains unranked and finishes up 7-6.  So when the dust settles USC is 4-1 versus ranked teams with an odd loss to UCLA haunting them.
Independents:  I'll mention Notre Dame since they were BCS eligible.  They end up 10-2.  Their failure is a weak schedule and the fact they're 1-2 vs ranked teams.  Michigan and USC both crush them.  They do blow out #19 PSU though 41 to 17.  That is the second week of the season though and PSU finishes off 9-4 and ranked #25.  A losing record against ranked teams does not make you elite, no matter how hard you kick Army's ass.
MWC:  BYU is undefeated in the MWC and goes 11-2 overall.  Their two losses are to an unranked Arizona outfit and #25 BC.  They do defeat #15 TCU.  Not good enough.
WAC:  Boise runs the table to turn in an undefeated season.  Their key problem is they do not play a ranked team.  They do however defeat Oregon State in Week 2 and Oregon State ends the year ranked.  Boise suffers from the fact that aside from Oregon State they only play a bunch of MWC and WAC teams.  Undefeated loses some of its cachet when you consider the quality of the teams on the field.  
The Verdict on 2006/2007:
This is a year I find hard to really make a call on.  Ohio State went undefeated so they're in.  Florida has a really impressive resume.  On the other hand Boise has the whole "Hey we went undefeated" argument, but was hamstrung by a crap schedule and their only ranked win is Oregon State (who was not a good team early in the year and didn't really start looking like a ranked outfit until after they played Boise).  
I'm going to be generous though and say this year you need a five team playoff field of OSU, Florida, Louisville, Boise, and USC to really settle it.  OSU and Florida are clearly the big dogs on the block.  However Lousville and Boise look legit but suffer from a lack of chances to prove themselves due to their weak conferences.  USC also gets a nod due to their wins over ranked teams.  Wake Forest would make a decent #6.
All that being said, I don't think anyone has the right to complain about Florida getting the coaches trophy.  Still though this year I'll say 5 as the final verdict.  
I still love you Crable, really.  
2007/2008 BCS:
Championship Game:#2 LSU defeats #1 Ohio State 
Who Else Had A Claim:
LSU:  LSU finishes off the season 11-2.  They drop games to #18 Kentucky (how on earth did Kentucky get ranked..?) and unranked Arkansas.  They defeat #9 VT, #14 USC, #7 Florida, #19 Auburn, and #15 Tenn.  That's an impressive set of wins to make you forget the fact they lost two games.
Ohio State:  Ohio State almost runs the table.  Only on 10 Nov they lose to an unranked Illinois team by 7 points in Columbus.  Beside that Ohio State defeats #20 Purdue, #25 PSU, #19 Wisconsin, and #23 Michigan.  That's decent, but not great in that tOSU never plays a team in the top 15.
ACC:  Virginia Tech loses early to #2 LSU (actually they're blown out and lose by 41 points).  They also lose by 4 points to #2 BC on 25 October.  In the ACC Championship game though they defeat now #12 BC by 14 points.  Along the way they also defeat #22 Clemson and #16 Virginia.  They're kind of like the diet version of Ohio State, they just lose to LSU in Sept instead of January.
Big 12: Missouri almost makes a strong case for a bid at the national championship.  They defeat #25 Nebraska, #22 Texas Tech, and #2 Kansas.  They lose to Oklahoma twice though an fail to win the B12.  Oklahoma defeats #16 Texas, #11 Missouri, and #1 Missouri but loses to unranked Colorado and Texas Tech.  All Missouri had to do ws beat Oklahoma in the B12 Title Game (Mizzou was ranked #1), but they didn't.  So the B12 fails to produce a conference champ worthy of consideration.
Big East:  WVU finishes up 11-2, but drops games against #18 South Florida and an unranked Pitt.  They defeat #25 Rutgers, #21 Cincinnati, and #20 Connecticut.  WVU appears comparable to VT.  
PAC: USC seems to have settle in comfortable with the whole "loses two games every season" thing.  They lose to unranked Stanford and #5 Oregon.  They defeat #14 Nebraska, #24 California, and #6 Arizona State. USC is LSU with fewer wins over ranked teams.  
Independents:  Notre Dame is 3-9.  Returning to Glory though.  
MWC: BYU goes 11-2 again.  They defeat an unranked Arizona, but drop games to Tulsa and UCLA.  They do not defeat a ranked opponent.  No sale.
WAC:  Hawaii finishes off the season undefeated.  However their own win worth talking about is when they beat #19 Boise by 12 points.  They also need overtime to handle Lousiana Tech and San Jose State.  Boise meanwhile isn't that great of a win considering they didn't beat anyone all year.  They lost to Washington and needed four overtimes to beat Nevada.  
The Verdict on 2007/2008:
The BCS conferences fail to produce any undefeated teams this year and that's a problem.  Everyone manages to slip up against an unranked team.  Hawaii is undefeated, but really they're only undefeated at punching small children and taking their candy.  
When you compare say Ohio State, USC, VT, and WVU they're all fairly similiar teams.  This year you could seed up a nice 6 team playoff with LSU, Ohio State, USC, VT, WVU, and Hawaii.  Although if Missouri had won out, you'd have a possible 7 teams in play (or you could go punt Hawaii back to the sandbox and let them punch toddlers some more).
More Crable
2008/2009 BCS:
Championship Game: #2 Florida defeats #1 Oklahoma
Who Else Had A Claim:
Oklahoma exits the regular season with on a single losss, to #5 Texas.  They defeat #23 TCU, #16 Kansas, #2 Texas Texas, #12 Oklahoma State, and #17 Missouri.  That's a nice resume right here.
Florida loses by a single point to Ole Miss early in the year.  They go on to defeat #3 LSU, #8 Georgia, #23 South Carolina, #24 Florida State, and #1 Alabama.  Also a very nice resume.
ACC:  Virginia Tech loses 4 times in the regular season, three times at the hands of unranked teams.  Yeah that's just not going to cut it.  Next!
Big East:  Cincinnati loses to Oklahoma by 26 points early in the year.  They also fall to unranked Connecticut.  They beat #23 South Florida, #20 WVU, and #20 Pitt.  It's a decent season, but it isn't equal to Florida and Oklahoma.
Big 10:  So many repressed memories.  Anyway Penn State wins the conference with one loss to unranked Iowa.  They defeat #21 Illinois, #24 Wisconsin, #10 Ohio State, and #15 Michigan State.  They have a resume that is almost comparable to Florida in that they both lost to an unranked team.  Florida though beat a lot better quality of ranked teams that PSU did.
PAC: USC slips early against unranked Oregon State.  They defeat #5 Ohio Sate, #23 Oregon, and #21 Cal.  It's a decent resume but not great.
Independents:  Notre Dame is 8-5. Nope.
MWC:  Utah is undefeated.  They defeat #24 Michigan and this turns out not to be all that hard to do (we do not *loads shotgun* finish the season *places shotgun under his chin* ranked *blam*).  They also defeat #11 TCU and #14 BYU.  In the Sugar Bowl they prove themselves legit when they defeat #4 Alabama.  
WAC: Boise finishes up the year with an undefeated season and a win over #12 Oregon.  They go on to lose to TCU in a bowl.  
The Verdict on 2008/2009:
The issue is the undefeated MWC and WAC teams mess this all up.  Subtract them out and you can say Oklahoma and Florida were definitely the best.  PSU is about half a step back due to the lesser quality of their ranked wins.  USC is right behind PSU.  The issue though is if you do that, you end up leaving two undefeated teams out in the cold.
On the other hand if you let the MWC and WAC in, you have to let PSU and USC in.  Yes those last two have loses, but they have more ranked wins than the MWC and WAC champs.  So this year you need 6 again:
Florida, Oklahoma, PSU, USC, Boise, and Utah.  
Kittens :(
2009/2010 BCS
Championship Game: #1 Alabama defeats #2 Texas
Who Else Had A Claim:
Texas finishes the season undefeated, although they only do play three ranked teams.  Still if you make it out the B12 undefeated, you deserve consideration.
Alabama makes it out of the SEC undefeated.  They're in.
ACC:  10-3 Georgia Tech fails to win the conference, falling to 9-5 Clemson in the ACC Title Game.  Clemson ends up vacating the game though.  Either way neither Clemson nor GT compares to Texas or Alabama.
Big East: Cincinnati gets in on the undefeated action, with wins over three ranked teams along the way (#21, #23, and #25).  Undefeated is nice, but they did have a soft schedule.  Also Florida beats them by 27 points in the the Sugar Bowl (although to be fair, Kelly had left for Notre Dame prior to the bowl).
Big Ten:  Ohio State wins the Big Ten but loses to #3 USC and unranked Purdue along the way.  They defeat #11 Penn State and #15 Iowa.  That's good, but it isn't a top shelf resume.
Pac 10:  Oregon wins the PAC10.  They beat  #18 Utah, #6 Cal, #4 USC, and #13 Oregon State.  Thety lose to #14 Boise and unranked Stanford.  
MWC:  TCU finishes out undefeated, defeating #16 BYU and #16 Utah along the way.  
WAC:  Boise finishes out undefeated.  The only ranked team they defeat is Oregon on opening day.  
The Verdict on 2009/2010:
Well this is easy.  5.  We have 5 undefeated teams and all of them defeated at least one ranked team.  Ohio State and Oregon can go argue over who deserved the #6 seed, although I'd say OSU since Oregon had already managed to lose to Boise.
You still lost dumbass.
2010/2011 BCS
Championship Game: #1 Auburn defeats #2 Oregon
Who Else Had a Claim:
Auburn is undefeated out of the SEC.  That gets you in.
Oregon is undefeated out of the PAC10, that also gets you in.
ACC:  VT wins the ACC with two losses.  #5 Boise State and FCS level James Madison.  No, just no.  
B12: Oklahoma wins the conference, but loses to #16 Missouri and unranked Texas A&M along the way.  So no dice considering we have undefeated teams in play.
Big East:  No team in the Big East finishes the season ranked or with fewer than 4 losses.  So no.
Big Ten:  Three way tie with MSU, Wisconsin, and Ohio State.  Ohio State goes 12-1 but of course ends up vacating everything except their loss to #18 Wisconsin.  Wisconsin loses to MSU but beats Ohio State and gets to go to the Rose Bowl.  Sparty loses to Iowa and gets the Capitol One Bowl.   With undefeated teams in play, this isn't good enough.
MWC:  TCU finishes out undefeated as well.  Defeats  #24 Oregon State and #6 Utah in the regular season.  They also defeat #4 Wisconsin in the Rose Bowl.
WAC:  Nevada finishes 12-1 with a lone loss to Hawaii.  With undefeated teams in play, this isn't enough.  
The Verdict on 2010/2011: 
Three.  The undefeateds:  Auburn, Oregon, and TCU.  Wisconsin makes a nice 4th in a four team playoff system.
That smile says it all.
2011/2012 BCS
Championship Game: #2 Alabama defeats #1 LSU
Who Else Had A Claim:
#1 LSU:  Undefeated.  Looks good.
#2 Abalama:  Did not win their conference. Did not win their division.  Did with the national championship.  How on earth does that one work...?  So no.  You want to play for the crystal ball, win your conference.
ACC:  If Virginia Tech managed to beat Clemson, they'd come out of the ACC undefeated and have a legit shot at preventing the LSU vs 'Bama rematch.  Instead they let a three loss Clemson win the ACC.  Clemson of course gets beat so badly by WVU you'd think General Grant was leading the Mountaineers.
Big12: Oklahoma State defeats #8 Texas A&M, #21 Texas, #19 Kansas State, and #11 Oklahoma but trips up against unranked Iowa State.  Still though unlike Bama they won their division and their conference.
Big East:  WVU finishes the season with three losses, included getting their ass kicked by LSU.  They beat #23 Cincinnati for their only ranked win.  Not good enough.
Big 10:  Wisconsin removed themselves from consideration when an unranked Ohio State team defeats them.  They also go 1-1 vs Sparty.  Sparty loses to Notre Dame and Nebraska in the regular season and earns themselves another trip to a non BCS Bowl.  
PAC:  The PAC is a mess.  Stanford and Oregon both finish off the season 8-1 in conference play.  Oregon beats Stanford, but loses to USC.  They also lost to USC.  They defeat UCLA in a gimped championship game (USC cannot attend due to sanctions) and win the Rose Bowl.
MWC:  TCU finishes of with two losses.  To Baylor and SMU, so they're out.
WAC:  Boise is now in the MWC.  The WAC no longer matters.  
The Verdict For 2011/2012:
I'd say two for this year.  LSU and Oklahoma State.  If we're doing a 4 team playoff you can toss Wisconsin and Oregon in.  Stanford and Alabama can go play in the "Did not win division or conference Bowl".  The winner can go on to play Sparty for offseason whining rights.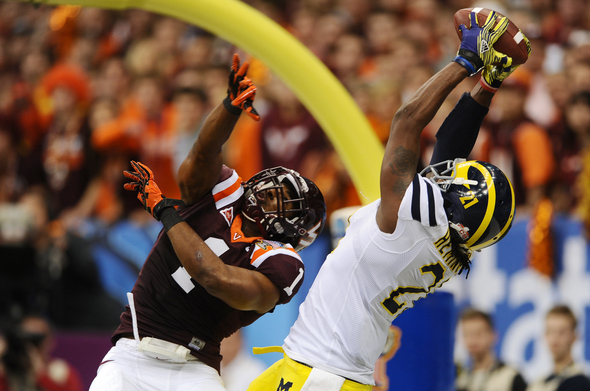 The Mininum Numbers Upon Review:
1998: 4 
1999: 2 
2000: 4 
2001: 4 
2002: 2 
2003: 3 
2004: 3 
2005: 2 
2006: 5
2007: 6
2008: 6
2009: 5
2010: 3
2011: 2
Some Thoughts:
You have to win you conferece...I strongly advocate this rule for a couple of reasons.  First off we're going to have issues pushing through too large of a playoff bracket.  The current cluster of bowls are against a playoff as it threatens their revenue stream.  The bigger a playoff is, the more is weakens the bowls since it means they'll have fewer good teams to pick from.  Let the bowls have teams like 2011 Michigan, 2011 Alabama, and 2011 Stanford as a way of placating them.  
Secondly by requiring to win your conference we make the title games the de facto first round of the playoffs.  It becomes a specialized round in which you are required to remove any sibling who might be a threat to you.  It becomes kind of a unique aspect of the playoff in that you always get seeded against your sibling challenger first.  Of course the B12 needs to get back up to 12 teams and stop with their round robin play for the field to be 100% even in this regard.  
4 teams playoff...This system works well enough for 10 out of 14 years.  In those 10 years, if you select 4 teams there is not a team left out of the playoffs who can say "I have a resume equal to the #1 seed".  There can be some quibbling over who got the #4 (and maybe #3) bid, but you can definitiely say anyone complaining is lesser than #1 and #2.  For example see 2002 and 2005.
6 team playoff...This system is needed for 4 out of 14 years.  It also has value in years like 2002 and 2005 where it would let you bring along more teams and avoid disputes who gets the lower seeds.  
4 vs 6...Here I think is where it gets interesting.  Consider the teams who broke the BCS.  TCU, Boise, and Utah (Hawaii also gets an honorable mention.).  It's rare to have all 6 BCS conferences produce elite winners, instead 2 to 4 BCS conferences product elite talent and then the MWC/WAC contributed teams that break a 4 team system.  TCU is now in the B12 (and before that were headed for the Big East).  Boise is headed for the Big East.  Utah is in the PAC.  Hawaii meanwhile lost their coach, appears to have ties to the Hawaiian Mafia and has fallen off.  
In the independent ranks, BYU and Notre Dame might one day built themselves in to the next BCS Busters, however the B12 could absorb BYU and there are a few landing spots for Notre Dame.
Houston also started to put to together some scary offenses, but found themselves raided for talent (Holgorsen, Sumlin come from there).  Tulsa also started to build itself up a bit, but Graham was lured away.   
Meanwhile Lousville and Cincinnati have degraded, so Boise moving in to the Big East is a good thing.  So I think with 4 vs 6 it comes down to the question of if you believe college football is getting better or just has peaks and valleys.
If you feel that college football is getting better across the board then you likely prefer a 6 team playoff (or maybe more) since you figure that years like 1999 and 2000 when you'd have to let in weak teams to get to six are now a thing of the past.
On the other hand if you figure that it is a normal cycle of life for some teams to get good while others fall (rise of Boise, Utah, and TCU while Cincinnati and Boise fall), then perhaps 4 is more appealing.  Yes you'd have years when you'd have a problem, but that problem is self correcting in that the weaker conferences will be raided and create room for the rising powers to upgrade their lot in life.
Personally I come away from this view with the view that:
4 is enough for now (given the MWC and WAC just got raided)
B12 needs to get up to 12 teams
At this point we'd have 6 BCS conferences with at least 12 teams and each conference having a title game.  That leaves you at the end of the regular season with 6 conference championships and history suggests that normally at least 2 of the confereces will have be having off years and can be eliminated via polls.  As I mention above this also makes the conference championship games a round of the playoffs. It as also makes the regular matter.  Consider the years when a 4 loss team won the Big East.  I don't really feel they should have a shot at the national championship.  So discarding teams like that ensures that no one will slack off in the regular season.  Also if conference winners autobid in, it creates scenarios where you pull your starters when playing teams that aren't in your division, since all you care about during the regular season is winning your division.  
The 4 team playoff becomes this weird animal where up to 12 teams can have a shot at the playoffs going in to the title game weekend (assuming B12 gets back to 12).  6 will lose and go off to bowls.  2 will be eliminate by polls and go off to bowls.  
History shows that all 6 BCS conferences rarely produce elite teams at the same time.  To get to six elite teams for a playoff you need the MWC and WAC producing talent.  Those conferences have just been raided (either for coaches or for entire programs) and it seems unlikely we'll see elite talent from the non-BCS conferences for a time period.  So if we're seeding 6 every year, we run the risk of having to seed really unworthy teams for #5 and #6.  
Basically 4 means you're killing two teams via poll voting and that can at times present problems.  6 teams means you're letting inferior teams many years, but avoiding having the polls as the headsman.  
One other comment...if you let all conference champs always get into the playoffs... Giving any conference an autobid to the playoffs is bad for the regular season.  Consider the following scenario.  Michigan and Ohio State have both won their divisions and are about to play The Game (as in 2006).  This means they will meet in the conference championship game no matter what happens in The Game.  
If the conference champ of the B1G automatically makes the playoffs, you have a massive incentive to sandbag The Game.  You want to the win the B1G Title Game, The Game is meaningless.  You actually have an incentive to hide your playbook (since you're playing again next week) and pull players to avoid an injury.  #1 OSU vs #2 Michigan is a lot less epic since the coaches care more about winning the following week.  If Michigan loses The Game, but beats OSU in the Title Game and goes on to the playoffs we'd be a lot happier than if the opposite outcome happened.  
If only 4 out of the 6 BCS Conference champs make it to the next level though that changes.  Now you not only have to win your conference but also put together a resume that beats at least of the other conference champs.  So then going 2-0 against Ohio State becomes more important.    
In Closing
Whew, it is finally done...
I walk away from this really feeling like we're in a situation where we can move forward logically.  If you simply average the numbers for each year, you come up with a 4 team playoff working just fine.
However that ignores the fact that in recent years we had some seasons where 5 and 6 team playoffs were needed.  On the other hand, the BCS conferences raiding the MWC and WAC may have put an end to that trend.  
As it stands I would consider the logical action to be pushing for a 4 team system to be ready to go when the BCS expires.  Install that system for a time period and then watch to if programs arise out of the MWC, WAC, and C-USA.  If they do, when the 4 team expires, consider moving to a 6 team system.