Minimum Playoff Size Need: A 1998 to 2001 BCS Review

Over the past few days a lot of people have posted ideas for the playoff system.  They've come up with a variety of systems to ensure balance and fairness and clearly a lot of thought has gone in to this.  I want to attack the problem from a different angle though:
What is the minimum number of games we need to crown a national championship?  
To determine this I'm going to review the BCS's history and determine who else had a valid to claim to play for the Dr. Pepper Crystal Ball (and then have to display it at Wal-Mart).  In part I'll use what we knew at the end of the regular season for that year and in part I'll look at what we found out after all the dust from the bowl games settled.  
The BCS needs to die simply for having this a contractual requirement.
I'm going to break this into three or four diaries, as these things get long.  With that said, lets get going:
1998/99 BCS:
Championship Game: #1 Tenn defeats #2 Florida State
Other Possible Claimants*: Kansas State, Ohio State, UCLA, Texas A&M.
Are their claims legit?
First off Tennessee's claim is untouchable.  They came out of the SEC defeated and beat 4 ranked teams before besting Florida State.  For Florida State though the claim is hazier.  They came out the gate strong, beating Texas A&M (A&M was #14 at the time, the Aggies finished the season ranked  #11).  The next week the Seminoles lost by three scores to North Carolina State.  NC State finished the season 7-5.  FSU though did go on to beat 4 more ranked teams, giving them a total of 5 victories over ranked teams.  
So in 1998 we're looking to see if we can argue that anyone else can claim they should have finished #2 instead of FSU.  First off KSU.  They finished the regular season undefeated and beat three ranked teams.  They ended up going to the B12 Championship game ranked #1 but lost to Texas A&M in triple overtime.  In my view, if you can't win your conference, you can't win the title so KSU is out.  
The Buckeyes lost to the Spartans (well really we all lost when a meteor failed to strike the stadium, but I digress) by 4 points (28-24).  Otherwise the Buckeyes were undefeated and beat 4 ranked teams during their season.  Michigan State finished 6-6.  The Buckeyes went on to defeat Texas A&M in their bowl, making Texas A&M the Kevin Spacey of 1998.  When compared to Florida State, Ohio State is close.  Ohio State lost to an inferior team by a lesser margin (4 points vs 3 scores) but Florida State beat one more ranked team than Ohio State did.  This one of those decisions you can argue about.
UCLA spends most of the season as the bridesmaid but never the bride.  They finish out their conference play undefeated, but on 5 December lose to Miami (YTM) by 4 points.  Miami finishes the season 9-3 and ranked (although Miami was unranked at the time UCLA lost to them).  UCLA's major problem was they only had three wins over ranked teams.
Texas A&M has been covered about by virtue of their losses to FSU and OSU.  Coming out of regular season play, FSU could claim superiority over A&M.  OSU also went on to prove it was a better team in bowl season.  A&M also lost to Texas and finishes the regular season with two losses.  So Texas A&M is out due to my desire to avoid rematches and the fact they have two losses.
1998 Season Summary:
#1 Tenn cannot be disputed.  
For #2 we have three teams that all lost to one team and have between 3 and 5 victories over ranked teams each.  I'd say 1998 leaves us with a pretty clear argument for a +1 system.  Tenn, FSU, OSU, and UCLA as division winners fight it out for the greater glory of their local Walmart (or Super Walmart).  The Big 12 division winner is removed due to a lose to FSU 
*I'm using claimants in the sense they had a claim to play in the title game, not claim a share of the title.  
So Woodson is getting the Heisman and y'all are getting a ring the year after I leave? That's right Peyton, I'm also getting a Cup named after me.
1999/2000 BCS:
Championship Game: #1 Florida State defeats #2 Virginia Tech
Other Possible Claimants: Nebraska, Wisconsin, Alabama
Are their claims Legit?
First off Florida State has an touchable claim on #1 this year.  They finish undefeated and with 4 wins over ranked teams.  Virginia Tech is also untouchable, finishing out the season undefeated and with wins over 4 ranked teams.  Although I really do want to penalize Virginia Tech for their out of conference scheduling (namely: James Madison and UAB).
I'm going to handle Alabama (and thus the SEC first).  Alabama finishes the season with losses to Tennessee and Louisiana Tech (We choked on a cupcake PAWWWWLLL).  They lose to Michigan by one point in overtime at the Orange Bowl.  The other option from the SEC is Florida (they lose to Alabama twice and once to Florida State).  No rematches, so sorry Florida.
Wisconsin suffers from an early season loss to Cincinnati (the Alvarez Strategy of Scheduling Crap Teams suffers a rare backfire).  Then the next week they lose to Michigan.  Michigan finished off the season with an Orange Bowl Win and as #2 in the B10, so that's a terrible lose.  Each loss was by 5 points.  Wisconsin does beat 4 ranked teams.  
Nebraska finishes off the season 12-1.  Their only loss is a 4 point loss to to a ranked Texas squad.  They beat two ranked teams (A&M and KSU) and then avenge their loss to Texas in the B12 championship game.  So that leaves them with three wins over ranked squads and one loss to a ranked squad.  Nebraska also beats a ranked Tenn squad in the Fiesta Bowl, the good old days of the Fiesta Bowl, back before we as a society had the computing power to make a bag of chips say dumb stuff.
1999 Season Summary:
This is one that the BCS gets right, although considering they had exactly two teams finish undefeated it isn't hard to get right.  If either FSU or VT finishes with one loss then Nebraska has a legit claim on the #2 spot.  At that point we'd have a clear #1 (the undefeated team) and a tie for #2 (the one loss teams).  Had this happened I'd assume we'd once again need a +1 game, with Wisconsin getting pulled in to round it out to four teams.  Wisconsin has the weakest resume of the bunch, but had Wisconsin won out they'd have had 6 wins over ranked teams and only one loss to an unranked team.  So it wouldn't be a travesty.  
It would have better if VT lost to the Georgia or Mississippi State
2000/2001 BCS:
Championship Game: #1 Oklahoma defeats #2 Florida State
Other Possible Claimants: Miami, Washington
Are their claims Legit?
First off Oklahoma is undefeated, so they get the immunity idol.  Florida State drops to Miami early in the season.  FSU does defeat two ranked teams in the course of their regular season.
Miami wins the Big East and defeats Florida State, but losses to Washington.  Washington is Miami's only loss.  
Washington meanwhile beats Miami, who beat Florida State, but loses to #20 Oregon.  Beside beating a ranked Miami team, Washington also beats a ranked Oregon State team.  
As a side note, the B10 and SEC both experience down years and fail to produce a team with fewer than 3 losses.  
2000 Season Summary:
Florida State has the claim of beating two ranked teams, as does Washington.  FSU has the claim that their one loss was to a higher ranked team.  Washington though has the claim that they beat the team that beat Florida State.  It's a mess of quality of opponent versus the transitive property of wins.  
Solution:  The plus one system.  Washington gets a chance for a direct win over FSU and Miami gets a chance to avenge a regular season defeat.  All four of these teams are conference winners, so our worst case with a +1 is a potential out of conference rematch (Miami vs FSU).  Since it was out of conference play that loss occurred early in the season and wouldn't be a terrible, plus both teams would have had to beat some other good teams to earn that rematch.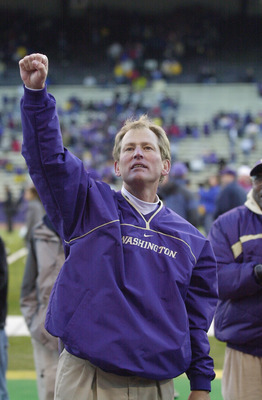 A rare photo in which Rick Neuheisel has hair and job security.  
2001/2002 BCS:
Championship Game: #1 Miami (YTM) defeats #2 Nebraska
Other Possible Claimants:  Colorado, Colorado, Oregon, Tennessee, Illinois, Maryland
Oh boy, this whole season is a mess.  With that said:
Miami is undefeated, so the immunity idol is theirs.
Now Nebraska and why I listed Colorado twice.  Nebraska is the favored team in the polls, with wins over a ranked Notre Dame and Oklahoma (The Sooners are #2 when Oklahoma played them).  The last game of the regular season though they are blown out by Colorado.  Colorado 62, Nebraska 36.  In the title game Miami takes care of business and wins 37-14.  
Colorado meanwhile ends the season with losses to Fresno State (24-22) and Texas (41-7).  Colorado avenges their loss to Texas in the B12 Championship Game though and wins (39-37).  Their reward is to get the Fiesta Bowl, while Nebraska gets a shot at glory despite failing to win their division or their conference.  
Oregon has a strong season with wins over 3 ranked teams in the regular season and then beats Colorado in bowl season.  Oregon's one flaw is losing to Stanford by a touchdown.  This is a Ty Willingham coached Stanford, but somehow one that finishes the season 9-3.  
Tennessee has a fairly strong resume, but suffers from the fatal flaw of losing to LSU in the SEC Title Game.  LSU has three losses at the time.  If you can't win your division, no crystal football for you.  So Tennessee is out.
Illinois finishes out the second with wins over three ranked teams.  They do suffer a 45-20 defeat at the hands of Michigan, but finish the regular season 11-1.  
Maryland gets mentioned here since they also finish the season with one loss.  However they need overtime for their sole victory over a ranked team (Georgia Tech) and they lose to a ranked Florida State squad.  Maryland is out of the picture due to their weak resume.  
2001 Season Summary:
Colorado got screwed.  They finish the season with two losses (one of them avenged).  Oregon also gets screwed here considering they have three ranked wins and only one seven point loss.  
I'd say you have four teams with legit claims when this season ends.  Miami, Colorado, Oregon, and Illinois.  They're all conference winners.  Colorado does have two losses, but they did avenge one of them and they bombed Nebraska, so I'd say let them play.  
The BCS remains the second worst thing to happen to buffaloes.
So The Mininum?
What is interesting is in this era you can't really argue about the #1 team.  In these games the #1 team was undefeated and took care of business.  The argument mostly comes down to who deserved the honor of having a shot at the #1 team.  Perhaps this argues for #1 getting a first round bye in a larger format playoff system.  
Anyway in terms of structuring a playoff where no one can complain they were screwed out of the #2 ranking between 1998 and 2001, by my count we're at:
1998: 4 teams, 1999: 2 teams, 2000: 4 teams, 2001: 4 teams
This of course is subjective and I'll freely admit I engaged in some resume voting with the above.   What I did find interesting here was we're at a point with six strong BCS conference (Miami and VT are in the Big East at this point and FSU is enjoying the glory of a pre senility Bobby Bowden).  1998 is the year we come the closest to having five teams in play (if KSU beats A&M).  It seems like most years you end up with two conference winners who can be fairly easily discarded.  In 1998 for example A&M is out due to their two loses (in 1998 the winner of the Big East, Syracuse, had 3 losses and is eliminated).  
When the fifth team threat emerges so far it has come from a team that did not win their conference (KSU in 1998 and Nebraska in 2001).  In those cases you can simply invoke the "Win your conference if you want to win the title rule" and remove them (and in Neb's case: "Win your division").
As a side note, the BCS was good at picking #1s during this period.  
So working solely off these four years of data, I'd argue in the direction of a +1 system.  It seems in most cases you have four strong teams and anyone who comes the champion in a +1 playoff is going to have a resume that makes them the clear champion.  This could change those if more 1998 scenarios happen (where KSU wins their conference and thus you end up with 5 BCS conference winners who have resumes worthy of letting them into a 4 team playoff).  Keep in mind those, in the future we'll not only have 6 BCS conferences, but some possibly legit teams coming out of the MWC.  So will 4 be enough?
So The 4 Team Playoffs:
1998: Tenn, FSU, UCLA, Ohio State
1999: FSU, VT, Neb, Wisconsin
2000: OU, FSU, Miami, Washington
2001: Miami, Colorado, Illinois, Oregon
The only two real objections here would be in 1999 if a two loss Wisconsin team runs the table (so a two loss Wisky gets the title over FSU and VT who would both be one loss) and the whole FSU-Miami rematch in 2000.  FSU-Miami is an out of conference game during this time period though (Miami is Big East, FSU is ACC) and I don't want to penalize scheduling like a big boy for your out of conference schedule, so I say let it happen.  In terms of Wisconsin winning it all, that's the downside of a playoff.  The pro of the playoff is that it elimates arguments over if #3 or #4 deserved a shot at #1.  The con is sometimes a weak #4 could get lucky and win out.  We just have to hope the latter doesn't happen often.
I also can't see any fifth team that would have room to complain about getting the door slammed in their face for any of these games (include my standard: If KSU won in 1998 we'd have a problem disclaimer, but they didn't so I do what the results say I should do).  
Quick Note: Please don't get too hung up on the #4.  I'm not trying to set a standard playoff size from just these points.  My goal is at the end of all of this to look back and say:  "The median number needed since 1998 is X, and with X we'd have still had controversy in the following years...".  For example with an X of 4, you likely have some controversy in 1999 when a two loss team got a shot at an undefeated team.   
Up Next: To 2002 and Beyond!
(If I screwed up a fact in all this please call me out.  I was multitabbing like a madman on College Football Warehouse so I may have messed up a score or record here or there.  Hopefully not too frequently).