Michigan vs Pittsburgh Wednesday 9:30 ESPN2
Yes, it is early to start obsessing about a game nearly a week away.  No, I cannot help myself.
The city of Pittsburgh is an industrial blight on the beautiful rolling hills of Pennsylvania.  Last year, the team wasn't much prettier. 
Pittsburgh Coach Jamie Dixon is a defense and rebounding kind of guy.  A Tom Izzo kind of coach, if you will.  Last year Pittsburgh wasn't all that great at defense and rebounding.  They went 5-13 in the Big East, and missed the tournament.
Thing is, they didn't give up.  They Janestowned it.
 Those poor mudders accepted an invite to the lowly CBI, and the extra practice time that went with it.  And a funny thing happened while they were preparing and playing meaningless games.  They got better.  They went on to beat a couple of pretty decent teams in Butler and Washington State on the way to a CBI championship.  Which...yeah.  It wasn't a glorious road, but they took it.
 This year their leading scorer Ashton Gibbs is gone, but if you can believe it the Panthers are playing better basketball.  Much of that improvement is centered around Tray Woodall, who missed most of last season with abdominal injuries.
Tray Woodall has picked up much of the scoring load, and in the last two games the Panthers outrebounded their opponents 71-40, and held their opponents to an average of 52 points.  Their games are a little slower, averaging 10-15 fewer possessions than Michigan. Mudder basketball is back.
Aside from tough man defense and rebounding, there is one fantastic player to worry about.  As 5'th year senior PG Tray Woodall goes, so go the Panthers.  His matchup with Burke will be a fantastic one.  They're both the total package-shooter, slasher, passer defender.  Its going to be fun.
The Panthers start another point guard, this one 4* freshman James Robinson, primarily so that Woodall can focus more on scoring and less on getting the ball up the court.  To this point Robinson really hasn't shot the ball much or accumulated a lot of assists.  On rare occasions when he has looked for his shot he has been pretty effective...but this is Woodall's show.
6'9" F/C Dante Taylor is the Panther's best rebounder, pulling down 10 boards or so a game.  Last year Taylor was the primary center, but this year he is losing minutes to
7' 5* freshman center Steve Adams of New Zealand.  Adams is a shot blocker and a fair rebounder, but at this point in his development he scores most of his points by way of put-backs.  They're not running a lot of plays for him(again, Woodall's show).
6'5" Jr. wing Lamar Patterson, 6'9" Jr Forward Talib Zanna, and 6'6" Jr Forward J.J. Moore provide supplimental scoring punch, all depending on who has the hot hand.
Michigan's coaches will be treated to a familiar face on Wednesday...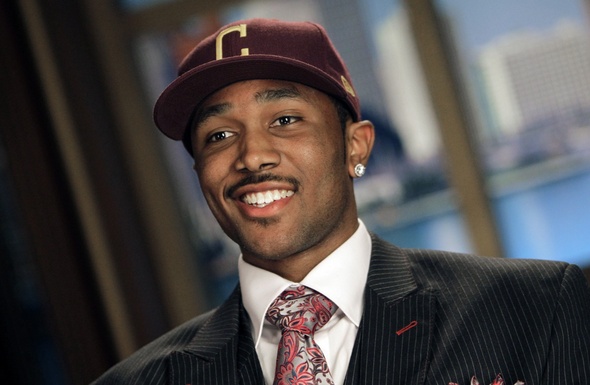 That's right, former Michigan recruit Trey Zeigler.  Way back in 2010 Zeigler shunned Beilein's dream of starting an entire squad made up of guys named "Trey" in order to spend another year with his old man at CMU.  (Just for old time's sake, take a walk down memory lane with me...http://mgoblog.com/content/hello-tim-hardaway-jr  Yes...that was you lamenting taking Hardaway when Zeigler was still out there...you know what they say about hindsight).  Not surprisingly, the guy still shoots 50% from the charity stripe.  (Ernie had 18 years to fix his set shot, you think a couple more at CMU were going to make a difference?)
And for the 15 or so minutes he sees against Michigan, I fully support a hack-a-Trey philosophy.  Well...only if they're already in the bonus...
All in all this should be an excellent test for Michigan.  Pitt basically plays B1G basketball in the Big East(well, for one more year--next year the Panthers join the ACC).  They play tough defense, they rebound your misses...they're mudders.  Michigan had better value the basketball.  They had better knock down their shots.  Because as Bill Self found out recently...If you let a mudder hang around long enough, they may just jump up and bite you in the end.