Michigan QBs - 2001 To Present - A High-Level Summary
With many threads in the past month devoted to the quarterback situation for the Wolverines, I thought it might be interesting to take a holistic view of Michigan quarterbacking going back to a decade or so and compare the performance of our personnel to the average in the conference.
One thing that I found illuminating right away is that only in the last three seasons have we remained consistent above the conference average composite rating, if you will. Further, it was also interesting to see one particularly violent fluctuation in the numbers whereas the conference average remained more or less stable.
The graph for completion percentage shows that Michigan, for the most part, has stayed within earshot of the conference average in this statistic, typically a few percentage points in either direction, so we essentially trend with the conference.  Interceptions, as I am sure some will note, are definitely trending in a direction other than what we might like, but as has been said repeatedly on this board, there is one game this year which is a total aberration. Remove it, and the story is very different.
When it comes to yards per attempt, this is another area in which we've been more or less near the conference mean, and actually, in the last couple years, we have slowly improved whereas the rest of the conference has taken a small slide. We have been historically more productive in the area of passing TDs as well, with the only below average years in the studied span being 2008 and 2009.
Anyway, below are some thumbnail links to the graphed data.
Michigan QBs – Overall Rating – 2001-2012 (to date):
Michigan QBs – Overall Completion Percentage – 2001-2012 (to date):
Michigan QBs – Total Interceptions – 2001-2012 (to date):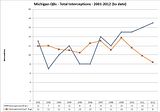 Michigan QBs – Yards Per Attempt  – 2001-2012 (to date):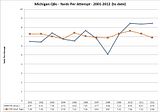 Michigan QBs – Passing TDs – 2001-2012 (to date):
Michigan QBs – Passing Yards – 2001-2012 (to date):