Michigan Pointspreads: Early Action on Wolverines in Opener, Against Them in Finale
[ED: bump!]
Hey all. Before we get started, a reminder: Its been 566 days, and counting, since Ohio defeated Michigan in football.
Technically, the offseason is officially OVAH. How so? Because now we have a full(ish) board of games to bet on thanks to the esteemed Golden Nugget in downtown Las Vegas releasing well over 100 games of the year lines back on Monday. This has become an annual tradition for the casino's sportsbook and, for me, it tells me two things: One, hurry up and get your summer on because pretty soon it will be football season, and, two, it's time to start studying up on these teams and getting them down cold because if it's football season, that also means it's gambling season. For full analysis on the games on the Nugget's betting board, bookmark the JCB. We'll be looking into these throughout the summer. And while we havent produced any posts yet on the subject, we do have a killer Wisconsin preview on the blog this week as well as daily Euro Cup 2012 coverage. For now, lets focus on the five games involving Michigan. Here are the lines as they opened and later adjusted as action came in, with a full breadown following:
Michigan Lines At The Golden Nugget

| | | |
| --- | --- | --- |
| Opponent | Opening Line | Current Line |
| vs Alabama | Bama -12 | Bama -10 |
| at Notre Dame | ND -1 | ND -1 |
| vs Michigan St | UM -6 | UM -6 |
| at Nebraska | UM -2 | UM -1 |
| at Ohio State | UM -3 | Pick 'Em |
WE HAVE A DIFFERING OF OPINIONS: NEBRASKA, OHIO STATE
What jumped right off the page for me is the fact that the Golden Nugget installed Michigan as road chalk in both the Nebraska and Ohio State games. The Nugget's opening line called for Michigan -2 at Nebraska and -3 at Ohio State. This is in direct contrast to the spread projections put forth by Beyond The Bets, which we discussed in the MGoForum last week.
To review, BTB did spread projections on all the scheduled college football games for the upcoming season. Per their numbers, Nebraska was -3 vs Michigan and OSU was -4 vs the Wolverines. In both cases, the first actual betting line was nearly a full touchdown different from the BTB projections. Of the 111 lines the Nugget released, a handful differed a point or two from those BTB projections, but very few had a different team favored which was the case with these two Michigan games. I caught up with Behind The Bets in an email exchange to get their take on the differing opinions on these games. Home field played a big role in their initial numbers and it was revealed that their numbers pegged OSU to be upwards of a 6-point favorite, but given Michigan's bounceback season in 2011, new found skill at defense and rivalry game intensity, BTB felt it more prudent to project a smaller number. They think the Bucks are the best team in the Big 10:
We power rated Ohio State as the best team in the Big Ten. Obviously, the Golden Nugget disagrees and - to some extent - it's apparent that Las Vegas wiseguys do, too. Otherwise, it's likely that the line in the Michigan-Ohio State matchup would have moved from Michigan -3 to Ohio State being favored. At some point, it very well could, and the guess here is that Ohio State will be at least a three-point favorite by kickoff. But that's the great thing about making opinions in June: They aren't exact, we all have different ones, and it makes for some great discussion.
Dont loook too deep into their power rankings calling OSU the league's best team. For one, its only summer. We're all speculating at this point. But more importantly, very little separates the teams at the top of the league. BTB forecasts a conference race thats too close to call. In their rankings, Michigan is just a point behind OSU, and there's a minuscule 3-point difference between OSU, the highest rated team, and the fifth-rated team, in this case MSU. BTB said that Michigan, Wisconsin and Nebraska are basically dead even in their ratings, and if the Cornhusker game was in Ann Arbor this year, their spread projections might have listed the Wolverines as 5- or 6-point chalk.
One of the themes in past summers in the wake of early betting lines being released was that Books couldnt throw numbers on the board to stop people from betting against Michigan. Whether it was Michigan being an unknown commodity in the wake of coaching changes in 2008 and 2011, or, frankly being a known stinky commodity after losing years in '08 and '09, nobody seemed interested in backing the Wolverines. That might be shifting and seeing the Nugget install the Wolverines initially as road chalk in the Nebraska and OSU games is an example of that changing mindset. The public loves betting on stars and few shine as brightly or are as popular as Denard Xavier Robinson. BTB expects the Wolverines to be a public darling most of the season.
Expect Michigan to be a heavy public team all season long - no different than USC, another storied program who has a Heisman Trophy hopeful at quarterback. And again, the Mattison factor can't be underestimated. The days of watching Greg Robinson's Swiss Cheese defense are over, and Michigan fans can again expect to see the defense make great second-half adjustments and keep them in games they otherwise have no business winning.
However, early action, at least on the Nebraska and OSU games, shows that the early bird gamblers are still going against Michigan. The OSU line was immediately bet down to a pick 'em and enough Cornhusker action was lured in to shave a full point off the Nugget's original line from UM -2 to UM -1. Living in Ohio, I can tell you that word is going around about a pick 'em line for this year's The Game, and I received a handful of texts and emails from Buckeye friends wondering if I was ready to bet them. The answer to that is No. I suspect the Bucks will have a really good season this year. And that come game week, Michigan will be catching a field goal. The smart investor will wait for those points to materialize, so dont pull the trigger just yet.
As for the Nebraska game, I'm a bit more bullish on Michigan and the current line than I
was at first blush. When I broke down the 9.5 regular season win total prop for Michigan at the JCB, I wasnt very confident about any bigtime road game, admitting I couldnt even give a lean to a Michigan win in Lincoln. Since then, however, I've done soemthing radical. I rewatched last years game. I have new found Michigan confidence. I had forgotten just how much Michigan dominated the game and worked over Nebraska's allegedly vaunted Black Shirt defense. I recall the game getting out of hand in the second half thanks to some quirky turnovers by Michigan, but if this game was scored like a boxing match, it would have been a rout, all rounds to the Wolverines. It was the best four quarter game Michigan put together all season. Fitzgerald Toussaint was a beast. Michigan's offense was unstoppable. And the Nebraska offense, led by Tyler Martinez, generated no offense without the help of turnovers or after the game had long been decided. You know the woodsheds that Michigan seemed to end every season with under Rodriguez? It was like that, but with the good guys being the bully. After rewatching last year's game, I could buy the Wolverines being the slight chalk that the Nugget has made them. I think people are as unsure as ever on Nebraska. And nobody is interested in laying many points with them and Martinez. If you want my advice, go ahead and take Michigan against Nebraska. But hold on to your money until game week for OSU and wait until Michigan is catching points.
THE MONSTER OPENING GAME: ALABAMA
The online sportsbook 5Dimes got a jump on everybody with this game, releasing a line of Alabama -7 in the dead of winter. Sharps pounded Alabama on that line and eventually the line grew from Bama as one touchdown favorite to two touchdown favorites. To be clear, this wasnt a case of constant, daily action coming in against Michigan, making the line -8 one day, then -9 the next and so on. It was more of a shock and awe type of thing than anything else. That opening line of -7 got so much one side action that the book pulled the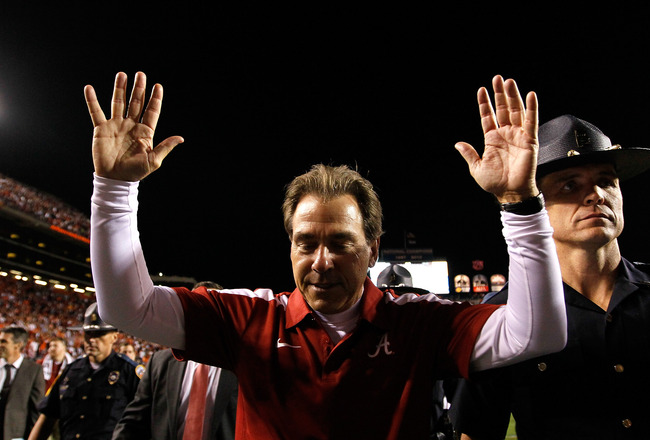 line, went back to the drawing board and rereleased it as -14. They seemed to have a found a fair number for the middle of the offseason, but, in the last month, a slow trickle of Michigan money came streaming in, and 5Dimes knocked the line down to 13.5, then to 13 and just before last weekend all the way down to Alabama -12.
When the Nugget released their much ballyhooed lines on Monday, they agreed with the latest 5Dimes shift and hung a Alabama -12 number. And in a sign that BTB's intimations that Michigan could be a public play this year, money did come pouring in on the Wolverines. The line at the Nugget currently sits at Bama -10. However, back at 5Dimes, where the online didnt get the hyped injection of action like the Nugget got on Monday, the line remains -12. So, if you want to bet Michigan and the points, go over and do it at 5Dimes while you can still get an extra two points. You know what I am thinking? I am wondering how sizeable the demographic is who has Alabama -7 on that very early 5Dimes line, but also has Michigan +12 on the Nugget line, or even +13 or +14 on the 5Dimes re-release. I want to watch this game with that crowd. Otherwise, I'm probably going to sit this one out.
I honestly dont have a true feel for exactly how Michigan will fare in this game. I do know that last summer I figured only a miracle could keep the Wolverines in this game. But their performance, especially on defense, a season ago, has at least given me a flicker of real hope in this game. I am not reassured that Alabama has to replace a lot of defensive parts, but it still will be athletic, fast and talented. And still coached by Nick Saban. It's easy imagining them choking Michigan the way similarly frothed defenses from MSU and Va Tech did to the Wolverines a year ago, despite the Renaissaince season. And the Tide's offensive line might be a mismatch going against the inexperienced and unproven Michigan defensive line. This might be the worst matchup for Michigan's defensive line to be playing without stalwarts up front Mike Martin and Ryan Van Bergen for the first time in years. Eddie Lacy and Jalston Fowler will handle the rock for Bama now that Trent Richardson is in the NFL. They have just theee 100-yard games between them, but I wouldnt be surprised if one of them pops over the century mark in this one, taking advantage of Michigan transition up front. I cant shake the feeling that this game may just take the form of the recent Bama/Penn St matches from the last couple of seasons. Bama strangled those games in their favor, slowly, but surely pulling away for 24-3, 27-11 wins, covering the spread in each. Michigan at least has a much more capable offense than Penn State ever did coming into those games. The playmaking ability of Robinson alone might be enough of an offensive counterpunch for the Wolverines to, unlike PSU, stay in the game and make the Tide sweat in the end. That might not sound like the most optimistic assessment, but a year ago at this time, I figured Michigan would be lucky to stay within three touchdowns of the Tide. #Progress
THE UNDERDOG SERIES: NOTRE DAME
I really dont have any new ways to present this well known factoid of the Michigan-Notre Dame series, so I'll just say it. This is an underdog series, with the dog logging a 21-5 ATS
mark and actually winning the series outright on the real scoreboard by a 13-12-1 count. I always say the underdog in this series usually ends up playing its best game of the season. On the current 4-0 SUATS run the dog in this series is riding right now, you could for sure that say the 2008 Irish squad and the 2009 and 2010 Michigan squads didnt play better games or earned bigger wins in those years than what they accomplished in the annual grudge match between these historic programs. You'd be hard pressed to find an annual series that tilts so strongly to the underdog. Clemson-Georgia Tech in the ACC gives it a run for its money. Both games are ones that I will always play the underdog in, no questions asked. Sometimes its that easy to pull the trigger.
I know some partisan Michigan fans will grumble at the audacious lack of respect oddsmakers are giving the Wolverines here by making the Irish the favored team at home. But I want to Wolverines to be the underdog all the time in this matchup. Nothing good really comes from being chalk in this series. The Irish havent covered as chalk in this series since 1982, while the Wolverines have only covered twice as chalk in this series during my adult life. At least Michigan has some history of winning, but not covering in this series like in 1997 and 1999, but those were major escape jobs from our heroes.
The Irish are always a tricky team to handicap. Other than this Michigan game, the Irish are either eye opening dogs--catching double digits against USC and Oklahoma--or do-a-double-take heavy chalk, such as laying 10 points against Miami. Wise guy bettors have long loved Brian Kelly, but so far in two seasons in South Bend, he hasnt rewarded that faith with a great record against the spread. The Irish perpetually seem to be overvalued more than any other team in the early going of college football seasons. The money quote from Kegs 'N Eggs Adam from the above link:
There were also other games later in the season posted, and Vegas is taking plenty of Notre Dame action, again, because they are Notre Dame. The Golden Nugget clearly likes this team and are making lines that stretch beyond protecting themselves against public betting. That's not the first time we've seen that happen, though.
Yes, we have seen it happen. In fact, it's become a little bit of a cottage industry for me (and the JCB, natch) to spend every September betting against the Irish before people realize just how overrated they are and how skewed the lines are as a result. Did you know that Notre Dame is just 32-31 straight up in the month of September and before since Lou Holtz left town? Well, now you do. That nets out to 27-35-1 against the spread, so betting against the Irish on the blind during the opening month of the season has turned a decent profit since 1996. As chalk, they are especially good money burners during the first month of year, logging just a 12-23-1 ATS mark during this stretch. Basically, they have been annual slow starters since Uncle Lou left town and have failed to cover the spread two out of every three times they've been September chalk since then. With the Irish laying 13.5 to Navy, a single point to Michigan and likely to be chalk against Purdue, you'll make money by betting against them in these games if past history is any indication. And even though they've covered the spread the last couple years against MSU, you could probably add in MSU -2.5 to the Fade Notre Dame Early profit mix. It's a Fall Tradition like no other.
THE GREEN ELEPHANT LAYING IN THE WEEDS: MICHIGAN STATE
The Michigan State Spartans, the current program Waterloo (please, no mail from Iowa. kthnxbai). I brought this up last week, but I am inclined to take the points here and side with MSU. I've been picking MSU to at least cover, if not win, pretty much the entire time during their nifty little historic winning streak over Michigan. I feel Michigan is finally ready to win this game and have just the right circumstances to do that this season--game is at home, senior QB, seemingly extra focus finally being put on this game and so on. But will they? I cant see them doing so in anything other than a close fight that goes right down to the gun.
I have a betting paranoia on taking a team thats favored by a decent amount while trying to snap a noteworthy losing streak against Foe X. A great recent example was last year's OSU game where Michigan won, breaking a 7-game losing streak to the Bucks, but failed to cover the closing -8 line. Yes, I realize there was a shaky replay call that overturned a Michigan touchdown late in the game, keeping them from opening a 10-point lead. But that wasnt the last play of the game. And part of my anxiety in these spots stems from situations like that, even if the TD is granted. There is plenty of time for a worthless late score and back door cover. The dreaded Prevent Defense burns chalk bettors every week with late scores. Given how fast OSU scored some of their TDs that afternoon, you cant say that replay was the difference between covering or not. The back door cover would have been in major play. I'm convinced that had the TD stayed on the board, Michigan would still need to recover an on-side kick to finally clinch a victory.
Getting back to this MSU game, I just dont think more than field goal really should separate these teams this year. And as far as that back door cover scenario, Michigan would need to be up more than 13 points in the fourth quarter to avoid the back door threat. I dont see that happening. We'll see how this line evolves between now and October, but right now I would take those points to the bank.