Michigan hoops @ Bradley Saturday 4PM Peoria, Ill ESPNU
   One player on Michigan's team may have had this Saturday's matchup with the Bradley Braves circled on their calendar for a little while.  That player is Trey Burke.  Last year against Bradley, Burke had one of the worst games of his career. 
He watched Walt Lemon go off for 16 points.  Lemon shot 5-11 that night, and a scorching 3-5 from downtown.  Burke himself shot an uncharacteristic 5/13 and 1-7 from downtown, salvaging his stat line with 8 assists.  Bradley held Michigan to 35% shooting in the first half, and actually tied the score at 45 in the second.  (Returning players) Jordan Prosser, Dyricus Simms-Edwards, and Shayock Shayock each pitched in 10 points and 7-8 rebounds. Michigan, led by Evan Smotrycz's 20 points and 10 rebounds would eventually pull away and coast to a 77-66 victory. 
     A lot has changed since then.  I have to assume that this trip to Peoria Illinois(about 3 hours from Chicago) wouldn't have been scheduled if Patrick Beilein (Coach's son) was not at that time Bradley's Director of Basketball Operations.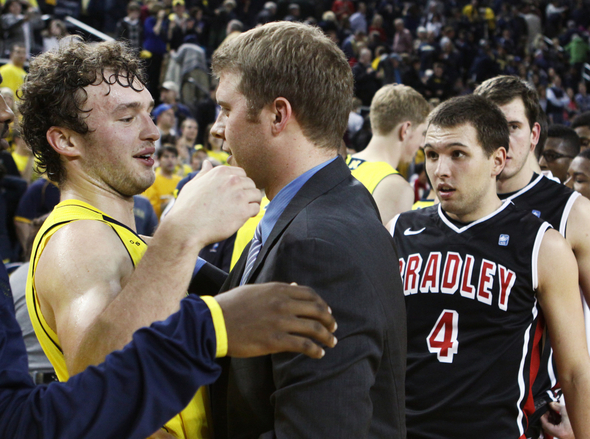 Well, back in May Patrick Beilein was hired to coach the West Virginia Weslyan Bobcats(not hard to see an early season matchup there…we played Concordia, right?) and this trip became a little…well…it's a road game against the Missouri Valley Conference.   Evan Smotrycz is gone.  6-8 Sophomore Shayok Shayok is now a little used bench player.  Michigan has welcomed the best recruiting class since Chris and Juwan.  Both teams are a lot better.
     Carver Arena is actually pretty nice, all things considered. 
This game will probably welcome around 11,000 people…as you might have guessed this is the biggest game there.  Pretty much ever.  As for the team…Stealing coach Geno Ford from Kent State is finally starting to pay off for the Braves.  And the team that went 7 and 25 last year comes into Saturday's game with only one loss, that to a relatively decent South Florida team.
     Tyshon Pickett and Will Egolf have made all the difference. 
6-9 Sixth year senior PF Will Egolf missed last year with a torn ACL.  This year he is putting up 11 points and 5 rebounds, and of the 5 Bradley players who each take 2-3 three pointers per game, Egolf is hitting the most by far(50%).  6-6 Junior Forward Tyshawn Pickett transferred from the junior college ranks and has bolstered the Brave's attack with 12 points and 7 rebounds per game.
     Our old buddy 6-3 Junior PG Walt Lemon
is back averaging 13 points and 4 assists…He's still taking 2-3 from downtown, but he's hitting on only 23%.  6-3 Senior Shooting Guard Dyricus Simms Edwards has the all-around game with 9 points, 5 boards, and 4 assists.  He is taking 2-3 from downtown, and hitting a blistering 14%.  6-5 Senior Guard Jake "Beastman" Eastman
was known for diving for balls and taking charges, but these days he is contributing with 11 points and 4 boards, shooting 33% from downtown.  6-2 Guard Jalen Crawford(of Detroit) is the other "perimeter threat", but he is also only shooting 20% from the deep. 
     Unless Egolf catches fire from downtown, I dare say a zone defense might be pretty effective here.  Bradley's lone semi-heralded recruit (3* Center with Iowa and ND offers) 6-9 Junior Jordan Prosser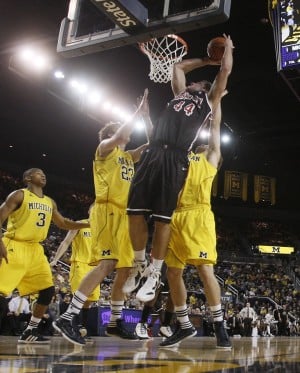 chips in with 7 points and 6 rebounds.  Everyone else was unranked or 2*, for what its worth.  This is the type of team that might have given last year's team a hard time.  Hell, they'd probably beat State. 
(LOL)
But even on the road…I don't see them hanging with Michigan's talent and athleticism.  The motivation to play nice just went out the window...And I can think of one person who just might have a bone to pick with these Braves...
  Michigan wins 85-67. 
Go Blue!