Michigan Hockey Rooting Guide: Week 21
Ol' Dex wants to know what to watch [Bill Rapai]
I know Brian just did a Bracketology Update on Monday, so I decided to look at more of the specifics of what/when/who to watch this upcoming weekend.
Notre Dame Preview
| | | | | | | | | |
| --- | --- | --- | --- | --- | --- | --- | --- | --- |
|   | PWR | Corsi | PP% | PK% | Players Drafted | Skaters >.75 PPG | GAA | Save% |
| Michigan | 15th | 17th | 16% | 77% | 7 | 2: Marody, Calderone | 2.76 (Lavigne) | .905 (Lavigne) |
| Notre Dame | 2nd | 47th | 20% | 88% | 6 | 3: Evans, Oglevie, Burke | 1.75 (Morris) | .950 (Morris) |
Things That Michigan Will (Probably) Need to Do to Get Points This Weekend:
1. Stay Out of the Box. This is where Michigan lost both games against the Fighting Irish last month. They didn't take a ton of penalties (only five combined), but Michigan gave up three of their four total goals surrendered with ND on the man advantage. When the game was at even strength, the Wolverines played Notre Dame pretty even, and maybe even outplayed them a bit at Yost.
2. Don't Get Caught. Michigan has done a better job lately of staying home defensively and covering for defensemen (Quinn Hughes) who skate the puck deep in the zone. Michigan is probably going to control the puck and get the majority of attempts. When that is the case, it is very important not to gift your opposition goals by getting too aggressive and giving up odd man rushes. Staying out of the box and defensively sound will give the Wolverines their best chance to grab points this weekend. Defensemen, pinch with care.
3. Finish. Just get the puck in the net. Over the last couple of weekends, Michigan has created some chances and given guys some opportunities, they just have not finished. This is the season's do-or-die series. It is time for Marody and Calderone–Michigan's go-to scorers–to finish their chances.
Final Thoughts. I like how this series sets up for Michigan. As Brian stated earlier this week, they're probably going to need a win this weekend to be in comfortable position in the Pairwise ranking. Michigan gets their Game 7 at home on Sunday, so Friday night kinda becomes found money. If they're able to get something in South Bend, all of a sudden Sunday becomes a great opportunity. If not, they'll have the friendly confines of Yost to fall back on for an all-or-nothing chance.
[After THE JUMP: dissecting the Big Ten standings and nationwide rooting interests according to Pairwise]
What About the Rest of the Big Ten?
As usual, there are two non-Michigan Big Ten series this weekend. Both of them have implications for Michigan in the standings…and kinda in the PWR. Here are the B10 standings:

[via www.collegehockeynews.com]
Michigan is going to want to host their BTT first-round series in two weeks. In order to do so, they'll need to finish third or fourth in the conference. So, let's look around the league:
Penn State at Michigan State. Both of these games will be televised on BTN (Friday at 6:30 PM, Saturday at 5:00 PM). Unfortunately, rooting for MSU this weekend is preferred. PSU has two games in hand on Michigan with their final two a home series with Minnesota; we don't know what the preferred outcome of those games will be yet. The Lions are chasing Michigan by 7 points and can only gain 12 in total. Any points dropped in East Lansing will be welcome. Michigan's magic number to stay ahead of Penn State is six points.
Ohio State at Minnesota. Friday's game will be on BTN at 9 PM EST, while Saturday's tilt will be on ESPNU at 5:00 PM. Once again, Michigan should be cheering on their rival, as Ohio State has all but guaranteed second place in the conference. Minnesota is only trailing the Wolverines by 3 points, and they have a chance to collect 12 in total. Their schedule is tough (at PSU next weekend), but since conference wins are tie-breakers, they have a good chance to pass Michigan with a couple of wins. Michigan's magic number with the Gophers is ten points.
What about PWR and Just Making the NCAAs?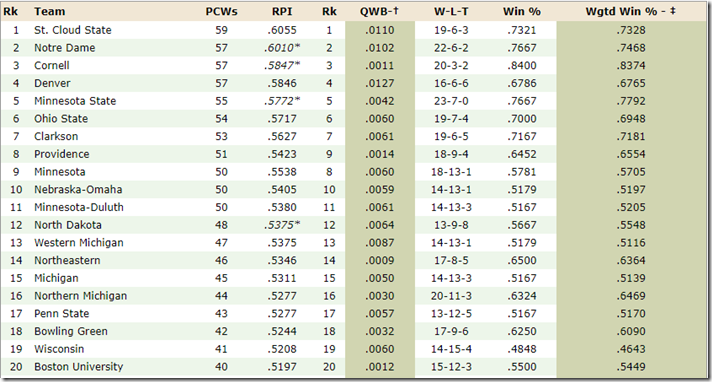 [via www.collegehockeynews.com]
What is Safe? I tweeted about this a little bit last weekend. There are 16 spots in the NCAA Tournament: six conference tournament winners and 10 at-large bids. The problem this season is that 10 of the top 16 spots in PWR belong to the NCHC and Big Ten. That means that the remaining four conferences have to be won by the remaining six teams. Those six teams are broken down thusly: two from each of the WCHA, Hockey East, and ECAC. No one in Atlantic Hockey is in the top 25 in PWR, so 16th in PWR is out. While each of the remaining three conferences has two teams in the top 15–and they are all top-3 teams in their respective conferences–conference tournaments are wonky and random. So, to be mostly safe, a team probably has to be 12th. If more favorites win their tournaments, that only adds spots to the safe list. If Michigan wants to put their feet up and relax, 12th is the floor for that right now.
List of PWR Teams Relevant to Michigan:
(12) North Dakota at (t9) Omaha. Michigan has a chance to catch NoDak, so Omaha winning games this weekend would be choice. Although, given how close they are, a NoDak sweep is not too objectionable.
(1) St. Cloud State at (13) Western Michigan. Definitely rooting for St Cloud State in this series.
(14) Northeastern at Vermont. Vermont, for sure. Michigan got a little unlucky with Northeastern winning the Beanpot last Monday. We've seen Vermont, but I guess anything can happen.
(17) Penn State at Michigan State. We've already talked about this one. MSU…for PWR and B10 standings reasons.
(18) Bowling Green at Alaska-Anchorage. Root for the Seawolves. With BG flying all the way up there for back-to-back games, it always tough to go to Alaska and sweep. Anchorage is literally last is PWR, though.
(19) Boston University at UConn. Both teams are tight in the Hockey East standings. BU higher in PWR. Hopefully, the Huskies come out on top in this…[Ed.A-- *hands David his sunglasses*] dogfight.
Miami at (t9) Minn-Duluth. Michigan is sorta in range of UMD, especially with favorable results, this weekend. Cheer for the (gulp) Blasi-led Redhawks if you can stomach it.
(16) Northern Michigan and (20) Wisconsin both have Byes. Given both teams tough games next weekend, Michigan would need to have back-to-back rough weekends for either team to pass them. NMU has a home-and-home with Michigan Tech, while the Badgers head to Columbus.