Michigan Baseball Greats – Barry Larkin
This weekend's critical series against Big Ten co-leaders Ohio State has a side story that deserves just as much attention as a battle for the Big Ten title. Michigan's greatest shortstop, Barry Larkin, will have his number 16 jersey retired on Saturday afternoon.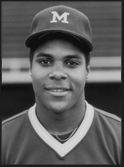 Barry was born in Cincinnati in 1964, a city that he would forever be tied to. He grew up and attended Moeller High School, a great school in Ohio sport history. It produeced not just Larkin, but Ken Griffey, Jr., and someone many Michigan fans hold dear: Gerry Faust. At Moeller, Larkin set the school record for batting average for a career at .482, hitting 12 triples and 11 homers, stealing 26 bases.
He would win the team MVP as a senior in 1982 and was drafted in the 2nd round by the hometown Cincinnati Reds. Larkin chose not to sign with the Reds however, and instead enrolled at the University of Michigan to play football. Yes, football. Following the 1982 season, he informed then coach Bo Schembechler that he would also be trying out for the baseball team. That was the last time Larkin would be part of the football team, as he became a regular immediately on the baseball squad.
On the diamond, Larkin made an immediate impact. The 1983 season would see Larkin named the Big Ten Tournament player of the year and make Baseball America's Freshman First Team. That season was also a College World Series for the Wolverines. In game one against Maine, Larkin had two doubles in a 6-5 win. Michigan would ultimately be eliminated by Texas in the semi-final. Michigan's final record was 50-9, the highest winning percentage by any Wolverine team ever.
At the CWS
That wasn't Larkin's last trip to Omaha. [Ed: continued after the jump.]
In 1984, Larkin would earn his first Big Ten Player of the Year honors; Michigan would win second Big Ten regular season and tournament titles. Michigan again made the College World Series, but this one didn't finish quite as well. Michigan was swept out in two games, losing to Cal State Fullerton 8-4 after a suicide squeeze play was incorrectly ruled in favor of CSF. The the inning opened the floodgates. In their second game, Michigan was crushed by the University of New Orleans to close out a 43-20 season.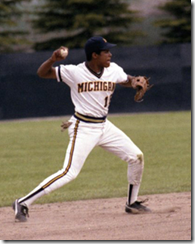 Larkin finished the year leading the team in batting average at .363. He was named an All-American by the American Baseball Coaches Association. This would also be his first All-Big Ten shortstop selection. He would also be honored with the Ted Sizemore Award for Michigan's top defensive player and the Bill Freehan Award for Michigan's top hitter.
Barry's 1985 season would be his last, and his most productive, hitting .368. Michigan would post their highest win total ever with 55 but they would fall in the South Regional just short of the College World Series. Despite that, Barry was a consensus All-American by the American Baseball Coaches Association, Baseball America, and the Sporting News. He also gained his second Big Ten Player of the Year award, becoming the first ever to accomplish the feat twice. He would also win his third straight All-Big Ten Tournament honors despite Michigan losing 2 of three games to be eliminated and place third. With that type of season, it's no wonder he won the Ray L. Fisher Award for the Michigan Team MVP.
That would be his last season at Michigan:
Larkin still ranks among the top 10 in five different single-season categories at Michigan. He is tied for second in triples (8), fifth in home runs (16) and fourth in total bases (150) while ranking third in runs scored (72) and fifth in runs batted in (66). His three-year career is one of the best for any Wolverine, ranking in the top 10 of five career offensive categories -- third in triples (13), fifth in runs scored (172), seventh in slugging percentage (.590), ninth in stolen bases (44) and 10th in total bases (332).
Concluding the 1985 season, Larkin was drafted again, this time with the fourth overall pick by his hometown Reds. This time, Barry moved on. He immediately joined the AA Vermont Reds of the Eastern League. There he would join fellow Michigan alumnus Chris Sabo, a pair that would hold down the left side of the Cincinnati Reds infield for years.
After just a year and a half in the minors (including a AAA MVP season), Larkin made the jump to the Reds at the end of the 1986 season. Larkin was called up in the aftermath of Big Red Machine shortstop Jose Concepcion's move to the disabled list. After a short position battle, won the shortstop role permanently by season's end.
Larkin was an NL All-Star in 1988, a season that saw him hit .296 and steal 40 bases. This would be his first of four straight All-Star games. On top of that, he struck out a major league low 24 times (in 652 at bats). He spent part of 1988 on a tour with other American all stars in Japan, where he hit .474 as the Team USA MVP.
In 1989, Larkin was poised to be a huge breakout star. Batting .340 at the All-Star break, Larkin injured his elbow in a skills competition. His season was all but finished there. In 1990, upon his return to the lineup, he still had some lingering scar issues in the elbow, particularly in the cold weather games early in the season, but it didn't affect his season. He was back to hitting over .300 with 30 steals and 67 RBI. More importantly, this was the first World Series championship season for Larkin. The Reds beat the Oakland A's in a sweep.
Larkin continued to roll as one of the MLB's top shortstops over the next few years, earning a 5-year, $25.6 million contract in 1991. His career peaked with a spectacular 1995 season. Barry hit .319 with 51 stolen bases and 15 home runs. That would be good enough to earn Larkin the National League MVP award. In Barry's own words:
I consider myself an amoeba man. I'll assume any shape to help the team. If the team needs someone to lead by example, I do that. If it needs someone to steal, I do that. If it needs someone to bunt or move a runner from second to third, I do that.
To follow that up, Larkin became the first MLB shortstop to join the 30-30 club (30 homers, 30 steals in a single season) in 1996. He totaled a career high 33 homers, 36 stolen bases, a career high in runs scored (117), and a career high 89 RBI while batting .298 on the season.
The following seasons saw a mix of injuries and trade rumors. The Reds were dropping out of contention and looking to develop younger talent while saving money. Larkin stuck around despite making a few comments about wanting to be traded to a winner, but that never happened. Barry would finish his career in Cincinnati, retiring after the 2004 season.
Larkin ended his career with 2340 hits, 198 homers, 441 doubles, 379 steals, and a career .295 batting average. His fielding was also impeccable, finishing with a fielding percentage of .975 at shortstop and 3 NL Gold Gloves.
Since his retirement, Barry has remained involved in the game. He worked as a "special assistant to the general manager" for the Washington Nationals from 2005-2008, and has recently worked as a commentator on the MLB Network. He and Sean Casey also acted as guest instructors at Reds spring training this season, looking "in shape enough to play."
Away from the MLB, Larkin has built the Champions Sports Complex in Orlando that provides a home to several sports including baseball, soccer, volleyball, football, and lacrosse.
He also helped create the Champions Sports Foundation
to harness the power of sport and use it to successfully develop the youth in America by targeting their social, emotional, and educational needs. The Foundation was established as the premier safe haven for the total development of young people through the authority of sport.
To help fund the foundation, Larkin sends 100% of the proceeds of B-Lark Merlot, a wine out of Healdsburg, California go toward the foundation. 
Larkin has been inducted into several Hall of Fames so far, including the Cincinnati Reds', The Michigan Hall of Honor, and the College Baseball Hall of Fame. It's only a matter of time until he makes the big time. In his first MLB Hall of Fame ballot, he fell short, collecting only 51.6% of the votes necessary. With the next few classes of first-time ballot players, Larkin will probably make the MLB Hall of Fame within the next 2-3 years. Not making it would be a shock.
Barry's Michigan retirement ceremony will be held Saturday at 5:45p. Gates open at 5p and Michigan will host the Buckeyes with a 6:12p first pitch.