Michigan And Ohio State - 2012 Season-To-Date Statistical Snapshot
EVERY GAME BUT "THE GAME"
In the interests of providing the board with yet more analysis of upcoming opponents, I have taken the basic offensive, defensive and scoring statistics for Michigan and Ohio State and graphed them so you can see where the successes and struggles have occurred and against which teams.
First, however, a summary table of season averages:
| | | |
| --- | --- | --- |
| SEASON AVG. | MICHIGAN | OHIO STATE |
| Passing Off. (Yds) | 200.3 | 180.8 |
| Rushing Off. (Yds) | 192.7 | 245.5 |
| Passing Def. (Yds) | 152.4 | 250.1 |
| Rushing Def. (Yds) | 152.7 | 134.1 |
| Scoring Off. (Pts) | 30.8 | 38.2 |
| Scoring Def. (Pts) | 18.1 | 23.0 |
As you'll note,  the Buckeyes' pass defense is not at all good, and as the graphs will bear out, in individual games, it has been exploited even though obviously not enough to win in the case of their opponents. On the other hand, our average passing yards have improved about 15% in three games with the emergence of Devin Gardner as the starting QB in place of an injured Denard Robinson (who did an excellent job in limited time against Iowa – the 40 yard run was beautiful).
The obvious thing for the Buckeyes to do is to try to establish the run and start rolling out option plays, as they have shown themselves to be capable of doing. Although we beat Air Force and Northwestern, getting to the edge is going to be extra critical on Saturday, I would think. If Braxton Miller can be held to the 3.74 yards per play that we give up on average on the ground, I would say that the Buckeye offense starts to have problems.
Anyway, looking at these graphs might provide some insight into which games in particular both teams might review very carefully. The thumbnails images should work - let me know if you encounter problems.
Ohio State - Passing And Rushing Offense By Game - 2012:
Ohio State - Passing And Rushing Defense By Game - 2012: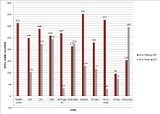 Ohio State - Scoring Offense And Defense By Game - 2012:
Michigan - Passing And Rushing Offense By Game - 2012: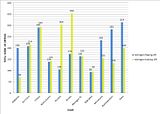 Michigan - Passing And Rushing Defense By Game - 2012: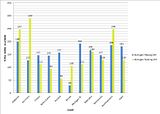 Michigan - Scoring Offense And Defense By Game - 2012: