MGoTWIS: Winds of November Edition
---
Sparty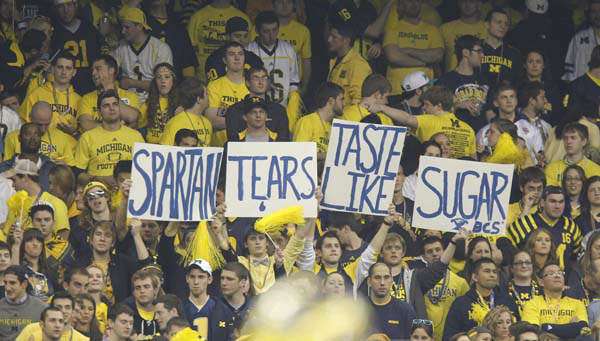 http://michiganstate.247sports.com/Board/93/Contents/tOfficial-game-thread-Screw-the-Chicken-Littles-Im-excited-48741538
So this is what it looks like to play a team worse than us. Huh.
Game has the feel of a scrimmage.
Here's the MSU offense I know and loathe.
We are really really horrible.
The ultimate chess match between people who don't know how to play chess.
I fucking hate this o-line and their bipolar performances.
Return of the clown show
I swear, it's almost like you have to try to suck this bad.
This fucking commercial may be more entertaining.
Rutgers going to run a train on these guys. Look forward to it
This is really, really bad football. What is wrong with me that I am voluntarily watching this.
Remember when we had a smart, disciplined team. Yeah, me either.
This is a truly pathetic performance by the O line. They are getting their shit pushed in almost every play.
UM should be embarrassed by how they played against us
I'm disappointed this game is on tv and in hi def
A throw on first down! I think I just saw a pig fly.
This game is so boring that it's making me feel like a prisoner in solitary.
this trash team is unwatchable. there is no way in hell a casual football fan has watched more than 5 minutes of this garbage game.
We don't like having leads. We don't like winning.
God this is like all those games on some obscure channel that I never, ever watch and I wonder about people who do. This is rock bottom shit
This game is setting football back centuries. Awful.
FireDantonio.com is still available
This is worse than when my doctor told me I had AIDS.
This team couldn't score in a whore house
ARE THESE PLAYERS BEING DRUGGED??? ARE THEY ON DRUGS... IS SOMEBODY ON THE TRAINING STAFF GETTING PAID OFF AND SLIPPING DRUGS INTO THE SIDELINE WATER.
We should burn more red shirts on this last drive. For fun.
So who had the Rutgers game circled as a big game on their calendar at the beginning of the year?
---
Terps
http://maryland.247sports.com/Board/67/Contents/Maryland-vs-Michigan-game-thread-48756116
I'm pretty sure UM's scout team O would beat our first team D.
The 49ers really destroyed CFB by harassing Harbaugh into leaving the NFL.
Pretty pathetic when you have a kickoff guy that can't even get it past the 10.
fuck harbaugh
I hope he wins National Championship this year. Then he'll feel alright about giving the NFL another shot.
Harbaugh is the worst.
I'm now emotionally invested in Peppers failing as a professional
Goddamnit, ENOUGH PEPPERS!
Studio announcers didn't bother to analyze 1st half. Literally laughed at us.
---
Irish
http://www.irishenvy.com/forums/notre-dame-game-day/286560-nov-5-navy.html
What lame drivel will Kelly say today at the post game? Just horrible
From a purely fan perspective without any personal malice involved, I hate Brian Kelly and his coaching staff so much I can't believe it.
Escort him and his staff off campus immediately. Watch him pack his ****.
Out coached by Navy. Lololololololol
WHY ARE WE RUNNING THE OPTION AGAINST AN OPTION TEAM!?!?
Bring back BVG?
Looks like we didn't even practice for this ****. Yeesh
I don't know why I am so amused by this thread but I needed this after the constant fire Kelly threads of the last three months...
Where can I watch the post game excuse conference?
My favorite part of the game is when they showed every team we lost to has a losing record with the exception of a sub-par Stanford team...
You know it is a sad story when people aren't pissed losing to Navy.
The Cubs have saved me from this ND football season.
---
Huskers
http://www.huskerboard.com/index.php?/topic/81348-official-ohio-state-game-discussion-thread/
It sucks to get embarrassed on national prime time tv....again
Tim Beck got his revenge
Which played made this comment "We're going to go in there and play pissed off"?
There are absolutely no positives from this game tonight except for the nice gesture OSU had for Foltz
Ohio State had scored 75 points in their previous three games. Combined.
This is the most embarrassing husker game in my life. I would be in meltdown mode if it weren't for the cubbies
How classy of the Ohio state fans to sing us the Goodbye song...such Great Fans...
3 points..
we cant even stop their backups
Onto Nebrasketball!!!!
"It is pleasant, when the sea is high and the winds are dashing the waves about, to watch from the shores the struggles of another"  -Livy