The "Little Bro" Analogy Explained
There has been some muttering about retiring the "Little Brother" meme. This diary is an attempt to save it, to once and for all make permanent this characterization of really one football game per year that demonstrates why sports is so much more than some silly pastime that guys substitute for war, why fandom is experiencing life in the abstract.
Because really, having football teams win or lose doesn't change our lives. But having  a brother does. Being the parent of brothers does. And sometimes the metaphor teaches us a lot more about the subject than looking at the subject alone.
There used to be a site called "Bitter Rivals dot com" that was about the Mich/MSU rivalry.
I wrote a thing for them, which if it was still online I could show you, which was written a lot better than what follows, and which called Mich/MSU a sibling rivalry back when Hart was deep under recruiting radars at some upstate New York high school.
The analogy didn't come from me -- I heard it first from a fraternity brother, and when I asked where he first heard the analogy, it was an older brother in the house, and so on... It's older than Hart. It might be as old as the rivalry itself.
Every relationship is different. Rivalries are relationships. The sibling analogy helps explain this one, because the two players act the way that rivalric brothers act, each fulfilling stereotypical roles of elder and younger.
I have two little brothers, one of whom is barely a year younger, and went to State (barely didn't get in to M, which was his first choice). He is my best friend. He will be my Best Man when I get married (in A2) next year. When I have an extra Tigers ticket, he's my first call, and I have spent enough time in the front seat of his 2000 Ford Ranger that my ass has left a permanent imprint.
And many, many, many times in my life I have wanted to rip his fucking testicles off.
Brothers fight. Brothers compete. Brothers piss each other off. If you have a brother that is close in age and you never fought each other, then that is really really weird, because
this is primal shit
.
If you want to delve further into the analogy, then yes, it's a
juvenile fraternal relationship
we're talking about.
M/MSU isn't about brothers who are late 20s through 40s and make their kids play together while talking about if the wives will ever come around to Mom.
It's about brothers who are 10
, stuck in the same house, the younger measuring himself by the elder, who measures himself against
the big bully kid up the street
, when fall Saturdays mean hours spent outside doing things that end up with one boy or several on the ground, which as winter onsets, hurts more and more.
It's one thing when the big kid up the street calls you "scUM" or "
Walmart Wolverine
" -- he's trying to start a fight, and, lo,
the fight will come to him
when it is time (and that ground has grown hard enough that he won't be cushioned when you knock his ass on it).
But you can handle the bully -- what's really irritating is when Little Brother starts picking up on something the class bully says and repeats it again and again.
And you hear it, because Little Brother is always there -- going to the YMCA, camp, the bus to school, soccer practice, a friend's house -- you can't get away from Little Bro.
Whether you got your degree at Michigan or Michigan State really matters very little
in my current world. The tangible, universal difference between The University of Michigan, and Michigan State University happens at 18: one group of in-state kids got to run around the house with their parents beaming, the other had to choke down the lump of rejection and embarrassment, and then learn to become comfortable with that.
And eventually, both will learn that this measuring stick didn't matter as much as they thought.
This rivalry takes place between those points. It's about one program that has ridiculous, permanent institutional advantages put in stone by Fielding Fucking Yost, and another that needed to take advantage of the middle 20th century South's dumb-ass-ness about skin color to ever be nationally relevant.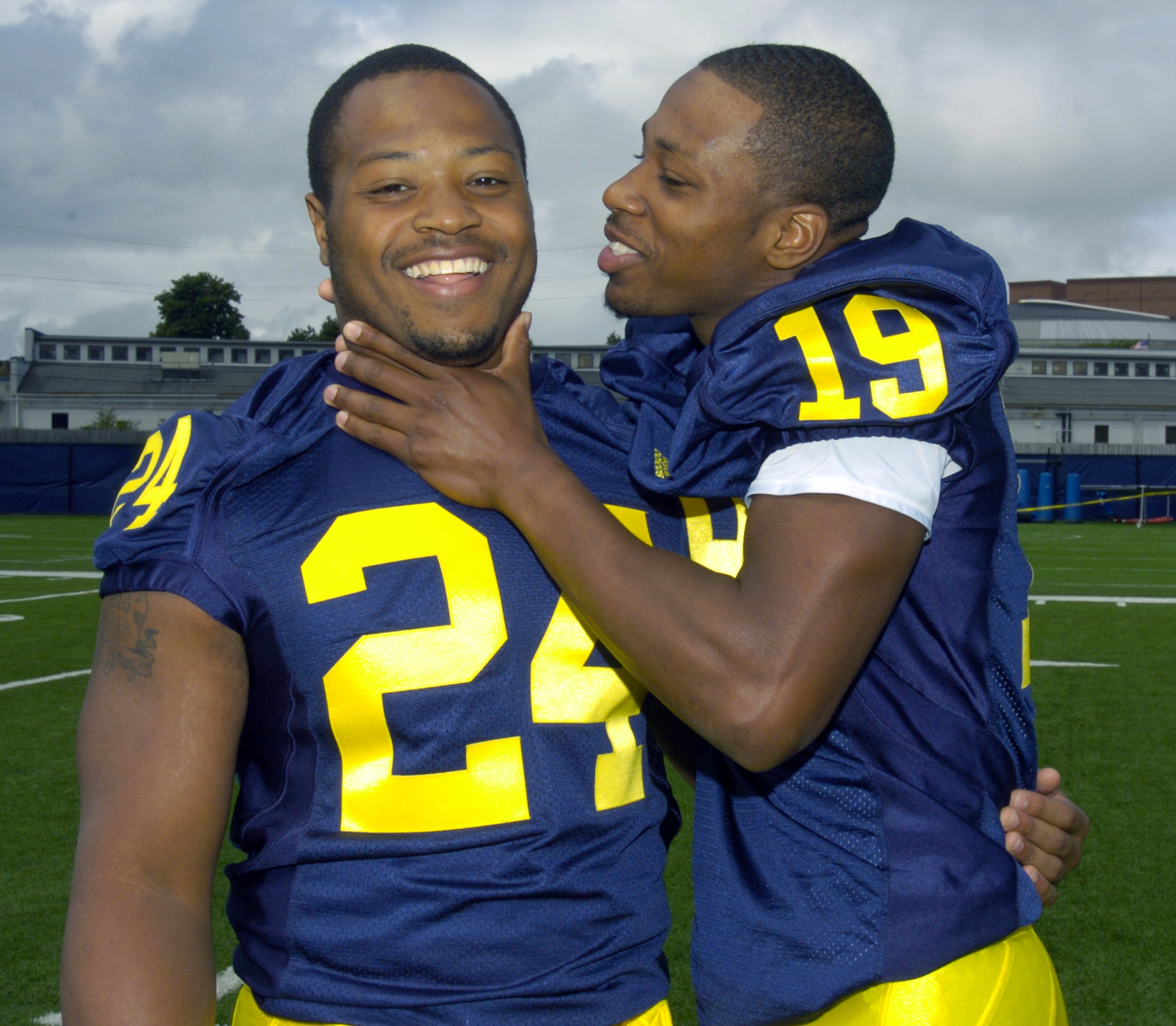 It's about one side that is introspective and intellectual, and another that acts like a meat-head when you know damn well that he isn't as dumb as he pretends. It's about one side that values intelligence as if it's the only judge of a person's worth, and how his brother knows damn well that he's not as smart as all of his pretensions.
Getting from childhood rivalry to grownup relationship with your brother is a trial. For those of us in the State of Michigan, we at least have this annual war-by-proxy to serve as a metaphor for it. Really, by whipping each other into a frenzy over this, we're acting like 10-year-olds. The thing is, that's an important thing to do -- by framing your feelings into juvenile arguments, you get to see exactly where you might be wrong, or in this case, pretension, or an inferiority complex.
It's not something that started with a tailback from Michigan, or a tailback from Michigan State. It started with Cain and Able. Or more precisely, when someone had the idea of putting two extraordinarily good universities in one state, and then one also happened to have the premier football team in all the land as soon as football meant something to the prestige of an extraordinarily good university.
If you have
nothing but hatred for MSU
, then I say go to your room and cool off, because so long as you live under
this roof
, you are going to live with him whether you like it or not.
Happy MSU week. Now let's put that little shit back in his place, eh?