Lax: Weekend Wrapup... AND MORE!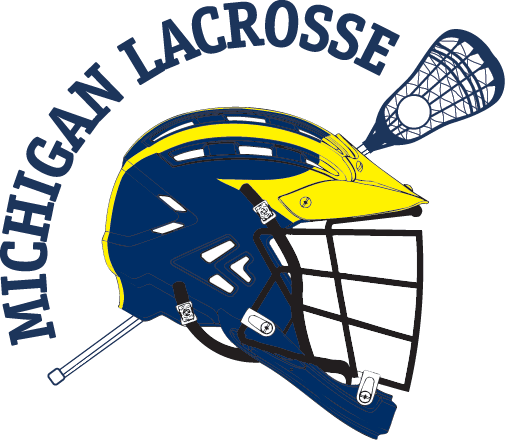 I'll get to the actual game recaps in a moment, but there are a couple other things I wanted to talk about before getting to the "actual events."
MAILBAG!
First, a mailbag question from Josh:
I was wondering if on the next Michigan lacrosse diary update if you could cover Michigan being a member of the CCLA. I mean they dominate everyone in the conference by almost 10 goals every game and have won 9 of the last 11 CCLA titles. Their last loss, to a CCLA member, came against Michigan State in April of 2006. I just do not see any advantage for Michigan to be a part of a conference that provides little competition to the team.

Is there a rule for the MCLA that states members need to be a part of a conference, or can members be Independent. I would imagine if members could be Independent then Michigan could actually make a schedule that includes many of the CCLA teams but they could also include a tougher caliber of opponent rather than playing Eastern Michigan and Central Michigan. Maybe make an East Coast road trip and play more PCLL teams, much like the West Coast trip every year. This trip could include teams such as Boston College, Northeastern, and New Hampshire. Another possibility could be to play a combination of road and home games with teams from the GRLC, such as Indiana, Illinois, and Iowa (through some Big Ten rivals in there). Any insight on this topic would be greatly appreciated.
I'm not sure whether the MCLA has a rule requiring teams to be in a conference. There are no independent teams competing now, and to the best of my knowledge there never has been. I believe the MCLA is more of a parent organization to the conferences, so it doesn't seem feasible. As for your question as it specifically relates to Michigan, the issue is not "can they?" but rather one of "would they want to?" I think the answer in this situation has to be "no."
What would Michigan's motivations be for leaving the conference? Though the CCLA isn't the toughest conference in the league (prior to Michigan's National Championship in 2008, every MCLA Champion had hailed from the Rocky Mountain Lacrosse Conference or the West Coast Lacrosse League), it hasn't prevented Michigan from paying some tough schedules in the past few years. They had the #11 Strength of Schedule in 2008, the 3rd toughest schedule last year, and are on pace for the #2 SOS mark this year, all per LaxPower. In fact, one of the biggest aspect holding them back has been that they can't schedule themselves. Though they play in a conference that has a reputation of being "soft," that hasn't exactly held the Wolverines back come tournament time in the past couple years.
The other huge factor in this equation is the money. Playing fewer CCLA teams would mean that Michigan has to schedule more long road trips each season, and entice more big-name opponents to travel to Ann Arbor. As a club program (supported by player dues), the finances simply don't make sense, especially for the limited benefit they would get out of it. I think the program is much more concerned with making a push to earn Varsity status at Michigan than worrying about a slight bump in schedule difficulty.
As far as scheduling more Big Ten conference teams, that's something I would like to see, but the Wolverines play Michigan State every year, and have managed to play a Big Ten squad from the GRLC in recent years (Illinois for the past two season, Purdue coming up in April). A Big Ten Lacrosse Conference could be cool, but I doubt the Big Ten would sponsor a club league, so it would have to be far, far down the road for an eventual varsity program.
VARSITY
Speaking of a potential varsity program... Michigan Lacrosse is trying to make a push for varsity status (news at 11!), but it seems as though things have progressed more this time around than they had in past years. My personal speculation on this is that Bill Martin, in his drive to keep the Athletic Department financially viable, was one of the key opponents to adding more varsity sports. Michigan men's soccer coach Steve Burns was one of the few coaches who managed to successfully push for varsity status under Martin's watch. Coach Paul and other lacrosse supporters have undoubtedly talked to Burns about his experience.
The closer things get to a potential tipping point, the more fan support can help the effort reach a new level. Showing the Athletic Department that you're interested in seeing a varsity lacrosse team at Michigan can be as simple as commenting on these posts (or crafting your own!). Once lacrosse gains AD support for varsity status, things have the potential to move very quickly, as there are already plans in the works for a state-of-the-art lacrosse facility that would be among the best in the nation - at any level - and is merely waiting for support from donors who are confident in a D-1 team's coming into existence at Michigan. Video tour:
As I've made no secret in the past, I'm a strong supporter of a varsity lacrosse program at Michigan, and I'm confident it's something we'll see in the not-too-distant future.
The money (as always) will be a key factor here, but it will be tough for the Athletic Department to continue denying a consistently-excellent program the opportunity to play at the highest level. Remaining Title IX-compliant could be an issue, but the women's club lacrosse team and the women's synchronized skating and synchronized swimming teams also have club-varsity status, and if the dollars work out properly, a smooth transition is not only possible but likely. I talked a little about scholarship numbers in the comments of my last lacrosse post, so check that out if you're interested.
THE WEEKEND!
The Wolverines took on a pair of opponents this weekend, with Friday bringing the home opener against Simon Fraser University, and Saturday the conference opener at Eastern Michigan. Let's start with the home opener, in which the Wolverines wore all-new greay uniforms, with maize and blue accents.
Though the Clansmen(!) were ranked #13 coming into the game, Michigan made easy work of SFU, scoring the first seven goals of the contest on the way to a 22-10 rout. Though they allowed a couple scoring runs here and there, the early lead and the confidence it brought (on top of, like, being the better team) were too much for the opponent to overcome. BONUS video to the right of Michigan's 3rd goal, scored by Kevin Zorovich. Apologies for the lack of zoom, but that's life shooting video on a cell phone.
Trevor Yealy led the team with five goals, while Clark McIntyre and Jordan Kirshner each netted a hat trick. As per always, Michigan's ride was impressive, holding Simon Fraser to 16 successful clears on 33 attempts, and David Reinhard owned the faceoff X, winning 22 of 29 (75.86%) draws, and also notching his first goal of the year.
Mark Stone and Andrew Fowler split time in the cage, with Stone getting the start and the win.
Unfortunately, I was unable to attend Sunday's game, since the time was moved up by three hours and I was traveling in from out of town. Howeva, based on last year's game against the Eagles, I can definitively say one thing: they aren't a very good team, and the 19-2 final score yesterday speaks to that.
We'll start with the goalies, who often don't get a big enough share of the publicity. Well, in this game, they probably don't need it, as Mark Stone and Andrew Fowler each played a quarter - and neither faced a single shot(!!). Freshman Conor McGee played the second half, allowing two goals and making a save. I assume since he didn't get into this game that McGee's classmate Cy Adbelnour will redshirt the 2010 campaign.
In the scoring department, Clark McIntyre paced the team with five goals, and Trevor Yealy put in four of his own. After David Reinhard and Edward Ernst dominated faceoffs to start the game, freshman Harrison Silver got to try his hand at the X, winning 5 of 9 faceoffs.
One thing I've noticed thus far this year is that the offense has been much less Yealy-centric than last year's effort. That's likely a combination of the blowouts (at east over the last two games) that Michigan has been inflicting on teams, along with opponents gameplanning to not let the prolific junior beat them by himself. Either way, more balanced scoring throughout the team will certainly help make the offense more potent when they need it most.
UP NEXT!
Michigan has just one game next weekend, as they'll travel to Dallas, Texas to take on 8th-ranked Oregon in the Patriot Cup. The game will take place at 7PM Saturday in Ford Stadium on the campus of SMU.
The Duks are 6-0 on the year, with victories over #20 Cal, Stanford, Montana, #27 Santa Clara, Washington, and #34 Portland State. They are paced in scoring by Senior Attack Justin Blackmore and Redshirt Sophomore Attack Max Schlesinger, who have posted identical 12-goal, 5-assist statlines in the first six contests. The Ducks also get production from Junior Middie Kevin Clark and Sophomore Attack Sean Silverstein, who are both over two points per game as well. For comparison's sake, Michigan has one player over four points/game, another three notching greater than three points/game, and six total over two points/game.
In the net, Oregon has played three different goalies, with junior Nick Johnston getting the most time, playing in five games while posting a .685 save percentage and 3.4 goals against per game. He hasn't faced an offense like Michigan's, however, and it will be interesting to see how he holds up against the increased pressure.
The official Michigan Lacrosse Twitter page (@UmichLacrosse) will be providing scoring updates for those who want to follow live, and fans in the DFW area can head out to SMU for a full day of lacrosse.