Jim Harbaugh, Bo, and the Michigan Family
[ed: bump.]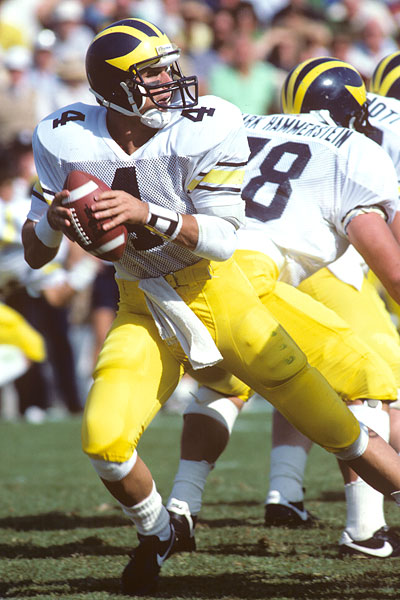 There is a special fondness for one's earliest sports memories. They form the backdrop of experience against which all future events are contextualized. 
My earliest datable memory is Kirk Gibson hitting a home run in the bottom of the 8th inning in Game Five of the 1984 World Series; from that day until his retirement he was my favorite baseball player. I learned to cheer for Isiah Thomas and Gary Grant. I cheered for Yzerman, and accepted that the Lions were always bad. And I rooted for Michigan football, with Jamie Morris and Mark Messner.
And Jim Harbaugh.
He won the Fiesta Bowl. He beat Ohio State with clutch play. He guaranteed a victory in '86, and then beat Ohio State again.* He led Michigan to a Rose Bowl. To a young boy, he was a hero, everything that the winged helmet was supposed to be about. To everyone at Michigan, he was a Michigan Man.
*Someone recently argued on the board that Harbaugh essentially rode the coattails of Jamie Morris to the win, belittling his role in the game. That's acceptable logic, if you're willing to assert that Denard rode the coattails of Junior Hemingway to wins over Virginia Tech and Notre Dame last season--any takers?
*  *  *  *  *
Fast Forward to 2007. I was visiting Michigan from California, where I was attending school. I was enjoying one of the things I really missed about Ann Arbor--walking around the Ann Arbor-Saline Road Meijer after midnight. As I ambled past the U-Scan lanes, I happened to glance at the newspaper display. And there it was, front page.
Jim Harbaugh Criticizes Michigan Academics
"Jim," I muttered to myself. "You fool. What are you doing?"
*  *  *  *  *
Jim Harbaugh was calling out the academic integrity of Michigan Athletics. He was dropping Bo's name (after Bo died, something that sat poorly with myself and others) and using it as a cudgel against Michigan. And, by all appearances, he was doing so in an arrogant way to burnish his own program's reputation.
Nobody in the Michigan camp liked it. Now, I suppose there could be discussion about whether or not he had any legitimate points. Many blogs, including this one, vehemently refuted his accusations and sharply criticized him for making them. I believe it can safely be said that the vast majority of the Michigan family disagreed with both the content and the method of his message.
But this is not about what he said in 2007. This is not about whether or not he wanted to "come home" after Rich Rodriguez left.* I want to address a debate that has bounced around the Michigan family for more than five years now:
Is Jim Harbaugh one of us?
*Critics will occasionally take a dig at Harbaugh, suggesting that by not coming to Michigan he was stabbing us in the back. I do not buy it--he never indicated that he would come, he wanted to go to the NFL, and the NFL wanted him. And his last two years have proven beyond any shadow of a doubt that the NFL was a good move for him. Now, I have no doubt that Harbaugh would have won and won big at Michigan, and little doubt that he would have left for the NFL after a short tenure; I also believe that he would have left the program in great shape, as he did at Stanford and as Nick Saban did at LSU. But, in retrospect, it is clear that Michigan's opportunity to get Harbaugh was after Lloyd retired--only nobody knew that he was this great yet.
*  *  *  *  *
As a Michigan fan, I respectfully submit three basic arguments asserting why Harbaugh should be accepted, wholly and without qualification, as a Michigan Man.
1. He's Really Good
The first reason is simple: Harbaugh, as a successful ex-Michigan player, is a good advertisement for the University. His past Michigan experiences, his wins, and in particular his relationship with Bo are well-known and frequently spoken of. Michigan alum Rich Eisen is a good example of how this works:
Harbaugh ghosts on the postgame ceremony. Not yet the one he wants to be part of yet. I love it. Just the way Bo would want it.

— Rich Eisen (@richeisen) January 20, 2013
So a well-known NFL Net personality is unreservedly promoting Bo, Harbaugh, and the intrinsic Michigan connection? Outstanding.
It's a pity that Brady didn't make it to the Super Bowl this year, because the ex-Michigan quarterback angle would have been unavoidable. The success of Michigan Men in the NFL is unquestionably good for the image of the program. That Harbaugh is a coach who is heavily influenced by Bo is just another bonus. Michigan doesn't exactly have a large coaching tree, but Harbaugh is carrying on Bo's legacy both in word and in deed. 
And don't think that Bo wouldn't have been beaming with pride watching Harbaugh pound the football down Atlanta's throat on the ground in the NFC championship game. That was Michigan Football on the field last Sunday.*
*I thought Harbaugh was crazy for trying to turn Stanford into a bruiser team in the era of the spread. Until he took Toby Gerhart and Stanford into the Coliseum and ran up the score on the Big Bad Trojans. Now he's taking a bruiser team to the Super Bowl. I guess MANBALL still works.
2. We Are Not Other Schools
I understand irritation at someone who says something against the school, even one of our own. That is natural, and there's nothing out of the ordinary about it. When Harbaugh made specific, negative assertions against the program, he was rebutted and the reaction was negative. And that's good.
But a fanbase crosses the line when it attempts to excommunicate one of its own because it doesn't like everything a former athlete says. And that is particularly true of Michigan, a place that most of us believe is known for knowledge and dignity.
When someone expresses unending loathing for Harbaugh or suggests that he is not a "true" Michigan Man, they are acting in exactly the same way that Ohio State fans did with Kirk Herbstreit. Remember that? Herbstreit, a man so proud of his alma mater that he brought his twin boys on the Gameday platform in OSU gear, had to leave the state and move to Nashville to get away from the Ohio State fanbase.
Is that who we are? 
Much of the fun of sports rivalries is pretending that there is something about our own team or university that is qualitatively superior to our rivals in areas other than the football field. Much of this is in fun--students sing "If You Can't Get Into College Go to State," but in real life any reasonable person would accept a Michigan State education in their doctor or teacher. Or landscaper or merchandise packager. But I think we genuinely believe that our fanbase is more rational, more appropriate, and more mature than the fanbase of Ohio State. We all feel this way, and anyone who has attended UM-OSU at the Shoe in Michigan gear absolutely knows it.
Yet, if we cut off our own, if we make membership in our "club" subject to holding only the party line at all times, on punishment of total estrangement, we are no better than them.
3. Michigan is a Family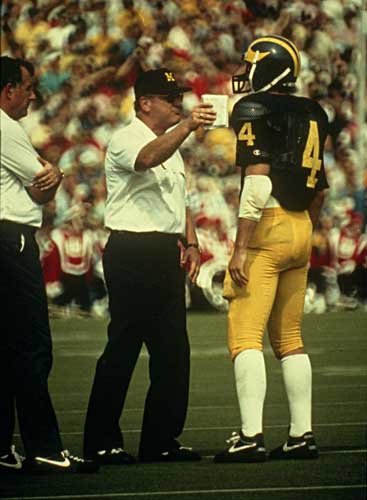 Families are funny things. Who doesn't have the weird uncle, crazy aunt, loner brother, quirky sister in theirs? What family doesn't have its disagreements, its tensions, its struggles?
Michigan is not just a factory of buildings that produce automaton students after four years. It is not a sports franchise whose success is judged solely on wins and losses. It is not just a fancy helmet or a fight song or a giant 110,000 seat hole in the ground with plastic grass on the floor.
Michigan is a family. A family with history. A family with character, and characters. A family that speaks warmly of grandparents like Yost and Crisler. A family of people who are flawed, unique, different, imperfect. Connected by sinews that surpass any one element of its unequalled tradition. 
This is a family that loves Bob Ufer's hopeless homerism, but still enjoys the bubbly professionalism of Beckman. This is a family that reveled in Woodson's swagger and athleticism, but marvels at the selfless dedication of Kovacs. This is a family where "Even slower than he looks" Tom Brady and "Dilithium" Denard Robinson can play the same position, and win.
It is a family with success stories. Dentists. Doctors. Businessmen. Long-winded broadcasters. All-time-great quarterbacks. Super Bowl coaches.
It is a family with frustrating flameouts. Tony Bowles. Chris Floyd's job search. Rick Leach. Drew Henson. 
This is a family that has suffered together. OSU '73. Iowa '85. Notre Dame '89. Colorado '94. OSU '06. 2008, all of it.
This is a family that has triumphed together. Fiesta. Orange. Sugar. Rose. And Everest in '97.
Families have their ups and their downs. And they include people who aren't perfect and aren't always as kind and supportive as they ought to be. I grew up in a loving family, raised with good values and strong beliefs and lots of togetherness. As it happens, since my Dad died ten years ago a member of his family has turned away from much of what my parents stood for and has, at times, said things which other family members found (quietly) troubling. Do we reject the person? 
No. They are still as much a part of our family as they ever were; they still receive the same love, the same acceptance, the same participation. A family ought to accept someone as a person, even if they disagree with a choice or an action; accepting a person does not imply endorsement of everything they do. That is part of what love is. 
Michigan is a family. It is a family that has nurtured many great members of the community; it has also produced people that have made poor choices and hurt themselves or others. But a family never cuts off their own. 
Jim Harbaugh hurt the Michigan family with what he said. He offended people. He spoke inaccurately in a way that injured the reputation of the school. There's no question this was difficult. But, no matter what he said, he is still one of us. Just as you love the brother or father or daughter who said or did something hurtful, Michigan should embrace Harbaugh for what he is.
*  *  *  *  *
He is a great coach, playing football exactly how Bo taught him to.
We are a great fanbase, that does not disown someone for breaking the party line.
Michigan is a family, that will love its own and accept them even when they say or do something that is hurtful.
When Jim Harbaugh spoke against Michigan, he was an idiot. He is, in the course of his life, also frequently abrasive, arrogant, and even mean. He is a jerk.
But he is a member of the Michigan family.
His is our idiot. He is our jerk.
He is our Big Ten Title-winning quarterback.
And, coaching in the Super Bowl, he is a Michigan Man.