A "Insert College Name" Man
This is not another rant about how Hoke needs to go. Instead I wanted to address the concept of a Michigan Man as coach. When you think about Michigan, for many (like me) the thoughts are of Bo. When I think of tOSU, I think Woody. When I think USC, I think John McKay. When I think Alabama, I think Bear. Now it is no surprise that those guys were coaching at the same time. Iron sharpens iron as they say. Those guys all retired from their schools and left a big pair of shoes for the next person to fill. 
I decided to look at coaches and see how they handled the transition. To not go too far into the past and to not cherry pick "my guys" I decided to look at who was coaching in 1936 since that was the first year of the AP poll. Seems sufficiently arbitrary for me to avoid cherry picking and the schools were in the middle of some coach's run. Therefore they don't actually all start at the same year but that shouldn't really matter given how I do the evaluation. 
To see how special those coaches are I looked at three different measures. I look at the overall winning percentage, at the conference winning percentage (as that was THE measure before the BCS made cross conference so much more common), and the tenure. To make the scale the same I have the tenure as a percentage of the longest serving coach in that time frame (roughly 80 years). These are the NCAA numbers so some coaches will be much lower than the on the field results. I can go back and find that on the field numbers if anyone thinks that will really matter. 
These are radar graphs with the green line showing the overall percentage, the blue line showing the conference percentage, and yellow showing the tenure percentage. 
Naturally I am starting with Michigan.
This does not require too much discussion here as most on this board will know the relationship between Moeller, Carr, and Hoke with Schembechler. Everyone I think also knows Schembechler ties (or lack thereof) when he took over. 
Here is a look at tOSU
Woody Hayes was clearly an Ohio guy and got an MA from there while he coached at Denison. Bruce was his assistant and kept the ship afloat for the most part but since he wasn't winning championships they let him go. John Cooper was Tulsa/Arizona State with no ties but since he couldn't beat Michigan they set him packing. Tressel was an assistant under Bruce so clearly he had some ties at least in theory back to Hayes. Fickell was a stop gap and went back to being DC once they hired Urban. Urban was also an assistant under Bruce. 
Clearly OSU has been going back to the well when hiring coaches but I don't think the decision for Urban was because he was an "OSU Man" but because he was a proven winner at Utah and Florida.  
Here is ND (naturally there is no conference record there)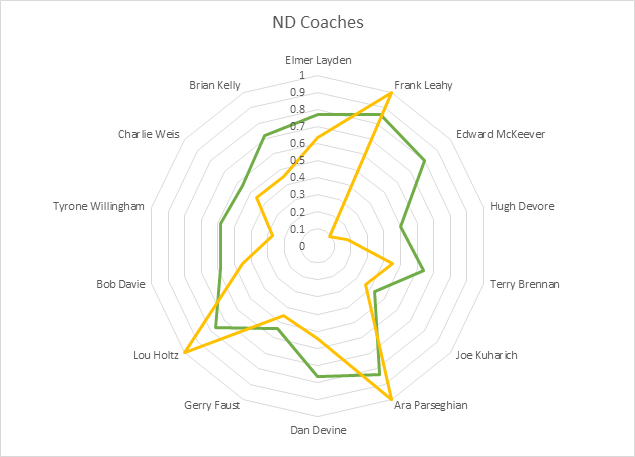 ND wanted Devine when they hired Parseghian so after Parseghian resigned they hired him from Green Bay. He was viewed as not Parseghian enough and even after he won a national championship he had fans putting "Dump Devine" bumper stickers on cars. Faust was a guy that was super successful as a HS coach and hired to replace Devine. When he didn't win they went with Holtz. Faust was not fired though strangly enough. Holtz didn't have ties to ND as far as I know and he really turned around the program winning another NC. Bob Davie was an assistant under Holtz and that turned out to be a disaster (maybe someone will see if that ever really works). Tyrone Willingham was really more of a stop gap and didn't find any traction.  
Charlie Weis attended ND and had some connections and was one of the worst coaches I recall seeing. He took the job because they wanted Urban but he had taken the UF job. 
Kelly was an outsider and we all know what he has done. 
Getting out the Midwest, here is USC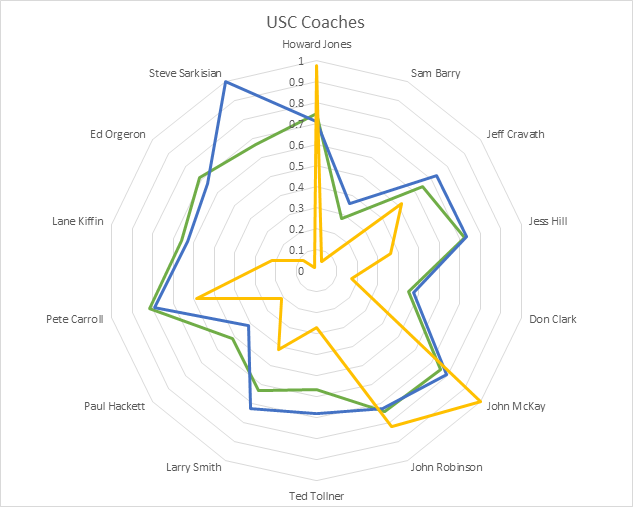 Robinson was an assitant under McKay. He did two stints (I put them together above) basically helping out "his" team. Tollner was the OC under Robinson and never did much but one Pac 10 championship. 
Smith was the first hire in basically forever without a USC tie. While he was very successful he had a down year and was fired after that. Hackett had been a USC assistant but he was not as successful at Smith (whom they had fired) and so he was shown the door after three years. 
Pete was an outsider (well his daughter played volleyball at USC at the time of his hire) and his hire was not embraced. He was viewed as too far removed from USC and college football coaching. Clearly he turned things around (although we know how the hammer came down as he left to go back to the NFL). 
Kiffin was a former assistant that was a placeholder. I think they really brought him in because no one else wanted a high profile job with hard sanctions. Orgeron was also an assistant and took over when Kiffin was fired. 
Sarkesian was a long time OC and position coach at USC so clearly they will go with the guys they know more often than not. 
And just because here is Alabama
So how does this compare to a fan base that still wears houndstooth because of a dead coach's hat?
Ray Perkins had played under Bryant at Alabama. He never won the SEC in his 4 years and he left to go back to the NFL when the opportunity arose. Former teammate with the Colts, Bill Curry, took over after having revived the GT program in the ACC. Curry shared an SEC title, went to bowl games every year, but was fired because he didn't beat Auburn. He had the highest winning percentage after Bryant until Saban but that wouldn't help him keep his job. 
Stallings played under Bryant at TAMU, coached under Bryant at Alabama and coached against him in the Cotton Bowl. During his six years, Alabama played for and won one NC and won 5 SEC West titles. Because of the Antonio Langham incident in 1995 the program an hobbled. I always think of John Mark, his son, and get a bit misty remembering his love of life. 
Mike DuBose played under Bryant and had coached under Bryant, Perkins, and Stallings. He had a few years before a sex scandal (combined with a loss to Auburn) took him down. An NCAA investigation also put Alabama again under sanctions. 
Dennis Franchione took over but jumped ship for TAMU when that job came available. He was replaced by a player under Perkins named Mike Shula. Shula obviously was in a bad situation with the NCAA sanctions of bowl games and scholarships so I view his tenure much like that of Kiffin at USC. A placeholder under sanctions ended and new coach could be hired. 
Everyone knows the story of Saban not going to Alabama, then going to Alabama. He had no ties and Alabama seems to be better for it. 
So what is the big take away?
All of the big teams above seem to favor getting a coach with a connection to the program and it is even better if that connection is to a particular coach that was very successful at that program. Sometimes that will pay off but we do not often see that. Outsiders are no guarantee to success either as you see many times where outsiders came in and were also fired. 
Should Michigan hire a Michigan Man? Sure. As long as what they are hiring is a person that runs a program that builds boys into men, beats OSU, wins the Big 10, and does all that while staying away from NCAA violations. In short, the best model for success is get a great coach and doing things the right way and for the right reason. That will show him to be a true Michigan man in the model of Bo even if he has never heard The Team speech.