I Was There (A Fab Five Story)
I was there.
The almost-perfect long weekend in the middle of the last semester of our senior year. Yeah, it was a little too expensive (even though we drove). Yeah, it made finishing our classes a little tougher (but who works much in their last semester of undergrad anyhow?). And it was a chance to see something special, a potential national championship. I had watched the last one on TV (and will never forget how clutch Rumeal was, hitting those two free throws). I had celebrated on South U. (as a high schooler) with the masses, but desperately wanted to see this one in person.

Rumeal: Clutch
They held a lottery to see who got tickets. Can you imagine, not enough tickets to go see the the Final Four down in Louisiana? We won. I don't remember how many people applied, and I sure was hoping that senior status counted for something extra. But we won. And so, we went.

Welcome to New Orleans!
I was only worried about one game: Kentucky. Everybody thought they were the team to beat. And they were. A beast of a team. Led by Jamal Mashburn, they finished the season ranked #2 in the country (behind #1 Indiana, whom #9 Kansas later bounced to sneak into the Final Four); Michigan was #3, North Carolina #4. The closest (at the time) to all four #1 teams making it. How I still wonder about what would have happened had Indiana beaten Kansas...

Bobby K: Too Angry To Win
But I was there.
The Kentucky game went to overtime, Webber was a monster throughout. Look at his stat sheet: 27 points, 13 rebounds, 39 minutes of playing time. Yes, others had great games too (Howard, Jackson, Rose), but without Webber, the run would have ended. I saw a lot of Kentucky fans crying after the game. One shook my hand and offered up a weak but heartfelt "good luck"; I'll always think fondly of that small, silly moment. What luck did I need? I was just watching. Kentucky fans, man, kentucky fans.

One Kentucky Fan We Can All Get Behind
So we celebrated. A great night out on the town, as only the town that hosts Mardi Gras can deliver. And the knowledge that we had one more game, a winnable game against a good (but not great) team.

Mardi Gras Girls: No, We Didn't Meet Them
And I was there.
The team didn't seem to have their legs that infamous Monday night against UNC. I think Kentucky took a lot out of them. Watching UNC breeze by a lousy Kansas team on Saturday, I was convinced we had the tougher road, and during the last game it showed.

Don't Worry Sir, We'll Lose Easily
But those five guys (and yes, the others, too) had something, a toughness, a resilience. We managed to pull ahead with five minutes left. Someone told me one of those stupid stats which make you feel good but only in a false-bravado kind of way: Michigan hadn't lost a game that year when they were up with five minutes left. My friends and I exchanged high fives. We're going to win!

We Exchanged High Fives
But somehow they couldn't keep a guy in Donald Williams' face, and he kept making shots. Why was Jalen on him? I thought King would have been a better choice, more athletic, if shorter. But there was Williams again, making twos, making threes, and suddenly we were down.

F---ing Donald Williams (Looking Old Now)
I was there, and I remember when Webber traveled.
The whole place screamed "walk!" but somehow they didn't call it. Later, I felt thankful for the refs: they didn't want to decide the game on a stupid play like that. They just wanted to see it play out. But Webber walked, and then started dribbling like crazy up the court.

Fisher: What I Would Have Looked Like, Had We Had One More TO
Most of us were screaming "Time out!" How many goddamned basketball games have you watched where there are about 100 timeouts at the end, play moving glacially forward, the last 30 seconds taking 20 minutes? How can a team actually run out of time outs? I bet you Fisher thought about that for a long time after. If they'd just had one more timeout ...

Pelinka: Open For A Three?
Pelinka was open. The UNC guys were running around, crazy, double-teaming (turned out to be a good decision, huh?), and if Webber had just swung the ball to someone, anyone, I bet it would have made its way to Pelinka in the corner. You know, the guy who makes threes. For years, I would wake up in the night, and think about "what if Pelinka had gotten it in the corner?" Thankfully, that went away. Sport fans, we're nuts.
Time out!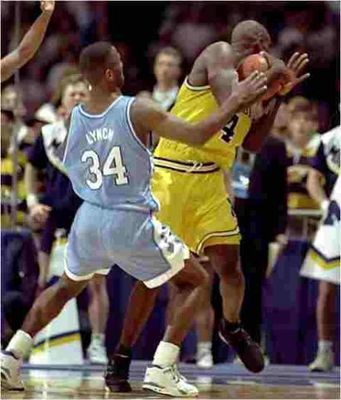 Oh Webber
I was there, when all the fans looked at one another, confused.
What happened? Then some guy two rows in front of me, in that f---ing monster of a building where there wasn't much of a scoreboard anywhere near the court for players to see, said simply: "They don't have any more timeouts. That's a technical foul. We're going to lose." Our section, crazy with noise moments ago, jumping with the certainty that our guys were going to pull it out, fell slowly quiet. The UNC fans started to figure it out too; they all started to go nuts, as did their players on the bench. I still can't figure out the Dean Smith voodoo, his two championships not remembered for his team's greatness, but for the other team's failure in the clutch. For this reason, I still harbor an irrational hatred of Dean Smith.

The Dean's Voo-doo Victim #1: Fred Brown
Watching the brilliant documentary on the Fab Five the other day brought this flood of memories back. And what memories they were, and are. I've enjoyed the current season immensely, as Beilein and Co. have built up a team that is easy and fun to root for. But for two seasons in what seems like another lifetime, we had something more than that, something so rare and special that it is hard to believe it was Michigan basketball. We had rock stars for a basketball team. We cheered them on when they won, and we wept with them when they lost. We loved them, and so we wept.
It was a long drive home.

A Long Drive Home
As for the memories I have, well, scandals, banner-removals, or any other "official" process can't touch them. A memory of my own youth, a memory of a time where five kids made national headlines simply by being who they were, a memory filled with many joyous headlines, and finished with an unforgettable exclamation point, perhaps an appropriately tragic ending.
I graduated, I moved out of the state, but I will always have those memories.
You see, I was there.