I Saw A Man Walk Yesterday...
I saw a man walk yesterday.  The steps looked labored and difficult.  They could only be taken with the assistance of canes on each hand, but they were steps.  Steps that doctors told this man he would never take again in his lifetime.  This man took these steps in front of 113,000 roaring football fans and when he got to midfield, he did this.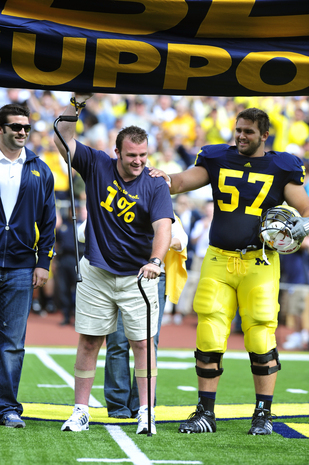 They had to dip the banner so that he could touch it.  Jumping to touch it was out of the question, but it was still as thrilling as watching all the great players of Michigan-past race out of that tunnel and leaping to touch it. 
And as I watched this unfold from my seat in Section 39, the tears came.   My wife looked at me and noted, "You're getting a little teary, aren't you?"  I merely shrugged and said, "I'm watching a guy walk who shouldn't be, and we helped him do it...that's amazing." 
I don't know Brock Mealer or anyone in the Mealer family.  I had nothing to do with Brock Mealer walking on Saturday.  I teared up just the same.  I shed a tear for the pain and struggle that Brock must have had to endure for the past two years.  I shed a tear for Shelley Mealer for all she's lost and hope that I would never have to face that kind of loss in my life.  I shed a tear for the display of courage happening before my eyes.  I shed a tear because it made me proud to be a Michigan Wolverine.
The past two years have been tough for Michigan fans, but it's nothing compared to what Brock Mealer and his family have had to endure.  Many have said Michigan turned it's back on who we are when we hired Rich Rodriguez.  To those naysayers, I want to tell them that I saw Brock Mealer walk onto the field of Michigan Stadium on Saturday.  He walked to midfield and touched the banner.  None of it should have been possible, but it happened.  Despite what most have said, the University of Michigan is alive and well.
Impossible is Nothing.  Go Blue!