How The Big Ten Is Doing Two Games In
HOW THE CONFERENCE IS DOING TWO GAMES IN
We are now two games into the season in the Big Ten, and although the average of two performances is not a lot to go on and we are still trudging through the non-conference opponents, I thought it might be interesting to see where everyone sits on a few basic metrics.
SCORING OFFENSE:
There are in fact two teams that have now scored 100 points or more already, and yes, one of them is indeed our team. The other one is Indiana, as you might suspect, as their conference-best  108 points is bolstered by their opening week embarrassment of Indiana State. Those 73 points were followed up by 35 more points in a loss to Navy, so Michigan is in fact the only currently undefeated Big Ten team with 100 points or more (actually, precisely 100 points for us). The conference averages are below: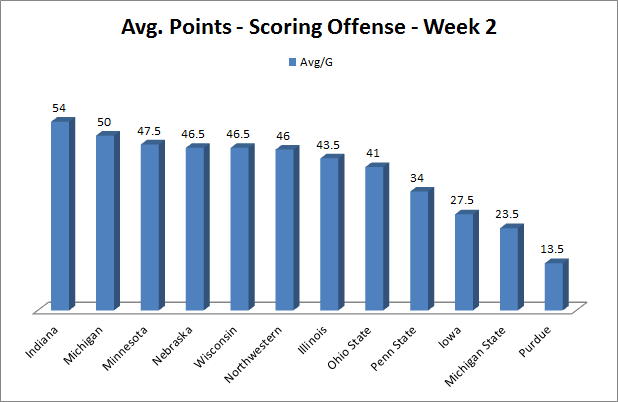 SCORING DEFENSE:
Well, if you've paid attention to the conference as a whole, then you know that this title goes to the team that has likely played the most lopsided matchups of all to date – Wisconsin. The two teams that I have destroyed by the Badgers combine for precisely zero points. Michigan would actually towards the middle of the conference right now, having given up 39 points for an average of 19.5 per game (over two games, I know). Current averages:
TOTAL OFFENSE:
It is in this area that the effects of playing a largely unappealing non-conference slate are likely most apparent, and I don't doubt that the numbers will moderate in a month or so. The current leader here is again Wisconsin, averaging a cool 602 yards of offense per game even against the stout defensive fronts of Massachusetts and Tennessee Tech. Michigan sits around the middle, awash in a sea of teams that are generating anywhere from 400-500 yards per game so far. Here's how that looks: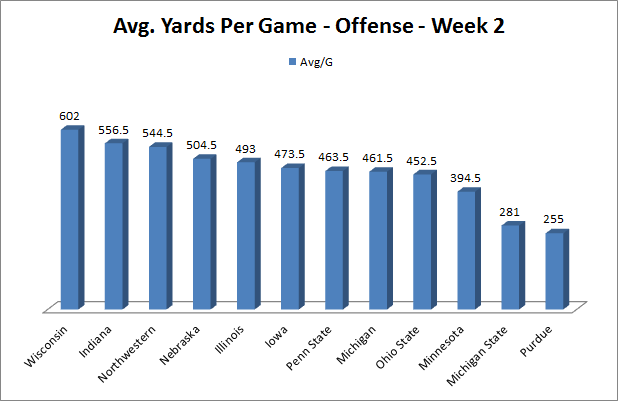 TOTAL DEFENSE:
Wisconsin and Michigan State are within 20 yards of being the best teams in this arena right now, and it's incredible considering the competency of the offenses that these teams have faced to date.  The top five here – in terms of the average – are rounded out by Penn State, Ohio State and Michigan in that order. On the extreme end of the spectrum, as scary as Northwestern looks on offense, they aren't doing an awful lot to stop people right now.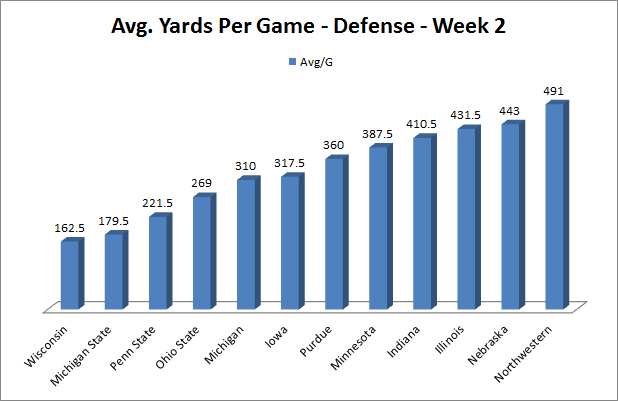 RUSHING OFFENSE & DEFENSE:
The two teams in the conference that you might expect to go to the ground a lot (and they do almost 70% of the time, at least in the past couple seasons) have been doing just that. Wisconsin and Nebraska are the clear frontrunners for rushing offense to date.  Michigan is in the lower half at an average of 204 yards per game.
On defense, the stingiest team when it comes to rushing is Michigan State, followed closely by Penn State and Ohio State. Actually, five teams right now – Michigan included – are sitting below 100 yards per game allowed on the ground, which isn't a bad start at all. Average are below: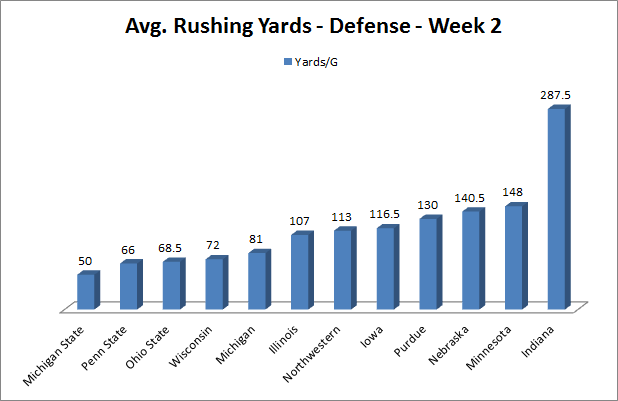 PASSING OFFENSE & DEFENSE:
The Big Ten has been doing a lot in the air in these first two games, with four teams coming in at 300 yards or more on average for passing offense. Nathan Scheelhaase put on a nice little show against the same Cincinnati team that pummeled Purdue and as a result, they lead the current averages in the conference. Michigan is a respectable fifth here: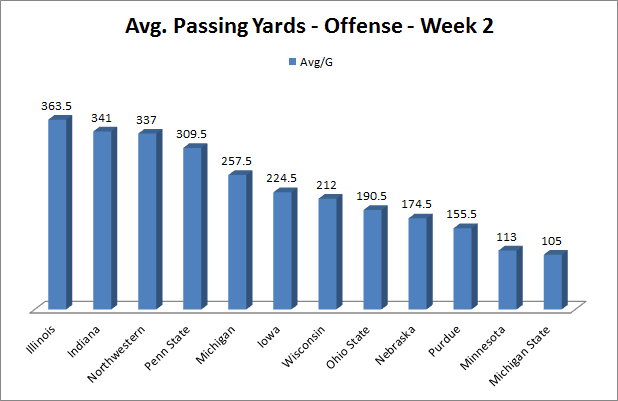 When it comes to stopping things in the air, you might guess that – in the case of Michigan – Saturday sort of hurt the average a little, and you would be right. We are currently seventh in the conference in pass defense, but there are ten games left in the season (well, the regular one). The best team right now? Wisconsin, followed by Indiana, who of course played against a triple-option team last week.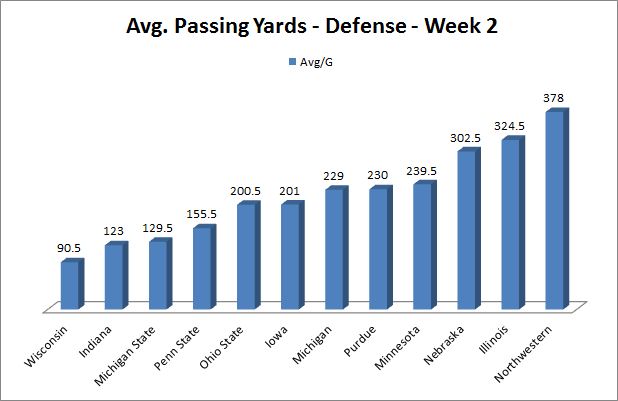 DOWNS AND OTHER ITEMS:
I shall confine this to Michigan specifically since this is getting rather long -
Michigan's ability to sustain drives ranks high in comparison with the rest of the conference. Although we averaging 23.5 first downs per game - which so far is a middling Big Ten performance comparatively - we are converting 59.6% of our third downs and holding opponents to a 41.4% success rate. So far, so good for the two games we have played.
SPECIAL TEAMS STUFF:
I will just let you look at these – we're towards the middle on both.