MSU Notches First Major Result
Win over Oregon is the next step for Michigan State
Michigan State 31, Oregon 28.
Even though Michigan State has gone 24-3 in the past two seasons with two major bowl wins (Rose in '13, Cotton in '14), the Spartans have been absent from the national title discussion for the most part – in both 2013 and 2014, they lost games in September. In the era of the playoff, last season's loss to Oregon didn't preclude MSU from national contention, but the loss to Ohio State effectively ended the title hopes for the 2014 team; in 2013, starting the season unranked might have been the biggest demerit for State – their loss to Notre Dame made it impossible to finish in the top two.
This wonderful home-and-home between Oregon and Michigan State may wind up providing definitive results for teams central to the playoff discussion in December: Oregon tripped up against Arizona at home last season but won the conference easily; Michigan State has a far more formidable roadblock than any faced by UO last year – a road contest against Ohio State. Ultimately, that game will be the game for State, but they're one for two in relevant results: aside from road games at Michigan and Nebraska, Michigan State's ferocious lines will give the team a large margin for error in most games. As for that Ohio State game (scheduled for November 21st), it's hard to avoid envisioning the stakes if both teams are still undefeated at that point – maybe the biggest regular season game of the season anywhere.
[After the jump, much more on the CFB world, including a preview of tomorrow's games]
All of that could happen because Michigan State won a game that was virtually a toss-up between two very good teams – Oregon's Vernon Adams overthrew Byron Marshall on what would have likely been the game-winning touchdown and was sacked a play later to put the Ducks away. UO barely outgained State, but turned it over once more than did MSU; Michigan State's normally good kicker missed a chip shot but hit another later in the game. That Oregon wasn't able to get Royce Marshall going (3.8 yards per carry on 24 attempts) was maybe the biggest story of the game: quite simply, Michigan State was able to run the ball and Oregon was not.
It was clear that Adams was still acclimating to the role at the helm of the Oregon Death Star (and evidently he's sustained a broken finger, which didn't help things), but he still threw for over 300 yards – Michigan State's defense played a bigger role in containing the potent Duck offense, especially the defensive line, and holding them to 28 points. On the other side of the ball, a healthy 6.1 yards per carry on 29 attempts behind the MSU OL opened things up for Connor Cook and the passing game – Oregon's defense played much better than it did against Eastern Washington the week before.
For UO, any hopes of a playoff spot will ride on if they can win the Pac-12 again – the North looks down (between Stanford losing to Northwestern and the general mediocrity between UW, WSU, and OSU), but the Ducks get USC, Arizona State, and Utah from the South, two of those three at home. If Adams can get comfortable amidst the firepower in Eugene, they could theoretically challenge for a one-loss season, but it looks extremely difficult now.
THE DEBORDENING
Oklahoma 31, Tennessee 24 (2OT)
A year ago, a very young Tennessee team went to Norman and expectedly lost what wasn't a competitive game – since then, OU sputtered to finish 2014 with an 8-5 record and Tennessee accumulated enough offseason hype (largely fueled by an impressive bowl win over a not-very-good Iowa team) to swing them to favorites over the Sooners for the return game in Knoxville. Early on, it looked as if Tennessee would return the favor and rout Oklahoma – the Vols led 17-0 after about twenty minutes of game time – but totaled just 61 yards (on nine regulation drives) after that. UT's defense had been pretty dominant all game, but they surrendered two late touchdown drives to new Oklahoma QB Baker Mayfield and the Sooners prevailed in overtime. OU's offense finally got into gear after scoring just 3 points in the game's first 52 minutes, but that was still enough to deal a devastating home loss to Tennessee.
Spencer Hall remarked the other day that "there's a kind of credit due to teams that play miserably for that long and still pull out a road win" when writing about Oklahoma. Indeed, Tennessee's defense held up its end and erased any concerns after an iffy opener against Bowling Green, but two drives of 14 and 13 plays were enough for Oklahoma – namely Mayfield – to somehow inject enough offensive fight into the game to send it to OT. There, a fourth-down touchdown run by Mayfield in the first OT led to an eventual OU win after Tennessee was unable to match a TD in the second frame. The final score belies how hideous this game was: Oklahoma had just 158 yards before those two last scoring drives – Baker Mayfield's impressive elusiveness and general ability to MAKE PLAYS to win the game pretty much came from nowhere.
It's an early sign that Oklahoma's disappointing 2014 campaign was an outlier. Samaje Perine was mostly contained by Tennessee, but should find defenses easier to run through in the future; Mayfield's obvious physical talents were on display as he ripped UT's heart out (and Sterling Shepard is a luxury for any quarterback). TCU and Baylor are clearly the class of the Big XII, but the Sooners made a strong case for #3 in the league. Like Michigan State, they don't get their shot at the favorites until late in the season. It's not probable that Oklahoma makes it to those two undefeated, but Tennessee was the toughest game on the schedule outside of those two.
Tennessee should have won this football game. Hiring a previously long-retired offensive coordinator (and having him coach quarterbacks, which he last did a full decade before his current quarterback was born) is in and of itself a questionable move; that the OC wasn't particularly well-regarded at his previous spot makes it alarming for Vol fans. Mike DeBord likely can't develop Joshua Dobbs into the quarterback everyone hopes he can be and Jalen Hurd will be tasked with logging a lot of inefficient miles on the ground. Butch Jones evidently wants to replicate the Lloyd Carr strategy: recruit well (but not that well) and lean on your talent advantage to beat most teams. Too bad Alabama's on the schedule every year.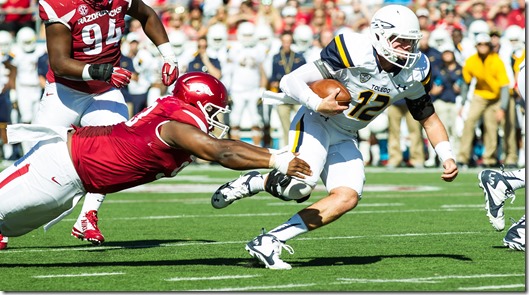 Toledo and Bowling Green put on for Northwest Ohio
Toledo 16, Arkansas 12. Bowling Green 48, Maryland 27.
Much like Tennessee, Arkansas came into the season with more hype than their previous one warranted; like Tennessee, Arkansas starts with a 1-1 record after having lost at home to their Week 2 opponent. However, unlike Tennessee, who lost to a ranked blue blood, Arkansas paid Toledo the big bucks (surely thinking that a MAC opponent would provide a warm-up for the rigors of SEC play) to give them an L after their coach was last seen talking some shit about Ohio State's schedule.
Hilarious Bret Bielema egg-on-face aside, this is a truly bad loss for Arkansas: Toledo's stout run defense took away the Razorbacks' identity and forced the Hogs to throw the ball 53 times. Four trips inside the Toledo 20 in Arkansas's last four drives netted a total of three points and key miscues doomed the Hogs – primarily a missed field goal and a Brandon Allen INT into the end zone. In the third year of Bielema's tenure, home losses to MAC teams veer into all-caps UNACCEPTABLE territory – that the Hogs looked completely impotent in their manball philosophy probably bodes poorly for future contests against Alabama, LSU, and Ole Miss, for example. Arkansas's financial commitment to Bielema wouldn't lead to a quick trigger, but things clearly aren't going well in Fayetteville.
You won't find any #hot #SEC #takes in this space. Regardless of Arkansas taking one to the chin or Auburn looking terrible and almost losing to Jacksonville State, Alabama, LSU, and Texas A&M in particular have looked more than capable of upholding the SEC West's honor. Hindsight's 20 / 20 of course, but maybe Auburn being considered a national title contender while breaking in a new QB after a four-loss season was a bad bet. Still, they didn't actually lose to Jacksonville State and who knows, that game could be an aberration. At the end of the day though, probability dictated that it was pretty much a given at least one of the many touted SEC teams would fall vastly short of expectation – Auburn and Arkansas are the leaders in that category so far.
* * *
If Toledo's upset over Arkansas was noteworthy because of both the opponent (who was ranked) and the level of ugly football necessary to pull it off, in-state rival Bowling Green's win over a Power Five opponent elicited an eyebrow raise because of how authoritative it was: the Falcons outscored Maryland 42-14 after halftime and put up almost 700 yards on the Terrapins. BGSU looked great relative to expectation against Tennessee in Week 1 and looked even better in their win over UMD – Matt Johnson threw six touchdowns for Dino Babers's high-powered offense and it's not often that the P5 team gets so thoroughly exposed and, frankly, dominated in these types of games. Perhaps more attention should be paid to Maryland's 21-31 record under Randy Edsall.
Toledo @ Bowling Green – known as The Black Swamp Showdown (per Wikipedia) – will unfortunately have to wait until a Tuesday night late in November. A blurb from that Wikipedia article: "Beginning in 2011, the two schools started playing for the Battle of I-75 Trophy. Sponsored by Taylor Kia Automotive Group, it replaced the Peace Pipe Trophy." Long live the MAC.
It's been an eventful year for ND and BYU already
Notre Dame 34, Virginia 27. BYU 35, Boise State 24.
For all intents and purposes, Notre Dame and BYU will fall short of expectations this season. BYU's longshot hopes at a New Year's Six bowl game took a critical hit when star QB Taysom Hill was lost for the year to injury again; Notre Dame has lost its starting QB, RB, TE, a DT, and the nickel – the Irish were a playoff hopeful and now we won't find out if Malik Zaire could have led ND to maybe its best season under Brian Kelly. Both teams are 2-0, but things don't get any easier: the Irish host Georgia Tech and the Cougars face UCLA on the road.
At home against Notre Dame, Virginia put up much more of a fight than it had in a road game against UCLA in week one – they twice erased double-digit leads and took their first lead of the game with less than two minutes left on an impressive Cav touchdown drive that put UVA ahead by one point. Malik Zaire, injured earlier in the game, was replaced by redshirt freshman DeShone Kizer, who led the Irish down the field and threw a gorgeous long ball to Will Fuller for what proved to be the winning touchdown and two-point conversion. With the reality of Zaire's injury, it's hard to see how the Irish can succeed long-term with an inexperienced freshman – especially after Everett Golson's transfer to Florida State.
Last week I wrote this in the aftermath of the season-ending injury to Taysom Hill in BYU's first game:
Now stuck in uncharted territory after the wild realignment saga of like five years ago, BYU must find marquee programs to play them, especially early on in the season during non-conference play. This year the Cougars draw Nebraska, Boise State, UCLA, and Michigan in the season's first four weeks – three of those are on the road in some of college football's most storied stadiums. With the news that star QB Taysom Hill is out for the season, it's not likely that BYU will reach its loftier goals this season, but at least they earned some respect after going into Lincoln and shocking Nebraska in the opening weekend's wildest game.
BYU's now 2-0 in that gauntlet ahead of its toughest game against UCLA. In the Cougars' most important home game of the year, Tanner Mangum escalated his heroics: his first quarter bomb to Mitchell Juergens could be the best throw we'll see all season; Mangum hit Juergens again for a go-ahead touchdown with less than a minute left – on fourth down from 35 yards out. BYU now has a path to 10 wins, which would have been unthinkable in the preseason without Hill. But Mangum – a highly-touted freshman just back from his Mormon mission – could be the next great BYU QB in his own right.
Elsewhere in notable non-conference or G5 Week Two results:
Washington State 37, Rutgers 34. To be fair to Rutgers, the turmoil within their football program and athletic department makes a home loss to a team that just lost to a probably-not-good FCS team look like a positively mediocre result instead of a truly awful one. The Big Ten's new blood isn't doing Ohio State or Michigan State any strength of schedule favors.

Iowa 31, Iowa State 17. The Hawkeyes passed the first "test" in a pivotal year for Kirk Ferentz – their in-state rival might not be adequate preparation for conference play, but with how good C.J. Beathard and Jordan Canzeri looked, Iowa could make some noise in the wide-open Big Ten West. I'm still not quite sure why Paul Rhoads was retained for a seventh year at Iowa State after going a combined 5-19 in 2013 and 2014, but I guess they did upset Iowa for one of their two total wins last year.

Houston 34, Louisville 31. A lot of shine came off the Week One matchup between Auburn and Louisville already. Auburn messed around and somehow almost lost to Jacksonville State; Louisville faced a more formidable opponent, though Houston may evidently be far ahead of schedule under new head coach Tom Herman. Still, a rebuilding AAC "American" team isn't one you want to be losing to, Cards.

Temple 34, Cincinnati 26. Speaking of the AAC, look at you, Temple! A week after a historic upset over Penn State, Temple went on the road to face a conference favorite and dominated – the Owls led 31-12 after three quarters and Cincinnati added a touchdown late. It's hard to believe, but Temple could be in the Group of Five New Year's Six bid by season's end.

Michigan 35, Oregon State 7. The undercard to the Oregon – Michigan State tilt was about what you'd expect from a one-off home game. Any games between Power Five teams are valuable data points, but this one tells us less than most – mostly because of how Michigan dominated OSU (not that OSU).
Conference Wars
Since it was only Week Two, three power conferences – the Big Ten, Big XII, and Pac-12 – didn't have any intraconference games. The ACC had just one, a comfortable Syracuse home win over Wake Forest. Since those teams are facing an uphill fight to even make a bowl game, there was really only one conference with meaningful games in Week Two: the mighty SEC.
Leonard Fournette readies his sophomore surge
LSU 21, Mississippi State 19.
Because of bad weather, LSU's first game – a tune-up against FCS McNeese State – was cancelled, forcing the Tigers to open the season on the road against a ranked conference foe, far from an ideal situation to get quarterback Brandon Harris comfortable. Still, LSU was able to record the first mark in the win column in the brutal SEC West, largely in part because of their rushing game spearheaded by star tailback Leonard Fournette (who carried the ball 28 times for 159 yards and three touchdowns). The biggest question entering the season for the Tigers was their quarterback play – predictably, Cam Cameron leaned on Fournette and backup Darrel Williams, but they really protected Harris, who threw the ball just 14 times for 71 yards (but added 48 yards on the ground).
Even though they did so against Mississippi State, LSU probably won't be able to win so one-dimensionally against the class of the division – Auburn and Arkansas have already shown that achieving their respective levels of preseason hype will be quite difficult, but LSU still must play Alabama and Ole Miss on the road in November, in addition to a home game against Texas A&M. Winning the division would be very difficult, though it might not be a surprise to see LSU – who plays Auburn this weekend before five easy games – rise in the polls and stay relevant in the SEC race late in the year.
Mississippi State had a banner season last year, but might find that building on that success after the departure of over half their starters will be difficult. Dak Prescott was forced to throw the ball 52 times against the Tigers last week – and ultimately the Bulldogs couldn't run the ball (1.7 yards per carry on 43 attempts). Despite that, Mississippi State pulled to within two points with four minutes left – and missed a two-point conversion – before missing what would have been an incredible 52-yard field goal as time expired. LSU led 21-6 entering the fourth quarter but held on; Mississippi State can't afford to drop toss-up home games if they want to stay in the top 3 or 4 in the SEC West.
Georgia 31, Vanderbilt 14. The SEC's other premier sophomore running back – Georgia's Nick Chubb – ran for 189 yards on just 19 carries, but didn't score. It took longer to pull away from Vanderbilt than most would've expected, but the Bulldogs never took off the cruise control.
Kentucky 26, South Carolina 22. In Mike Stoops's third season (usually a litmus test year for most coaches) at the helm of one of the SEC's most historically downtrodden football programs, he won the conference opener and defeated Steve Spurrier and South Carolina. UK led 24-7 at halftime and ran back a USC two-point conversion attempt for two points of their own in the fourth quarter to provide the final score.
Still too early for any #takes. After this week, we'll be most of the way through non-conference play.
Top 10 Week Three Games
In chronological order:
Northwestern @ Duke, 12:30 (ESPN3) – Weirdly, Northwestern scheduled two prestigious schools as their Power Five opponents (even weirder, all three might be good). They're trying to make it 2-0 in Durham.

Memphis @ Bowling Green, 3:00 (ESPN3) – The Group of Five game of the week features two up-and-comers – UM's Justin Fuentes and BGSU's Dino Babers – who have beaten P5 schools already this year.

Georgia Tech @ Notre Dame, 3:30 (NBC) – The Yellow Jackets get their first serious game of the season following their Orange Bowl season; Notre Dame would feel a lot better about this game with Zaire.

Nebraska @ Miami, 3:30 (ESPN2) – That Ohio State vs. a MAC team gets more of ABC's local affiliates than this game tells you everything you need to know about Nebraska and Miami.

Auburn @ LSU, 3:30 (CBS) – Jeremy Johnson didn't do well against Jacksonville State, so a trip to Death Valley probably won't come easy. An upset would cause people to do a 180 on Auburn, but it probably won't happen.

Texas Tech @ Arkansas, 7:00 (ESPN2) – An old SWC game between a reeling Arkansas team and an all-offense, no-defense Texas Tech unit who hasn't played anyone yet. Kingsbury vs. Bielema is enough of a draw.

Cal @ Texas, 7:30 (FOX) – Things could go from bad to worse in a hurry for Charlie Strong, assuming that Cal's lethal passing game (led by star QB Jared Goff) does what we expect against the leaky Longhorns defense.

Stanford @ USC, 8:00 (ABC) – After a headline-filled lead-up to the college football season, we get our first look at Sark after Dark as USC hosts Stanford, who's looking for a big win after a disappointing start.

Ole Miss @ Alabama, 9:15 (ESPN) – This is the marquee game of the week: Ole Miss has destroyed nobodies and is one of the rare teams to come close to matching Alabama's talent level. We'll see if Chad Kelly is a big upgrade over Bo Wallace.

BYU @ UCLA, 10:30 (Fox Sports 1) – A rare Top 25 matchup between two true freshmen quarterbacks: does Tanner Mangum extend the magic for BYU, or does Josh Rosen shine in his first big game?
Note: Last night, Clemson defeated Louisville 20-17. That game will be covered next week.