Conference Play Sort Of Begins: The Big Ten Picture After Four Games
CONFERENCE PLAY SORT OF BEGINS: THE BIG TEN AFTER FOUR GAMES
As many of you are likely aware, there was indeed one conference game this weekend and one team actually did not play, and these two facts contribute to the fairly respectable 8-3 performance of the Big Ten over this past week. We saw a good mix of drubbings and nailbiters, with our own game perhaps uncomfortably sitting in the latter category.
SCORING OFFENSE AND DEFENSE:
The "Points For" metric here should not shock anyone – Ohio State fills the spot that Vanderbilt would have occupied on their schedule with air and then handily bloodlets air by a score of 76-0, thereby securing them the top spot in average scoring. You have to travel down to seventh to find Michigan, averaging a still respectable 38 points per game coming out of non-conference play. Typically, that ends up being upper-tier performance in conference play.
The left side of the "Points Against" chart is basically what happens when you schedule teams that you are fairly certain that you can curbstomp (like Purdue), although this year it hasn't exactly worked out that way for everyone. All the same, several teams are buoyed by shutouts and/or dominating performances against inferior competition. Michigan sits at seventh here as well, giving up an average of 21 points per game (although not all of this is the defense per se).
Here is the scoring differential, mainly so you can see Boilerquest.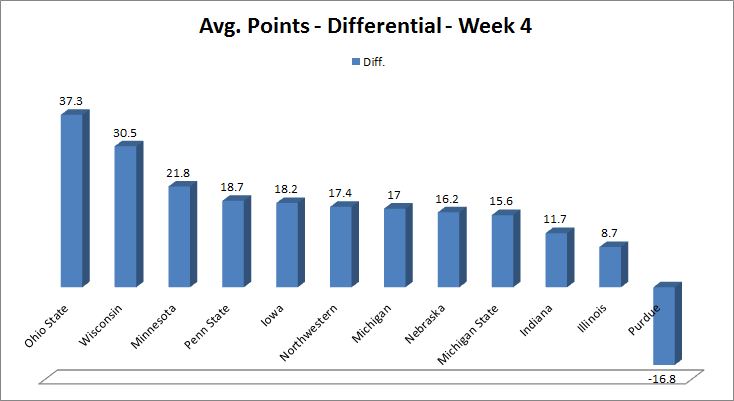 TOTAL OFFENSE AND DEFENSE:
With only non-conference games in the books (with a noted exception), it's difficult to say a lot about average yards per game on offense. Nine teams are averaging 400 or more, Michigan included -  granted, we are ninth.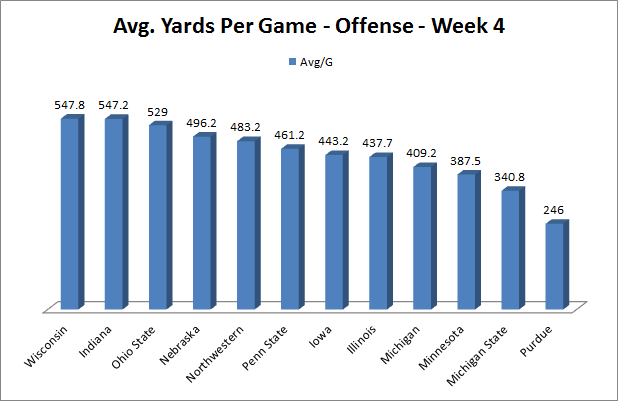 Michigan come sixth in yards allowed, with Michigan State allowing the least on average. The ND and Akron games sort of weigh on the average for Michigan, so in conference play, this will hopefully drop further. For perspective, it isn't Nebraska or Illinois.
Here is the yard per play differential. Once again, Boilerquest.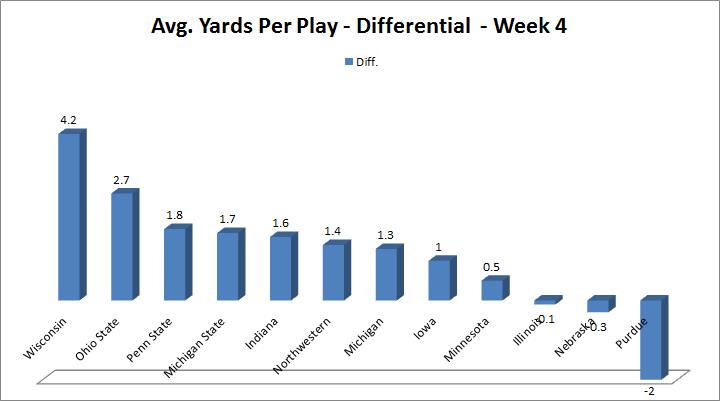 RUSHING OFFENSE AND DEFENSE:
Michigan is ninth in the conference right now in rushing, although we're not that far off our average in-game total from last year. Wisconsin, whose rushing game is the talk of the conference it seems, is far and away the leader here.
As for stopping the run, we're quite good at it so far based on four games of data. In fact, five Big Ten teams have held their opponents to under 100 yards on average, although some of the opponents in question don't typically do much rushing.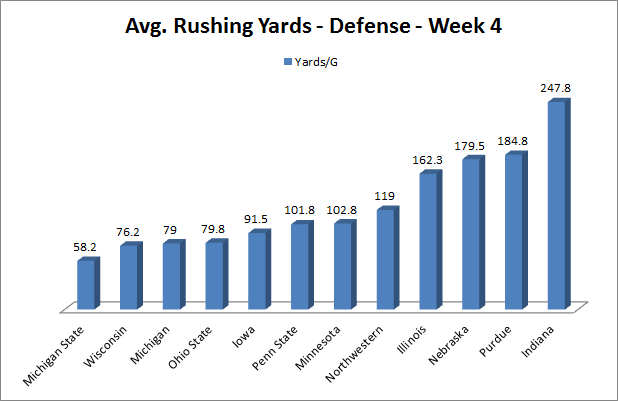 PASSING OFFENSE AND DEFENSE:
Michigan is seventh right now in passing offense, but again, 215 yards per game isn't really terrible as an average and it is four games. Indiana throws it a lot, but then you look at their defense and see what they need to try and overcome, right?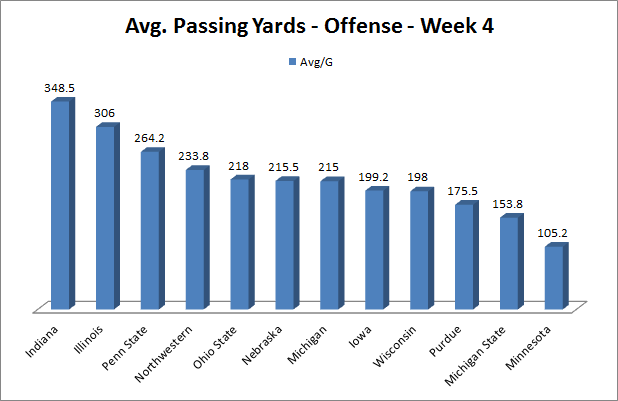 Stopping big pass plays? We average 232 yards of passing allowed. Four teams right now are allowing under 200 yards passing per game, but at this point, some of this is due to some opponents not being terribly gifted in, well, any phase of the game.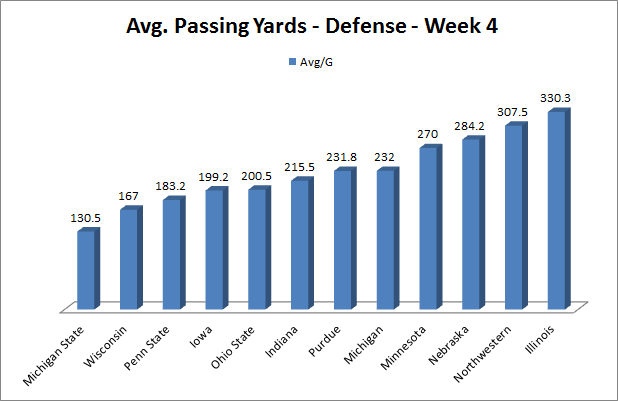 THIRD DOWN CONVERSIONS:
First, here's Boilerquest on the tempo-free stats –
We're in the middle of the pack on converting third downs – we are 48.1% successful in this metric, which is a slight decrease from last week actually.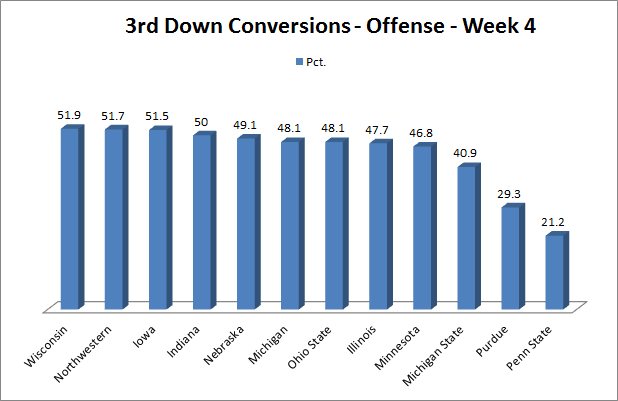 We improved quite a bit on the other side. Making UConn relatively unsuccessful (1 for 11) on third down put us once again below 40% in third downs allowed.
SPECIAL TEAMS:
Here's the kickoff and punt return picture
TURNOVER MARGIN:
Presented without comment –
TURNOVER MARGIN

Margin

Per/G

1

Nebraska

4

1

 

Ohio State

4

1

 

Northwestern

4

1

4

Minnesota

3

0.75

 

Michigan State

3

0.75

 

Wisconsin

3

0.75

7

Iowa

2

0.5

8

Illinois

1

0.33

9

Purdue

0

0

10

Indiana

-2

-0.5

11

Penn State

-3

-0.75

12

Michigan

-5

-1.25