Body Mass Index of Michigan vs. the B1G
Since there isn't much sexy in the fall roster updates (so far at least…despite Denard and co. anecdotally touting the gains of the guys upfront in the B1G presser) I thought I'd look at the roster info and see if I could represent the data in a different way. 
Body Mass Index (BMI) came to mind – as both an indicator of fitness and body type.  In this diary I'm looking at BMI and trying to see what this might indicate for 2011 in the B1G using the results from last year.  
Here's how BMI is calculated along with an explanation (thanks to Wikipedia)…
The body mass index (BMI), or Quetelet index, is a heuristic proxy for human body fat based on an individual's weight and height. BMI does not actually measure the percentage of body fat. It was invented between 1830 and 1850 by the Belgian polymath Adolphe Quetelet during the course of developing "social physics". Body mass index is defined as the individual's body weight divided by the square of his or her height. The formulae universally used in medicine produce a unit of measure of kg/m2.
So what I'm proposing is looking at muscle/fat per square inch. It's going to be similar to just looking at weight but not quite. In addition I'm going to look at the entire B1G plus ND.  Here we go…
I went to each school's website and pulled their roster and went about computing muscle (or fat as the case may be) per square inch.  I thought I was doing everyone a service by pulling directly from the source.  It didn't turn out that way…here's what I got…
Starting with this variability chart…
You may ask why the heck the schools are ordered like this left to right. I'd like to say it is the leaders on the left, the legends on the right and ND in the middle. But it's nothing as nonsensical as that. I'll get back to this. But first…a few comments…
Std Dev. doesn't play much of  a factor here wrt Avg team BMI.
The green diamonds are mean diamonds. They are useful (to me at least) to see if distributions have significant differences. Two distributions are significantly different (p<0.05) when the diamonds do not overlap…i.e. NU is significantly more puerile than Penn State. I say puerile but BMI is not a measure of manliness necessarily…is it? [Ed-M: gracile/robust perhaps? #anthrobionerdiness]
What might the mean differences indicate…it could be team fitness…it could be style of team play…it could be roster management…it's definitely all these things and more.
So what does Avg. team BMI have to do with being good at football?
BMI in a traditional sense signifies four body types. 
Underweight
Normal
Overweight
Obese
Roughly broken out like this chart.
In Football the vast majority of any team is at least overweight on this scale.  Per the chart above the average B1G player is nearly obese (29.6).  Football players don't play by these rules however (actually this is sadly not the case –
- but I am not going there right now. Suffice to say – don't let your BMI get out of control and/or if you must…then lose it when you quit playing or suffer the consequences.) 
Since the 60's at least we have seen larger and larger men take up football.  BMI has risen along with these weights.
1969???…I guess Bo started this issue…
Anyway…not all BMI is good for football.
                  This                          does not equal                           This
But then again…one of these guys carried this off the field on his final college game.
While the other guy carried this…long may he not shave…
So what does BMI have to do with being good at football? I guess the best way to look at that would be BMI vs. Wins…
Hmm… let's regress for a few moments…
OK…so there's no significant correlation (p<.05) but it's not like there is nothing going on here. Still it's not worth extrapolating moments to 2011.
I took a look at some of the names behind the dots…(sorry for the small type…I can't fix that evidently with this software.)
Ash and Campbell are outliers for Michigan. Relative to other DL types like Nix Jeremiah and Hankins they aren't so out of control however. Ragoo is simply a very large person.  Position group is a factor here however – which is reasonable.
Here's the breakdown by position (again for the B1G+ND)…
I kept many of the same labels…
Hemingway is a different body type altogether than the rest of the B1G receivers.
Ragoo and Cully are interesting.  Both are significant outliers for their position group. Where you might think that Ragoo is a (6'7" 391 lb) Terrence Cody-type lineman (there are no OMG shirtless search happy images of him to compare) Cully is a 5'1.5" 197 lb frosh for Penn State whose team photo is pretty revealing…
Johnathan Ragoo (OL – Minn)           Jeff Cully (DB – Penn State)
As stated before Ragoo is huge. Cully is tiny. Both are BMI kings of their position group. Cully is MAC-sized. Cully is stubby legged. Cully is a walk-on (I presume at least.) 
This brings up a dataset issue. I pulled everyone on each teams' roster when I imported the data off the Web. I wanted the best comparison possible, but when I went to each team's website roster I found them in various formats and protocols. Penn State does not list redshirts. The position groups have different nomenclature school to school. Nebraska (don't get me started on Nebraska) had 152 players on their roster. Notre Dame only had 78.
WhiskeyTangoFoxtrot Nebraska. They are an orange to the B1G apple…
I leveled the rosters by position and threw all redshirts with their graduating classes. I did not ferret out the walk-ons or separate the projected starters (it was simply too much work.)
Here's the offensive line data for the B1G.  This is clearly the most significant of position groups.
Taylor Lewan is bottom of the group for Michigan. This is likely a sign of fitness on his part (and Schofield and Gunderson for that matter) [Ed-M: Lewan was also a project recruit who started football later than most][Ed-TSS: Glasgow is a project as well yet is above the mean for the subset of Michigan OL].
Frederick for Wisconsin is in the top of his group. This is likely an equal if opposite sign of fitness on his part. This is clear when looking at the same chart versus weight. Here's that data:
When you look at weight alone Lewan/Schofield and Gunderson pull up to middle of the pack. Frederick falls down into the mid distribution. This isn't true for other laggards like Flavin and Tansey or for Ragoo who are still kings of both charts.
Sorry again for the labels …
Though overall BMI for OL correlates well for 2010 Wins (p<0.06) – the Std Dev. of the BMI data correlates even better (p<.016). Using both with a weighted leverage to model the wins brings the p<.0155. 
Again the labeling issue. Mich and Penn State are overwriting each other here.
Here's a graph of the residuals; this doesn't overwrite if I stretch it enough.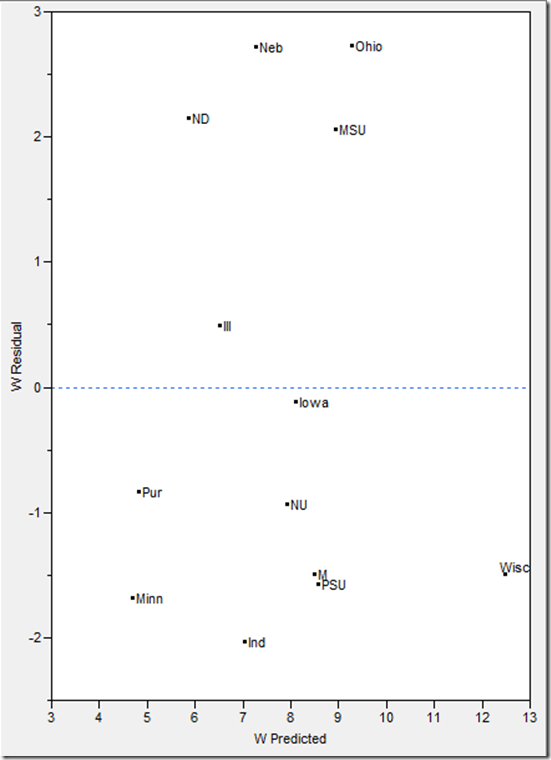 Teams above the line outperformed the model; teams below did worse than expected.
In 2010 the biggest OLs with the tightest distribution of BMI won more games. Not a huge insight but insight non the less. Basketball on grass was not working last year.
The good news for Michigan is that the incoming class of OL is the BMIiest in the entire conference. Adding those numbers to the previous charts gives Michigan a considerable bump in beef.
Posada and Bryant have identical BMI. Yerden and Williams at too close to label simultaneously but the difference is pretty stark vs the previous chart. This new class is a different kind of beast.
I'm not saying this new class of OL are going to be the difference between winning or not this coming year (I would like them all to red shirt if possible), but our offensive line is looking good with respect to muscle fitness and incoming beef.
Thought I'd share some data. First time diary. Must go to sleep now. Go Blue!