"The Big Ten Scorecard": An Attempt To Grade The Season
So, Now that we're simply awaiting the start of the bowl season to cap off an interesting year in Big Ten, and indeed, college football, I thought I might present to the board for comment something I had been considering doing for a while – "The Big Ten Scorecard".
It's not by any means scientific, and I don't pretend to be an expert at these things, but what I tried to do here is take summary metrics and compare them to what the conference game averages would have been. Including the BTCG, there were 146 games played (allow that two teams played 13 games, of course), so the same size is sufficient, in my view, to present what an average Big Ten game stat line would look like.
Bearing that in mind, there are several tables – passing offense and defense, rushing offense and defense, scoring offense and defense, a summary for offensive and defense metrics and how many were met, and an overall "score" for the team.
Score? Metrics?
Glad you asked. I kept it fairly simple for this first pass at the idea. You will see in the tables many boxes shaded in red with numbers in red as well. I went with the mean for each statistic as the target, so essentially, what we're discussing is the team's performance against the Big Ten mean on 31 measures.
So, for the most part, on offense, if a team was below the mean on a certain measure, the box is shaded because it indicates a performance which was generally subpar compared to the rest of the Big Ten. The sole exception would be interceptions, in which case being below the mean is preferred obviously.
 On defense, on the other hand, generally numbers below the mean would be preferred; the sole exception again (for purposes of this experiment) would be interceptions, as more indicates an opportunistic defense.
There are some confounding factors, of course, such as teams facing pass-heavy or run-heavy opponents, but the human performance aspect of football allows teams proficient in stopping such attacks to meet other targets.
In other words, in my totally contrived system, there are 31 possible points, and if you "exceed the target" (perform well against the mean), you get one point for that measure. I have even included handy icons to graphically illustrate which teams are making the grade compared to their conference compatriots, if you will, in the summary tables.
Basically, the final score is the percentage of measures against which you exceeded the conference average. No team obviously scored 100%. Indeed, no one even hit 80%, so there is a bit of a curve involved as well. One other thing that some will undoubtedly notice – sometimes, a team which came in at what appears to be average is still in a shaded box. I rounded the numbers for purposes of simplicity in the tables, but what it means more often than not is that the unrounded figure is still slightly below the actual mean.
TL;DR – Michigan, Nebraska, Ohio State, Penn State and Wisconsin all exceed the Big Ten mean at least most of the time in most areas. Michigan State and Northwestern would be teams that do this only slightly more than half the time. Iowa, Minnesota, Indiana and Purdue struggle, needless to say. Illinois...well, at least this season gets "Firestone Smoldering Rubber Award".
Again, this is my first stab at such a thing, and I welcome comments and suggestions. For as long as I am here, I would like to make it a yearly thing with perhaps even midpoint reports.
THE TABLES (offense first, then defense, in each case):
PASSING – OFFENSE AND DEFENSE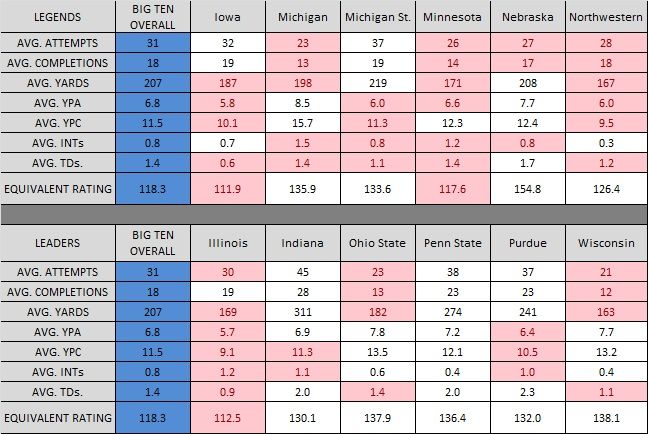 RUSHING – OFFENSE AND DEFENSE
SCORING – OFFENSE AND DEFENSE
OVERALL OFFENSE AND DEFENSE
OVERALL SCORE: