The Big Ten At Rest (Unless You Are Bowling)
THE BIG TEN AT REST (UNLESS YOU ARE BOWLING)
Well, even though we did not win on Saturday, we still get to go to some manner of a bowl game and that means we get the practices and the additional time to work on some of the known issues. There is something to be said for this, even if the record is not exactly what people had in mind at the beginning of the season.
In any case, this will be the final installment of this particular weekly for 2013. The remainder of December will be filled with some summary diaries of the football season and then I am planning something like this for Big Ten basketball – I should be prepared for this hopefully by the time conference play rolls around in January.
SCORING OFFENSE AND DEFENSE:
Michigan ends the regular season with the 4thbest scoring offense in the Big Ten, averaging 33.8 points per game and trailing Ohio State, Indiana and Wisconsin in that order. Far and away, Ohio State's offense was the most prolific, averaging almost 10 points more per game than its nearest competition. We end the year with the 8thbest scoring defense in the conference in terms of average points allowed at 26.5 points per game. Northwestern, Illinois, Indiana and Purdue all were more generous than Michigan. The average scoring margin is below – Boilerquest has fulfilled its destiny:
TOTAL OFFENSE AND DEFENSE:
By yards per game, Michigan's offensive performance is probably where you think it is – in the bottom third of the conference at 9that 382.8 yards per game on average. Michigan State, Minnesota and Purdue would be our company in that particular tier of teams. On the other hand, we were 6thin the conference for yards allowed at 367.4 yards per game on average, which is near the conference mean – in other words, we were average in the Big Ten. The tempo-free differential ends up a bit in the positive overall at 0.3 yards, which is not great, but means we did gain a smidge more  than we gave up in the end.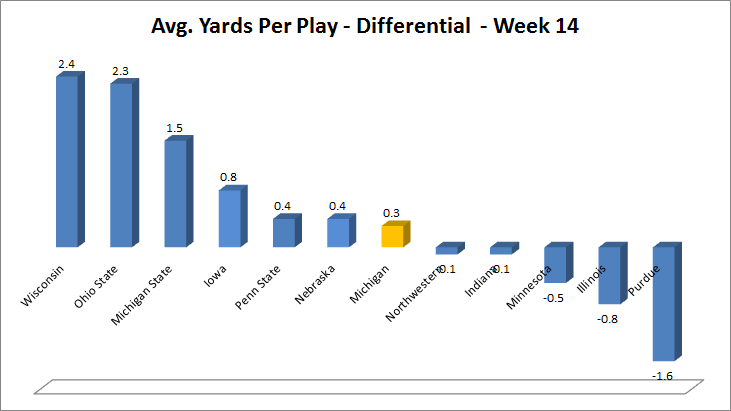 RUSHING OFFENSE AND DEFENSE:
There is not a lot of change here from the previous week. We still have only Purdue to laugh at when it comes to average rushing production, and indeed, we fell from 4thto 5thbest rushing defense after giving up nearly 400 yards on the ground to Braxton Miller and Carlos Hyde.
PASSING OFFENSE AND DEFENSE:
For all the concern and hand-wringing about our pass rush as well as the secondary, we sort of end the year respectably. We still maintain the 4thbest passing offense by yards in the air, and 7thbest passing defense, sitting more or less by the conference mean. We ended up…average.
DOWN DIFFERENTIALS:
In the end, we actually end up in the black, if you will, for both third and first down differentials, so we managed to maintain a pace that was – on average – ahead of our opponents. We merely did not make it easy on ourselves sometimes, or in some games, most of the time. That being said, 1.1 more third downs than your opponent on average doesn't look great when you look at what some of our compatriots achieved. This could also be said for only averaging 1.4 more first downs per game. In a way, we managed to essentially break even on these measures.
SPECIAL TEAMS: