The Big Ten Over The Hump: Your Weekly Review
THE BIG TEN OVER THE HUMP
Everyone has at least six games in at this point in the conference, so effectively, we're over the hump for the regular season already. I believe it might be safe to say that, at this point, there are at least a couple teams whose general trajectory could be at least estimated, one of them being Purdue. For Michigan specifically, we're looking pretty competitive among our conference compatriots for the most part, so we do have that going.
SCORING OFFENSE AND DEFENSE:
Thanks in part to Saturday, Michigan is right up there in terms of scoring offense at an average of 42 points per game on the season, good for a solid fourth in the conference. Indeed, eight teams are averaging 30 points or more. Further, and again thanks in part to Saturday, Michigan is now eighth in the conference in scoring defense, but on the bright side, we did an Indiana team that is now precariously close to giving up 40 points per game on average.
TOTAL OFFENSE AND DEFENSE:
There was some buzz on my Twitter feed over the weekend about Nebraska's defense being the worst, and this is not true at all. From a total yards allowed standpoint, it is fourth-worst in the conference, but again, everyone can pile on Indiana in this respect. Offense is not a huge problem for most teams in the Big Ten with nine teams getting 400 yards or more on average per game. That's pretty good really. In the tempo-free world, the worst performers are Illinois, Minnesota and Purdue.
RUSHING OFFENSE AND DEFENSE:
So, for another week, there is not a whole lot of shock when you look at the best overall performances in the rushing game for the Big Ten, and as for Michigan, we did get a boost thanks to nearly 300 yards of rushing against Indiana. Even better, despite the Indiana game's Tecmo numbers, we're still saddled with the fourth-best rushing defense in the conference, and one of the best in the nation overall.
PASSING OFFENSE AND DEFENSE:
We played the team with the best passing offense. We experienced the best passing offense in the conference and won. We do have that to our credit. Michigan is in the top four here as well, so despite concerns, it is becoming a very productive aspect of the game. When it comes to defending the pass, much of the conference sits in a fairly narrow band of averages with some good performances on top, which is interesting really.
THIRD DOWNS:
Interestingly, there is not much movement here from the previous week. The top performances sit clustered around 50% and then you have Penn State and Purdue, both of which struggle mightily to sustain drives. The defensive side of this seems to be a story of good to meh and then Indiana and Purdue.
FIRST DOWNS:
I think it is fair to say that if you're giving up more of these than you're getting, then as is the case with third downs, you definitely have problems. You can see who has some issues definitely in this chart anyway.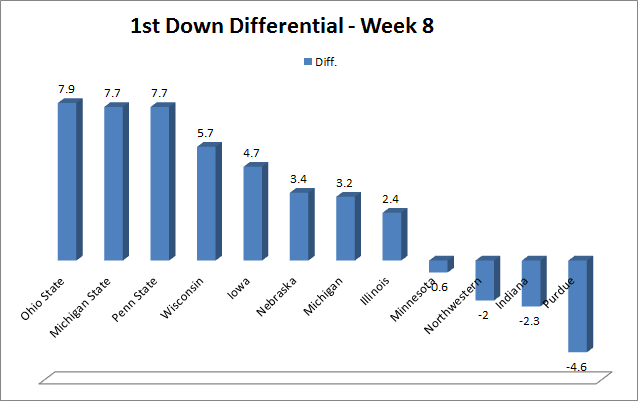 SPECIAL TEAMS STUFF: