The Big Ten Begins To Sort Itself Out: The Weekly Summary
THE BIG TEN BEGINS TO SORT ITSELF OUT: YOUR WEEKLY SUMMARY
NOTE: Normally, this would have gone up yesterday, but as I was at an offsite and only intermittently available to do, well, anything for most of the day, I had to put this off until this morning. If you were looking for it, that's what happened and I apologize for the delay.
We're getting to a point now where some teams have now played a full two-thirds of their schedule, so the conference looks as if it is beginning to sort itself out on paper.
SCORING OFFENSE AND DEFENSE:
When it comes to average points scored, we have an interesting separation now. There are basically five teams that are averaging 40 points or more per game (39.9, 40….close enough), and then production drops quite a bit. After Nebraska and Wisconsin, the next nearest team to the top is Illinois at 30.7 points and they are the top of a wide tier of teams in the 30-27 range. Then, of course, there is Purdue.
The progression on defense, on the other hand, is fairly steady from the stingiest to the most generous, and aren't we lucky that we get to play the stingiest team in a few short days? The point differential graph basically is the result of Ohio State's drubbing of Penn State this past Saturday.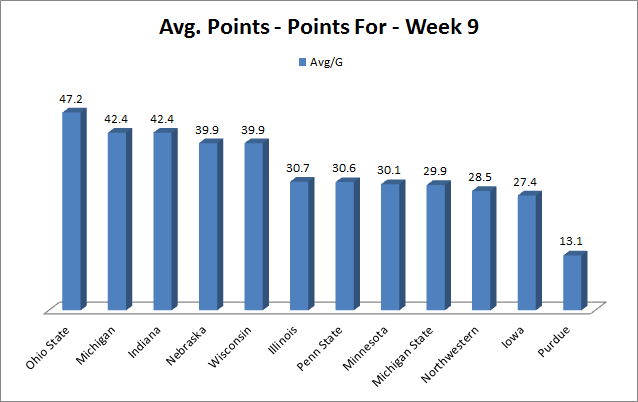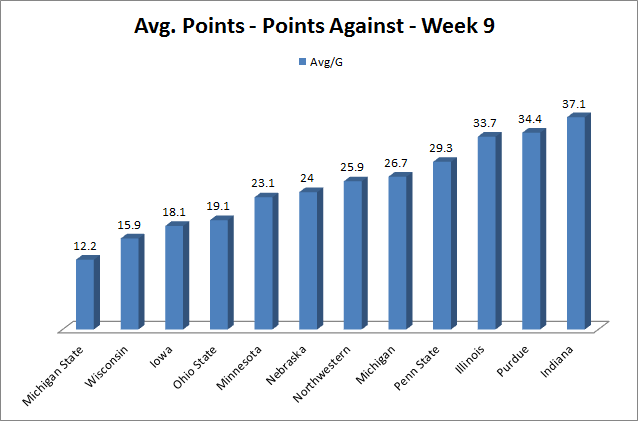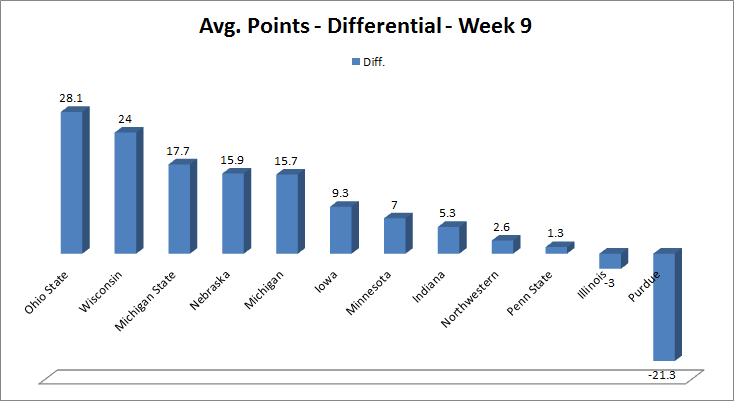 TOTAL OFFENSE AND DEFENSE:
There is a fair amount of stability here at this point – Ohio State, Wisconsin, Indiana and Nebraska tend to be the top four most weeks at this point. Michigan, buoyed somewhat by a prolific performance against Indiana, comes next after those teams. On the other side of the ball, Michigan State is firmly asserting itself as the most difficult team to get yards against, and it might even be the case that their average would be sub-200 if not for, well, their experience against Indiana.
RUSHING OFFENSE AND DEFENSE:
We are still one of the toughest teams to run against, so we've definitely go that going for us, and we sit near the mean for rushing offense, which I suppose I will take given the noted woes in this aspect of offense. The top teams in rushing offense again should not shock anyone, although Minnesota is quietly climbing that chart. If you want to be able to run the ball all day, Illinois and Indiana are the teams for you.
PASSING OFFENSE AND DEFENSE:
This aspect of the game, at least when it comes to offense, is getting to be "Indiana" and "Others" at this point, but Michigan is third here, sandwiched between Penn State and Nathan Scheelhaase's resume of wasted performances. At the far end, you see Minnesota putting out passing numbers usually reserved for triple-option teams. If you're just looking for Michigan's stats by now, the passing defense numbers are, thanks to Indiana and one or two other games, not the best.
THIRD AND FIRST DOWNS:
As we know, not winning this battle makes it difficult to win the game typically. In other words, the tempo-free chart is starting to align with the story of the Big Ten this season when it comes to relative success or lack thereof. The first down differential is telling you a similar story, I believe.
SPECIAL TEAMS DATA: