So Brian beat me to the punch when it came to the theme of this Thursday's game, so I should either be happy that multiple people I respect had a similar view of UM's performance, or bothered that another human being is inside my head.  But still I'll soldier on, with the understanding that this will be a bit shorter than normal due to the holiday weekend, the timing of the game, and my lack of scorching hot takes.
Best:  Rebirth of an Optimist…
So for those loyal readers who stuck around reading these columns last year, you'll know the Utah game was when I turned on the season and, by extension, the team.  For those of you who Spotless Mind-ed the 2014 season, here's how I started last year's B&W for Utah:
Worst:  Death of an Optimist

People who have followed this diary know I'm a pretty optimistic guy.

But I'm done.  I'm done with this season, with this coaching staff, with this whole f'ing show.
The Utah game was the beginning of a 3-game losing streak that basically sunk the Brady Hoke era (Minnesota was next, then Rutgers felt like the final nail), and had come on the heels of the 31-0 loss to Notre Dame two weeks earlier.  And sadly, it wasn't just the losing that made that game some demoralizing; if you'd been a fan of UM for the past decade "bad losses" weren't new. 
No, what broke my spirit then was how predictable that performance was, how we'd seen it for years now, and for every 2006 or 2011 blip there were a half-dozen seasons where UM sharted its way further behind the rest of college football, and how the powers that be at UM didn't seem to care or act particularly bothered by their failed stewardship.  Here, I'll let pissed-off 2014 BronxBlue say it again, this time with feelings:
And it wasn't just that the f'ing winningest team in f'ing college football history, with a 5th-year QB and a 1st-round WR and oodles of talent up and down the roster (young as it may be), couldn't score more than 3 points against f'ing Utah. No, what killed my optimism about this team and this staff, about this program as it is currently stumbling through another shitty year, is how absolutely true-to-form it is to the dreams of the men in charge. 
…
And when the fanbase seemingly had had enough of being run off their own field by a bunch of fowl, and the administration took a shot on a guy who helped bring about the current age of the sport and won everywhere he coached, a bunch of faux sentinels of the "good days" cut off his legs at every chance and sat back as a combination of self-inflicted wounds and the rotten core of a dying program ending his run. RR's failure as a head coach at Michigan is one thing; you can be a good coach and not be a good fit at certain places. But Brandon and his cohort didn't view Rodriguez's ousting at UM simply as a bad fit, but instead as "proof" that this new-fangled version of college football, where smart guys try to take advantage of inefficiencies in the game and implement offensive and defensive systems to do so, is just a fad and the good old days of swinging your member around on the sidelines and expecting the opposition to be scared off are back.
That may well have been as disenchanted, as angry as I've been watching a sports team in my lifetime.  When the Tigers were losing an A.L.-record 119, I understood how a team heavily reliant on Mike Maroth, Jeremy Bonderman, Dmitri Young, and a broken Bobby Higginson could be terrible.  When the Lions lost all 16 games in 2008, they still had Calvin Johnson and were close in enough in a bunch of games that it was almost fun to root for the statistical anomaly of flipping tails 16 times in a row even when coin felt a little weighted to heads every other week.  And even when UM had some terrible basketball teams under Brian Ellerbe, and MSU was lobbing half-court alley-oops up 60, it wasn't necessarily shocking given the talent on the court and the sanctions you kinda knew were on the way.
But with Michigan under Brady Hoke, you just saw this degradation in quality and performance that flew in the face of the talent and resources available.*  UM wasn't suffering massive attrition and recruiting restrictions like PSU, it wasn't shocked by the departure of a former institution-like figure in Tressel at OSU, nor was it coming off a particularly terrible stretch, with RR's final team having made a bowl game and Hoke's first team winning 11 games.  And the man could seemingly recruit and still had decently-stocked shelves, especially on offense, thanks to RR's offensive focus.  But from 11 wins to 9 to 7 to 5, the team looked worse every year and the leadership ever more inept, and it just felt like everybody important was either asleep at the wheel or didn't give a shit as long as the seat licenses kept flowing in. 
It wasn't that the program was underperforming; that had been going on for some time, and I guess I was numb to it.  But until that game, I always felt like the coaches and administration were actively trying to address the issues they saw and field the best team possible.  I'm working through Bacon's Endzone, and while I find parts of it gratingly congratulatory of UM's (and in parts, the AD's role in said) history, awash in the worst types of homerism, and littered with ground-down axes that would be Paul Bunyan proud **, it WAS illustrative of how past administrations would look at the looming issues surrounding the team or the school and work to address them immediately, stubbed toes and hurt feelings be damned.  Last year's Notre Dame, Utah and Minnesota games would never have been allowed to happen because the warning signs had been seen in years past, and a competent administration would have addressed them months before. 
But under Brandon and Hoke, you saw two men who rather lose doing it their way than try to introduce meaningful improvements, all the while demanding blind loyalty from the fanbase because the team still genuflected at the altar of past leaders, slapped a banner, and wore the right laundry.  From the minute Hackett took over you knew that level of nonfeasance would not be tolerated, punctuated by Jim Harbaugh joining up.  And as a fan, that's all that was necessary to rekindle my optimism that UM would be a winning program again, one that would be in the upper-echelon of college football teams.  Because with few exceptions, UM football has all the tools, all the advantages you need to be elite. 
I'll always be a fan of UM sports; no crappy head coach or myopic athletic director would change that.  But as soon as UM ran onto that field in Utah, led by Jim Harbaugh and backed by an administration that expects and demands competency, that sense of dread and disgust faded away, replaced with the sense that while it might not always be a pretty trek, UM was back on the path to its rightful place in college football.
* It's kind of like watching Stanford under David Shaw, a team that had some sustained success but has looked worse and worse as the remnants of Harbaugh's tenure fade away.  I know Stanford has resource that pale in comparison to those at UM, but their has absolutely been a demonstrable drop in talent and performance there.
** Man, that does read like I hated the book, which isn't the case.  I actually have enjoyed it overall and find most of Bacon's novels to be equally fun reads.  But there is clearly an agenda at work in parts of the novel, and it feels Notre Dame-level pretentiousness to claim the hiring of Harbaugh has ushered in the "return" of UM before the man has coached a down of football.
Worst:  … Who Is Still Skeptical
To reiterate, I am still very much on-board with my new Harbaugh overlord.  The man is a fantastic coach, great recruiter, and overall the type of guy I want leading UM's football team.  And unlike in the pros, where guys making millions of dollars don't necessarily want a 51-year-old yelling at them, his demanding style works pretty well in college, where guys cycle through quickly and college athletes benefit a good deal from a strong authority figure. 
And I also understand that getting UM "back" will take some time; I said 7-5 at the start of the season, and while BYU now looks a bit less daunting without Hill out and PSU looks kinda terrible on offense, I still see them with a ceiling of 8 wins barring significant in-season improvements at LB, the other corner spot, and running back/run blocking.
But my biggest concern (from an on-field perspective) when the idea of Harbaugh was first raised had to do with the likely "ceiling" for a Michigan team given how he'd coached at Stanford and his overall offensive and defensive philosophies.  And not so much the system, which on its face is just as effective as any other: creating confusion and mismatches with multiple TEs and motion fueled by grinding backs and a semi-mobile QB works fine for me. 
But there so many moving parts that have to be "right" for it to run optimally.  I know people talk about the spread offense as a sports car, but to me the RR/Urban Meyer-style offense is like a souped-up Toyota Corolla.  It works because of its simplicity, its reliance on replacement-level parts at most positions.  It obviously runs best with premium talent at the skill positions, but I can't imagine a world in which you could take Alex Malzone and drop him into Harbaugh's offense and beat Indiana comfortably, let alone what OSU did against Wiscy, Alabama, and Oregon.
There are two key elements about spread-style offenses that I like, and they are intertwined; one, it lets you get away with sub-optimal talent at certain positions because the goal is all about exploiting a couple of mismatches; you're 3rd/4th corner against my slot receiver, your defensive ends in space against my faster QB, etc.  And the second, related benefit is that it gives you a larger margin of error when it comes to recruiting, of still being effective with "lesser" athletes because their weaknesses are covered up by the greater system.  It broadens the available pool of "viable" players for your system, and so you don't have to hit as often on the great player(s) in order to maintain a consistent level of success.
By comparison, Harbaugh's offense is great when you have all the pieces but seems to stumble without them; this game was illustrative as a taste test of sorts; what happens when you secretly try to run an offense with Faygo-level players.  It isn't terrible by any means, but you can tell something is missing.  And that's what scares me, because it requires UM to basically recruit a stable of road-grating offensive linemen, stout-but-quick RBs who can catch out of the backfield, athletic TEs who can serve as viable downfield threats as well as strong blockers, and a QB who can have solid downfield accuracy while also being somewhat of a threat to run the ball.  I know this is a bit generalized and most teams try to nab these types of players, but it just feels like a team has fewer options at certain spots that they must hit on pretty consistently; that the 25th-best "pro-style" QB is probably a bigger step down than, say, the 25th-best "spread" QB. 
People often complained loudly that RR failed to recruit elite players to UM, and while I'd argue that characterization is a bit misleading, there is some veracity if you look at just the recruiting rankings.  But the counter is that UM had some of the best offenses in its modern history under RR, and that as soon as UM started to recruit "better" skill players but changed the system they'd occupy, the performance dropped rather precariously.  I have full faith that an elite offense under Harbaugh will be spectacular; what troubles me, though, is that this success is going to hinge too much on the players brought in and not necessarily on the structure of the offense.  As a fan, I want UM's success to have the fewest constraints placed on it, and "the best version of Stanford" on offense feels like a bit of a letdown. 
Worst:  Rudock-ulous Bad Luck
I won't belabor the point, as everyone reading this knows it wasn't a great debut for Jake Rudock; throwing 60% of your INT total from the year before in one game isn't usually a good thing.  Still, his overall numbers weren't terrible (6.5 YPA, 2 TDs, 63% completion percentage), and he wasn't helped much by the running game (2.8 ypc from Smith with a long of 7) or his blockers.  The one hit I remember most vividly was in the third quarter when Ty Isaac inexplicably tried to double the Utah DE and let one of the LBs get a free shot on Rudock, who hung in until the last second before missing on a ball to Butt.  And while it didn't give up an sacks, the offensive line didn't seem great at picking up late blitzers, allowing him to be pelted a couple of times each quarter that seemed to contribute to the overthrown balls we saw.  The first Rudock INT seemed like a bad route by Perry, and the third INT was a combination of a mediocre throw, a mediocre route, and a pretty athletic play by the Utah corner.  The second INT was completely on Rudock, but those throws can open at altitude in the first game of the year. 
As for the overthrows, that felt like a guy still getting accustomed to his playmakers trying to make the perfect throw in a strange environment; while not Denver, SLC is 3/4 of a mile above sea level, and with a wind the ball probably moved differently than Rudock was used to.  I don't expect that to continue.  Nor do I expect he'll continue to have trouble connecting with Perry (who clearly has earned Rudock's trust as a "pressure release" option) or look to AJ Williams as a receiver downfield.  I'm not sure if it was the playcalling or Rudock simply looking for the open man, but with all due respect Williams really shouldn't be viewed as a viable receiving option on plays unless under extreme duress. 
Overall, I thought it was the worst possible performance you could reasonably expect from Rudock, and I assume he'll be much better back in Ann Arbor.  He's not a world-beater, but he directed the team competently and the offense seems more willing to let him challenge defenses deep with guys like Chesson and Darboh, to say nothing of the dynamics he has with Jake Butt.
Worst:  Calling for a QB Change
I'll keep this brief – there is no reason in the world to insert Shane Morris into the lineup as a replacement for Rudock after one game.  Morris had weeks to beat our Rudock and he couldn't; by all accounts, Rudock won the competition running away.  To make a switch after a game would be needlessly reactionary and stymie the positive signs we did see offensively.  So while I continue to believe Morris could be a starting QB at UM in the future, there is no reason to believe he would have had a better performance against Utah if he had replaced Rudock at halftime, as some fans seemed to be calling for.  In particular, it was funny to see people argue that Morris wouldn't have overthrown receivers like Rudock, which flies in the face of all evidence we have about Morris and his moderately-accurate Howitzer. 
Best:  Moving Forward OR
Worst:  Except When it Counted
Utah recorded 3 TFLs in this game, amounting to 3 yards, and 0 sacks.  Last year, Utah recorded 8 TFLs for 31 yards, including 4 sacks, and 1 forced fumble.  The biggest bugaboo the last couple of years for UM's offense has been the negative play, and against a decent Utah defense UM found a way to keep moving the ball forward, even if only incrementally, and that allowed them to sustain multiple 9+ play drives while staying out of too many 3rd-and-long situations.  Based on raw numbers the offense didn't look appreciably better than last year's game against these same Utes, but given the fact this was the first game of the year, on the road, with a new head coach and new-ish offensive philosophy, I was pretty happy with the team's ability to stay above the muck and self-inflicted wounds that plagued the offense under Hoke/Borges.
That said, the offensive line and backs struggled immensely to get anything going beyond the line of scrimmage.  Smith made a couple of bad reads, but overall it felt like he was more often than not fighting against a wave of Utah players within 2 yards of the ball, and none of the backs seemed able to get anything going inside or outside even when it looked like the blocking was solid.  It didn't help that none of them seemed to be running particularly, um, fast, but that horse has beaten to death so many times with this group that it is just a reality one must deal with.
I'll again chalk some of this up to first-game jitters and bugs being worked out, but it was disheartening to see one of the most experienced lines in the conference get manhandled at times by a Utah team without some of their studs from a year ago, and the bulk of available backs fail to register a run longer than 7 yards.
Best:  Don't Google Buttman
Yeah, just don't.  It might seem like a funny idea, and it's not like you're going to be *shocked* by what you find, but just…don't.
Anyway, Jake Butt had himself a game.  Tied for the team lead in catches with 8, caught a number of 3rd-down conversions, and had one amazing TD grab.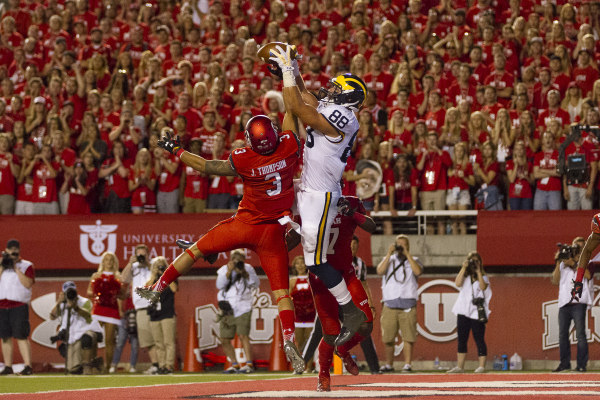 And unlike in the past with Devin Funchess, for example, this performance felt like one you can expect from a TE in this offense.  Butt will never be a fantastic blocker, but he can get some push when necessary before slipping out on passing downs and isn't a liability in the running game.  I know it felt like hyperbole when Harbaugh said Butt was as fine a prospect at the TE position as he had coached, but after this game it sure doesn't seem wrong to expect a great season.
As for the rest of the receiving core, it was a mixed bag.  I thought Darboh had a great game despite the one unfortunate drop on the failed 3rd-down conversion.  He proved capable of getting some separation from corners, flashed unexpected speed and agility after the catch, and generally looked like a guy who could be a leading receiver for a competent offense, something I wouldn't have said coming into the season.  Small sample sizes and all, but I suspect Darboh will continue to have a solid OOC run at the very least.  Chesson, on the other hand, showed his speed but failed to do much with it, though he wasn't helped by Rudock's overthrows.  He should be better going forward, but it still feels very one-dimensional with him and I'm not sure that will change much this year.  Perry had some obvious route-running issues, but as a true freshman in his first game he was making blocks on screens and short passes that seniors tend to blow.  It sure looks like Rudock trusts him, and that's half the battle with young WRs.  Cole made one catch that was basically a screen the Utes immediately snuffed out, and no other WR really saw the ball much.  My guess is we'll see more against Oregon St. this week, but it sure does feel like Darboh-Butt-Perry will be the significant producers in the WR crop this year.
Worst:  TACKLING…IN…SPACE!
As long as I've been alive, mobile QBs have been the bane of UM's existence.  If the guy under center can both run and throw the ball, UM's defense consistently struggles in defending against it.  Now, put that same athlete one position back (RB) or outside (WR) and UM seems to have better luck corralling him, so it's not so much an athleticism issue as it is one of scheme. 
So it should come as little surprise that while UM largely held Booker in check, Wilson was able to consistently pick up yardage whenever he held onto the ball.  And a lot of those struggles fell on the veteran LBs, who again seemed unable to tackle guys in any type of space.  Bolden in particular struggled to do so both against the run as well as keep up with receivers in the middle of the field, a weakness that has been well-documented over the years. 
Perhaps most jarring what watching Jabrill Peppers struggle to keep up with true freshman Brit Covey, who seemed able to shake Peppers almost at will in that first half.  He seemed to settle down in the second half and had some great TFLs by just slipping past would-be blockers, but it may be time for people to temper the "in case of emergency, just unleash Peppers" hype until he shows a consistently ability to stay in coverage.  I think we all forget that Peppers hasn't played much organized football in the past year, and even the best redshirt freshman will have struggles adjusting to the speed and talent on the field.  But this team is going to struggle all year with the LBs and Peppers don't improve their tackling and coverage dramatically.
Best:  Controlled Explosions
One of the lasting memories of last year's game was Jourdan Lewis streaking across the field to catch Bubba Poole before he could score on an extremely ill-defended screen.  It was both an amazing (he literally ran across the field and caught Poole, who had a couple yards on him) and demoralizing (it took a corner running across said field to stop a 80+ yard TD that occurred because UM had one defender on that side of the field after the snap) play, one that did not portend a particularly great season by the defense against the "big" play.
Again, it's only been a week, but this year's secondary (and really, most of the defense) showed a much better ability at minimizing the long completions and broken plays that doomed them last year.  Booker had one nice run after the catch that just skimmed the sideline, but beyond that there wasn't any real "explosive" play.  The cornerback position opposite Lewis remains in flux (on review of the game, it did seem like Stribling and Clark struggled to stay with their men at times), but you rarely saw WRs streak by anyone and, though there were some disturbingly wide-open expanses at times, the defense still forced Utah to march down the field most of the game.  And the defense nearly came up with a timely turnover when they forced Wilson to fumble the ball, only to have it bounce to the one Utah player on that side of the field.
I still have no idea if Michigan's deployment of first-class-sized cushions to each and every receiver not covered by Lewis is a one-time thing or a sad reminder of how tight coverage ain't coming to A2, but overall I thought the defense did a good job making Utah work for every yard they got.
Best:  Kicking the Ball With All the Time In The World
Michigan deployed the spread punting formation and was able to limit Utah to 1 return for 14 yards while averaging 43 yards per kick.  If you remember last year, UM gave up 83 (!) yards and 1 TD, losing the field position battle without really pressuring anyone on the Utah special teams.  And as far as I can tell, there were always 11 people on the field.
I know it's a small victory, but as a football fan in 2015 being able to say "my punting team fielded the right number of people and didn't give up a big return" is the biggest f*ing deal after the last 4 years. 
As for FG kicking, Kenny Allen hit the 30-yarder you expected and missed the 44-yarder I figured was going to be tough.  Utah's all-world kicker also missed a couple of longer kicks, so I have to imagine a combination of wind and nerves were in the air.  While I don't think it really altered the outcome of this game, I do think Harbaugh will be more likely to go for short-ish conversions in FG territory as he remembers that college kickers are immensely less reliable than pro kickers, and what feels automatic in the NFL (like that 44-yarder) is far more dicey with younger legs.  The announcers (who I thought were much better than the pre-game triad of goobers) noted as much, and you could tell Harbaugh mulling over his decision to not go for it basically as soon as the ball left Allen's foot.  Again, this isn't going to be a season whose overall success hinges on the foot of a kicker, but I think it's becoming clearer that this team can't rely on its kickers to bail them out.
Next Week
Oregon State comes to Ann Arbor, and I'd be amazed if Michigan didn't emerge with a win.  It'll be an emotional time for the fans when Harbaugh steps back into the stadium, and you get a sense from the way the players have spoken about the game that they realize they need to perform better and are almost embarrassed they lost on Thursday; I suspect a much better effort on the ground against a suspect Beaver front 7, and Rudock should have a much better game throwing the ball.  Anderson should have Oregon State ready to play, but the jump from Weber St. to UM is pretty jarring, and a true freshman QB making his first road start might lead to some of those elusive turnovers I've been seeing other defenses cause.  It is still a work in progress, but this team feels like one with the parts slowly fitting into place, not the grab-bag of uncertainty it has been the past couple of years.