I say this every time, but I'm going to keep this brief.  It's a game UM was supposed to win comfortably; they did so.  Next week will tell quite a bit more about how this team stacks up going into the conference slate.
Best:  Neapolitan Without Chocolate and You Hate Strawberry or
Worst:  Vanilla Ice Cream topped with Vanilla Extract Mixed with Vanilla Sorbet
One of the most derisive terms you hear on the internet (coined by legendary champion/male stripper Kevin Nash) to describe a professional wrestler is that he's a "vanilla midget".  The term has a number of meanings and, in certain contexts, can almost be a backhanded compliment, but in general it refers to a wrestler who is good at "wrestling" but not so good at the "sports entertainment" part of it; it typically means he's short, bad on the mic, a bit weird/generic looking, etc.  Despite its evocative nature of a particular type of guy, it's been applied to wrestlers of all stripes, usually in a way to trivialize their real accomplishments and reduce them to a trite tableau of unmet cosmetic expectations.
I noticed during this game how many people became discouraged that UM's utter dominance of UNLV wasn't "more" than it was.  Outside of the one Isaac run, this was basically UM spending a half methodically walking up and down the field with minimal resistance from the Rebels, running the same basic plays effectively but without much flair.  Yes, part of that was due to Jake Rudock's continued inability to consistently throw the ball farther than 10 yards downfield, but UM was going to play this game as close to the vest as possible.  If this was an NES game, UM just went full Tecmo on the playbook.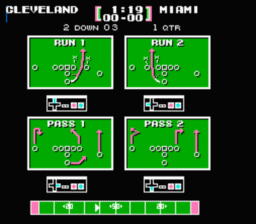 And yeah, I know how annoying these games can be when you see teams like Tennessee, Arizona, and Ole Miss drop 50+ points on hapless clubs, when you'd just wish UM would blow the doors off someone effortlessly as opposed to with stoic determination.  Sometimes you want to say your prayers and eat your vitamins, you want to recite your favorite Bible verse as your stomping a mud hole in someone, and you do smell what is cooking.
But in the end, this was a thorough win by a team that is trying to get the "good at football" part down as much as anything.  There will be other games this year (hell, there's one next week) that will require more fireworks, more explosiveness from UM to pull out the victory.  But for now, savor that UM can just go out and "take care of business" as it were, regardless of how it may look to the Uutsiders. 
Best:  Ground and Pound
I'm sure I'll use this reference a number of times this season (and, hopefully, many more seasons under Harbaugh), but this was a prototypical "ground and pound" performance by the offense.  It had a bit of nuance and subterfuge (witness Chesson's jet sweep TD run following the end-around to Darboh), but otherwise it was mostly Power football with all the counters, leads, fullback dives, and sweeps you could ask for.
Isaac's 76 yard run was the highlight, but that first half UM was able to do basically whatever they wanted on offense, and that turned out to be "hit guys in white repeatedly."  You look at the stat sheet and figure Isaac had the much better day compared to Smith, but you watch those carries and Smith was getting through the holes and picking up nice yardage the way you expect with him – by pounding human beings backwards.  He's not going to break those outside runs for huge yardage given his pedestrian speed, but had he carried the ball the 20-25 times you figure he'll do during the season he'd have likely wound up with similar numbers he put up last week. 
It was nice to see Isaac break out a bit, as his combination of size and speed are going to be essential to this offense continuing to be semi-effective against the better teams on the schedule, especially if (as it appears) Green isn't earning a lot of carries and Johnson remains a bit of a question mark following his recovery.  That long run showed off his combination of speed and physicality as he bounced off a couple of tacklers, though he was helped immensely by UNLV running into each other and/or getting lost in the wash on that play.  Still, that was the first time this year when it felt like the offense was "explosive" and not just consistently grinding down a team.
The second half was a bit more discouraging in that the running game struggled to maintain its earlier dominance while the passing game continued to struggle, but when your lead never dips below 21 points I wouldn't expect Harbaugh to do much else than run the same base plays and just work the kinks out.  And UNLV obviously felt the same way, as they were selling out on the run pretty heavily.  I remain troubled by the inability of this team to get a yard on 3rd/4th and short because it always seems like the Braden, Kalis, and Glasgow struggle to get a significant push, but it also feels a bit like UM is just losing to the percentages right now and, with a larger sample size, they'll start converting those opportunities. Still, 200+ yards on the ground for the second straight week is a good showing, and gives me hope that UM will be able to keep it going against a suddenly-porous BYU defensive line. 
Worst:  Still With the Kinks
Nobody but the most maize-tinted glass wearers expected the passing game to be gangbusters to start the year, especially with a new QB and the lack of established options at WR save for Butt and Darboh.  Even with Brian's proclamations that Rudock was a low risk, moderate-reward QB who wouldn't expand your passing game immensely but who would make the right throws with limited turnover, there were just too many uncertainties to expect there wouldn't be hiccups along the way.  Now, after three weeks, the passing game remains in flux, and what were once thought of as minor kinks to be ironed out are starting to look like functional deficiencies.
I'll be frank – this was the worst performance Rudock has had this year, by a healthy margin.  Utah had the INTs but it was the first game of the year and he was victimized by a couple of poor routes by his WRs.  Oregon St. was better even with the pick, but it was still a disjointed game with missed deep balls (though at least the ball to Darboh was interfered with).  Against UNLV, though, Rudock was missing seemingly at random, whether it be the terribly thrown ball to Butt in the endzone on that first drive that would have been a TD to the two mistimed shots down the field to Harris (a solid 2 feet out of bounds) and Darboh (though Darboh turned himself around a bit, it was still a bad ball).  And even on a number of his completions, the ball was low and behind, limiting YAC and resulting in a depressingly-low 5.6 ypa, especially given the opponent.  I know Harbaugh alluded to some swirling winds and the like, but this is a sport that has been played outdoors for centuries and, as a 5th-year senior who played for years at Iowa, Rudock should be used to throwing in such conditions.  And on a number of errant passes, they weren't off by a step or a foot, but either yards behind, ahead, and above his receivers.  I remain cautiously optimistic that Rudock will improve somewhat because, again, this is still a small sample size, but whereas competency felt like the floor with him at the beginning of the season, it is starting to feel like the ceiling.
As for the receivers, it was a mixed bag.  On the one hand, this was an opponent that UM didn't need to throw against much, so they didn't, especially after they were up 21.  At the same time, issues linger that portend worse results when the competition level increases. 
Jake Butt has been neutralized a bit, or at least the focus has been shifted some, as teams have clearly identified him as Rudock's preferred target.  Outside of that long TD against Utah, he hasn't been targeted much downfield, which is doubly weird both because of the matchup problems he provides for you and because of the paucity of other threats.  Part of it is absolutely playcalling against limited opponents and Harbaugh's desire to use Butt as a viable blocking threat, but for a team lacking identifiable playmakers on offense it's weird not seeing Butt being used more as a threat.
Darboh continues to be a nice surprise, though it's becoming more clear that his strength is in the screens and mid-yardage game, not as a deep threat.  That was a poor throw by Rudock in the 4th, but Darboh had both hands on it and could have bailed his QB out a bit.  He also struggles to get separation without the ball, though that stiff-arm is FANTASTIC to watch in space.
For the rest of the receivers, it was a mixed bag.  Chesson had a nice TD on that jet sweep but only caught 1 ball, and with that run you saw why he's so dangerous (that speed to the corner) but also why he might just be a "speed" guy since he continues to struggle to catch the ball consistently.  Mo Ways had a nice run and catch, and it was nice to see Harris get a deep target even if it was poorly thrown.  He still looks like a guy who hasn't played organized football in a couple of years, but he seems like the only legitimate downfield threat in the receiving corp, so hopefully his comfort level will increase and so will production. 
Again, I'm not prone to read too much into the passing struggles because of the opponent, but this defense and running game aren't good enough to carry this squad past some of the teams coming up, so it would be great to see marked improvement in that aspect of the offense sooner rather than later.
Worst:  The Replacement
I've said this before but I think it bears repeating - replacing Jake Rudock with someone else (Morris, Speight, or a true freshman) only works if (a) you believe that he is hurting the offense (a debatable point) and/or (b) there is someone on the roster, right now, who would be a marked improvement. And that's the rub with any change at the lead position. Rudock has been inconsistent, but he's still the guy who (by most accounts) soundly won the position battle over Morris et al.  And yes, UM will have to go through this again next year with a new QB, but you hope by then that the coaching staff is more comfortable with the pieces available and, perhaps, a guy like Morris, Gentry or O'Korn can take the reins with some seasoning and (in the case of O'Korn) eligibility.  But change for the sake of change isn't going to make the offense demonstrably better and, most likely, will stymie whatever progress the unit is making with Rudock at the helm.
I hate to drag up last year, but everyone remembers Morris replacing Gardner against Minnesota.  I railed against the decision when it happened because it wasn't based in logic or strategic advantage; it was just a beleaguered offense hoping they had a magic bullet in their backfield.  Well, we all know how that played out.  While I doubt the severity of a change at QB would occur under Harbaugh, it still isn't the right decision unless Rudock absolutely flames out, which at this point doesn't seem likely.  This was never a year for championship dreams, and I'd much rather have an extra year for one of the young QBs on the roster in 2018-2019 than a win against, I don't know, PSU in 2015. 
Best:  The Front 11
Another week, another solid performance by the entire defense.  They held UNLV to under 250 total yards of offense, with about half of those yards coming in the 4th quarter when UM was liberally substituting players and generally just trying to bleed the clock out.  Yes, the shutout was spoiled by a couple of nice throws and broken coverages, but people focusing on those last two drives are ignoring the fact that UM didn't give up a drive over 25 yards until that point and held the Rebels to negative rushing in the 3rd quarter.  For the game they had 9 TFLs, 2 INTs, and outside of late in the game, virtually no "busts" or bad plays.  Yes, that first drive with that crazy 3rd-down run after the hard Godin tackle showed a lack of awareness, but it's the type of play that happens periodically and you just kinda do one of these and move on.
The cornerbacks weren't challenged much but largely responded as expected.  I thought Stribling looked better than in previous games, and Clark played like a tall guy with decent athleticism.  I'm sure that side will be picked on this year, but outside of BYU, MSU, and OSU I'm not sure who else has legitimate threats to really make them suffer.
The LBs played well, and I'm very excited that Ross seems to be fighting his way onto the field.  This game was a good showcase for Bolden, as UNLV wasn't able to really tax his problem areas (misdirection, coverage) and instead allowed him to flow to the ball decisively.  I'm not great at reading defensive assignments so take all this praise with a massive grain of salt, but it looked like a defense that severely outclassed its competition and made sure of it early and often. 
BYU will be a much tougher test, though UM has the athletes to minimize the age/height advantages typically enjoyed Kurtz, Houk, and Mathews.  My guess is that the the run defense will hold up decently enough but that the secondary will break a bit, though Mangum does seem to be a bit careless with the ball and, on the road against UM's solid pass rush, could lead to short fields for the Wolverines.
Best(?):  So You're Telling Me There's a Chance?
I'll get into this in greater detail after next week's game, but right now I'm trending upwards in my expectations for the conference slate.  Rutgers is a tire fire, PSU is a slightly less smoldering tire fire, Minnesota doesn't have anything approaching a consistent offense, and IU and Maryland seem like teams that can kinda do stuff right but a stiff breeze can send that card house tumbling.  I know NW is 3-0 and beat the Stanford team that beat USC, but I didn't go to those schools so my understanding of the transitive property is weak.  All I know is that it's a team that hasn't scored more than 19 points against an FBS team and has gotten at least 2 TOs in every game they've played.  I'm not calling for a clean sweep or anything of that slate, but 5-1 over those 6 games isn't particularly unbelievable as we stand in mid September.
So that just leaves the #1 and #2 teams in the country (shudder).  OSU had a scare against NIU and hasn't looked nearly as dominant as most expected thus far.  Cardale Jones always struck me as a bit of a flash in the pan, and thus it should come as no surprise that a guy who can barely complete 55% of his passes in an Urban Meyer offense with a 2:3 TD:INT ratio is on the outs, replaced by (sigh) last year's Heisman trophy candidate J.T. Barrett.  Still, OSU seems to be hurting without the deep ball threat of Devin Smith, as Jalin Marshall and Michael Thomas haven't been able to fill in that void.  Even Eliiott seems a bit limited, as defenses have clearly triggered in on him with Jones scuttling.  My guess is that Barrett will help somewhat, but it does feel like OSU will rely on that defense more than you'd expect this year.  They're probably still the #1 team in the country, but that run they had to the championship is feeling more and more like a crest than a sustained level.
As for MSU, they are very good at winning football games without seeming all that great at doing so thus far in 2015.  That Oregon win is going to look better because the Ducks belatedly decided to not play a QB with a broken finger in other games, but it was still a solid win.  The rest of their schedule outside of dates at UM and OSU look really easy, almost comically so.  They do seem to be suffering real sustained injuries for the first time in years (Davis is out, Kieler is nursing a leg injury, they just lost a corner) and the running game remains a sore spot as nobody has really established himself.  And that defense remains extremely vulnerable to passing teams with speed, which means OSU and maybe Nebraska can give them a bit of trouble. 
So yeah, I just spent two paragraphs talking up OSU and MSU, but here's the thing: I kinda think UM is gonna split those games this year.  MSU is going to be hugely up for this game, but for the first time since Carr was at UM I don't think the coaches legitimately care if they piss of Dantonio and his toad heart.  And at some point, that over-sensitivity blows up in your face.  Also, I don't see MSU being able to run the ball successfully against UM's front 7, meaning Cook is going to be under pressure to carry the offense in a way that he has only intermittently been able to do.  And OSU will be coming off a game against MSU that could well be for their season, so a focused UM could absolutely shock the Buckeyes if the QB position remains in flux.  It's still some ways out, but I think UM wins against the Buckeyes and keeps it annoyingly close against MSU before Mark Dantonio sacrifices a freshman on the sideline so that Jake Rudock's arm pops off as he throws a ball late.  And yeah, I know I'm talking like a homer and UM could come crashing back to earth against BYU next week.  But both of these squads aren't as good as prior editions, and I refuse to believe that the gremlins that have been wreaking havoc in football thus far won't turn their attentions toward the B1G leaders.
Next Week:  Book on Mormons
The magic has dissipated a bit after losing to UCLA, and I expect UM to further rain on BYU's parade at home.  Mangum will make some nice throws and it'll be higher scoring than the last couple of games, but UCLA ran for 200+ yards against the Cougars and I don't see how UM can't duplicate that performance.  This BYU team could just as easily be 0-3 as 3-0/2-1, and with a couple more potential injuries after their last game it feels like the season might get away from them on the road.  Also, UM is making demonstrable steps every game (except at QB), and this feels like a good continuation of a nice run.