Best and Worst: Air Force
Worst: I'm Sorry Dave, I'm Afraid We Won't Do That Again
As you all know, this was Dave Brandon's lasting legacy at Michigan, these weird OOC games where Michigan has to dedicate a week of the season to defending an offense they will almost assuredly never see again this year (unless Georgia Tech has one of those seasons where they keep rolling 7's and 11's and get to a BCS bowl). There's little to be gained and much to be lost, from potential knee injuries to, you know, football games. Win and congrats, you beat a bunch of undersized servicemen who are about as close to "student-athletes" as you can get in college football; lose and you'll get sent a bunch of Top Gun references from other fanbases because it's a great movie AND sweaty beach volleyball exists. It's like scheduling App St. as a "revenge" game, a macabre attempt to paper over 2007 with a soul-less thumping that just helped to remind everyone that, oh yeah, history was made the last time these two teams played.
So I've been writing this column for a long time, but I didn't remember whether or not I had written a column specifically for the Air Force game in 2012. So I went back through the archives and found out...yeah, I sorta lumped them into an OOC write-up and that was it. The general takeaway, for those uninterested in reading a discussion of an Al Borges offense or a weird eulogy about Denard Robinson that also points out how Michigan fans have always weirdly deified their QBs until the moment they struggle and then people are fighting over the last shovel to bury them with, is that playing a service academy is that it's "refreshing to watch a mid-sized David battle a slightly-larger Goliath for an afternoon, provided that Goliath doesn't, you know, lose." And in broad strokes, that same story played out in this game, though the margin was wider and Michigan was never in much actual danger of losing. Unlike in 2012, when Michigan barely outgained the Falcons (422 to 417), Air Force was rarely allowed to get into an offensive rhythm (359 to 232 yards), and as a result they had 2 drives of 12+ plays...and 7 that were 4 plays or less. Michigan was the much better team and played like it until they got into the red zone, which allowed the contest to appear closer than it was. I know I said this last week, but this is not 2013 all over again. Michigan is thoroughly outclassing these teams, but they're making just enough mistakes and having just enough bad luck that they look worse on paper. Case in point: Michigan scored on 7 of their 11 drives, but one was a TD on a punt return and the other a somewhat-meaningless TD to end the game. The rest of the time, they mostly moved into the redzone with few issues but then had to settle for chip-shot FGs (35, 26, 29, and 36 mixed with a 49-yarder just to keep everyone on their toes). Connect on a pass that's a little long or catch Air Force slanting at the right moment and this game looks and feels demonstrably different.
The defense remained stout throughout. Yes, there was that drive where Air Force was gashing Michigan on the edges and probably should have scored but for a missed FG. And yes, there was the one 64-yard completion for a TD where Kinnel just got lost. But that happens in games like this against the service academies; it's why they tend to have some of the nation's best rushing offenses as well as highly-rated passing attacks. You see a team run the ball 49 times, you're likely to bite once or twice on a fake. But still, Air Force finished the day averaging 3.4 ypc, a rate they haven't been held below by a non-Navy team since 2014, and that one completion was all they could muster in 9 attempts. And you know how I mentioned that Navy had 2 12+ play drives? Well, one was a 12 play, 24 yard(!!) slog after an Evans fumble that ended in a FG. Michigan struggled on the offensive side of the ball at times in this game, but let it be said that the defense dominated yet again. Claims of "serious concerns about the defense" shall be met with the following.
So yeah, I'm not even sure I'd call it an ugly game. Ugly games are
Denard vs. Notre Dame in 2012, or OOC games in 2013, or, well, the entire 2014 season. Those were ugly. This was just boring, a game where Michigan was better but never could put the hammer down, so everybody got to watch 48 minutes of a team trying to play an NFL-style offense poorly vs. a team running a really precise HS offense well. But now it's over, and may we never speak of it again. Oh wait...
Worst: Speight - Still Not a Scapegoat
Apparently I will be that guy this season, but this was another perfectly fine week by Wilton Speight. It wasn't great, it wasn't terrible, it was a workmanlike 61%, 7.4 ypa performance, with a couple of drops thrown in there to depress some of the top line numbers. Just like last week, it was a B/B+ performance in a game that Michigan again struggled to run the ball outside of Ty Isaac. If you throw out Isaac's 89 carries on 16 yards, this team rushed for 101 yards on 22 carries, a 4.6 ypc average. Of course, that includes that 36-yard Higdon run at the ass end of the 4th quarter, when Air Force and Michigan both knew the game was over but the strictures of the sport require people to ram into each other for a couple more minutes. Subtract that, and we're at 65 yards on 21 carries, a ghastly 3.1 ypc and a fumble against a defensive front that, while feisty and disciplined, was outweighed by about 50 lbs a person compared to the Michigan's offensive line. And this has been the case for the entire year; both Higdon and Evans averaged under 4 ypc coming into the game on 38 combined carries; that's about half of the total carries on the year up to that point. Sure, if you gave one of them 30 carries a game I'm sure they'd break a couple of long runs, but Evans's ypc has been halved (7.0 to 3.4) and Higdon's isn't much better (5.9 to 3.7) from last year, and neither has provided much else in terms of receiving or pass blocking (through credit to Higdon for taking out 2 guys on pass pro to give Speight time for a third-down conversion). Isaac left this game with an apparent "internal injury"; hopefully it doesn't keep him out of action heading to Purdue, since right now I'm honestly not sure this team can crack 4.0 ypc to carry without him. But that's for a later section; let's keep the focus on the QB.
What has gotten me about the Speight criticism isn't that it isn't at least partially correct. He has absolutely looked rattled out there at times, and his mechanics suffer. A handful of times a game, he doesn't get set properly and the ball can then sail on him. Beyond that, his timing seems off with his receivers and his touch can be insistent, leading to situations like his endzone lobs to Black and Crawford that were either too high or out of bounds. He has made some questionable decisions at times as well: he nearly fumbled the ball when he tried to flick it toward Isaac (?) as he was being tackled, he missed a wide-open Isaac on the ball he tried to inside-shoulder throw to Black on the sideline, he probably should have tried to run the ball in on the goalline instead of flick it Crawford. He has left points on that field, and since he provides virtually no additional offense beyond his arm, he needs to be better throwing the ball. These are all real complaints, real negatives to point out about his game and how it has helped to stymie what looks (on paper) to be a pretty good offense.
But what happens is that lots of people stop their analysis there. It becomes a "replace the QB, save the season", as if the guy who touches the ball every snap is somehow responsible for what the other 10 guys on the field do as well. What needs to follow is "And the offensive line can't seem to consistently provide pass protection or pick up a blitz. And the receivers seem unable to consistently get separation from defensive backs you'd charitably describe as 'short' and 'future pilots or pilot-related people'. And then drop a number of balls that do manage to get them. And the play calling has led to downs being set on fire to put the fear of a 2-yard jet sweep on tape, or throwing short slants 8 yards short of the endzone and expecting a receiver to make 3 guys miss, or try to establish the run inside despite ample evidence that isn't a strength." But that never happens. It's always that Speight is barely qualified to handle the water bottle that is given to the third-string QB in between the halves. And so you get the same refrains as always, that Brandon Peters or John O'Korn should replace Speight despite ample evidence neither is an improvement, just so that a team that has won every game this year by double digits wins by more than that. And in particular, I see people clamoring for Peters based on, I guess, some spring game tape and the idea that this is a "lost season" because, again, Michigan is only winning games by 16 points and not 40.
Worst: Third and Too Damn Long
A couple of years ago The Mathlete wrote a really interesting diary about 3rd-down conversions and how distance affects it. The average 3rd-down position to go was 6.5 yards; a good offense usually is a bit below that, and more times than not converts on 1st or 2nd down a good clip. A basic takeaway (and I really encourage you to read it) is that 3rd downs tell you more about how an offense performs in its "optimal" situation than necessarily how good they are on late-drive conversions; if you are an efficient offense, you don't get into 3rd down all that often and, when you do, you have advantageous positioning (a couple yards to go). Manageable yardage lets you keep your whole playbook available, it makes the defense a bit more guarded about pinning their ears back, and means you are (likely) limiting TFLs.
So I've been keeping account of Michigan's 3rd-down positioning thus far. Last year's Michigan team was a little above average; they converted around 43% on their 185 attempts; the national averages are 40% on 183. But this year they are down at 34%, 102nd in the country. And a big reason is they are facing pretty long odds; their average 3rd-down position is 7.4 yards; against Air Force it was 7.8. And yes, that 7.8 is goosed by a 3rd-and-21; you zero that out and they are around 6.3. But this remains a consistent problem for this offense; they can't seem to get on track consistently on 1st and 2nd down, so they're walking into these long conversion attempts with few options. Against Florida they were able to catch the Gators sleeping and convert on a couple nice Isaac runs on long 3rd downs. But that's not something you can rely on and, with the exception of Higdon's TD late on 3rd down, it really hasn't been replicated in the last two games. When you're staring down 3rd-and 8+ multiple times on a drive, the expected value from that drive is going to be low. Thus far Michigan has survived being behind the sticks because of the defense and opportunistic offensive output, but that's not going to continue forever. People will say that's on Speight, and some of it is in terms of the general struggles throwing the ball, but the offensive play calling at times has left the team in low-percentage plays that feel like burned downs, such as the multiple McDoom sweeps in the red zone. 7.4 yards feels abnormal and should settle a bit down as Michigan stops getting dumb penalties (they average 7 a game for 65 yards compared to 4.8 for 45 last year) and (one hopes) gets more into a rhythm earlier in the drive. But for this team to be successful offensively, they need to stop putting themselves in bad spots.
Worst: Ballin'
As noted above, Michigan can't seem the run the ball with any consistency. I saw people say "Air Force sells out against the run", which is a totally valid statement and was true in this game. But here's the thing - every team tries to stop the run. If the reason a team can't successfully move the ball on the ground beyond one player is "because the other team is trying to stop them", then stop playing football. It's Mike DeBord being surprised teams look different on film than in the game. Michigan should have been able to run the ball consistently against Cincy and Air Force despite them trying to doing what they can to slow down the Wolverines, and yet here we stand, 3 weeks into the season and your 2nd- and 3rd-leading rushers have a combined 135 yards on 38 carries. As a team they have 2 rushing touchdowns, which is the same number of rushing TDs as Brian Lewerke. I can go on, but you've got the point.
I want to believe this is just a series of bad luck, of guys missing a cut here, a free hitter there, and the law of large numbers holds up and Evans and Higdon start busting huge runs. That final TD by Higdon, for example, was Michigan catching Air Force guessing wrong and springing for a long run; repeat that in non-garbage time and we're cooking.
But then you see plays like that one near the goalline with Isaac, where a whole flight crew met him in the backfield so viciously that Speight just threw his arms up in shock and disbelief. It wasn't quite this bad, but it was close.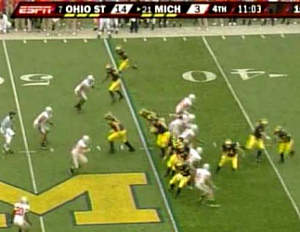 And with Ty Isaac possibly injured with various guts and bones moved around in unnatural ways, this team may well have to figure out their issues without the one consistent ground performer.
On the day, Air Force finished with 8 TFLs for 22 yards; they had another half-dozen stops for 0 or 1 yards. I know Air Force's defensive brand is disruption and getting past your line before it's set, but Michigan has given up an average of 8 TFLs a game this year, which is nearly 2 per game more than last season. And we're supposedly in the "easy" part of the schedule save for the Florida game; Michigan was averaging under 6 a game until OSU and FSU got them for 20. It's only going to get tougher going forward, and for all the coach speak and the semi-positive UFR scores, I still see a line that gets surprised by twists and blitzes, consistently lets a free runner to get the QB (Speight's long completion to Gentry, for example, required him to take a pretty big shot by a blitzing linebacker), and is generally playing below last year's level. Yes, Cole has been solid as ever at tackle, and Bredeson looks like a future all-conference player at either guard or tackle, but I'm starting to believe the ceiling for the running game (and the offensive line generally) is "a bit worse than last season". .
Worst: I Need a Hero
The other big takeaway from this game is that this team is still figuring out the WR position after Grant Perry. Speight tried to get the ball to Crawford a couple of times to little success; they had a badly-thrown ball in the endzone, that scramble-and-toss near the goalline that was well-defended, and just a bad drop on 3rd down that would have extended a 4th-quarter drive, another in a series of drops this year. Crawford also made some questionable decisions on kick returns (returning one pretty deep in the endzone out to the 15), and had a bad penalty that negated much of a long Isaac run. I feel like the staff is trying to force him into being a #1 receiver, but I really do think he's better as a complimentary player, especially on downfield routes.
McDoom was given some run in the second half, including a couple of short throws, and his incompletion in the endzone in the 4th felt like him and Speight just being a bit off on timing but was a good playcall nonetheless (Speight had the ball out before McDoom had fully broken inside, but it seemed like Eddie slowed down a bit as well). Black was starting to get into the game a bit more before his injury, which has reported as ranging from "slight sprain" to "broken foot". DPJ remains fast but raw; he's going to be a star one day but you can tell he's still a bit of a work in progress. Gentry had the customary "long completion to a tight end that they never go back to", and Perry again did Perry things.
But overall, it's another day where nobody really stood out. It was troubling to again see the announcers comment that the Michigan receivers couldn't seem to shake coverage. I don't have the endzone view so it's hard to tell on a given play if someone is realistically open (being 45 yards downfield may technically be "open", but not always relevant), but last year you saw Michigan try to air it down the field more than they have thus far, and it would have been nice for the past couple of weeks to see that become more a part of the offense. I am also somewhat puzzled by elements of the passing game that seem to rely on short completions and YAC; against both Cincy and Air Force, the one thing you don't want to do is get into sideline sprints with small guys running on constant motors. And yet, multiple times guys like McDoom, Perry, and Black were the first read on passes that ended almost immediately with a tackle for minimal gain. Speight had issues throwing jump balls in this game, but it would have been nice to see the team try more downfield throws and let their significantly taller athletes go up and get them.
Best: Sleepover
People (read: old newspaper writers and rival fans) made fun of Jim Harbaugh for his "sleepover" during Quinn Nordin's recruitment. Why spend that time and make such a show for a kicker? Well, Nordin is the third-leading scorer in the country and crushed another kick that would have been good from 55. You can tell the coaching staff realizes what they have in him, and while it may have made them slightly more conservative on 4th down, it has allowed the sputtering offense to come away with points more times than not. As the weather gets colder and less predictable I'm guessing they'll be some consternation on some long bombs, but Nordin gives this team some certainty on offense that they've lacked otherwise.
Best: The Defense, again
Every one of these posts has featured 5,000 words about the offense and then some hand-waving about "the defense looked really good". But honestly, they've been steadily dominant all year. As noted earlier, Air Force averaged 3.4 yards per carry on 49 attempts, for a total of 168 yards. Last year they averaged 320 yards per game. They had a handful of long-ish runs, but for the most part Michigan limited Air Force to single-digit rushes and racked up 9 TFLs for 49(!) yards, including 3 sacks for 27(!!) yards. Chase Winovich was a man possessed on the afternoon; after a particularly thunderous hit he popped up bleeding from his mouth and looking like an angry Viking who needs to taste blood to feel alive. Air Force, unsurprisingly, couldn't stay in front of anyone on the defensive line, and Gary and co. consistently held the edge and limited runs up the middle. Both McCray and Bush finished with a team-leading 11 tackles, and Bush in particular was consistently the first to make contact on runs. Kinnel was beaten on the one long TD, but otherwise Michigan's secondary was boring and helped to clean up plays that got past the front line. I want to say more, but watching Michigan's defense in this game reminded me of rock-paper-scissors where the offense likes to call rock a bunch and once the defense figures that out, it's a whole lot of paper. Yes, Air Force had that one nice drive in the second half where they were consistently gashing the edges of the defense; that's going to happen sometimes. In particular, you could tell Michigan had some troubles substituting guys in and out when tired/injured, and Air Force took advantage. And there were times when Michigan put 3 guys on the line when Air Force only needed a couple to convert, and yes that worked out exactly how you'd assume, but these are minor quibbles. A must truer test will be next week, when Purdue will try to test the team vertically like they haven't remotely thus far. My only caution is that Purdue has put the screws to a mediocre MAC outfit in Ohio and maybe the worst defense in college football in Mizzou. When the Boilermakers faced Louisville (themselves a pretty meh outfit), they averaged 4.5 yards per play and struggled to get much of anything going on the ground. Yes, Purdue will get some big plays against this defense, and my guess is I'll have more detailed observations about the secondary afterwards. But Purdue is a high-volume, moderately-efficient offense against anyone other than Ohio; that's not a recipe for success against a Michigan defense that kicks you off the field quickly.

Quick Hits
I am not a particularly old Michigan fan; I'm 36 but really only started to "care" about Michigan football when I was a freshman, and even then it took me a couple of years to actually get excited beyond the school spirit-level of excitement. But what I've seen over the years, especially when Michigan entered the Upside Down with RR and Hoke, has been this fanbase's primal desire to eat its own at the hint of trouble. Stevie Brown used to get it, then Tate Forcier, then Denard Robinson, then Devin Funchess, then Taylor Lewan, then Devin Gardner, and on and on. That's not to say players are above criticism, but there's this rabid, "All Takes Matter" contingent that wraps itself in the "Those Who Stay Will be Champions" trope and believe it grants them authority to pass judgment on players and their worthiness. And it's bullshit, and it'll never change.
Holding happens on basically every play in college football; I understand that refs can't call it every down. But good lord is it getting annoying to go 2 straight games and see, I think, one offensive holding by the other team. I guess I shouldn't be surprised with an option team, but Michigan is getting dinged for questionable calls all the time (there was another unnecessary roughness penalty on Bush, for example) while the opposition can basically bear-hug people.
DPJ finally broke one on the punt return after a couple of close ones earlier. He runs with that loping gait I remember Vince Young having in college; he seems like he's barely moving and then he's 10 yards past you. He also had a great run after a short pass to flip the field, again showing a rare combination of speed and elusiveness. I do wonder how long until he winds up as the kick returner; Crawford isn't very dynamic back there and it's rarely more than 4-5 additional touches a game. As he becomes more integrated into the offense, getting the ball in Peoples-Jones's hands in space is always a good idea
Bring on Purdue
This will be a game unlike any Michigan has played thus far this year. Purdue will play with tempo, they'll force Michigan's linebackers to cover in space, it will be a game where you will see a ball sail down the screen and hope someone in maize and blue is nearby. And on paper, Purdue's defense looks pretty good, at least compared to past seasons; they are about the national average on ypp, and the advanced stats are a bit more down but still a marked improvement over last year. But this will be a major test for them, because while Louisville has a dynamic offense, they also fumbled the ball 3 times and generally looked out of sorts independent of what Purdue was doing. But this is going to be Purdue's biggest home game of the year, and I fully expect them to put in a big effort. Michigan should still win, and I wouldn't be surprised if the offense broke out a bit, but my hope for a laid-back viewing experience is probably for naught.