Baseball: Ohio State Recap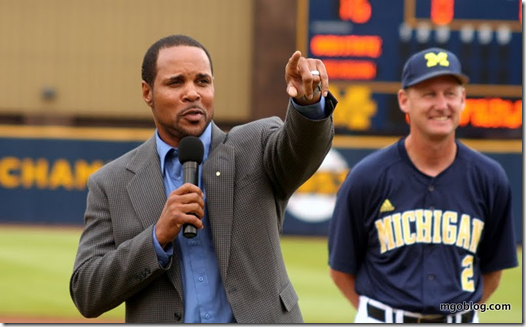 Barry Larkin wants you in the stands supporting Michigan
Michigan beat Ohio State on Friday and Sunday to secure one of the more exciting series wins in Ann Arbor in quite some times. This series saw surprises abound: a first round draft pick get scratched from the starting lineup with an injury, nearly every pitcher in this series pitched to or beyond their potential, great defense, and most importantly, the good guys coming out on top.
For full recap, follow the jump:
Game One
Box Score
R
H
E
Ohio State
0
1
0
 
0
0
0
 
0
0
0
 
1
5
0
Michigan
0
3
0
 
0
0
0
 
1
0
x
 
4
5
1
W – Katzman (4-1)… Save – Burgoon (7)
In the first surprise of the game, Eric Katzman came out as the starting pitcher for only his second weekend start of the season. His last only went 0.2 innings at Indiana, so naturally, there was some uneasiness. The top of the first inning went quickly, and then came the big story of the weekend.
During his warm up throws, OSU's ace and future first round draft pick Alex Wimmers heard a pop come from his hamstring. He had to leave the game with a potential hamstring strain, holding him out of the entire weekend. This put the Buckeyes in just a tough predicament as Michigan who was starting someone with limited success since returning from hernia surgery in the off season. They would end up throwing a lefty reliever Minium, who had been extremely sporadic.
The Buckeyes struck first in the top of the second. Katzman gave up a lead off double, and after a fly ball to move the runner to third, he would walk Stephens. With runners on the corner, Katzman made a quick move to first which would have picked Stephens off easily, but a balk was called to the confusion of almost every fan I've heard from. The game wasn't televised, so I couldn't tell you what happened, but it ended up costing Michigan a run.
That 1-0 lead wouldn't last long for the Buckeyes. Minium immediately put himself in trouble, walking the first two batters of the bottom of the second in Berset and Crank. Dufek, who was switched back into the 6 hole right before the game started, unloaded a double down the right field line to score Berset. Nick Urban would make it back-to-back doubles with one of his own just past the third baseman and down the left field line. That would bring in Crank and Dufek for Michigan's first and deciding lead of the game.
Minium was then replaced by Dan Wolosiansky, Ohio State's announced Saturday starter. Wolosiansky was lights outs out over the next 7 innings. In his 7 innings, the lone run came from a lead off walk, a well place single through the infield, and a Patrick Biondi sacrifice fly. That walk and single represented half of the total number of base runners he allowed. This was way out of character compared to a normal Wolosiansky start, but as Chris Webb of Buckeye State Baseball tells me, something about coming out of the bullpen makes Wolosiansky turn it up a notch.
Meanwhile, Katzman recovered from that balk call to throw his best start of the season. Katzman went 5.1 innings allowing just the one run on 5 hits, 3 walks, and 3 strikeouts. He worked a pretty slow game, but he was just wild enough to keep the Buckeye batters, and the umpire for that matter, off balance.
Matt Gerbe took over where Eric Katzman left off, allowing just one walk and striking out one in 2.1 innings pitched. That walk was one of only two runners he would allow, the other on a throwing error by himself, both coming in the 8th inning.
So with the game on the line, Tyler Burgoon took the mound with 2 outs and two runners on. After a walk, Burgoon would strikeout OSU's right fielder DeLucia to end the bases loaded threat. In the 9th, after two quick strikeouts, Burgoon would pitch around Zach Hurley before getting a foul out by OSU's Kovanda. Michigan wins. Save to Burgoon.
Notable Stars
Eric Katzman – 5.1 IP, 5 H, 1 R, 3 BB, 3 K, Win
The Bullpen – 3.2 IP, 0 R, 0 H, 4 K 2 BB, Save
Nick Urban – 1/2, R, 2 RBI, 2B, BB, K
Attendance – 1685, season high
Defense – Several great plays highlighted by the most ridiculous catch by Biondi ever. Full speed to the wall, reaches around his body, crazy, caught.
Notable Goats
1-4 Hitters – 0/13, 2 K, 1 RBI, 1 R, 1 BB. Ain't going to cut it.
Umpires – The strike zone was wide for both teams. It definitely helped both pitching staffs stay in the game.
Game Two
Box Score
R
H
E
Ohio State
0
0
0
 
1
0
0
 
1
0
0
 
1
 
3
8
1
Michigan
0
1
0
 
0
0
0
 
0
1
0
 
0
 
2
8
0
L- Burgoon (6-2)
Great pitching again at the ball park as Michigan bumped Alan Oaks to the second starter role and Ohio State moved Rucinski up from Sunday. Oaks came into the game as inconsistent as anyone. Rucinski was battling a pair of ugly blisters on his throwing fingers with quite a bit of wrap on his fingertips. Despite both of their troubles, the pitching was again brilliant on Saturday.
Rucinski was sharp the entire game, but ran into trouble only twice. The first came in the bottom of the second after giving up a lead off single to Chris Berset. Crank, who dropped back behind Dufek in this start, would then get a one out single to put two runners on. Then came John Lorenz with a clutch single that bound up the middle. It would have loaded the bases, but Ohio State's centerfielder peaked at Berset at third instead of focusing on the slow roller right at him. The ball bounced off his glove as Stephens ran past it, easily allowing Berset to score.
Rucinski would settle in from here, giving the Buckeyes a chance to tie the game in the 4th. Oaks did his best Katzman impression, allowing a single and a walk to start the inning. After a strikeout, Oaks gave up a solid single to right to give up one run as Berset couldn't quite hold on to the ball on a tag at the plate. I thought the runner would have been safe anyway, but the umpire was ready to call out before he saw the ball float away from the plate. Oaks then struck out the next two batters he faced to record 3 Ks in the frame and strand two Buckeye batters.
Ohio State threatened again in the 7th. Oaks gave up two one out walks and was removed for Burgoon. After a strikeout for out number two, OSU's top hitter Zach Hurley laced one to right center to give Ohio State the lead 2-1. That run was charged to Oaks, who went 6.1 IP, giving up 2 runs on 5 hits, walking 4 and striking out 6. Definite a serviceable start despite the 4 walks.
Down late and with 2 down in the 8th, Michigan manufactured a small rally. Toth had a two out single to a diving short stop, and after stealing, Ryan LaMarre came through with a clutch single to center. Tie game.
Burgoon would strike out the side in the top of the ninth and with two outs in the bottom half, Coley Crank reached base. I somewhat expected Garrett Stephens to pinch hit for Nick Urban with two outs, but Maloney decided to go with Nick. Nick was hitting just over .280 with little power and was hitless for the game. I would have guessed Maloney go for the power hitter and a better chance to end the game with one swing. He didn't, and Urban went popped up to the infield.
In the top of the 10th, Burgoon got two quick ground outs, but followed that up with a single to Kovanda and a RBI double for Burkhart. The Buckeyes took the lead and Michigan would go quietly in the bottom half of the inning to lose 3-2.
Notable Stars
Defense – No errors, Biondi makes another great catch as he sprints into Urban. Lorenz plays the hot corner like a champ.
Attendance – 2,263, a new season high
Barry Larkin – Had his #16 jersey retired, also gave Derek Dennis a 5 minute pep talk in the pregame. Dennis played much better this weekend.

Tyler Burgoon – despite the loss, 7 K in 3.2 IP, 3 H, 1 R. That'd be great in any other outing.
Alan Oaks – 6.1 IP, 5 H, 2 R, 4 BB, 6 K. None of the hits were particularly hard, mostly singles through the infield.
Notable Goats
Lorenz and Dennis – despite great defense and a hit a piece, each stranded 4 runners.
Patrick Biondi – 0/5
Umpires – Another bad strike zone night. The low and outside pitch was a strike, even if it was in the batter's box. Bad positioning in the slot. There was also a CLEAR fair ball by the Buckeyes that should have been for a double. It was called foul. There was an umpire on the third baseline where it happened. No idea what they saw.
Game Three
Box Score
R
H
E
Ohio State
0
0
0
 
1
0
1
 
2
0
1
 
5
11
2
Michigan
0
2
3
 
0
0
1
 
0
0
x
 
6
7
0
W – Sinnery (4-0)… Save – Burgoon (8)
And then the Buckeyes ran out of pitching. Ohio State was forced to move up their Wednesday starter, and normal Sunday reliever Brett McKinney and he just couldn't keep up with the Michigan bats. After a quick 1-2-3 first inning, he would struggle in the 2nd. With two outs, Dufek doubled half way up the left center wall, just missing a home run due to the strong wind blowing in. Nick Urban followed that up with a opposite field homer to straight away right, keeping it low enough to hide behind the Indoor Track Building to shield the wind.
In the third, Michigan would add three more. Dennis would lead off with a single and draw the attention of McKinney to first. After 7 or so pick off attempts, including one off Dennis's helmet to allow him to move to second, Biondi would walk, setting up Anthony Toth for a single to load the bases. Ryan LaMarre would then ground up the middle to a diving second baseman who flipped to short for a RBI fielder's choice. Berset would then knock a sacrifice fly on a line drive to left. Biondi should have been out at the plate on a perfect throw, but OSU's Burkhart tried to make the tag too early, losing the ball. Crank then tomahawk chopped a ball above his eyes off the top of the brick monster down the left field line for a stand up RBI double. 5-0 Michigan and everything was cruising.
Brandon Sinnery made the start for Michigan and had his best stuff working. His downward movement on the end of his fastball were causing easy choppers sprayed around the infield. Even the run the Buckeyes managed in the 4th came on choppers that kicked up the chalk of each foul line as they ended up being a lead off single to right and double to left. Toth made a great play to his left to get an out at first, but a run would score on the play to get OSU on the board.
The second Buckeye run came in the 6th. With one out, Burkhart hit the first hard Ohio State hit out of the infield, a double to right field. After a Stephens single, Sinnery would exit for Brosnahan. Brosnahan induced an RBI (charged to Sinnery) ground out to third baseman Lorenz, and after a walk, he would get a fly out to end the inning.
Brosnahan's second inning wasn't so lucky. After a lead off walk, he would get a ground ball fielder's choice to second on another great diving play by Toth. A strikeout would be followed by a pair of walks to load the bases. Kolby Wood came in and had OSU's Stephens on the rops 0-2 before he got inside on a fastball and placed it to shallow center to score 2 runs.
That brought the score to 6-4 and things started to tense up. Kolby Wood then went on to retire the next 6 batters he faced, but to lead off the 9th, he gave up a single to Zach Hurley. So rather than facing the heart of the Buckeye order with the tying run at the plate, Enter Sandman came on to usher in Tyler Burgoon, going for his 3rd outing of the weekend.
Burgoon was a bit rough having thrown over 75 pitches in the previous two days. After a quick ground ball fielder's choice to get the lead runner on yet ANOTHER great play by Toth up the middle, Burgoon would give up two singles to make the score 6-5. After a lengthy mound conference with Rich Maloney, Tyler stayed in and got the easy double play ground out to seal the 6-5 win and 2-1 series victory. Huzzah!
Notable Stars
Mike Dufek – 2/4, 2 R, RBI, 2B, HR.
Nick Urban – 1/2, 2 RBI, R, HR
Brandon Sinnery – 5.1 IP, 7 H, 2 R, 2 K, 0 BB. Ground balls galore. Win.
Kolby Wood – 1.1 IP, 2 H, 1 R, 1 K
Attendance – 1,766
Anthony Toth – His defense was tremendous this game. 1 put out, 6 assists
Notable Goats
Bobby Brosnahan – 1.1 IP, 0 H, 2 R, 4 BB, 1 K
Thoughts
Wow, what a great series. The pitching and defense was spectacular for both teams. If you would have told me that Rucinski and Wolosiansky were going to throw like that before the weekend started, I would have predicted Michigan to be swept.
The big story line of this weekend has to be maximizing scoring opportunities. Michigan stranded only 13 men on base this weekend. As for the Buckeyes, 26. That's a huge discrepancy. The other big thing in Michigan's favor this weekend was the strikeouts. Michigan struck out 21 times this weekend (10 on Saturday) which is well below our normal 3 game average of 8.3. Meanwhile, the Buckeyes, who normally strike out 4-5 times per game, they struck out 7, 13(!), and 4. Our pitching was on.
Holy cow the defense this weekend. We've only had two weekends as clean as this. The most recent was an overmatched IPFW series. The only one against quality opponents was the Big Ten/Big East Challenge. Biondi is unworldly in center and Toth was flat out ridiculous at second. Lorenz has been perfect defensively the entire homestand. That's 8 games without an error. Not too shabby.
On offense, I'm hoping we see Maloney stick with Crank in the 5-hole and Dufek in the 6. In the stat post last week, I mentioned that I was hoping the Dufek to the 5 would be short lived as the two batters were struggling in that scenario. Maloney put them back in their Crank 5-Dufek 6 for Friday in an attempt to mix up the R-L-R batting order with the switch hitter Berset facing a lefty. That worked out great. He went back to Dufek 5- Crank 6 on Saturday and be it luck or whatever, both struggled again. Sunday saw Crank 5-Dufek 6 and Dufek went crazy with a double off the wall and a homer. I would like to see the lineup stay consistent with Crank before Dufek.
Biondi is still struggling. He's now 0/23 with 3 walks. He has managed to score on each of the three walks, which is a testament to how well he creates runs. On the other hand, those other 23 plate appearances have really cost Michigan. I'm pretty certain that without him setting the table consistently, Michigan's explosive offense just isn't going to show up.
While it's beneficial for Michigan for Wimmers to be out, it's a shame to see any one go out with injury. That said, I don't think this series win was a fluke. Ohio State's other two regular starters pitched well beyond their normal outings, and Rucinski was downright Wimmers-esque. It's good to see Michigan can take on such a good team as the rest of the conference is looking much tougher than initially suspected.
Where Michigan Stands
Coming into Sunday, all 10 teams in the Big Ten were within 2 games of each other. Michigan, Ohio State, and Northwestern sat atop the standings at 8-5, and Michigan State, Purdue, Indiana, and Minnesota were in a 4-way tie for 4th at 7-7. Everyone else was 6-8, only a game behind the 4th place teams. That is a cluster my friends.
So what has Sunday told us so far? Here's a look at the current standings:
#

1

Michigan1

9

6

Northwestern

9

6

3

Purdue2

8

7

Ohio State

8

7

Minnesota

8

7

6

Penn State3

7

8

Michigan State

7

8

Indiana

7

8

9

Iowa4

6

9

Illinois

6

9
1- Michigan wins tie breaker over NU by record against teams ranked 1-6 (including ties) in standings. Michigan 6-3, NU 7-5.
2- I'm not sure what the official line is on this, so try to follow me here. I think Minnesota gets the edge for best record against the 3 teams head-to-head as they are 2-1 against Purdue. Ohio State hasn't played Minnesota yet, and they won't play Purdue this season. If this means that Purdue/OSU needs another tie breaker, Purdue has the same record against the 1-6 (including ties) in the standings, so Purdue would then get a tie breaker against common opponents with the Buckeyes (Purdue 5-4, OSU 4-5).
If the head-to-head standings don't work, then it goes to records against the 1-6 (including ties) in the standings, which means Purdue will get first as they are 8-7. Ohio State is also 8-7, but common opponents would give Purdue the edge. Minneosta is only 6-6 against the 1-6 (including ties) in the rankings, so they would follow Ohio State, which means their series win over Purdue would be greatly reduced in value.
3- Penn State definitely has an edge here as they swept Michigan State. Unfortunately, they don't play Indiana and Michigan State hasn't played Indiana yet. So again, is that enough for a tie breaker? If you go to the records versus teams ranked 1-6 (including tie) in the standings, Penn State has the lead in that with a 7-5 record against those teams. Michigan State and Indiana have an equal winning percentage (3-6 and 4-8 respectively). The two teams are also both 4-2 against common opponents, which means they go to the next tie breaker which is fewest runs allowed in conference play. Michigan State edges Indiana here by a margin of 109-111.
4- Iowa went 2-1 against Illinois. Easiest tie breaker ever.
Catch all that? No?
Fine. Just know that if the season ended today, Michigan State, Indiana, Iowa, and Illinois are filling up on Rotel commercials while the rest of us are playing in the Big Ten Tournament on the BTN. Michigan would be the one seed and would face the lowest seed of the two first round winners.
Either way, there's 3 weeks left of season left and the standings are sure to mix a bit more.
Next Up
Michigan hits the road for the next few games. They'll play at Rich Maloney's alma mater on Tuesday as Michigan heads to Western Michigan. Next weekend will see Michigan head to Minnesota for what should be another huge series against the Gophers who have really caught on fire recently. After that, it's a home-and-home mid-week series with Michigan State with the first game (May 11) on the road. Michigan's next home game will be the following night (May 12).