2014-2015 Preseason All-Big Ten Hoops Teams
As some of you know, I'm joining MGoBlog to provide various types of basketball coverage, now that we're a #basketballschool and all that. A brief introduction: I'm an Honors LSA Senior majoring in English (hopefully with a creative writing sub-concentration), I grew up making weekly pilgrimages from the Grand Rapids area to Ann Arbor on Fall Saturdays with my parents—both of whom graduated from the B School before Ross slapped his name on it—and younger brother—an Honors LSA sophomore (who is also named Brian Cook). I am not related to the proprietor of this site, as far as he and I know. We were a football family, but I fell in love with Michigan Hoops in 2009-2010 with Manny, Peedi, Coach B, and the gang. I've learned to love the NBA recently as well, but regret that I missed the glory years of my Detroit Pistons. I'm a Lions masochist, I complain about the Tigers' managing and bullpen all summer, and I recently committed to Everton as my new EPL team (because Tim Howard's a national hero). It's a little up in the air as of right now, but Ace and I will sort out who covers what during hoops season. As for non-sports things: I'm a proud native Michigander and spend my summers living on Barlow Lake—Heaven on Earth, as far as I'm considered—I run as quickly as Terrance Taylor and am addicted to Bruegger's on North U (these things may be related), and if anybody wants to hire me to a full-time job after school, PLEASE DO. If you see me on campus, say hi. I'll be the tall, skinny-fat guy with curly black hair and light blue headphones.
Follow me on Twitter ( @alexcook616 )
(Freshmen and incoming transfers are not included. They're very difficult to accurately contextualize with returning players and they'll be covered next week.)
* * *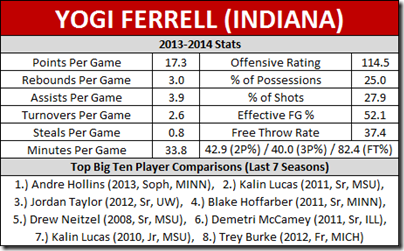 For the Big Ten Player Comparisons, I created an algorithm that spits out the most similar statistical profiles for a given player's. There are 20 unweighted categories—most of which are advanced metrics—but shooting and rebounding are well-accounted for. The database consists of 750 players from the 2008-2014 seasons. This post is already absurdly long, so I'll have to explain it further at some other time. This system will probably be used pretty extensively.
Considering that the Hoosiers had Yogi Ferrell and Noah Vonleh—the latter was drafted in the lottery of a deep draft—their struggles were perplexing. A stable of uninspiring role players did little to augment the talents of their two stars and their offense was often stagnant and extremely turnover prone. Indiana didn't shoot the ball well from the field, but the inability to hold onto the ball was crippling—IU finished 330th nationally in turnover rate, easily the last in the Big Ten. Ferrell can be best categorized as a scoring point guard: he's ball-dominant and often probes the defense with his quickness rather than driving right to the rim, he's one of the better shooters in the league (40% on a ridiculous 220 attempts, mostly from above the break), and he gets to the free throw line and shoots better than 80% from the stripe over his career. There were a few games that Yogi took over with his scoring ability: 30 points (on just 15 FGA) at Illinois, 27 (including 7 made threes) against Michigan and at Purdue, and 25 and 24 in two games against Wisconsin. With Indiana's turnover issues and Ferrell's role as its offensive catalyst, his turnover rate—18.0%—wasn't ideal, but it wasn't exactly anomalous amongst analogous point guards.
Yogi didn't have the ball-security of a Jordan Taylor or Drew Neitzel, but it wasn't bad. Turning the ball over was a collective effort: the entire rotation (aside from Ferrell) had turnover rates of at least 20%. Adding five-star combo guard James Blackmon, Jr. should help out immensely in regard to that issue and it should enable Ferrell to play off-the-ball and distribute a little more this season. Ferrell will likely be the best point guard in the Big Ten and there's a chance that he could lead the league in scoring.
[After THE JUMP: Caris checks in, others.]
* * *
This willowy combo guard is preparing to slide into the lineage of LaVall Jordan-coached Michigan playmakers; Darius Morris begot Trey Burke, who begot Nik Stauskas, who is now begetting Caris LeVert. All of those guys were slightly different: Morris had extraordinary vision and playmaking flair, Burke was the consummate modern point guard, controlling and dominating the game in every way, Stauskas was the best shooter (but not just a shooter) and the bounciest. LeVert ascended to major minutes last season in the wake of Burke and Tim Hardaway, Jr.'s departures and effectively replaced Hardaway's production in his first season of significant playing time.
LeVert was probably slightly better because of his passing ability. Their shooting splits differed—Tim (48 / 37 / 69) was much better at the rim but Caris (46 / 41 / 77) got to the free throw line and converted there—but the end result was quite similar. Since Hardaway, who became a viable NBA rotation player, posted that type of season in his third year of major minutes (while LeVert played that well in his first season as a starter), it's an exciting comparison. In addition, LeVert is extremely young for his class (he just turned 20), so NBA draftniks assume that he has more improvement in store. His combination of length and handle are terrifying for opposing defenders: his shot is extremely quick and hard to contest and he's slippery enough to get to the rim. Added weight should help LeVert's ability to absorb contact near the basket and he could see a mammoth usage rate depending on the development of Derrick Walton and Zak Irvin. Between his yet-untapped defensive potential, his positional versatility (he could theoretically play one-through three in the NBA at some point), and his shooting ability, Caris probably has the highest ceiling of any Big Ten prospect.
* * *
Terran Petteway was the star of Nebrasketball's emergence; the unheralded transfer from Texas Tech exploded onto the national scene, led the Big Ten in scoring, and was a first-team All-Conference selection. The Huskers struggled offensively even with Petteway's prolific scoring ability, finishing ninth in conference efficiency margin. Petteway scored in a variety of ways—most effectively on drives to the basket, where he finished at 60% (per hoop-math) and often drew fouls—but his numbers are inflated because of an astronomically high usage rate; only two Big Ten players had a higher Shot % in the last seven years (DeShaun Thomas and Jon Leuer, Petteway is tied for third with Talor Battle and Deshawn Sims). Petteway had a much lower offensive rating than those four. It's frustrating to see Nebraska possessions routinely devolve into ball-stopping isolations and Petteway's often tasked with creating late in the shot clock with low-percentage pull-up jumpers from outside the paint. He shot 32.7% from three on about 4.6 attempts per game, which isn't ideal. Here's a blind resume comparison to contextualize Petteway's statistical profile.
"A" is obviously Petteway—he's less efficient than the other two, but does take a significantly larger portion of his team's shots while on the floor. Other than that, the players are fairly similar for the most part, although Petteway's ability to draw fouls and shoot free throws does stand out. "B" is Penn State's D.J. Newbill and "C" is Illinois's Rayvonte Rice. There is value in shot-creation in Petteway's case: which other Husker can manufacture offense out of a staid offense by himself? Efficiency decreases linearly with usage and Nebraska simply needs Petteway to have a permanent green light and act as their permanent safety valve. Ultimately though, his team winning enhances his reputation and distances him from Newbill, Rice, and the like. More efficient play from Petteway—and an almost necessarily lower usage rate—could help provide Nebrasketball with some staying power.
* * *
Michigan State lost two players to the NBA—Adreian Payne and Gary Harris—and have a ton of questions regarding playmaking responsibilities, possession allocation, and face the prospect of giving several largely unproven players greater roles on offense. Swiss Army knife wing Denzel Valentine should shoulder the primary burden of being the nominal go-to guy, though Branden Dawson will likely see a big uptick in usage as well. Stylistically, Dawson is a D-1 tight end playing IM Basketball: he's extremely athletic, runs the floor well, can defend most positions, and rebounds with ferocity. He wasn't very refined as a junior (though he does have an ugly-yet-sort-of-effective post-up game on the low block), but he's simply able to impact the game with his huge frame and top-notch agility. With Kenny Kaminski's dismissal, Dawson will probably spend most of his time at the four, which is probably his best college position; at 6'6, he's a little short, but has the muscle and the tenaciousness to play much bigger than his height. He can't really put the ball on the floor or shoot from outside, which might negatively impact Michigan State's spacing. His block and steal rates—the best statistical indicators of athleticism—were quite excellent.
(Yes, that was from two seasons ago. Dawson was close at 3.7% / 2.7% last season).
Damian Johnson! After Minnesota, he bounced around the D-League and now plays in Australia. Anyways, this rough metric does a decent job of measuring defensive activity and Dawson is in the company of some excellent defensive players. Dawson's similarity scores indicate that he's a fairly unique player, but the appearance of Mitch McGary (as a pretty interesting statistical comparison for Dawson) and Jordan Morgan—thrice—is quite interesting: Dawson was more efficient than all of those UM seasons (except for Jordan Morgan's unbelievable senior year) and it's not really surprising that he should share a statistical profile with centers because of his efficient two-point shooting and rebounding on both ends. Dawson's NCAA Tournament hints at his elusive potential: 10 and 8 against Delaware, 26 and 9 against Harvard, 24 and 10 against top-seeded Virginia, and just 5 and 8 in the season finale against UConn. Dawson may struggle with a heavier workload, but he does have a sizable cushion from which he can fall efficiency-wise (and still be considered efficient) and he will be effective on the glass and on defense regardless.
A brief Branden Dawson vs. Sam Dekker interlude
Dekker was the hardest omission from the first-team and while 4 / 5 of the spots fall in line with the rough consensus, Dekker is noticeably absent. To the tempo-free!
A few observations:
The disparity in minutes played is quite significant, although Dawson's number was deflated by his injury last season. Those numbers should be pretty similar this year.
It can easily be posited as a "better usage and worse efficiency" vs. "better efficiency and worse usage" argument: Dawson's more efficient, shoots at higher percentages, and notably doesn't have a low 3-point percentage with a fair amount of attempts like Dekker does. Dekker takes a larger share of the possessions for his team though.
Dawson is significantly better on the glass and puts up better defensive statistics. It's hard to quantify defensive performance (especially compared with how easy it is to quantify offensive performance), but both players pass the "eye test" as good defenders as lanky fours.
Both were once five-stars out of high school, for whatever that's worth.
Dekker is considered to be a tantalizing NBA prospect, a long and versatile three that can play some four at the next level. Barring a surprise, Dawson probably won't stick in the league for significant time. Still, Dekker's shooting from deep last year is a big concern and until he demonstrates that it's better, he'll continue to be less efficient than Dawson. It's fair to give Dawson an edge on defense and there's a decided difference on the glass. If Dekker has a breakout season (which is slightly more probable than Dawson becoming a much better player), he'd make the list at the end of the year, but between Frank Kaminsky, Traevon Jackson, and Nigel Hayes, there might not be enough possessions for one.
* * *
Frank Kaminsky is the consensus pre-season Big Ten Player of the Year, for good reason. He's the best player on the overwhelming favorite to win the conference; he has legitimate NBA potential; he had a breakout NCAA Tournament, including an evisceration of Arizona, who had the nation's best defense. Few college players—especially big men—can compare with Kaminsky's all-around offensive skill: he shoots a respectable percentage from three, can score from the midrange, faces up or posts up on defenders from the block extended, and his length and precocious footwork make him an excellent finisher in traffic. He can rebound decently enough, he takes up a ton of possessions (he's easily the Big Ten's best returning combination of efficiency and usage), and he defends well enough to get by. Wisconsin's offense was excellent last season and returns many of the same pieces, but it will be interesting to see how well he plays for extended time alongside both Nigel Hayes and Sam Dekker. It's hard to imagine that he'll drop off much, if at all: even though Nik Stauskas was a very deserving B1G POTY last season, Kaminsky put up a very impressive year.
Adding together the z-scores of usage and efficiency doesn't make for a definitive player ranking system by any means (for example, it doesn't consider how much a player is on the floor, which was the biggest difference between Kaminsky and Stauskas last season), but it does help tease out some of the most impactful players in the league in recent history. Evan Turner, Trey Burke, and Jordan Taylor stand out in front of the pack, which seems intuitively correct. The biggest question for Kaminsky this year will be how many minutes he can play this season; Nigel Hayes was a surprisingly effective freshman and formed a formidable center platoon with Kaminsky, but now he may slide to the four so they both see more playing time. Kaminsky and Hayes can both stretch the floor, so having two big guys may not create much of a spacing issue. Kaminsky decided to spurn the NBA and come back to school for his senior year and it would be a mild surprise if he didn't finish the season as the best player in the conference.
* * *
SECOND TEAM
Andre Hollins (Minnesota)
30.5 mpg, 13.6 ppg, 3.5 rpg, 2.4 apg, 1.8 tpg, 41 / 35 / 84 shooting, 109.8 ORtg, 24.2 % Poss
Between Hollins and Deandre Mathieu (who might have been the toughest omission from the top fifteen), Minnesota has an extremely fun backcourt. Mathieu, a speedy, diminutive true point guard who transferred in from a JUCO last year, enables Hollins to play off the ball. It's difficult to classify Hollins: he's nominally a combo guard and even though his assist rate isn't too bad, he's probably just an undersized two, though he can certainly operate as a score-first point guard. He's quick, can get his shot off from all over the floor, and has the ability to score in bunches (as evidenced by a career-high of 41 points against his hometown Memphis Tigers as a sophomore). The most efficient part of his game is his surprisingly great free throw rate—he attempts 5 per game—and his excellent free throw percentage (84%). Before going down with an ankle injury against Wisconsin, he averaged almost 16 points per game in nine contests against high major opponents. That ankle injury nagged him for the whole year and limited his effectiveness, but when healthy, he could be the boost that Minnesota needs to get back into the NCAA Tournament.
D.J. Newbill (Penn State)
34.4 mpg, 17.8 ppg, 4.9 rpg, 1.7 apg, 2.1 tpg, 51 / 33 / 75 shooting, 108.3 ORtg, 26.9 %Poss
Penn State gets the somewhat dubious distinction of placing the most "best player on a bad team" guy in the Big Ten on the All-Conference squad; Newbill is pretty solid (as evidenced by his numbers in the comparison with Terran Petteway), but he does get inflated numbers by virtue of being a very high-usage guy on a team that doesn't have many other scoring options. Now that Tim Frazier's gone, he might trend into Terran Petteway usage territory, which would be pretty interesting. Penn State's been stuck in a series of extremely-high usage guards lately.
Newbill did drastically increase his efficiency in his second year in the program after transferring back from Southern Miss to be nearer to home. He's very effective at the rim for a guard, can shoot adequately enough from the midrange, and, like Petteway, is best off when he doesn't shoot threes. At 6'4, he has good size for the position and he's skilled enough to create with the ball in his hands. Penn State will go as he goes (which can work, as he scored an average of 24 points in the Nittany Lions' two game sweep of Ohio State last season).
Aaron White (Iowa)
28.1 mpg, 12.7 ppg, 6.7 rpg, 1.8 apg, 1.8 tpg, 63 / 26 / 81 shooting, 122.7 ORtg, 20.1 %Poss
Aaron White is an incredibly effective player in a specific role. Iowa has size, so he's often put on the floor as a wing, he can't shoot from three-point range and he knows that, he's effective on the glass, and he's solid defensively unless he's chasing smaller guards around. He's incredibly effective at putting the ball on the floor and getting to the hoop. Between his length and quickness in transition, excellent finishing, wise shot selection, and ability to cash in on a multitude of free throw attempts, Aaron White is extremely efficient—his true shooting percentage was the best in the Big Ten and the 15th-best in the country last season at 66%. A two-point field goal percentage of 63% and a free throw percentage of 81% is extremely rare.
Of all the Big Ten players over the last seven seasons, only two others had a two-point field goal percentage of better than 60% and a free throw percentage of better than 80%: Wisconsin's Josh Gasser (as a freshman) and Purdue's Ryne Smith. The percentage of shots taken on the floor was much higher for White (17.9) than 12.3, posted by Smith, and 11.4, posted by Gasser. Aaron White might be the most statistically anomalous player in the league. He's really good at one thing and definitely passable at nearly everything else—except for three-point shooting—but defenses might key on him after the departure of Roy Devyn Marble. Regardless, he's one of the most interesting players in the conference to watch, because there actually might not be a player in the country better than Aaron White at driving into the paint and getting points.
Sam Dekker (Wisconsin)
29.8 mpg, 12.4 ppg, 6.1 rpg, 1.4 apg, 1.1 tpg, 55 / 33 / 69 shooting, 114.7 ORtg, 22.3 %Poss
It's really hard to peg Dekker. He's a stretch-four—one that might have to slide up to the three—who isn't a great creator and doesn't shoot well from outside, but finishes extremely well at the rim and makes phenomenal cuts in the half-court. From the similarity score system, his second-most statistically analogous player was Glenn Robinson III.
Dekker was significantly better than Robinson on the defensive glass, but that was pretty much the only major statistical difference between the two. Dekker got to the line more (FT Rate of 38.3 vs. Robinson's 30.8) but shot worse from there (69% vs. 76%). Their usage rates and advanced shooting metrics are pretty much identical. Individual defense is difficult to quantify, but it's a stretch to assume that Dekker was much better than Robinson on that end of the floor. It's hard to buy into Dekker as a major contributor and legitimate Big Ten Player of the Year candidate right now, because he'd need a big jump to move from "great second or excellent third option" to legitimate stardom. He's still an appealing NBA prospect, but a huge leap doesn't seem like it's in the cards when he's surrounded by established talent—Kaminsky and Traevon Jackson—and a more likely breakout candidate: Nigel Hayes.
A.J. Hammons (Purdue)
25.0 mpg, 10.8 ppg, 7.4 rpg, 3.1 bpg, 2.5 tpg, 53 / (N/a) / 70 shooting, 98.5 ORtg, 24.3 %Poss
Behind Frank Kaminksy, there aren't a lot of great centers in the Big Ten. Plenty of guys are at least decent—Hammons, Nebraska's Walter Pitchford, Iowa's Adam Woodbury, Minnesota's Elliott Eliason, Northwestern's Alex Olah, Ohio State's Amir Williams, Rutgers's Kadeem Jack—but nobody comes close to Kaminsky. Hammons fits here on the second-team almost be default; he's always discussed as having NBA potential (though he's never shown more than intermittent flashes of that), but he's been woefully inconsistent for Purdue. He gets by with his insane combination of size and coordination and occasionally shows the ability to take over games, but it's equally likely that he doesn't get touches, seems disengaged on both ends of the floor, and becomes a turnstile on defense. On the aggregate, he's a pretty decent—though quite high-variance—player and this could be the year he finally puts it all together and carries Purdue out of the funk that they've been in over recent years. Of course, it's hard to bet on him, especially if he's burdened with the pressure of being the Boilermakers' go-to guy.
* * *
THIRD TEAM
Derrick Walton (Michigan)
26.7 mpg, 7.9 ppg, 2.0 rpg, 2.9 apg, 1.5 tpg, 45 / 41 / 79 shooting, 112.2 ORtg, 18.2 %Poss
While Caris LeVert projects to be Michigan's alpha dog this season, sophomore point guard Derrick Walton should really benefit from another year of LaVall Jordan's tutelage and could have a breakout season. The most encouraging parts of his game last year were his finishing ability at the rim and his three-point shooting (41%).  With another year of physical development and experience within Michigan's offense, Walton should be even better. He's good with or without the ball in his hands and could very well be the second-best point guard in the conference behind Yogi Ferrell.
Dez Wells (Maryland)
30.6 mpg, 14.9 ppg. 4.3 rpg, 2.2 apg, 2.5 tpg, 52 / 30 / 82 shooting, 109.6 ORtg, 25.0 %Poss
I'll admit to not having seen tape of Dez Wells. Here are the most approximate statistical profiles to his season last year for Maryland in the ACC.
He's a chucker (like most of these guys), but Wells had a higher free throw rate than any of the players listed above, except for Indiana's one-and-done Eric Gordon.
Rayvonte Rice (Illinois)
32.7 mpg, 15.9 ppg, 6.0 rpg, 1.5 apg, 1.6 tpg, 50 / 30 / 73 shooting, 107.3 ORtg, 26.6 %Poss
Illinois's nominal star a year ago, Rayvonte Rice played much better in the weaker non-conference part of the schedule than he did in Big Ten play. Like many of the Illini, he fell in love with the outside shot despite not being an effective outside shooter. Hopefully high-major guard transfers Aaron Cosby and Ahmad Starks—both of whom shot the ball excellently at Seton Hall and Oregon State, respectively—force Rice to stick to the better parts of his game, which involve driving to the basket and getting to the free throw line. He also has tremendous rebounding rates given his size at 6'4.
Shavon Shields (Nebraska)
32.5 mpg, 12.8 ppg, 5.8 rpg, 1.6 apg, 1.6 tpg, 47 / 32 / 72 shooting, 105.7 ORtg, 22.5 %Poss
Walter Pitchford (Nebraska)
23.2 mpg, 9.3 ppg, 4.7 rpg, 0.5 apg, 0.5 tpg, 54 / 41 / 69 shooting, 121.1 ORtg, 18.3 %Poss
Terran Petteway's two side kicks were a big reason that Nebraska was able to get over the hump and into the NCAA Tournament. Shields plays similarly to Petteway; he's best on straight line-drives to the rim, scores well around the basket, and can get to the free throw line, but doesn't shoot well from three-point range. As a freshman, Shields was probably Nebraska's go-to guy and he really excelled last year as a sophomore after Petteway's arrival. Pitchford is a nearly-perfect complement to those two, as he's an uncommon "Stretch-5" who is assisted on nearly every single one of his three-point attempts. Last season, Pitchford was the only Husker who could shoot efficiently from deep (41%) and his floor-spacing enables Petteway and Shields to get to the rim. With Leslee Smith's ACL tear, he might have to play more this season, which he probably can, because of a fairly low foul rate for a big man.
* * *
JUST MISSED THE CUT
In no particular order
G – Denzel Valentine, MSU; G – Deandre Mathieu, MINN; G – Shannon Scott, OSU; C – Amir Williams, OSU; G – Myles Mack, RUT; C – Kadeem Jack, RUT; F – Zak Irvin, MICH; G – Traevon Jackson, UW; F – Nigel Hayes, UW; C – Alex Olah, NW; G – Kendrick Nunn, ILL.