A Year in Photos 2015
[Editor's Note: We consider the Harbaugh introductory press conference as the beginning of the photo year. We know that it happened in December 2014. Close enough. The Harbaugh presser will be eligible next year, too.
Also: all of our photos are Creative Commons (Attribution/Noncommercial) Licensed. That means that you can use them if 1) you mention where the photo is from and 2) don't sell them. We are delighted for you to use them. We spot them in fire dot emoji edits on the regular.]
For those of you that don't know, I'm Eric Upchurch. I started covering games for MGoBlog during the 2011 football season. Bryan Fuller joined us in 2012. This past season we added former Daily photographer Patrick Barron as a regular. Here is the only photo that I'm aware of that includes all of us.
Patrick Barron, top, Bryan Fuller, left, Eric Upchurch, right
Photo of the year
Fuller's shot of Amara Darboh's amazing catch against BYU. 
This photo is now in Schembechler Hall.
"@MDohertyBLUE: pic.twitter.com/Ect7qZgi7i" Big S/O to @FullOfTwitt for the photography. My favorite shot of the year. A++

— Aaron Bills (@AaronBDesigns) December 16, 2015
On top of having a photo in Schembechler hall, MGoBlog photographers contributed more photos to John U Bacon's Endzone: The Rise, Fall, and Return of Michigan Football  than anybody else. We're also responsible for Jim Harbaugh's wikipedia photo. 
We don't get to say it much, but we wanted to thank the readership of MGoBlog for all of your support. Those of you that follow us on twitter and retweet and share our photos are a #blessing. We are very grateful for it. Bryan, Patrick and myself all have full time jobs outside of photographing Michigan athletics. We cover these games in our spare time and we love every minute of it. On a typical gameday, we arrive 3 hours prior to kickoff and we leave around 1-2 hours after the game ends. They are very long days. I live closest to the stadium out of any of our photographers and I'm 50 miles away in Sylvania, OH. Bryan drives in on gamedays from Kalamazoo. When Patrick covers a game for us, he's travelling in from Appleton, WI. We take our work seriously and we are thankful that all of you support us.
It should be noted that this is the first season that MGoBlog has had a photographer at every regular season football game. Thanks to Patrick for putting this collage together.
Alright, now let's show some photos.
The introductory press conference was like no other presser that I've ever attended. They are typically low key. This one was like a party. It was great. I was honored to be there. It appears as though Coach Harbaugh is looking directly at me. I think it was because I was standing on a chair right behind the TV cameras. He probably was wondering who the 8ft tall photographer was in the back of the room.
This photo is one that I try to get every season. This is one of my favorite moments before the team comes out of the tunnel.
This one is from Fuller... sometimes a photographer is in the right place at the right time. 
This photo got a ton of use; Harbaugh at his first spring game as the head coach.
This from Barron communicates the importance of the Little Brown Jug better than anything else I've seen.
Another from Patrick that I loved. I didn't even see this on TV. Even on replay. This may have been a facemask.
We cover more than just football and basketball games. Here are some photos from Bryan's coverage of the softball team.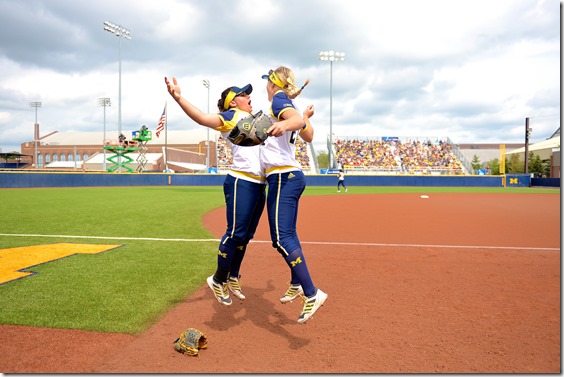 Patrick also covered some hockey for us.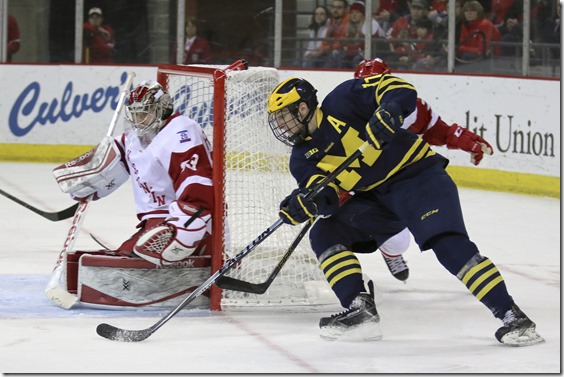 We shot thousands of photos this season. It's very hard to narrow it down to a few that we'd like to feature. Here are complete galleries of our favorite photos from 2015. Be sure to follow us on twitter for live photo updates during games. Eric Upchurch (@eupchurchphoto) Bryan Fuller (@fulloftwitt) Patrick Barron (@MGoDrone). Thanks again from all of us and Go Blue!