I found this incredibly annoying this weekend:
Michigan has 8 1/2 in the box, and yet Iowa is able to get 8 yards on 1st down. Even more galling is they did it with a nifty trick that hadn't been seen much of in the Big Ten until Harbaugh brought it back last year. It's the wham. And it had no right to go this well.
Wham Defined
A wham is a first level block by the fullback or TE, freeing up an offensive lineman to release to the next level. It's a type of Trap, which is a when you leave an interior defensive lineman unblocked before hitting him from another angle. But when you think of a "trap" it's usually pulling an offensive lineman to blindside the DL you left unblocked to roar into the backfield.
A wham is less about catching the defense overreacting and more about winning a one-on-one matchup they didn't expect, in this case between a fullback or H-back and an interior DL. The block is a kick-down, and happens within a second of the snap. If executed, you've erased the defense's most important run defender with your fullback's block, and your center (who's often your best run blocker) gets a free release into the linebackers.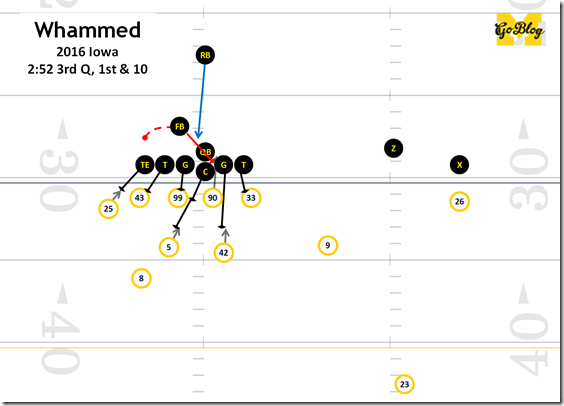 Wham block in red
Often a wham block starts with that fullback or tight end in motion. This keeps him out of view of the DT he'll end up blocking until it's almost too late, and can give him more of a head start, since the fullback is bound to be giving up some weight on the DT, and will have to make up for it with momentum.
BlueGraySky put together a great video compilation of Notre Dame's wham blocks from a decade ago:
If you're mad about watching Domers, know that Michigan's '06 defense appears twice and does a pretty good job against it.
[After the JUMP: What they win, what they risk, and how it goes]
Why Do It?
For the offense the risk is a fullback-vs-nose-tackle matchup right in the middle of your running play.
All it would take is for that fullback to bounce off of Mone for this to turn into 2nd and long. To help your fullback win that you want a bigger guy—250 or 260 pounds at least—and you're giving him a little head of steam on the right angle for a seal. That could go well—pop a surprised NT back a bit and the hole gets wider. Get away with a little bear hold and stand him up, and it'll be enough. It's the kind of risk you don't take against Ryan Glasgow, and which unfortunately worked against Mone right now.
What they've won for it are offensive linemen for both middle linebackers.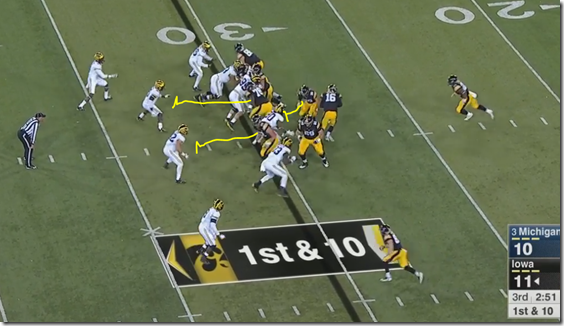 In this case the fullback block went as well as it could have. Mone got stood up at the hash. Iowa has a center to block Peppers and a guard on Gedeon. Linebackers with interior OL releasing into them that quickly are in a bad way. It would take a great play from either of them to make this play.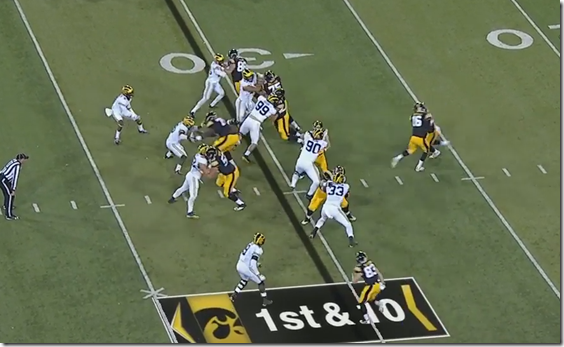 It's up to the DTs to win this, and they still can if they can manage the hole. If Mone had good pad level he'd have the leverage to shove the fullback into the hole. Godin meanwhile is trying to fight back and squeeze the hole shut.
But nah. Mone got totally stood up. Godin read the play to late. He fought back to get a diving tackle attempt in…
…but that guard (who was legitimately impressive in this game) still had an arm on Godin's chest and such strength to throw Godin backwards.
Now it's up to the linebackers.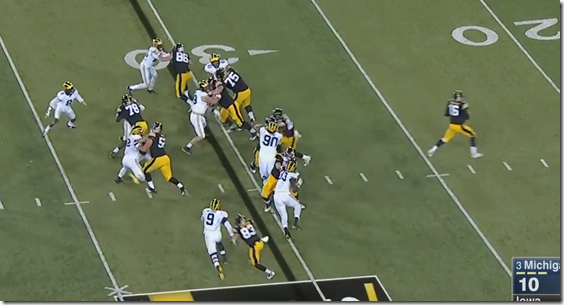 They both get swallowed, Peppers losing ground because he's 100 pounds lighter than that center and has no space to avoid him.* Gedeon gives up 50 pounds and got shoved out of the running lane before fighting off that block. This is what what Iowa won with their fullback-vs-Mone gamble.
The defense does still have a couple of ways to win this though. Remember, there were almost 9 defenders in the box, and with the quarterback handing off and running away from the play, that means there's only 7 blockers for those guys. Stribling is playing strong safety, and if he's more aggressive he maybe shoots into that gap and ends this. But he's a cornerback, and the last line of defense if Gedeon can't get off his block, and that's not his game.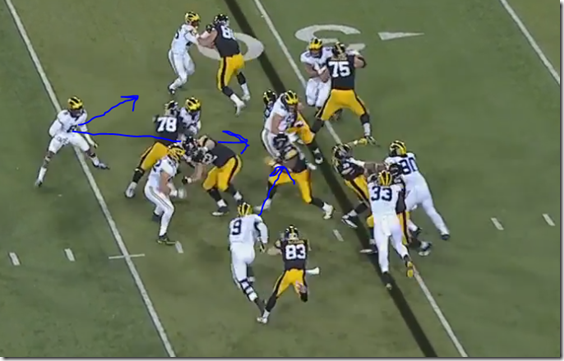 Last is McCray, who might react quickly enough that the slot receiver can't affect him. This almost happens, but McCray is held outside just long enough by the threat of a bounce, and Iowa's slot dude is just fast enough to shove McCray downfield a few yards.
* [Ideally Michigan has McCray at SAM and Peppers the spacebacker on the weakside. Michigan's opponents have been playing with the Peppers/McCray sides all year and in this case they got something out of it.]
What If the Mone Thing Goes Right?
Say for example that Mone plowed that fullback deep into the backfield and the Iowa RB (LeShun Daniels) had to cut back behind it. The slot receiver's got a crack block on McCray, so if the defensive end's blocked well there might be a bounce-out to the edge.
That's not the goal though. A wham is a quick-hitter and isn't likely to last much longer than the initial impact. It's supposed to puncture a hole in the line and create those OL-LB matchups downfield. When these break for long gains it's usually the running back cutting off one of those LB blocks.
The best way to stop this is a smart NT who recognizes what's happening to him and instead of standing up and panicking, can maybe delay the center's release some, then dominate the fullback.