What Is: A Covered Tight End/Receiver
This drove us nuts against UCF:
This drove us nuts against Colorado:
This shouldn't be happening. To understand why we have to go back to the rules of football.
Ends and Backs
Football evolved from a rugby-like game, with forward passing added almost a generation later. The running sport and the passing sport never perfectly coalesced into one—even today there are offenses that treat their quarterback as a primary rusher or primarily a passer. You can also trace the problem of linemen blocking downfield on passing plays back to this awkward marriage of two games. So they had to make rules: You can block here but not there. The rule that matters to us is this guy is an eligible receiver and that guy isn't.
[After THE JUMP: What's a legal formation, why teams do this, and a jazzy snazzy video]
A legal formation has four guys in the backfield and seven who must be on the line of scrimmage (to outlaw the brutal wedge formations that literally got players killed).
Of these eligible receivers are:
Anyone lined up 1 yard or more in the backfield
Whoever the last guy is of those on the line of scrimmage
Anyone in position to receive the snap (i.e. the quarterback)
And there are limits.
You can only have five eligible receivers plus a quarterback.
Non-eligible receivers (i.e. linemen) can't go downfield more than 3 yards (college) or 1 yard (pro) from the line of scrimmage on a pass play.
Eligible receivers must wear an eligible receiver number: 1-49 or 80-99.
This was all sensible given the typical formation of the day looked like 1904 Michigan here: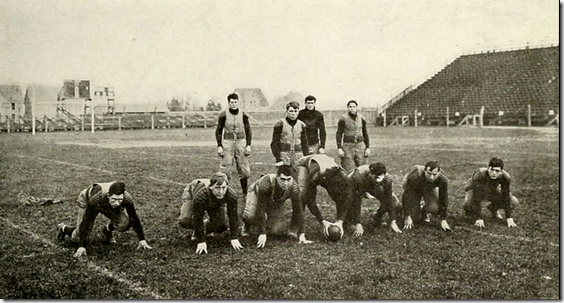 [courtesy of UM Bentley Library]
However, today the typical offense lines up more like this:
As the passing game evolved, offenses started to use any eligible receiver and put him "wide" to take advantage of their athletic abilities and drag defenders away from the run action. Ends split out ("split end") or remained tight to the formation, and various backs also lined up in ways that made their horizontal position (the "slot" or "flanker" etc.) more apparent than how far they lined up from scrimmage.
And so position names today bare little relation to the actual positions. And confusingly, we regularly assign the position names that are meant to denote alignment to players regularly assigned that position, e.g. we call this guy a "Tight End in Motion"
Despite that phrase being an oxymoron. Still, all offenses must observe the basic rules.
Covering: When an End is Not an End
The rules don't care where you are horizontally. If somebody is lined up outside the guy you think of as an end, no matter how far, the inside guy isn't an end anymore.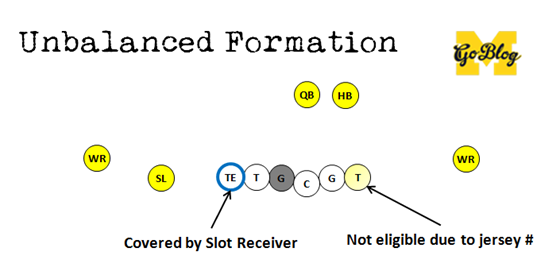 I made the guard gray to denote the middle guy on the line of scrimmage. Our modern terms and minds are trained to call the covered guy a tight end, and certainly the guy standing there is a "tight end" on the roster. But the rules of football still see these guys thusly:

The "tight end" is thus "covered" by having the slot receiver standing around outside of him.
Let's go back to the Colorado play.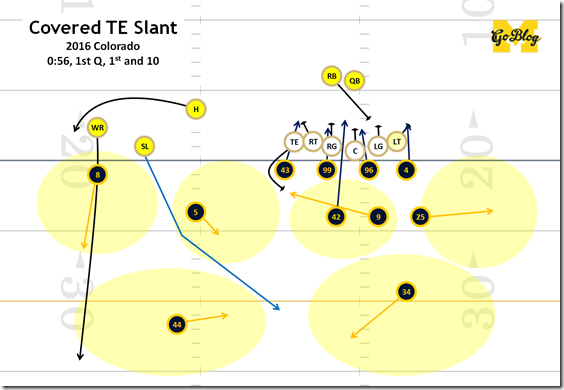 The covered tight end doesn't totally act like he's covered. He takes two steps out like he's going into a pattern after all, and carefully stays juuuuust inside the 3-yards from the line of scrimmage he's allowed to be in (this is never called anyway), so he can block McCray.
After some play-action to bring the linebackers down, Colorado is going to put Peppers in a pickle, since he has to respect the bubble action of that H-back on the top hash, and will thus let the (blue route) slot receiver cut behind him for big yards before the safety to that side (Delano Hill) can react and come down. How is Michigan supposed to deal with this when there are so many receivers on that side?
Well Jeremy Clark and Dymonte Thomas might help. Clark is the guy at the bottom-left, hanging out at the top of the "B" of B1G. Dymonte Thomas is also on that side, guarding the edge from between the "1" and "G". Whom do they wind up covering? NOOOOOOOOBODY!
Don't hold me to that coverage—as Ace pointed out in Slack today, people who know way more about football than I do have trouble ID'ing coverages even after they're on tape:
We asked 3 NFL coaches to ID a coverage & received 3 different answers @davearchie on why it so hard to ID coverageshttps://t.co/yXMBvnykaP pic.twitter.com/lWx5mx6HRP

— Inside the Pylon (@ITPylon) September 20, 2016
Why Teams Do This
The disadvantage of one fewer receivers for the defense to worry about has to be overcome by something, or else why would you do that to yourself? There are reasons.
First of all because it sows confusion, and that's especially true for when you're a tempo team that uses practice time to get defenders lined up incorrectly or in bad matchups. You may catch them off guard, as Colorado and UCF did in the above examples. Plus now the defense has to check for covered receivers in addition to all the other stuff you're throwing at them before the snap.
Another reason is to get back what the rules of football take away by forcing one receiver to always be on the backside. Lots of coaches (Harbaugh is certainly one of them) like to put as many receivers to one side of the formation as possible. All those passing targets to one side are tough for defenders to keep track of, and all of those help defenders are now missing from the other side. Remember how one of the troubles with outside runs is cornerbacks out there to force it inside? Imagine if that guy isn't even out there!
Ross Fulton of Buckeyegrove wrote an excellent piece on the games OSU played with Oklahoma's defense last Saturday and one of them was covering a receiver on one side for this purpose:
The Buckeyes next featured an unbalanced formation to free Mike Weber on tight zone and power. Meyer aligned three wide receivers and the tight end to the field – including covering up one wide receiver.

This pulled Oklahoma to the unbalanced side – leaving the Sooners with only three defenders past the centerline and removing the weak side force support. Ohio State then ran split zone and power to the boundary. Weber could bounce runs outside, which he maximized with his quick feet in the hole.
It's one more way to keep a defense guessing instead of attacking, and to put your players into matchups they can win. Covering has a cost, but a good offense will make it worthwhile, and a good defense will be ready to make them pay.