Weekday Warriors 2011: 8-30
'Friday Night Lights' is now 'Weekday Warriors', and every week I'll be updating you on the latest performances from Michigan commits as they play our their high school seasons. If you see anything missing or can find an article on a game, please feel free to contact me via Twitter or email.
2012 COMMITS
TN OL Blake Bars
Montgomery Bell Academy dropped to 1-1 on the season with a blowout loss to Louisville (KY) Trinity. Since Bars is an offensive linemen, there are no stats to report.
This week: The Big Red hope to move back above .500 at home against Brentwood Academy on Friday.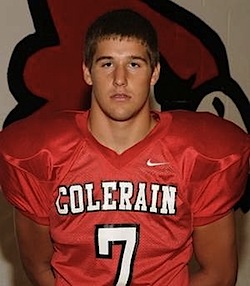 OH LB Joe Bolden
Bolden's Colerain squad won a nationally-televised matchup with last year's Florida 2A state champion, Cocoa, by a score of 17-7, snapping Cocoa's 38-game winning streak. Bolden did a little bit of everything, tallying eight tackles, tipping a pass that led to an interception, and completing a 36-yard pass on a fake punt (yes, Bolden serves as Colerain's punter). The win extended Colarain's home winning streak to a remarkable 60 games. ESPN's highlights of the contest prominently feature the future Wolverine, though also unfortunately Pam Ward. I can't embed the video without an ad autoplaying (seriously, WTF, ESPN), so you'll have to hit the link to see the highlights.
This week: Colarain looks to continue their home dominance on Friday against Ryle at 7:30.
MI OL Ben Braden
In a matchup of western (Michigan) powers, Rockford fell in their opener at Lowell, 28-7. Despite the loss, Braden came in for praise from Lowell's coach, Noel Dean:
"I'm not sure we'll see a team anywhere near that big," he said. "Their front seven on defense is as big as I've ever seen. And their front seven on offense -- I've never seen a human being move as well as that Ben Braden at this level. I was standing on that field, and I didn't feel good about putting my kids in front of him. He's huge, and he's a really good player."
This week: Rockford looks to right the ship in their home opener against Holt on Thursday at 7.
OH DE Pharaoh Brown
Brush fell to Eastlake North 51-20 in their opening game of the season. Though the Brush defense didn't perform, Brown reported to me on Twitter that he recorded three sacks, four tackles, and caught three passes for 86 yards, despite the fact that, according to him, Eastlake North widened the splits in their line to keep him from getting to the quarterback and refused to run in his direction.
This week: Brush hits the road on Friday at 7 to face Madison.
MI TE Devin Funchess, DE Mario Ojemudia, LB Royce Jenkins-Stone, and CB Terry Richardson
As you all know, these four faced off in the Big Day Showdown at Eastern Michigan, with Farmington Hills Harrison (Funchess and Ojemudia) blowing out Cass Tech (RJS and Terry Richardson) 43-7. Funchess recorded three receptions for 69 yards and a touchdown, as well as tallying an interception while playing safety. Ojemudia dominated at defensive end, finishing with four tackles, three for a loss, 1/2 sack, six QB hurries, and a fumble recovery on a blocked punt, while also playing offensive tackle for most of the game. Jenkins-Stone had four tackles and a forced fumble (in a bizarre twist, that came on offense after an interception) and also caught two passes and carried the ball five times for a total of seven yards. Richardson finished with a pass breakup – in the end zone against State commit Aaron Burbridge, no less – three kick returns for 70 yards, and one catch for 13 yards. The game was the subject of this week's Creeper Van Originals, and the highlights are below:
This week: Harrison plays at Southfield on Thursday at 7, while Cass Tech hopes to bounce back on Friday at 3 on the road at Detroit Central.
OH S Allen Gant
Gant played on both sides of the ball for Southview in their 23-21 season-opening victory over St. Francis de Sales. According to an intrepid MGoPoster who was taking down stats for de Sales, Gant played receiver and finished with one catch for five yards and took a jet sweep for seven yards – there are no defensive stats to be found, though apparently Gant did not record an interception, in case you were wondering.
This week: Southview travels to Toledo Rogers on Friday at 7.
MI DT Matt Godin
According to Andrew at Touch the Banner, Godin recorded two tackles in the first half before sitting out the second with an apparent concussion in Detroit Catholic Central's 42-0 trouncing of Dearborn Fortson.
This week: DCC heads to Ohio to take on Delphos St. John's on Friday at 7:30. Let's hope Godin's injury isn't too serious.
UT FB Sione Houma
A week after rushing for 112 yards on 16 carries and returning a kickoff 95 yards for a touchdown, Houma's stats aren't available from Highland's 41-7 victory over Cedar.
This week: The 2-0 Rams have their home opener against Provo at 7 on Friday night.
OH OL Kyle Kalis
Lakewood St. Edward defeated Glenville 17-14 in their season opener, but did so without Kalis, who was sidelined with an injury:
Michigan recruit and offensive tackle Kyle Kalis was in street clothes on the St. Edward sideline with a dislocated kneecap. Finotti said he's "day to day." He could return as early as next week or in two to three weeks.
This week: St. Edward travels to Pittsburgh to take on Penn Hills on Friday. We'll see if Kalis is able to suit up.
CA OL Erik Magnuson
Magnuson did not play last week, as La Costa Canyon begins its season on Friday against Marina.
MO DT Ondre Pipkins
Park Hill knocked off Liberty by a score of 13-7, and TomVH (you might recognize the name) caught up to Pipkins, who said he had eight tackles, a sack, and two forced fumbles. Nice.
This week: On Friday at 7, Park Hill has its home opener against Ruskin.
OH LB Kaleb Ringer
Northmont dropped its opener to Hamilton, 28-14, as Ringer sat out the game with a broken hand suffered in the previous week's scrimmage. Ringer said on Twitter that the injury might require surgery, but he's hoping to get back on the field in a soft cast next week.
This week: Northmont plays at Princeton on Friday at 7:30.
MI LB James Ross
Orchard Lake St. Mary's dominated their first game against Grand Rapids West Catholic, finishing with a 35-0 shutout. The Wolverine's Tim Sullivan (another name you might recognize) was at the game ($), and reported that Ross tallied three solo tackles (two for loss) and four assists.
This week: The Eaglets host Toledo (OH) St. John's Jesuit on Friday at 7.
OH OL Caleb Stacey
Oak Hills fell to La Salle in their opener, 42-21. No stats (obviously) or mention of Stacey in the game article.
This week: The Highlanders will try to pick up their first win of the year at Harrison on Friday at 7:30.
IL CB Anthony Standifer
Crete-Monee defeated Thornton Fractional South by a score of 32-8 in their opener. Standifer reported to me on Twitter that he finished with eight tackles, making sure to mention that Thornton didn't throw his way during the game.
This week: The Warriors head to Lincoln-Way West on Friday at 7:30.
OH DE Tom Strobel
Mentor defeated Euclid 49-21 in their first game of the season. No stats were readily available for Strobel, so this is the part where I remind you to contact me if you come across these kinds of things. Thanks.
This week: The Cardinals host Ursuline on Friday at 7.
OH TE A.J. Williams
Sycamore beat Withrow, 38-24, to open the season. Williams didn't record a catch, though his quarterback ran the ball 16 times for four touchdowns, so I'm guessing he didn't have many opportunities to do so.
This week: The Aviators, whose mascot is not a pair of cool sunglasses, bro, have their home opener against Springboro on Friday at 7:30.
OH S Jarrod Wilson
Buchtel's matchup with Ohio powerhouse Massillon Washington was featured in a Rivals AMP video, and Wilson was credited with 6 1/2 tackles, though his team ultimately fell by a score of 31-6. Highlights, including a couple nice tackles by the future Wolverine:
This week: The Griffins hope to notch their first win of the year on the road at Steubenville on Friday at 7.
OH DE Chris Wormley
Toledo Whitmer blew out Start, 42-6, and TomVH once again comes through with the stats – two tackles, one QB hurry, a forced fumble, and a fumble recovery for Wormley. The Whitmer defense held Start to just 108 yards of total offense.
This week: The Panthers host some of our neighbors to the north as London (Ontario) Lucas travels to Toledo for a Friday night game at 7. I'll be filming this one for next week's Creeper Van Original.
2013 COMMITS
KY S Jeremy Clark
North Hopkins went on the road to defeat Graves County, 42-13, and Clark had quite the game, finishing with 12 tackles, an interception, and capping off the scoring with an 80-yard punt return for a touchdown, according to TomVH. It's great to see Clark do so well, but this is the point where I start to get nervous that a big-time program might offer him more than a grayshirt and he could jump ship.
This week: The Maroons look to improve to 2-1 when they host North Hardin on Friday at 8.
MI QB Shane Morris
Morris and his Warren De La Salle squad dominated my alma mater, Ann Arbor Pioneer, 43-28. Morris completed 12 of 15 passes for 233 yards and a touchdown, and Fox 2 has a brief highlight clip from the game:
Warren DeLasalle Beats Ann Arbor Pioneer: MyFoxDETROIT.com
This week: De La Salle plays Carmen-Ainsworth at Lake Shore on Friday at 7.