This Week in the Twitterverse
Twitter is vast, and there are tens of tweets I don't see every week. If you happen across anything you think should be noted in TWIT, feel free to tweet it to @Bry_Mac. And while you're there, you can follow @Bry_Mac. Or not. But do.
Don't Worry, No One Will See That Tweet
Sometimes people have a hard time understanding the "social" part of social media. Take, for instance, Oregon DE commit Davin Bellamy. Last weekend, Mr. Bellamy took a visit to Eugene, and had a fine time. Unfortunately for him, he decided to (a) document that fine time, and (b) share that documentation with the world. See if you can identify the problem with this picture he tweeted (hint: it's NOT the bong on the table):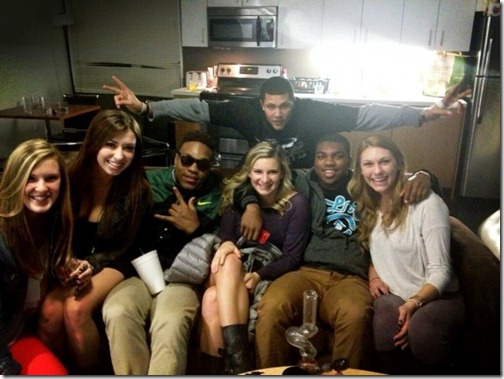 Uh oh… backlighting.
Okay, I lied. It's the bong on the table. And while the state of Oregon did legalize weed recently, I'm pretty sure the NCAA didn't [ED: Wrong hippie state. Somehow Oregon HASN'T legalized weed]. But I'm more concerned about the thought process. Anyone who has ever posted a picture to social media has done the same three-point check: 1) look to see if your fly is down; (2) be sure your hair isn't doing that thing it does sometimes; (3) check for drug paraphernalia. In Davin's defense, he was two out of three.
The other briefly shared photo that made the rounds was from none other than LaQuon Treadwell, who totally put those suggestions of Ole Miss funny business to rest by allegedly posting this little number:
Now obviously we can't be sure that this is Treadwell. Or that this is Treadwell's cash. Or that the cash was ill-begotten. There are plenty of reasons a teenager would have a few hundred dollars in cash, and only 93% of those reasons would violate NCAA rules. But yeah, I betchya your compliance office will probably have a word with you.
Hugh Freeze, on the other hand, is having none of your insinuations, no matter how ridiculously well-founded. Not long after the Treadwell pic made the rounds, the Ole Miss head coach took to Twitter to defend his recruits (and his program):
He has since deleted the tweet.* You have to respect the coach for defending his guys, but I bet the poor schlub in the compliance office would prefer if you didn't direct every troll south of the Mason-Dixon line directly to his inbox. The poor guy gets to the office, fires up the coffee maker, and HOLY HELL why do I have seven thousand emails with the subject "CHEATERZ!!!!!1"?
[*NOTE TO TWITTER USERS: Please stop deleting your questionable tweets. Once they're there, you can't get rid of them. You're just making my column less visibly appealing. ]
I Tried 'Perspective' Once. Didn't Care For It.
David Dawson is one of the jewels of this recruiting class, and by all accounts is a genuinely nice kid who has been through quite a bit in recent years. He also took one of the more circuitous routes to signing day, which Chantel Jennings (@ChantelJennings) documented in a recent article about how recruits are treated on social media. And I'm sure that despite his brief decommitment, Michigan fans everywhere maintained perspective and treated him with the utmost respect, especially on social media.
Fans sent him Twitter and Facebook messages telling him they hoped he broke his leg or that he was a "piece of s---."

Worst of all, some fans took shots at his late father.

"They said a couple things about my dad, like, 'He didn't teach you to keep your word,'" Dawson said.
Or not. On the bright side, the article makes clear that Michigan isn't alone in treating kids poorly, which, hurray we're not worse than Clemson (insert sarcastic slow clap here). The moral high ground we occupied when Buckeye fans were wishing gout upon Kyle Kalis seems to be tenuous. Obviously we're talking the least stable segments of every fanbase, but let this serve as your reminder: tweeting recruits is generally not cool, but tweeting ill-wishes to kids is even less cool.
From that same article, though, comes possibly my favorite panic-inducing out-of-context tweet of all time, in which Christian Hackenberg announces his dinner plans.
Pops just told me we are going to Canes. #seeya

— Christian Hackenberg (@chackenberg1) December 12, 2012
Canes is some sort of food establishment; Christian Hackenberg declared his intention to eat food. Happy Valley flips out thinking he was decommitting for Miami. I guarantee the words "NCAA conspiracy" were used. Crootin, man. Crootin.
[OBLIGATORY SCOLD: This is your weekly reminder to NOT TWEET OR FACEBOOK MESSAGE OR SEND SMOKE SIGNALS TO RECRUITS. I asked John Infante (@John_Infante, he of the Bylaw Blog and the overwhelming NCAA rule knowledge) to clarify, and he confirms what others have said: it is an NCAA violation. This remains the case until the student actually enrolls. The guys who just signed NLIs are still "prospects" to the NCAA. They are also high schoolers. So, no.]
We Won't Get Fooled AgaHELLO: RANDOM PERSON
On Monday, MGoBoard users were greeted with an unexpected Hello post for Jahmere Irvin-Sills, a three-star corner out of Maryland.
Congrats to Jahmere irvin-sills committing to Michigan#goblue

— khaliel rodgers (@K_rodgers55) February 4, 2013
You may remember Khaliel Rodgers as an OL with whom Michigan had a brief flirtation when there were rumors of a commit wavering last summer. He also attends the same high school as Irvin-Sills, so attention was paid. Film was evaluated. Y U NO ELITE trolls were summoned. And, of course, within a half-hour the commitment was debunked by Sam Webb and others. This was predictable, of course, because Irvin-Sills had never been on a recruiting visit, appeared on anyone's radar, or, you know, been offered a scholarship.
The wisdom of The Who is great and all, but I'd bet a shiny new quarter that the next time someone tweets something like this, we'll go all salmon of Capistrano all over again.
Look Away, Dave Brandon. Nothing to See Here
You've probably noticed that the "nameplate with no names" thing has caught on pretty big over the last couple of years. Either that, or you found it very odd that Air Force managed to field a team entirely out of guys named Service. Last week Akron tried to take it to the next level by putting the team's twitter handle (@ZipsMBB) on the jerseys:
Synergy, we think.
Unfortunately, the NCAA decided to be a killjoy and put the kibosh on the idea. If Michigan had tried to do something like this, Ann Arbor Torch and Pitchfork would have a heck of a day. But this is Akron, so from my perspective this would have been fun. They aren't trying to Create the Future. They're just trying to grab some attention for a team that averaged 3,400 fans per home game last year.
If you ask me, Akron should have even taken it a step further; they should have put individual players' twitter handles on the jerseys. And then they should have made Bill Walton call the game. The joy of hearing Walton have to utter phrases like "@I_B_Smooth41 needs to hedge harder on those ball screens" or "great job by @AkronBalla4Lyfe of recognizing the mismatch down low" would almost make up for the pain of having to listen to Bill Walton. 
How to Make Friends and Influence Good ol' Boys
Reuben Foster has had a fun year. He originally committed to Alabama, then in July, he switched his commitment to Auburn (which is like switching from Michigan to North Korea). He felt so confident in his decision that he got a rather large Auburn tattoo on his forearm, which must have made for some awkward conversation at his switcharoo back to Alabama on Monday. He then took to Twitter to explain everything to everyone:
Auburn had no problem taking him up on his invitation to hate him. Edits are mine; these fans did not care for SFW language.
This is my shocked face  /makes normal face.
Unrelated Tweet of the Week
Joe Theismann had an interesting theory about the Super Bowl power outage.