This Week's Obsession: Worst Attrition
Two-parter this [ed-actually we did this last…] week.
Seth:
1. What was the most painful single attrition loss you remember (Woodson was not painful since you didn't expect him to come back. Neither was Stauskas. Hypothetically losing Trey Burke after one year would have been THE WORST. Guys who were 50/50 only get half points.)?

2. Guy who would have been eligible for the 2015 football team you most miss?
-------------------------------------
Worst attrition loss ever?
Brian: We're a fun bunch this week. Here is a picture of Denard.
comes with one free Molk
Despite the fact that Mitch McGary went in the first round and there was a pretty decent chance he was going to leave even if the NCAA didn't come down on him like lunatics, it's gotta be him. We got those six tournament games that hinted at his ability, and then he wasn't right during his sophomore season, and then he was gone because he had a soon-to-be-legal substance he was tested for after not playing in a game.
I just needed to have one season of McGary as his effervescent self before he went and blew up NBA twitter. Michigan's most recent basketball season was a magnificent combination of crappy circumstances that prevented McGary's impact from being severe in a program legacy sense... and despite that, his absence pulls at the heartstrings harder than anyone else's.
[After the jump: nothing as anger-inducing as McGary, at least.]
-------------------------------------
Ace: Jamal Crawford's Michigan career lasted just 17 games, and yet I'd include him among my very favorite Wolverines from my time growing up and dropping by any game at Crisler with tickets cheap enough to get in for less than the cost of a hot dog. (Back then, this was a lot of games.)
Thanks NCAA for ridding us of athletes who accept offers like "here's a place to live so you won't get shot at anymore" when they should be playing the game just for fun. [Bentley photo]
Crawford could've been an All-American, a guy with the type of impact to change the course of a program in serious need of course-changin'. A 6'6" natural scorer with filthy handles—his nickname: "J-Crossover"—isn't something that comes along often; Crawford entered Michigan as an advanced version of Caris LeVert, essentially.
But the NCAA had to make Crawford another poster child for the way the college sports overlords will screw over student-athletes in the name of following the letter of their arbitrary laws. If the details of Crawford's case came out today, the backlash would be massive. Crawford didn't have a father around when he grew up in Seattle, then moved to South Central Los Angeles; his mother essentially handed over custody—though, importantly for the NCAA, not in any official capacity—to Seattle businessman Barry Henthorn, who put Crawford up and gave him a car. Henthorn wasn't a Michigan booster; he allowed Crawford to live in an environment where he could play basketball without the looming threat of gang violence.
The NCAA suspended Crawford not once, but twice, ordered him to pay back over $11,000 to Henthorn—the ever-magnanimous NCAA scaled that back from the original $15,000—and after the second suspension Crawford took the most understandable route and declared for the NBA Draft, getting selected eighth overall and going on to an impressive, ongoing career as instant offense off the bench. Would he have stayed at Michigan for more than a year if the NCAA would've been reasonable? I don't know, but I sure would've liked to find out.
-------------------------------------
Adam: John Gibson. What if Jourdan Lewis asked to transfer days before his first fall camp? What if Tim Hardaway Jr. decided to go play in Europe a month before his freshman year started? Such was the case with John Gibson, who decommitted from Michigan after signing his LOI so that he could instead play for the OHL's Kitchener Rangers.
Gibson wasn't the first goaltender to spurn the Wolverines for the OHL; Jack Campbell did so the year before. What made Gibson's decomittment particularly painful was the timing. Campbell left Michigan months to find their next Goaltender of the Future. (That goalie happened to be Gibson.) Gibson was supposed to spend one season as Shawn Hunwick's backup before presumably taking over the starting job in 2012-13. Michigan was left with no time to fill the now-empty scholarship before the 2011-12 season started and had to rely on Adam Janecyk as the backup.
The graduation of Tiny Jesus left Michigan with freshmen Steve Racine and Jared Rutledge (who left the program after one season), plus the aforementioned Janecyk. Zach Nagelvoort arrived the following season, and since then he and Racine have been...okay, I guess.
Meanwhile, Gibson has become one of the Anaheim Ducks' top prospects. He posted a .914 save percentage and 2.60 goals against average in 23 NHL starts this season, which would have been his senior year at Michigan. It's hard not to think about what could have been as Michigan's goaltending has regressed over (and even within) the last three seasons.
-------------------------------------
Seth: I used to serve Drew Henson his early morning sub at Pizza Bob's; the WORST was when he would come in with Yankees gear on. The QB controversy Lloyd created by promising Henson he'd start when Tom Brady was about to didn't do Henson any favors, but the worst nice thing ever done for him was when Ohio State fan George Steinbrenner ignored his scouts and offered Henson a starting 3rd baseman's pay to be a minor league 3rd baseman who strikes out a lot.
Lets remember what Drew Henson 2000 was like:
Go to 6:19 and watch two throws in a row. I was there and I don't know how his hands weren't frozen off and the guy's still making those tosses.
Henson taking Judas money from the hated owner of the most despicable team in sports to play baseball cut so, so deep. Like McGary we only got a little bit of injured ball (and defensive collapses he couldn't help) for one of the most exciting prospects ever to come here. According to guys who played with him, the broken foot in early fall practices deflated the season. By November the foot was well enough he could do 75% of Henson foot things, and Henson went point for point with Drew Brees and Randy Walker's spread offense. The second half of the game I showed above was one of the best by a Michigan quarterback ever.
In 2001 Michigan's offense went into a shell because John Navarre really wasn't ready to be the starter yet. That offense also lost four OL to the NFL plus A-Train and David Terrell (who it was said around campus would come back only if Drew did). But the damage was mitigated by a much-improved defense. Put Henson on that team and not only does it save Navarre a ton of therapy, but Washington never comes back, Spartan Bob remains a sad little man in a sad little booth for a sad little program, Tressel's bravado is thrown in his face, and Michigan gets blown out by Miami (THAT That Miami) in the national championship instead of by Tennessee in the Citrus Bowl.
-------------------------------------
Dave: Antonio Bass was almost (again, hope I don't get fired for this) Denard Robinson before anyone knew who that would be. He played QB in high school, although not a great passer (55 of 161 for 999 and 14 TDs). Oh, could he run, though. In high school, he had 276 carries for 2177 yards and 30 TDs. He was 6'1"/194 in high school and had 4.4 speed.
During one practice Antonio notices a reporter asking questions to a freshman receiver. He approaches, sees what's written in Rosenberg's notebook… [photo GBW]
After his freshman season in 2005—in which he played slot WR and started to show flashes of his capabilities—he sustained one of the worst knee injuries the surgeon had ever seen: a comparison to falling off a three story building and landing straight on his leg. He walked again, but didn't play.
WHAT IF...the injury isn't as serious and he just needs to medshirt. 2007? Not sure he prevents The Horror or even Oregon and after that probably similar things take place. But come 2008 he's a redshirt junior who's played some WR and QB packages and Rodriguez is all "man, you guys thought this guy was a receiver?" and teaches Bass to run read-options.
If Bass ends up being competent, the 2008 team is a probably 3-4 wins better and Shafer isn't forced to mount the scaffold to placate the peoples' blood lust. Come 2009 he's a senior returning starter and Tate is his backup, which means we can redshirt...this is getting painful; I'll stop.
-------------------------------------
Guy who would have been eligible for the 2015 football team you most miss?
-------------------------------------
Brian: There aren't actually that many options here since the 2010 class was such a disaster it prevented almost the entirety of 2011 from redshirting. Then Hoke came in and retained all the persons. 
Strictly in terms of "I would like this player and I have the Seahawks' approach to vetting them" I would like Frank Clark back on the team. Michigan has few sure things at defensive end and not even that many unsure things; Clark was proficient against the run and would have been dynamic against the pass if things had fallen slightly different last year in the secondary and at DT. The addition of a senior version of Clark would significantly improve prospects for the defense, and the season. 
If we are taking bootings into account, then it's Countess. You cannot have enough cornerbacks, and Countess was damn good as a sophomore. Last year sucked, sure. He looked feisty this spring, and I bet he ends up playing well wherever he ends up.
-------------------------------------
Adam: Devin Funchess. I'm no doctor, but I feel like it's important for a wide receiver to have a foot. It would have been nice to see what Funchess could do with two of them, and would also have assuaged some of the tenable fears about the current receiving corps.
-------------------------------------
Seth: Yeah I asked then realized the "wish you were here" pool is a lot smaller than I though, though I expect five or more will be added to the pile this summer based only on what always happens when you bring in a new coach. That still puts the 2012 and 2013 classes at historically low attrition after two classes that were historically high: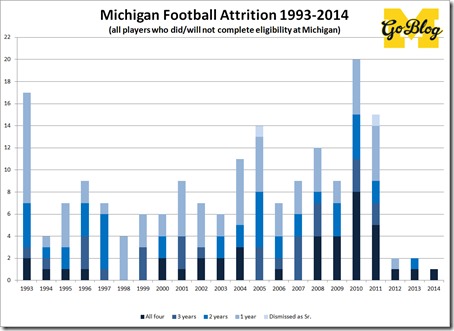 If I'd asked this for 2014 I would have answered Christian Pace—the OL problems under Borges were legion and mostly having to do to Borges, but having a proto-Molk after Molk would have fixed quite a few of those, starting with having an option other than "one-legged Molk" when Molk got hurt before the Sugar Bowl.
Since Funchess is taken, Countess has to be the next-biggest loss. Even if the base defense is a 4-2-5 nickel and even if Lyons won the job, and even if everyone stays healthy, and even if Watson is more than a one-trick pony, and even if Stribling is 100% made of matter, Countess was expected to play a lot. There's a lot of zone defense to be played on 3rd and longs. Guys who run up and down the field with receivers going deep need a spell. And 5th year seniors who were as good as Countess was a freshman are very nice things to have.
-------------------------------------
Dave: I agree on Funchess, obviously. Countess is good, too. Since, I used up my words in the first answer, I'll quickly add Justice Hayes. Fifth year back would could at least handle the basics: finding the correct hole and picking up blitzes. Those aren't to be taken for granted, as we have learned.
-------------------------------------
Ace: It's Funchess. I think anybody who watched the spring game would answer the same.