This Week's Obsession: The Red Cedar Survey
Sparty is fine. #GoBlue pic.twitter.com/96aJN7Hnrn

— Joe Sports (@joefedewa) October 27, 2016
MGoReader GameBoy discovered a thread on the Red Cedar Message Board ($) where the denizens of the afore mentioned troll kingdom were given the opportunity to ask a (probably apparently not fake; sorry Dizzo) Wolverine some questions. Some are good questions, some are, well, we're talking about the kind of wretches who hoot at the cleverness of adding "sc" to "UM" because then it's like they're saying algae instead of the University of Michigan. Get it? Algae is gross, right?*
They're not great questions—consider the source—but since it's rivalry week we decided we might as well try to give some full answers. MGoStaff were invited to answer what they pleased. The names and mangling of our common language have not been changed, because nobody here is innocent.
*[MGoReaders: Nobody wants to read about your world-changing research on the emissions-controlling properties of algaeforms ].
---------------------------
1. DantIzzoNio: Will Jeem go for two after every score?
Seth: Only if the chart says so.
---------------------------
2. Is Wilton Speight good?
Seth: Ask again later. We've got two good games and a handful of various shades of iffy. My guess is he started taking hits and lost his mechanics, but used the bye week to shore some of that back up. Harbaugh has an extraordinary track record with quarterbacks so he'll get what he can out of Speight, which is probably a poor man's Ben Roethlisberger when's all said and done. Sophomore year Navarre is a present comparison, or for a Spartan example, Ryan Van Dyke. You can win with those guys, but you don't win BECAUSE of those guys.
---------------------------
3. Will your punter wear Stickum?
Seth: Hard to tell, we rarely punt anymore.
[After the jump, we take some of these seriously.]
---------------------------
4. Andrew Bell: Colorado gave Um fits for a quarter; what did they do and how did UM adjust? Buffs look like a pretty solid team now, btw.
Seth: Some of Colorado's defenders were flat-out good, especially their immovable nose tackle, should-be All-American CB/nickel Chidobe Awuzie, and the other CB too. Michigan hadn't faced that kind of talent yet and were lucky to score a lot of the points they did. Michigan's first TD was just an amazing blocking play by a fullback, and early in the 2nd half Michigan converted a 3rd and 14 for 54 yards when Awuzie vacated his zone. Michigan also was trying to run some outside zone stuff that they couldn't--that package has subsequently been scrapped. Field position helped in the second half.
The defense was that story in reverse. Peppers vacated a deep 3rd responsibility to allow Colorado to hit a 37-yard TD that opened the scoring. Colorado also hit some stuff early by playing with how M aligns their OLBs (and with covered receivers M didn't adjust to), and Liufau hit some tough throws you just have to shrug and credit.
Michigan spent almost the entire 2nd half in their press one-high cover 1 base, and beat Colorado straight-up. When Liufao got knocked out, Colorado ran out of tricks and heroics, and Michigan's better athletes could dominate their 1-on-1 matchups.
---------------------------
4. TVs Frank21789: Would you say that most Michigan fans, even the pompous and Walverine-ish ones, think that the "J. Ira and Nicki Harris Family Head Football Coach" is just a little bit much?
Seth: Until you mentioned it I hadn't heard the full name for months. We used to hear that title all over the place with Hoke because Dave Brandon got whatever he wanted in that relationship. We ousted that guy by fiat, not for putting sponsor names on everything, but for putting sponsor names on everything, if you catch my drift.
Today that only exists in press releases because Harbaugh finds it as annoying as the rest of the fanbase, and the power structure runs the opposite way. I'm relatively certain the Harris family is fine with this.
---------------------------
6. RandyWatson: Do you think the Heisman hype for Peppers is justified? I'd argue that he isn't even the best player on his defense (Lewis), let alone in the whole country. Do you agree?
Ace: I agree in the sense that Michigan has several All-American-caliber defenders, and as a pure defensive back, Jourdan Lewis is better than Jabrill Peppers. The defense functions as well as it does, however, because Peppers's versatility allows Don Brown to present a mind-bending variety of formations and playcalls without changing personnel.
What this question ignores is the massive impact Peppers has on field position as a return man, as well as his ever-growing impact on the offense. His ability to change a game in all three phases is what makes him a legitimate Heisman candidate.
Seth: His Heisman campaign is hurt by the fact that his effect doesn't result in fancystats that people who don't understand football tend to lean on. As Ace touched on, Peppers is one-man answer to the problems a spread offense creates by forcing a key run defender to cover that plus a tiny guy in space. Peppers is the best returner, the best running back, the best linebacker, the best cornerback, and the best safety in the conference, and could start at quarterback right now for 11 Big Ten teams.
The paucity of general football knowledge would put Peppers' chances somewhere around those of, say, Ndamukong Suh, except the highlight reel is full of awesome returns, and The Game gives Michigan and Ohio State players a national platform.
---------------------------
7: stone farm 99:  will you win 7 games next year after you loose your whole team to the draft? Will Harbaull go to the NFL?
Ace: More. No. Who is Harbaull?
David: I could see Michigan losing 2-3 games, next season...that seems weird to say in a disappointing tone. But I do not see them losing 5-6. Sure, there will be some turnover in the secondary and they lose Gedeon (ugh, seriously, redshirts), but the DL is so deep and will return 4-5 contributors. McCray will be back and if Jeremy Clark gets a 6th year (thank you, Ed Davis) the back 7 won't be as green as we thought. On offense, a Newsome-Bredeson-Cole-Onwenu-5* wunderkind could be an acceptable line. The WRs will be inexperienced, but there should be many options and RB, TE and even QB...
Michigan opens with Florida in Dallas, goes to Happy Valley and Madison, and hosts the Buckeyes to close the season. That could be a bit of a tall order for a very young (albeit talented) team. I would not be shocked if they dropped a 2-3 of those. Outside of those four games, there will be some different matchups, but nothing that seems to be too confounding.
Seth: I would put Michigan's over-under next year at 9 wins, so 7 is definitely possible.
Harbaugh told John U. Bacon that he plans on staying for as long as Michigan will have him. He and Sarah are having another kid, and they have a bunch more enrolled at the same school Jim went to. He bought a house 4 doors down from Bo's, and his dad moved into the same neighborhood.
JH shared was that his last experience in the NFL taught him how the GM, owner, league, and players all will force you to do things that aren't good for the team. The downsides of college are money, which doesn't seem to be an issue, recruiting, which Harbaugh loves, and more work, which…
Unless he comes out of retirement to do so someday, Jim Harbaugh won't go back to the NFL, because college football is perfect for a guy like Jim Harbaugh. The NFL is perfect for a guy like Jed York.
---------------------------
Q blackhorn> Did you actually attend college in Ann Arbor or are you just a huge true blue fan?
Brian: The obsession with the fact that some Michigan fans grew up in a Michigan family but went elsewhere, or just like Michigan for obscure reasons, is the exclusive province of Michigan State fans. You don't hear this in Alabama, where 90% of the populace loves college football. Because college football is awesome.
This is an implicit acknowledgment that there is no damn reason to care about Michigan State unless you made the horrendous mistake to attend it, and is CFB's most hilariously omnipresent self-own.
---------------------------
9. Q trash fire> what is the malfunction with the posters at mgoblog?
Ace: Too much exposure to RCMB posts.
Brian: They are rich and well-educated, , so they don't find pooping on themselves and smearing it all over funny. Mark Dantonio knows this as "the fourth quarter."
Seth: Yup:
MGoBlog is a longform blog that tries to base its opinions on observations; the ur content here is Brian's Upon Further Review. Not accidentally, we've developed a site-wide voice that's half-scientific and half David Foster Wallace. This attracts the kind of people who appreciate that sort of thing, and turns off those who find it unnecessarily pedantic.
Michigan State produced one of the best college football writers of our generation in Chris Vannini. That guy now writes a national blog about coaching searches because his fanbase wasn't that into it. Fanbases far larger than Michigan State's also failed to generate a niche site for the segment of those fans who'll turn their brains on just for fun. MGoBlog is the biggest indie team site on the internet because Michigan has half a million readers who want their sports blog to resemble their favorite college course.
---------------------------
10. 85Grad: What does it mean when your coach offers a scholarship to a high school kid?
BiSB: That he probably won't be playing college football for your coach.
---------------------------
11. Big John Studd: How much Christian compassion does Coach Harbaugh have in his heart regarding the final score this weekend?
Seth: None. Saint Peter doesn't check the box score.
---------------------------
12. Crazy Jim9: Did you think that Harbaugh would turn it around this quickly?  Did you think that MSU would fall so fast?
Seth: Yes. I thought 2015 would be an 8-win team and they won 9, with Indiana, MSU, and Minnesota all basically toss-ups. I knew 2016 was setting up to be the year because the roster is filled with experienced NFL-bound seniors, all but one of whom returned.
I see MSU's fall as more gradual than it is apparently. They should have been a 7-5 or 8-4 team last year but they got really lucky to run into Ohio State's crazy bad coaching in the rain day and a 28-point cumulative swing in refereeing against Michigan before you factor in the 1 in 10,000 thing that had to happen.
If you see MSU 2015 as an Outback Bowl level-team, it's not that surprising that they'd drop out of a bowl once you remove the best LT in the nation, the best quarterback in program history, his All-American target, an excellent four-year starting center, several pro-quality players on defense, and the rabbit's foot.
The surprise is that the replacements aren't even replacement-level. We knew the DL would take a step back, but other than McDowell those guys have been bad for the MAC. I knew Cox was bad, but I'm surprised they don't have anyone behind him;  even a walk-on with fair awareness and shit speed would be a huge upgrade there. Ditto the offensive line, which undermines a very good set of RBs and screws up the quarterbacks' development.
---------------------------
13. Green Goomba: Why is there a basketball player on your team's football jerseys?
Seth: Look closer.
---------------------------
14: Q has been: I think Peppers is a damn fine football player - a great athlete, NFL prospect, and one of the best in the country. What's the over/under on the number of graphics that will show all the positions he can play?
It sounds like I'm a jealous has-been, but it is tiresome to tune in for a few minutes of michigan football only to have the announcers anoint the guy as an all-american at 22 different positions about every 2 minutes.
Ace: Disagree.
Seth: If you can appreciate Heath Ledger's portrayal of a murdering psychopath, you can appreciate a college football player who's trying to defeat your football team. I genuinely enjoyed watching Ezekiel Elliott play, despite the bummer it was for Ohio State—how can you be a college football fan and not appreciate one of the most entertaining players it ever produced?
---------------------------
15. I have alopecia: Why is Peppers on the Thorpe Award list if he's a linebacker?
Seth: Why does the phone ring every time you're in the bathtub? Okay that joke's a bit dated, but it totally made sense in 1978.
---------------------------
16. Banks2Mason: How did Desmond Howard and Jalen Rose get out of UM without learning how to speak English?
Ace: Because you're a racist piece of shit.
---------------------------
17. Q Cosmo_Kramer: Will Jabrill ever get an interception?
Seth: Yes, and I guarantee it'll be on a screen pass.
---------------------------
18. Q Gob_Bluth: What do you think about Trey Burke's recent comments about his time atMichigan?
Seth: He's probably right. I remember after his freshman year we got a photo of his tiny, crappy-looking dorm with all of his belongings in garbage bags. So we knew he was planning on leaving after his sophomore year. I think that (and  scholastically) is what he meant by "checked out" because there's no way to construe this:
…as half-assing, or even 98%-assing.
Context is key: he was speaking to a panel about changing how athletes live in general. These guys are making millions for their schools and they live like college freshmen lived in the 1990s. When Burke had an opportunity to speak to people in a position to change that, he framed his comments that way. I'd rather he be honest and try to improve life for future players than, say, tell the kind of people who go to Big Ten Banquets exactly what they want to hear.
BiSB: Yeah, sometimes Trey Burke can really take you by surprise.
---------------------------
19. Q 277Gunson: Do you think your fanbase has turned into a cult-like fanbase worshiping at the feet of Jimbo? There is no doubt that he can coach, but he is the strangest man in college football and it is scary how he is looked upon by media and u-m fans. Do level headed and intelligent u-m fans (grads) grimace at things he does?
Seth: I grimace at his roster management. The Ondre Pipkins thing made me upset. The player wanted to play, the team doctors said he couldn't, and Harbaugh tried to bully him into a medical redshirt. The thing with decommitting commits by not calling them was also grimace-worthy, and repeated a pattern we saw at Stanford. He also burned nearly every redshirt this year, however with so few guys ahead of them that's understandable.
The more you know Harbaugh, the better a person you realize he is. His criticisms don't stand up to inspection. He had a sleepover at a recruit's house! (Which wing of the house did he stay in?) He had football camps in SEC territory all summer! (think of the poor high school players!) He yells at refs when they forget the rules of football (is he wrong?) He lines up in a train formation! (Think of the poor linebackers!). He wears sports jerseys (think of the poor...) then donates them to local kids (...nevermind).
He doesn't cut corners, he genuinely loves his players and the game. He's got a deep natural empathy that comes out at rare moments. His coaching speaks for itself. His irreverence is reserved for things that don't matter; the people he rubs the wrong way are the people who cling to unimportant things, or who benefit from them. Hank Aaron adores him. Hugh Freeze hates him. I find both high praise.
---------------------------
20. Q mdtizzle: Excluding the MSU-Alabama game, which win meant the most to you last year?
Ace: I think we have to acknowledge that this is a legitimately sick burn.
But the answer is beating an SEC team in the postseason.
David: I wanted to say Penn State, but I think it has to be Florida. Most people are critical of meaningless bowl games, outside of the NY6, but Michigan seemed overly enthused about competing against a top program...not to mention using it as a recruiting showcase.  Granted, after the first couple drives, it was apparent that Florida had no interest.
---------------------------
21. Q SpartanRocky> What's going on with Kenny Allen? He's handling punts, kickoffs and FGs and doens't seem to be particularly great at any of them. Outside of Peppers, seems like ST has taken a sizeable step back from last year. Your O/D are good enough to where i'ts probably a moot point, but wondering if you had any insight into the (relative) struggles in that area.
Seth: His mechanics apparently got screwed up trying to do all three kicking things. It's a concern. His punting and kickoffs have been great so it's just the field goals at least, but that's where it's coming from. True freshman Quinn Nordin would probably be the FG kicker already if he hadn't been injured all year. So it's either get Allen fixed or try a third string walk-on type. It's a hole on this team, definitely.
---------------------------
22. Q Notorious GiB: Is your trailer a single wide or double wide?
Ace: Are you familiar with the concept of projection?
---------------------------
23. dubie7006: What is General Studies? Can we get some concrete examples?
Ace: General studies is exactly what it sounds like. Meanwhile, this is a concrete example.
Seth: My best friend was a general studies major—he was intent on becoming a music industry professional so he was doing music school classes and English and Philosophy. People do GS if they're focused on something that requires multiple disciplines, or trying to make their way in a specific industry that's more about chops than what you know. We don't have a major for everything, so they work with an academic advisor to mix and match, always towards a specific goal. You'll see a lot of athletes taking it because they're planning to do something related to their sport, particularly analysis or coaching. They'll take some teaching classes, and technical classes, and some base history stuff, etc.
---------------------------
24. dubie7006: Since you seem to be one of seemingly very few totally sane um fans, what % chance are you thinking you come away with the win? Please don't use the rivalry emotion in this, but rather actual meaningful gameplay things.
Adam: Uh, if you're sure you _really_ want to take emotion out of this then I guess we could check what Bill Connelly's numbers have to say...
It's hard to take the emotion of out that, but that's college football.
---------------------------
25. Q Lunchables: Why are you pussies no longer complaining about the conference schedule being @OSU/@MSU now that MSU is a dumpster fire?
Adam: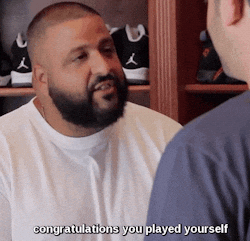 ---------------------------
26. Q SpartanRocky said: FWIW, you guys are giving up 10 yards/punt return, on 10 returns. That's in the 100s nationally. That's why I asked. Also, your kick-off average is way down, though I see Peppers is averaging 30 yards/return on only 5 attempts. So your net punting is down, and returns are down.
Seth: Those stats are noisy. Michigan's advanced numbers for kickoffs and punts are fine, which is amazing considering they went back to NFL-style punting and lost John Baxter.
---------------------------
27: SpartanRocky: Would UM be interested in perhaps hiring Dave Warner as their new OC for Saturday?
Ace: No.
---------------------------
28. Q Big John Studd: In a somewhat kinda related note, which, if any UM assistants are candidates for head coaching jobs?
Seth: Fisch is probably the next to leave, though only if something Maryland-level comes up. Drevno will be a head coach someday too. But keep in mind it's harder to get credited for the job you're doing on offense if the head coach is himself an offensive guy. Guessing after 2017 or 2018, given how fast guys move these days.
Don Brown seems like he wants to stay in college. Mattison has a contract that pays him like an NFL DC and lets him coach DL; he'll retire in a few years. After that it's position coaches. If someone tried to poach Zordich he may leave, but only if it's a step up, e.g. Penn State defensive coordinator. Ty Wheatley will probably take an offensive coordinator job once his son leaves; I know he's planning to move up eventually.
There will be more turnover among the analyst level. Some of those guys are being groomed for assistant jobs when the above move on, others are young dudes putting in time to pad their resumes before moving on to pro scouting and whatnot.