This Week's Obsession: Over-Under on Over?
This here Friday because not enough for Dear Diary.
What do you think of the transition to a 4-3 over? Who else is running it? Is it so much of a shift?
Ace: While I was skeptical at first—it felt like a bit like a panic move—I've started talking myself into this being a positive change. The main reason is that it should allow Michigan to generate more of a pass rush, and in less predictable ways. Seth pointed out the benefits for both Frank Clark and Brennen Beyer in his post—they slide into roles more suited to their abilities in a way that gets them on the field at the same time. Add in the ever-present threat of Jake Ryan blitzing up the middle and I think the pass-rush will be improved thanks to this switch.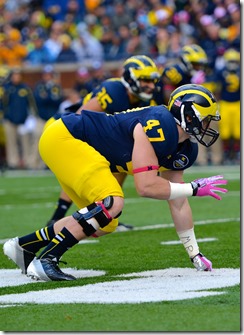 When you have Clark and Beyer (and Ojemudia and Taco etc.) available this isn't the best use of Jake Ryan [Fuller]
The defense should also be better suited to go against spread attacks by keeping Ryan in the middle. He no longer has to worry about playing over slot receivers or being the primary defender against bubble screens, and when Michigan goes to a nickel, they'll most likely lift James Ross for a defensive back—adding coverage without losing much from the pass rush.
Keeping the linebackers clean against the run is also easier in a 4-3 over; Iowa's linebackers were very successful last year in part because their alignment allowed them to roam free sideline-to-sideline—I was dumb enough to confuse "DTs aren't making plays" for "DTs not doing their job" in that post, when it turned out Carl Davis and Louis Trinca-Passat were really good at holding up against double teams while the Hitchens/Morris/Kirksey trio combined for 35.5 TFLs despite rarely blitzing. I highly doubt Greg Mattison's defense will be as passive as Iowa's, but the Hawkeyes still provide a solid blueprint for how to get better production from the linebackers.
That brings me to my biggest concern, however, which is the defensive tackles. I believe the Henry/Pipkins combo will hold up fine at the nose, but the lack of experience at 3-tech is worrisome. The good news is both Chris Wormley and Matt Godin—the likely rotation there, along with Ryan Glasgow—were tweener DE/DT recruits with large frames, solid strength at the point of attack, and some concern about their edge-rushing ability; the last part matters much less now, and as long as they're not ceding ground with regularity, the experienced linebackers should be able to work behind them (Northwestern's linebackers managed to stand out in their 4-3 over even though their DTs routinely let the seas part).
My other main concern is how Ryan will handle more offensive linemen releasing to block him at the second level, but I have the feeling he'll figure it out. It's clear the coaches have been planning this shift for a while—see: Noah Furbush, MLB recruit—and despite a few minor bumps along the road I still have a great deal of trust in Mattison. If, as advertised, this shift allows the defense to be more aggressive in general and more adaptable against spread attacks specifically, I'm on board.
[Jump: Brian and BiSB go over this more. HA!]
------------------------------
Brian: For Michigan the switch to the over is about figuring out what's more awkward: Jake Ryan, MLB, or Brennen Beyer, strongside end in an under? They've clearly decided on the former, and after some time to think about it (I seem to recall calling the Ryan move "pure nonsense" on twitter when it was announced), I see the coaches' point.
Beyer was listed at 256 this spring, barely up from the 250 he played at last fall. Despite that weight, Michigan felt he was their best option at SDE after Ryan's return. And... sadly, he probably was. Michigan doubled down on that evaluation by moving Keith Heitzman to tight end, another trouble spot, this spring. Once it became clear that Beyer had no shot at coming anywhere near the 285 pounds Craig Roh managed to get to as a senior, let alone the burly defensive-tackle-ness Ryan Van Bergen operated at in Hoke's first season in Ann Arbor, the over looked a lot more attractive.
I mean…pick one [Fuller]
Beyer's actually a great fit for the end spot now. He's got the quick hands and size to defeat a ton of tight end blocks, and he's agile enough to drop into a short zone for a zone blitz chance of pace. When opponents go spread, he's performed ably against tackles in one on one matchups where he's supposed to hold the edge. It was just the doubles he really suffered against last year. Meanwhile, the roles of the other three guys on the line don't really change that much. Clark picks up some extra run support, but he's big and experienced enough for that.
I don't think Ryan is going to be particularly effective at MLB, but he's at least approximately the right shape and size. That could not be said for Michigan's projected front seven in the under.
Ace left out a potentially key guy that makes me feel better about things: Maurice Hurst. The redshirt freshman was underrated as a recruit and impressed a bunch of people this spring. He has that first step that Mike Martin did, and while he's not the slab of muscle Martin was, he promises to be tough to handle.
I'll also disagree with Ace about the duration of this change: I think it's a one-off based on their defensive ends. The chances Noah Furbush sticks at MLB are minuscule... but once you start eyeballing him as Jake Ryan 2.0 things make a lot more sense. With Poggi, Godin, Strobel, and Wormley around you're going to have a set of upperclass DE/DT types who make a ton of sense as an under SDE. Mattison clearly has a preference, and a dollar they pop back to it next year.
------------------------------
BiSB: You guys covered it pretty well. It's adds a little bit of uncertainty with Michigan's best defender in the name of eliminating a known weakness on the line. The one data point I would add in Ace's favor is Jared Wangler, SAM linebacker. 
Big picture, though, I don't know how big a deal this is. Michigan spent quite a few snaps in an Over front in the last couple of years anyway.
------------------------------
Brian: There's being in an over *front* and being in an over *defense.* An over front still has SAM Jake Ryan. An over defense has him at MLB. Michigan aligned mostly to field last year, which put them in a number of over fronts, but this is a different ball of wax.
------------------------------
BiSB: It makes a big difference in terms of personnel, especially for position switchers like Jake Ryan and to a lesser but non-zero extent James Ross. But this isn't a re-invention of the wheel, and shouldn't be a terribly traumatic transition.
------------------------------
| Formation | % of plays |
| --- | --- |
| 4-3 Under | 22% |
| Regular nickel | 21% |
| Nickel over | 15% |
| 4-3 Over | 13% |
| 4-3 Even | 12% |
| Heavy stuff | 5% |
| 3-3-5 | 5% |
| Okie | 5% |
| Dime/Prevent | 2% |
Seth: You guys just hit on it. Here's Michigan's formations in UFR last year (through Nebraska game)--->
They ran their "base" thing less than 1 in 4 times. Those "nickel over" things from memory were oft something Michigan was forced into by the offense's formation, i.e. a nickel with 4-3 personnel (Brian charted them as 4-3 nickel over).
The over and even formations wound up being more common than the base because opponents saw what Michigan was trying to do and said "let's make Jake Ryan a Spur (or HSP) or a defensive end, then attack the young middle linebackers in space." So rather than be a 4-3 under that opponents will continuously force into being something else with the wrong personnel, Michigan's just going to line up with the right personnel.
You have to be constantly evolving in this game, both to your own talent and to what opponents try to do to you. I'm for this, even if it puts Jake Ryan in a position where he can't be JMFR anymore, because nobody but Minnesota last year let us do that anyway.
It does put some guys in bad spots, specifically Tom Strobel and Matt Godin, two tall dudes who were evolving into useful 4-3 under hybrid DE/DTs, (or to simplify, 3-4 defensive ends) and now seem to be caught between not being tackle-ish enough for the "3-tech" of the over, and not being end-ish enough for the ends.
Except I doubt Michigan has scrapped the thing they've been doing for three years and the thing Mattison knows best. That's why I'm not even thinking about the young LBs who were recruited for this, that, or the other spot in a 4-3 under. No matter when or how far the pendulum swings next, Michigan should have the talent to adjust without massively changing who they are, and that's pretty much what this is.