This Week's Obsession: How Borges is Nuss?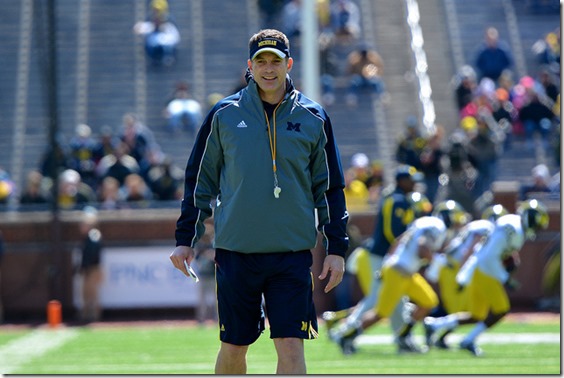 Fuller
Question: Did you notice any appreciable difference in the Spring Game between the Borges offense and Nussmeier's? What are hoping to see by fall, and do you think they appeared to be heading in that direction?
Ace: Well...
I might not be very useful in this roundtable.
--------------------------
Brian: Well... it wasn't much different in person.
And the stuff they did show was the usual vanilla business that is designed to be as basic as possible, so I'm not sure there's a whole lot to glean. It looked a lot more compact than last year's offense, sure. All spring games look compact as the bells and whistles are stowed away for use on a two-point conversion in the bowl game after you're down one billion points.
Michigan did seem to have a dedication to the inside zone with a side of power, and the linemen seemed more focused on making sure the defensive tackle was good and beat up before trying to get to the second level. That led to a lot of runs that made it to the line of scrimmage (hooray!) and didn't get much further. And that's fine. You don't dig out of a hole as big as the one Michigan's in quickly. Michigan looks like it's going to be mostly an IZ team that mixes in power to keep opponents honest, and as long as they look like that through the nonconference season and don't start flipping people about all willy-nilly, that is the first step towards competence.
So that's what I think we'll see: a boring-ass offense that tries to keep errors to a minimum and punts a lot. People will complain about its predictability and simplicity and they'll be right. Michigan doesn't have much choice, unfortunately.
--------------------------
Seth: It's impossible to compare Borges's Michigan offense to anything, because Michigan's offense wasn't anything under Borges for more than a few games. The three things I was looking for were 1) personnel, 2) a concept, and 3) how well those things could complement each other.
If you flup this up, Doug, so help me Bo…
Personnel was heavy, which was discouraging. For one Michigan has little in the way of tight ends. I didn't see anything from A.J. Williams, who was behind Heitzman, or Khalid Hill, who was behind Houma, and that was discouraging for hope of TE production before Butt's back. Houma is a fullback who lined up at the U only to motion back to fullback.
The operating theory on the OC hire was that Nussmeier at Bama was forced to use heavier formations than he wanted, however that compromise came down to 65% of snaps with three or more receivers:
| Team | Big | 2 WR | 3 WR | 4 WR |
| --- | --- | --- | --- | --- |
| Bama (Sugar Bowl) | 3% | 31% | 58% | 7% |
| Michigan 2013 | 8% | 54% | 29% | 9% |
| Mich 2011-'12 | 7% | 41% | 43% | 9% |
| Mich 2008-'10 | 1% | 7% | 76% | 15% |
Eyeballing it, the spring game was closer to Michigan in 2013. If there was a difference it was more Ace as opposed to I-form, but that's less relevant because those second TEs were usually Houma and Kerridge, i.e. the fullbacks. There's a fear shared by every Michigan fan with a functional nervous system that the run-and-shoot-yourself-in-the-face offense under Borges was, despite protestations to the contrary, a mandate from the top. If Nussmeier compromises for Hoke more than he would for Saban, well, that would be insane. If that was all just a bunch of spring practice hooey, well, why are they spending spring practice on hooey when every countable hour is precious?
Great scott Doc, this is too heavy. [Fuller]
On the upside, there was a concept. The running was mostly zone, with some power mixed in only because you need to pull somebody to sell play-action. The passing game was a slight departure from Borges, who used a lot of 5-step patterns last year. These were 7-step patterns with an outlet, matching what we saw from Nussmeier at Alabama. The difference here can be overstated; Borges used lots of longer routes with Denard but went to the quicker stuff in 2013 because he couldn't get protection to last longer than that.
How do I feel about that? Well it fits the receivers' abilities. There's no Gallon to turn every 7-yard cushion into an easy 5 yards, but there's Canteen and the Funchise and lots of leapy things who can reel in a desperation heave. I have serious doubts the offensive line can hold up that long, but that's why there's an outlet. On the play I drew up it was Funchess running what appeared to be an option route; with Alabama it was usually an RB.
Zone is good. It's what Funk knows, it's easier to teach to young linemen, and we've already established his charges' total inability to pull correctly. My guess is the tight ends are in there because the OTs need help, though any time you have Heitzman/Williams/Houma in there instead of Chesson that's a talent downgrade.
I think the great hope for an offense that can finish in the top half of the conference is Gardner. I think Nussmeier is building an offense that is simple for everybody but him.