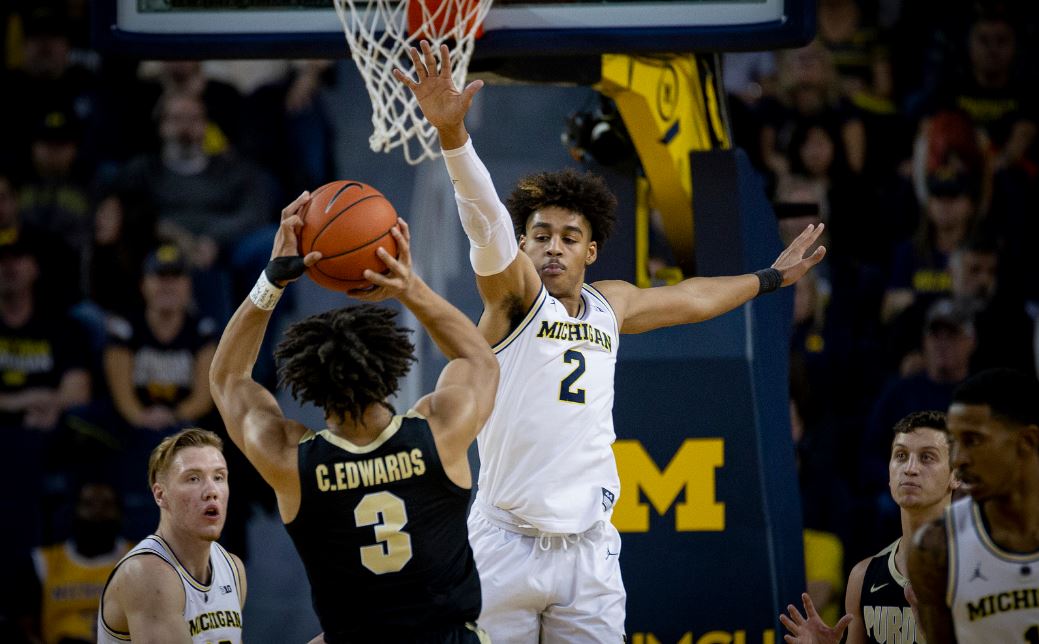 This Week's Obsession: Expectations are Back There
The Sponsor:
It's Nick Hopwood, our MGoFinancial Planner from Peak Wealth Management. If you haven't listened to Nick's podcast,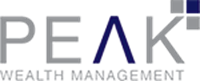 Finding True Wealth, yet, head over there because his latest episode is an interview with our own Brian Cook about the past and future of MGoBlog. Nick also has a neat new tool which has a different spin on figuring out which level of risk is appropriate for your portfolio in these volatile times.
Legal disclosure in itty bitty font: Calling Nick our official financial planner is not intended as financial advice; Nick is an advertiser who financially supports MGoBlog. MGoBlog is not responsible for any advice or other communication provided to an investor by any financial advisor, and makes no representations or warranties as to the suitability of any particular financial advisor and/or investment for a specific investor.
-------------------------------
The Question:
Why is this team exceeding expectations?
Ace: Just wait until Jordan Poole gets goin— oh, I see.
Seth: 1/1 Charles Mathewses agree: this is not a good development.
Lol @ Matthews pic.twitter.com/KyIzBq3Lwm

— Mike Persak (@MikeDPersak) December 1, 2018
Ace: We can start with the obvious: Michigan had one of the best defenses in the country last year, upgraded on that end at the four and five spots (and arguably the two as well), and also moved into year two of Luke Yaklich's teachings taking hold. Now it's the best defense in the country by a significant margin so far this year.
This is very much Zavier Simpson's team. Matthews', too.
BiSB: To the defensive question, we didn't know if Iggy could play defense. Turns out... yeah, very much so.
Brian: His first real test is "hey, check Eric Paschall with zero help defense" and that goes spectacularly.
Seth: Let's not leave out 7'2" Zavier Simpson.
BiSB: Big Trogdor?
Ace: I meant in terms of temperament. Jon Teske is clearly one of the main reasons this team is so good. He's a defensive savant. It's not just that he can block shots, he's almost never in the wrong place, his hands are great, and he moves surprisingly well.
BiSB: His foul rate is also insanely low.
Brian: Michigan's two point D is stunning and it is most stunning when The Big Sleep is on the floor. 31%!
Ace: (pulls out bullhorn)
AND HE HITS THREES NOW!
[After THE JUMP: Florida gets mentioned once. Also Duke.]
--------------------------------------
Brian: He challenges everything without fouling, his hands are disruptive, he's able to check guys he absolutely should not be able to on the perimeter. Here's an excellent breakdown of Michigan's offensive performance against Purdue featuring a billion drives past switched bigs.
That does not happen to Teske, like, ever.
Ace: I was going to post the other excellent breakdown video that hit Twitter in which Beilein's adjustments are shown.
It was evident yesterday that Beilein and Painter have coached against each other 22 times in the last 12 years. Awesome chess match: pic.twitter.com/JWLxLELZN8

— Jordan Sperber (@hoopvision68) December 2, 2018
Teske's ability to pop out and hit outside shots is going to be huge. It was last weekend.
Also that video is hoops geek porn.
Seth: I can't state how much I loved that tweet. I feel like I became basketball smart in 280 characters.
Brian: It changes the game further. Also we should not neglect Teske's paint screening ability. The opening bucket against the Boilers was Michigan action that got Iggy an unbalanced defender he drove past, but the 7'3" windmill wasn't able to get to the hoop because Teske felt what was coming and moved to box him out.
BiSB: Simpson uses that seal once or twice a game.
Seth: To bring the Teske bit back to the question: This was our HOPE not our expectation for him right?
Ace: He's the perfect center for this team, no disrespect to Moe Wagner. This team is downhill oriented in a way none of Beilein's teams have been previously. Teske makes a real impact on both the initial screen and that tricky rescreen he'll bust out. Simpson needs that, and it sure helps Matthews/Iggy get to the rack too.
I had very high Teske expectations and I'd say he's still exceeding them.
BiSB: Imagine you brought You-From-2016 to the future and showed him this team.
Ace: Like, right after the Maverick Morgan game.
BiSB: I would probably wonder how John Beilein was doing in the NBA.
Ace: I'd be legit dead.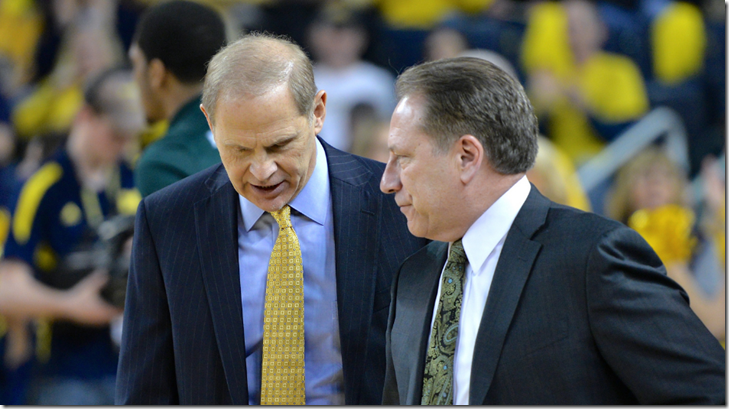 Not that I'm trying to steal your job, Tom [Fuller]
Brian: I spent much of last year saying Michigan wouldn't take a step back without Wagner. There's evidence and everything:
By the end of the season Michigan's offense was actually slightly better with Teske on the floor after February 1st. EFG, TO rate, and various other factors remained static; FT rate dropped a lot and OREB rate rose a lot. That's about 300 possessions—five games worth—against top 100 opponents. It's not nearly enough to declare anything but it certainly suggests that Michigan's offense can survive in the post-Moe era. It'll get tougher without Wagner since teams will be gameplanning for Teske and not focusing so much on pick and pop, but that's what team-wide offseason improvement is for.

If the rest of the team can pick up the usage slack, Michigan won't miss Wagner much. Moderately large "if."
But even my absurdly optimistic self was way short.
Ace: The defense honestly hasn't surprised me as much as the offense? I thought it would take longer for things to click. This is kinda what I expected the final form to look like.
Brian: Yes. This was a D that was #3 last year shedding Duncan Robinson and Wagner and getting their three best players back. The offense was a much bigger concern.
Ace: Iggy being insta-awesome changed the outlook a lot.
BiSB: The pick and roll game has been the best since, what, Stauskas? Morris?
Ace: Stauskas. Dude rained threes off of those. Wait. Let's not discount Walton/Wagner. Unless we're eliminating pops.
Brian: Well when's the last time Michigan had a point guard who was healthy and experienced? Late Walton was great but he was not right for a lot of his career and before that Michigan couldn't get a guy to his junior year.
Ace: Simpson sees the floor as well as any Beilein PG since Morris.
Brian: 13 A, 2 TO vs UNC and Purdue.
Ace: It makes you wonder what Trey Burke's A:TO would've looked like as an upperclassman.
Alex: I thought the ball-screen game last year with Wagner was better because the latter was so good at reading the defense and adjusting - slips, pops, and rolls.
Brian: I think Teske's just as good but in more subtle ways. He's a large reason that Michigan's able to get to the rack so consistently with no one providing help.
BiSB: And to Ace's earlier point, there are still Thanksgiving leftovers in the back of the fridge. This clicked EARLY.
BiSB: Debbie Downer Caveat: there's the potential for some recency bias on the shooting stuff. They shot like Sparty against a 2-3 zone for the first couple of games, on stuff that was pretty opponent-independent.
Brian: I don't think they're a 43% team like they've been since but neither are they a 20% team or anything like it. Zone is the looming question though that's correct.
Alex: I think people generally expected that Teske would be an adequate—if very different—replacement for Wagner. Matthews has gotten better, Simpson has gotten better, Poole is still adjusting but he's just played two great games against good teams and when he's hot Michigan is unstoppable.
BiSB: It's hard to see Charles Matthews shooting 50% from deep, just like it was hard to envision Jordan Poole shooting like 8% with a billion turnovers.
Alex: This may not be a 37% shooting team from three but it's not gonna be < 33% like some of us (read: me) feared.
Seth: I wonder if Charles Matthews has found his stroke. He's not going to be 50% but I like him so much more now that he takes and makes threes in rhythm instead of driving on them.
Ace: I don't think Matthews is gonna be much more than a ~33% shooter from deep but he doesn't need to be better than that. He's at 29% right now.
Brian: He's hitting 69% from the line since the 0/5 start. I think there might be something to that. He can get to 33-35 maybe. His FTs improved a little last year too. I think he's leveling up as a shooter, slowly.
Ace: Obligatory "nice."
Alex: Just needs to hit open shots.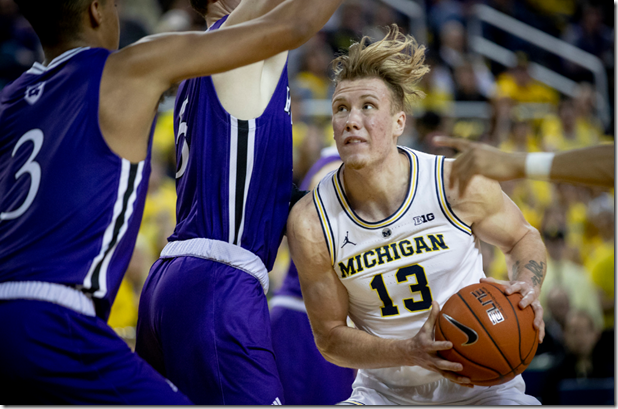 And first in hair. [Marc-Gregor Campredon]
Alex: As for why this team is exceeding expectations, the single biggest reason to me is Iggy. He's Michigan's leading scorer and legitimately a good defender. Had we known he'd be this good this fast - say, if he were a top 5 recruit - the expectations would have been much higher.
He's fourth in Kenpom B1G POY right now, by the way.
Brian: And... he is, right? If you re-rank his class right now he's top 5. For college anyway.
Alex: Top 5 best college freshmen, sure.
Ace: Maybe not for NBA purposes but certainly for college, yeah.
Alex: To your point on the podcast, not the 5th best prospect but he's 20 and dominating high-major college hoops on both ends.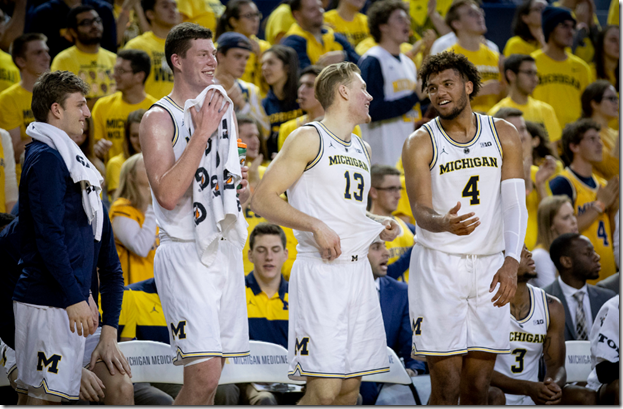 [Campredon]
Alex: Livers has been quiet these last few games but he's 50% from three and a very good backup center. Not sure if anyone saw either of those things coming. Beilein even drew up a few looks for him against Purdue (one at the end of the first half comes to mind) and those were plays designed for a Duncan Robinson-type shooter. If Livers can be that and play three positions well defensively...
Brian: He really really wanted to take that three, which is nice to see.
BiSB: He's also getting to some of those shots that he seems unusually efficient at, like the lane fadeaway.
Ace: He also drilled a corner three over a closeout against UNC on a shot he never would've attempted last year.
BiSB: And the turnovers are down, too.
Seth: When is the last time Michigan had a sixth man of the year candidate?
BiSB: Last year?
Ace: …last year.
Alex: I think Robinson won it.
Brian: Livers's versatility is another excellent bonus. He makes the seven man rotation go because you can bring him in at any of three spots, and he can defend it.
BiSB: Over JJJ, even.
Brian: His usage has ticked up a couple of percentage points and he's chipping in D stats along with the shooting. I don't think he's going to be a guy who attacks the basket much but as a swiss army three-and-D guy he's great.
Ace: That versatility runs across the whole lineup and that's huge when, at least for now, they're running out a seven-man rotation. Livers can play three spots, Matthews can play (or at least defend) three spots, Poole can cover two (or even three), Eli Brooks plays both guard spots…
BiSB: Another nice part about Michigan's low foul rate is that Beilein gets to pick and choose his spots more with Livers at the 5. He hasn't had his hand forced often.
Alex: Livers does all the little things on both ends too.
Ace: It's a seven-man rotation that functions like it's got nine or ten guys, except the back end is still the good players.
Brian: Yes.
Ace: And not, say, Ben Carters.
Alex: I think Austin Davis probably deserves to play but with Livers doing so well in that role, he might not be playing a whole lot unless Teske is in foul trouble.
BiSB: I'm a liiiiiiittle concerned about Big Man depth...
Alex: Which... it's really remarkable that Teske doesn't foul much given that he's contesting everything and going for steals.
Seth: I don't think we should have expected Castleton to be contributing in the 2018 portion of this season.
Ace: Davis should be fine, and if he's not, they can cover for that with Livers and potentially emergences from Brandon Johns and/or Colin Castleton. Beilein's had plenty of freshmen break into the rotation late.
Brian: Davis seemed fine in small bursts last year. He's probably all right. Ward went right at him late in the first half at MSU last year and he defended that just fine.
Michigan's played a lot of teams where Livers makes more sense than Davis as the backup 5: Nova, UNC, and Purdue all feature small-ball Cs for large minutes.
slackbot: stupid ginger
Ace: Other things that can click into place:
The patented late-season freshman emergence (Castleton, perhaps?)
Poole playing every week like last week
More effective offense from the small ball lineup
Teske pounding the offensive glass like last year
BiSB: So... I mean... are there ANY concerns?
Alex: Davis is probably a perfectly fine replacement-level backup big.
Ace: Free throws.
Brian: Zone offense.
Alex: Bad three-point luck. I really don't think I'm crazy for thinking that this is a 30-win team.
Ace: I don't think you are, either.
Alex: They're #1 in two-point defense. #1 in preventing free throws. #17 in preventing threes. Your floor is so high when that's the case.
BiSB: KenPom has them as a 26-5 team before any postseason stuff. Sooooo...
Ace: They're up to a 27-4 projection on Torvik and are favored in every. single. game.
Brian: Kenpom still has more pessimistic preseason numbers baked in, too.
Ace: That's the crazy thing! This team was in the 20s-30s everywhere preseason.
Seth: It's nice that the Big Ten proved itself a top three conference in the nonconf portion. You can take 4-5 losses in conference and be a 1 seed still as long as UNC and Nova don't turn out to be bad.
slackbot: stupid ginger
Ace: And we seemed to be the only people who thought that was batshit.
Alex: My biggest concern is depth. If one of the main seven gets hurt, you're playing guys who are very clearly not ready.
Ace: MSU: preseason Big Ten favorite, everywhere.
Brian: I think someone will emerge over the next month or two, probably DDJ.
Alex: He's surely getting hazed by Z every day in practice.
Ace: I feel like he gets blocked by Brooks. I honestly think every other freshman has a more obvious fit into the rotation.
Brian: God, being a freshman Beilein PG against Z has to be a private hell.
Alex: Get ready for the BTN Journey piece about how Z molded him into a killer when he wins the B1G POY in a few years.
Ace: That part I don't doubt.
BiSB: But with a little twitch that say, "no for real I still wake up screaming about that guy"
Alex: None of the freshmen besides Iggy have looked anywhere near equipped to handle a five-minute stint in a high leverage situation.
Ace: I wouldn't sleep on Adrien Nunez. Team could still use a shooting boost and the one thing they don't have is a backup two who's not really a PG. It's still way early, Alex.
BiSB: Johns looks bouncy
Alex: The end-of-the-bench blowout variety hour has been so disappointing!
Ace: I don't think any of them were expecting to see the floor against, say, Villanova.
BiSB: Castleton's usage is 47%. Just wanted to mention that.
Alex: That was intended to be tongue-in-cheek
Brian: Most of those minutes are against weird junk zones and I don't think mean too much.
At the open practice it felt like Johns and DDJ were the guys who were getting you might play attention, FWIW.
Alex: Yes it's the clumsiest basketball this side of the IM Building but even though those guys are all highly touted, I would be surprised if they didn't have major growing pains if forced into action.
Brian: The reason I push DDJ is that if Michigan does get stymied by some zones I want the off the dribble three shooter. But the points against him are good ones.
Ace: I'm less worried about zones because this team can shoot okay on spot-ups, they've got multiple great drivers, they move the ball well, and they have several players who could operate out of the middle of a 2-3. That Matthews FT-line game would be a killer.
Brian: This is me trying to patch a stress fracture in an aircraft carrier, I admit.
BiSB: Iowa has finally been playing more zone.
Alex: As for potential 2-3 issues, shooting is always a concern there. But like Ace said, there are guys who can play well in the middle. Teske and Livers come to mind.
Ace: It's hard to dial back the optimism right now, I know.
Alex: Not many 7-footers out there who are more inclined to pass than shoot.
BiSB:
Ace: Also: Beilein is a wizard. People forget that. Somehow.
Brian: Michigan did do better against zones vs Providence.
Alex: I think Z's work on offense has been broadly underrated.
BiSB: When wild optimism is the most reasonable level of expectation, I get nervous.
Ace: It's ever harder when last year's team is used as a point of comparison.
Alex: He's the second-best distributor in the Big Ten behind Winston and he's not turning it over a whole lot. Has a good sense of when Michigan needs to push the ball following a bad shot or turnover. And like y'all have said, his work in the ball-screen game has been strong.
Seth: Z and Teske are two of the best defenders in the league AND they don't turn it over.
Ace: That should be emphasized, especially since both also somehow manage to avoid getting into foul trouble despite being so active. There's so little margin for error already against this team and then they never give you the ball in the open floor. UNC never got to run.
Alex: Michigan's well-coached on that end obviously but Z, Matthews, Teske is a hell of a core to build around if you want to have a good defense.
BiSB: No regular rotation player is above 3.1 FC/40 minutes
Brian: Yeah, that's another thing that makes me optimistic. Some of their tougher opponents are very fast and that just doesn't work against Michigan. MSU, Iowa, and Indiana are all around 50th in offensive tempo.
Seth: Or very three-reliant.
Alex: Nothing works against Michigan.
Ace: Seeing a team that leans on transition offense is like when we saw teams that relied on press defense. It's gonna be a murder.
Alex: Unless a team somehow goes 10-18 from three or something—but there would have to be a lot of tough makes there.
BiSB: Maybe trash-talking Michigan will help. Rattle them, ya know?
Ace: I feel like I remember every open three-point look they've given up this year.
Seth: Most of them were against Purdue's short bald guy?
Ace: Yeah, it's shocking each time.
Brian: oblig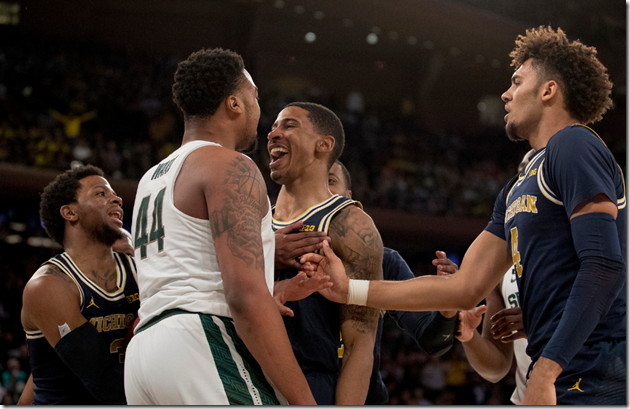 [Campredon]
Alex: Feel like many / most have come off of offensive rebounds - which, that happens.
Brian: Cline got some open ones on missed rotations, but they were so heavily on Edwards that'll happen. I like that Michigan can go from a no help D to a heavy help D.
Ace: Teske got a little too deep into the paint once or twice against balding stretch big, but that'll happen too, and he didn't make them pay. The no help D strategy is great. Everyone except the point guard can contest shots at the rim even after getting beat by a half-step. Meanwhile, drive-and-kick isn't an option. There have been so many instances of guys getting caught under the hoop with no good option.
Brian: Should I mention that I think recent rule changes have made officiating much more predictable and less infuriating? Like, the verticality stuff is great. Guys aren't getting called for the O initiating contact nearly as much.
Ace: I've really enjoyed that the changes have come in tandem with Michigan going for more blocks and fewer charges.
BiSB: "Hook and Hold" stuff has gotten headlines, but that's overshadowed a general reasonableness that seems to have taken hold.
Brian: The charge stuff was good and necessary. Hook and hold is being misapplied; it's supposed to be about trying to bait a foul call and instead it's getting called on everything.
Alex: It's just mind-boggling that Michigan can play this good of defense without fouling much. Like Z gets away with a lot, but otherwise it's a lot of just staying in front and staying vertical.
Ace: Excellent individual defense across the board.
BiSB: I've been a little disappointed with some on-ball defender blocking calls. Guys in legal guarding position getting plowed in the chest.
Seth: The Iggy one is the only one that stood out, and it was so bad Dicky V was mad.
Alex: Also, a fun game is to rank Michigan's best defenders: Teske, Z, Matthews, Livers, Iggy, Poole, Brooks? Everybody on that list is good!
Ace: That'd be my order. Brooks is the only one I get even a little concerned about. Biggest concern: analysts have started really talking up Yaklich.
Alex: And the median player is extremely good in whichever order you want to put them in.
Brian: Any order for the top three is defensible really.
Seth: In a "normal" Beilein year Poole might be #1.
Ace: They got bounced from the tournament two years ago because they couldn't stop any isolations and didn't have anyone they could insert to stop them.
Brian: God that Oregon game. A different world.
[Campredon]
Alex: There was one play against the sad frenchman that really stood out to me. He was wide open on the roll and the guard found him. Going in for an easy dunk right? Then all of a sudden, JORDAN POOLE OUT OF NOWHERE CONTESTING ABOVE THE RIM AND NOT FOULING.
Brian: Poole also leapt out of nowhere to force Edwards into a tough fall-away. I admit that I was concerned about Poole's attention to detail hampering the D but that does not appear to be the case. This was based on nothing other than his outgoing charm, and is soundly defeated.
Ace: I think with Poole sometimes we assume his off-court goofiness will carry over to the court but he's locked in.
Seth: A man with a baby-carrier looks adorably sweet until you threaten the thing in the baby-carrier.
Alex: For me I thought that it was more that players who fit his archetype usually don't defend. Turns out that he does.
Ace: THIS MAN BESMIRCHED YOUR CAT, JORDAN.
Brian: That's an area where I think intangibles exist. There are teams on which Poole is a bad defender. They are teams without Zavier Simpson.
Seth: Conversely if Yaklich had been around when Stauskas was here...?
BiSB: So moving back to the front of the line, Teske guarding Nassir Little on the perimeter puts him at the top for me right now.
Alex: I'm old enough to remember when Michigan's bigs would reflexively assume the charge position on a drive instead of putting their hands up. It's a whole new world now.
Ace: That and "Jon Teske mirrors Nassir Little and forces a badly contested brick"… yeah.
Alex: I can't imagine telling 2014 me that Michigan basketball would be the type of program where you won't play unless you can really really defend.
Ace: Yeah, you don't get to slack off when everyone else is playing their asses off. I wouldn't want to cross X or Matthews.
Brian: The defensive coordinator idea was a good one and Beilein executed it perfectly. Found a small school doing work on D, interviewed some guy he'd never heard of for hours, hired him.
Alex: Turns out that Beilein found a reflection of his past self but instead of that guy being a detail-obsessed offensive savant, he's a detail-obsessed defensive savant.
Yep.
They're even both former high school history teachers, which is great.
Brian: i wonder if Beilein keeps trying to adopt Yaklich and he says "I am an adult"
Alex: I'd listen to a 45-minute pod of them discussing Antietam or some such shit.
Brian: lol
Ace: Needs to get rid of the damn-near-a-bowl-cut to stop Beilein from doing that.
Seth: "I'm not your Hadrian, John!"
Ace: But I trust any basketball coach who looks like he cuts his own hair on the way to the arena to watch film.
BiSB: We may have to prepare the Money Cannon if this keeps up.
Ace: Like I said, biggest concern.
Brian: I'd coach-in-waiting him if it would help.
BiSB: "EVERYBODY GUARD SOMEONE"
Alex: Maybe it would be best for us in the long run if he got a head coaching job this offseason, proved he could run a functional offense on his own, and then was ready for us post-Beilein.
Seth: Of all the Brazdeikis facts they toss around in the 30 minutes of every game this year that's been blowout time, the one that still shocks me the most is he looked at schools that played defense and that's how Michigan came up.
Alex: This team is so good that I'm willing to interpret bad things as potentially good things.
Brian: I'm perfectly content hanging on to him for another five years and not interviewing anyone else.
Ace: But I want four straight national titles, Alex.
Alex: This team could win one.
Ace: This is a squad so good it'd be reasonable to be disappointed if they missed the Final Four except that it's a kinda random single-elimination tournament.
Alex: Seriously. I feel like I generally lean towards pessimism but my only gripe is that they didn't annihilate Holy Cross by enough or whatever.
BiSB: Hard to lose if the opponent is down 17 in the final possession, tho.
Ace: I want three banners, minimum.
Seth: I want Duke.
BiSB: So... no one wants to talk about playing Florida again?
Ace: