This Week's Obsession: Dining in Ann Arbor
The question:
Best food in Ann Arbor (by category)
----------------BEST DRUNK FOOD------------------
Seth: Genesis of this topic is I just finally had BTB and oh my Gawwd..
BisB: I was there when BTB went in. So many drunk decisions.
Seth: In my day there was an Italian restaurant there that we thought was a front for the mafia. If you actually went in you got wet noodles and ketchup. I think I am the only person I know who was dumb enough to go in there.
Brian: BTB is good, don't get me wrong, but it doesn't strike me as an Oh My God kind of place.
The strip with Coach & Four and Spots and Pizza Bob's etc. was missing its best part when I was in school.
BiSB: Imagine yourself as 21 and HAMMERED
Seth: They do everything that a burrito should do, and it doesn't fall apart on you or have any bad bits of chicken like you get at Chipotle etc.
Brian: I'm impressed that their cheese tastes like something.
Adam: Their cheese is honestly the reason I keep going back. a steak quesadilla is steak that tastes like steak and like a pound of cheese. so dang good.
Ace: BTB is wildly overrated. I stopped going in college because 1/3 of the time they'd somehow manage to serve you a room-temp burrito. It's good when you get the timing right, though.
BiSB: I suppose things may have changed since I stopped going to BTB, which was...
/checks watch...twelve years ago.
Ace: My perception may also be affected by BTB opening when I was in high school and we had open campus lunch. Long-term ODing may have been a factor.
Seth: So if not BTB where should one go for drunk food?
Ace: NYPD was a go-to for me. Right area, pizza by the slice.
Seth: That's not even drunk food. That's good pizza.
Ace: What is good pizza if not drunk food?
Seth: Surviving thirty-six hours straight at the Daily food.
Adam: Most of my drunk food came from the place I was already at. Ashley's stilton fries were an undergrad highlight.
Brian: Tomukun. It's right next to campus and purveys enormous bowls of electrolyte-laden broth. It appears everyone already knows this because whenever I walk by it late at night it's packed to the gills.
Ace: That opened after I graduated. We'd do Blimpy Burger as hangover food because of the absurdly high grease content.
Brian: We're so out of our depth here.
Ace:
Brian: All livin' in their North Quad watching four televisions at the same time.
/shakes fist
Anyway, moving on and changing some of the categories:
[after the JUMP: dinner, bbq, lunch, Asian, alcohol, overrated deli, hipster Big Ten trophies]
----------------FANCY-ASS DINNER PLACE------------------
Ace: I'm somewhat out of my depth on fancy-ass dinner spots but I've enjoyed when my parents have taken me to Logan during restaurant week.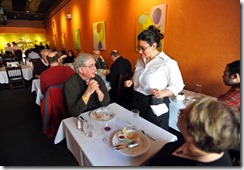 Logan wins.
Adam: Logan's my favorite fancy-ass dinner place. Fancy enough to include amuse-bouche, not so fancy that I felt out of place. Excellent cocktails, too.
Seth: I'm out of my depth too. When my parents came into town we'd go to Palio, which at the time had big enough portions to stretch a parental visit into food for a weekend. I may have eaten at the Gandy Dancer once.
Ace: We need to take more official visits.
Brian: Logan remains correct, but they haven't changed their menu much in a decade so I haven't been there a ton lately. Still love the fact that every dish comes with biscuits to sop up the sauce, and you will do that. Adam's correct that it's fancy but not pretentious: one of the desserts is just cookies and milk, and it is righteous.
Now that Eve is back it is also in the running. Hot tip for high schoolers on dates: go there, get the inspired nachos, split it, leave full for 15 bucks. My wife and I saw a couple execute this maneuver once and were blown away.
----------------BARBECUE------------------
Ace: I stopped going to Ann Arbor BBQ spots once I moved to Ypsi and discovered the soul food scene here.
-------------OKAY, YPSI THEN---------------
Brian: The best sit-down place is actually in Ypsi: Red Rock. Also Ace you could not be more deserving of your hipster hat than at this very moment.
Ace: Fair. Yes, that place is excellent. If you want to go in more of a soul food direction, Cuppy's Soul Food Bistro is so damn good, too. Cuppy's is the type of spot where you need to block out at least two hours after you eat to recover. They just started delivering and it's a problem.
Brian: Satchel's remains good for takeout and is very conveniently located on Washtenaw for impromptu tailgaters who'd like to avoid a sad Subway tailgate. I kind of wish the meat was more seasoned on its own instead of relying on the sauces, but they're all collagen-rich and the sides are on point.
-------MIDRANGE PLACE YOU MIGHT TAKE YOUR PARENTS--------
Ace: I'm a little biased because I grew up with one of the owners, but Spencer is a relatively new spot on Liberty that does wine and cheese and small plate stuff, and it's good enough that I maybe should've mentioned it in the fancy-ass section. But it's a pretty casual place.
Brian: I haven't been there yet.
Ace: Given how much you like cheese, I'm quite surprised by that.
Brian: /giphy infant
Ace: Eh, just give him some wine, he'll go right out. I'd be an awesome uncle, obviously.
Brian: For me this is still Red Hawk. It's American to the core and won't give your parents the heebie-jeebies because it's got harissa on the menu, and they occasionally put out something terrific on their specials. One of the key midrange American inflection points for me is fish and chips and theirs is excellent.
Adam: Sava's is a place where you can't go wrong no matter the time of day. I've yet to have a sandwich there that hasn't exceeded my expectations, the mac & cheese is incredible, and the entrees rotate frequently enough that you can go a few times a semester and find something new to try. I've only been there for brunch once but it was great and the options plentiful.
Ace: My only issue with Sava's is people confuse it with Seva's and then you've got a dinner group that shows up at two different places.
Brian: I was saving Sava for another category; it fits here but it's much more inventive and interesting than a generic bistro. It's my default "some reporter from the big city wants to talk" place now.
Ace: Humblebrag.
Brian: You know it.
-------------ASIAN---------------
Seth: Oh what was that place Heiko showed us?
Ace: Thanks to Heiko, I now know that the best Chinese food experience possible in Ann Arbor is to go with him to Chia Shiang and let him order off the menu.
Brian:
---ASIAN FOR PEOPLE WITHOUT A NATIVE SPEAKER IN THEIR GROUP---
Ace: Still probably Chia Shiang. I like that they go family-style with most everything.
Adam: My favorite is TK WU. All of their chicken dishes are great; if you want to get more inventive, though, there are plenty of ways to do so. I've gone both with and without a native speaker in my group and had similarly great results each time. You also get a ton of food when you order takeout, so it's one of my favorite places to hit on the way home after a presser.
Seth: I guess here I can mention my thoroughly unpopular opinion that sushi.come (or whatever they're incorrectly calling themselves right now) isn't all that. It's just they were the sushi place in town.
Ac: Sushi Town is a hidden gem on Packard. I ignored that place for a while because it had kind of a silly name and that was a mistake. It's run by a really nice family, they throw in extras once you show up a few times, and they roll the sushi right there while you watch. Solid hole-in-the-wall spot.
Brian: The aforementioned Tomukun survived the addition of a restaurant across the street helmed by a Michelen-star chef with its Ann Arbor ramen championship belt intact. (Slurping Turtle, the competitor, is also good.) They have pho, as well, and give you heaps of accouterments to go with it.
Seoul Garden is a very authentic Korean place that you need to be careful in: they will serve you something Western tongues interpret as inedible if you ask for it. Stick to the Korean BBQ, though, and it'll be awesome. The stuff they put on the shrimp is  indescribable and delicious, and the various plates of ban chan they give you are all incredible.
For sushi I like Yotsuba.
Ace: One more Ypsi shoutout: Yee Siang dumplings on Washtenaw. That my new go-to when I'm on the way home.
-------------CHEAP EATS---------------
not in Ann Arbor
Brian: So I want to say Hunter House here but I'm not sure. First time we went there: burger excellent, chicken fingers outstanding, hooray. Second: burger excellent, chicken fingers horribly mis-fried, boo. But it is very very cheap and I like their fully-cooked slathered burger approach better than Blimpy, which has a reputation for being cheap but is actually not at all.
Seth: Regarding Hunter House, as a Birmingham kid I gotta say just wait till you're out here and get the real stuff. Also the service was horrific there: They took 45 minutes in an empty place on Gameday, then forgot to make my order entirely. And the burgers are not even close to the same as the grand ol' Woodward whitebox I grew up with.
Brian: I think HH is an excellent concept the current AA management is ruining.
Seth: Far be it from me to criticize the spread of Detroit auto culture greasy spoons, but Ann Arbor deserves its own. (Also I'm going to take heat from my hometown here but Greene's is better.)
Ace: This won't help the hipster perception but the Banh Mi at *The Lunchroom* is delicious and under $10.
Brian: Also BTB, because they are the one burrito purveyor that has legitimately good cheese, and not the stuff that you cannot tell is in the thing.
Seth: Since Blimpy's is no longer actually cheap this is a good spot to put Franks, which I learned far far far too late was the best pancakes/diner in town. It's on Maynard, kinda opposite Nickels Arcade. I've never had to wait for a table, and it is better than decent diner food at affordable for college kids prices.
Brian: NYPD is a good candidate here too since you can go get a couple slices for five bucks.
Ace: Yeah, NYPD and Spots were my main cheap places in college. Is this where we talk about how Pizza House is both not cheap and overrated?
Brian: There's a "greek grill" place that's new called Mezes that will give you a pile of rice and veggies and gyro-style meat of your preference for a reasonable price and it's the closest thing to doner kebab AA has going right now.
Why do we lack doner kebab?
Adam: I'm partial to Mr. Spots when I'm on south campus. This may be a hot take, but I don't see what makes their wings special. Love the philly steak, though. Ginger Deli is great if you're looking for banh mi close to central campus. It's relatively new and just a walk-up counter, but it's good enough that not having a place to sit doesn't matter. If you go, try the summer roll, too.
Brian: Pizza House is open until 4 AM and occasionally people touch Ace's nipples there, so it's good by me.
Ace: That was Dominick's.
Brian: it can be both
-------------ALCOHOL---------------
Ace: Smooth transition.
Seth: The Ashley's The Ashley's The Ashley's! The Stilton fries were already mentioned above, the beer selection isn't perfect but casts a wide enough net that there's never a lack for something great. And then the underrated part: if you get a window seat there's no better people-watching in America.
Ace: A bit pricey, but man, Raven's Club does cocktails right.
Brian: They do. Unfortunately they had a chef transition and the food seems to have gone downhill big-time. Last time we were there it was difficult to find something to order and the pretty basic things we got were pedestrian or worse. It's depressing.
In a happier vein, Last Word is on that level when it comes to cocktails and the food is outstanding, especially for a place that very much feels like a jazz bar instead of a restaurant. The oxtail poutine and beignets are !!!
Adam: Ashley's is and always has been my favorite campus bar, but I'm not one for the oontz-oontz scene. Other favorites include Jolly Pumpkin (hello, Bam Biere) and Grizzly Peak.
Ace: Co-sign Adam's entire bit.
Brian: The nice thing about Ann Arbor is that you can walk in just about anywhere and they'll have two dozen Michigan beers on tap. Even the BWWs have a decent tap list.
Seth: Ashley's also wins for the Oxfordian professors and their favorite students having an INTENSE discussion on mathematics vibe.
Ace: Since we're talking extensive tap lists, I must bring up Sidetrack. So. Many. Good. Beers.
Seth: The burgers at Sidetrack too. Somehow Ypsilanti ended up with my favorite overall Ann Arbor restaurant.
Adam: I don't know many other campus bars besides that one. I found Ashley's and felt no need to explore further.
------PLACE YOU HAVEN'T FIT IN YET BUT NEED TO MENTION BEFORE WE CONCLUDE THIS--------
Seth: We can't leave Ypsi without mentioning The Bomber, named and themed for the Willow Run B-24 plant. That little diner managed to defeat both the Nazis and my worst hangover.
Ace: Cultivate, another Ypsi spot. Does coffee and beer, rotates taps of usually very good local brews, lets you bring in your own food, has a lot of cool events, and provides a more laid-back spot a couple doors down from Sidetrack. Oh, and they donate a bunch of their profits to various food-related charities.
Seth: You have your hipster cred back.
Ace: [dons hat]
Adam: Frita Batidos might be my favorite Ann Arbor restaurant. No recommendations are needed; pick any combination of things off the menu and you'll be happy. I'm having a pavolian response thinking about a chorizo frita and hibiscus batido.
Brian: Frita protip: get one side for the table.
Grange is a hipstery farm to table place but they serve a scotch duck egg so it's not that kind of hipstery farm to table place. They have gnocchi that are like putting little potato pillows in your mouth and feeling them melt away as you ascend into heaven. It's all right.
David: Bells has great Korean food.
Adam: I'm looking at Frita Batidos's menu right now and there's something called "the best snack ever" and I don't know how I've missed this but I implicitly trust that it's really the best snack ever.
Seth: I should shout out Wolverine State Brewing Co. as the new place to host an event. We've done several there since it opened, their basic lager is the best lager I've ever tasted, and their wait staff get mad at people who can't name at least five Michigan players whose names are a metal or made with metal.
Brian: Also I've been impressed with early returns on the new Pretzel Bell. It's very much a parents-weekend kind of place; they execute that very well, and everything has a pretzel bun. Those are great. They've also got a downstairs enclave in which your group can watch a sporting event in relative seclusion, which meant the local American Outlaws group used it as a base of operations for the Copa America.
Seth: Yeah the downstairs has a good vibe for a Friday night pub. Better than Conor O'Neill's, which is what we used to use for that.
Nobody mentioned Zingerman's and this is correct.
BiSB: Has anyone ever been to Zingerman's?
Brian: True story: the last four times I've eaten there or Roadhouse it's been outright bad.
Brian: But this is a topic for the…
-------------PLAYER HATER'S BALL, ANN ARBOR RESTAURANT EDITION------------
Seth: We ate at Roadhouse while thawing out post-Indiana last year, and discovered the soup is scrumptious.
Ace: Damn, already used my BTB hot take.
Brian: That is such a hot take.
Seth: Actually if I recall it was a luke warm take.
Ace: I would guess that I've probably been there four times as much as anyone here.
Brian: Ah, familiarity breeding contempt.
Ace: That played a part. People were obsessed with it when it opened.
Brian: I can't stand ABC. Their beer is bizarre and the granola-ass vibe of the place drives me nuts.
Ace: I'm now doing weekly trivia there and found the beer I'll order (Buzzsaw, for those wondering). It took some searching.
Brian: Blue Tractor is a dichotomy: they brew their own beer and it's excellent. Their food is a crime against barbecue.
Ace: For real.
David: I actually think the Blue Tractor burgers are pretty good.
Seth: I don't know if anyone else went to Leopold Brothers when it was open—there was a certain crowd, from which I had a girlfriend at one point, who swore that mankind's greatest achievement was having a warehouse with picnic tables, board games, and homemade gin.
Brian: Leopold's was incredible and I will fight you.
Ace: WHO'S THE HIPSTER NOW
Brian: if playing Settlers while drinking an enormous beer that cost like four dollars is hipster activity, give me the hat.
Ace: It's in the mail.
Brian: Also it no longer exists so...
Ace: womp womp
Anyway, for the student-centric joints, it always bothered me that Quickie Burger, which opened when I was in undergrad, only served burgers on tiny little wheat rolls.
They nailed the concept: burger spot on that corner, got an alcohol license. Forgot to make good burgers.
Brian: Exactly correct.
Seth: Here's some obvious advice for the kiddies: never, under any circumstances, go to The Fleetwood when you are any kind of sober.
BiSB: Agreed. Denny's (NTD) is superior in all ways.
Adam: I've never been to any of the places discussed in this section. Pretty sure it's just happenstance, but do I get the hipster hat now?
Brian: Is the Hipster Hat now a rotating trophy
Ace: Not going to the Fleetwood is very un-hipster.
Adam: I just want the hat.
Ace: You'll all pry it off my, uh, cold dead head?
Brian: does it even come off at this point
BiSB: Hipster Hat is the rivalry trophy for Michigan/Wisconsin.
humbly submitted
Seth: I'm not up on the hipster hat rules, but if having a strong opinion on a whimsical, no-longer-extant gin/board game establishment doesn't take the hat then I can name a jug that'll move before that hat does.
BiSB: Seth, we award you a Participation Mason Jar.
Seth: That's the Purdue/Michigan Trophy. Awarded because actually participating in that game again would be quite an achievement.
Brian: Anyway. if you like Zingerman's that's fine but please don't tell me about it. Or show B-roll during games. Or write up a NYT article about Ann Arbor's amazing food culture that never mentions anything but Zingerman's. Just please be quiet about your affection for what is, after all, a deli.
Ace: (The reuben is good.)
Brian:
--------------------------
scene