Wednesday Recruitin' Welcomes Allen Gant
I wrote a long intro for this post about how Michigan finally had a week without any commits, and Allen Gant just had to go spoil it. No complaints here, of course.
Allen Gant Goes Blue
OH S Allen Gant became the 13th member of Michigan's 2012 class with his public announcement on WTKA yesterday morning. The son of former Wolverine Tony Gant was the top 2012 player in Ohio as a freshman, but his profile has fallen off in the past couple years, thanks in part to injuries.
I'm not sure he's going to be able to cover as much space as would be necessary to be a highly functional collegiate player, even if he can thump his man when he gets there. Perhaps he's not done developing physically, but right now I'm a little skeptical of this offer.
Yikes. Maybe Touch the Banner can provide a little bit more optimism?:
The bottom line for his high school team is that he made the play, which is kind of the point of playing football. But when the receivers are faster and the quarterbacks are better, Gant won't be able to get away with plays like that
Eh, not really. For what it's worth, I've seen conflicting reports of injury over the past two years (with the sophomore hamstring issue confirmed), and a couple message boarders have stumped for his athleticism. For more on Allen, check out the Hello: Allen Gant post.
Who's Next?
There's one blindingly obvious option here, and that's because he has a commitment date already scheduled: NY CB/S Wayne Morgan will pick between Rutgers and Michigan tomorrow. He had originally planned to make his choice today.
There have also been some rumblings about CA OL Erik Magnuson. He recently named Michigan his favorite ($, info in header), and is visiting next weekend. If everything goes well, the trip to Ann Arbor could be just the first of many.
IL CB Anthony Standifer is visiting today, and although Michigan is at or near the top of his list, I don't think we should be expecting a commitment.
Buckeye Fallout
Rivals Michigan and Ohio State often pursue many of the same prospects, so it's no surprise that the ongoing Armageddon situation down in Columbus has some effect on Michigan's recruiting. The Sporting News caught up with IL OL Jordan Diamond:
"From a personal standpoint, Coach Tress was a great guy, we had a good conversation every time we talked. It's hard to say if I will change my thoughts about OSU because the opportunity is still there to play early in my position, but seeing a good guy like Tress leave is hard for any recruit to handle."
It sounds like this will damage OSU - but not too much - in his recruitment. SN also talked to OH DE Tom Strobel:
"What? No way. Well, regardless, Ohio State is still a great school. And I still believe Coach Tressel was a great coach and a great person. It was unfortunate that all this happened. My respect for him hasn't changed. I still have a lot."
Tom caught up with Strobel following his visit to Ann Arbor last week (of course, this was before the news came out):
"To be honest I didn't expect much going there, but then when I got there it was just an eye opener... I'm starting to narrow schools down now. Michigan's in the top with schools like Ohio State, Stanford, and Notre Dame. Academics are big for me."
It remains to be seen what will happen with Ohio State's spot on that list (they were considered the heavy leader previously). More from Strobel in the local paper.
Tom Lemming talks about the Tressel resignation's effect on recruiting.
OH RB Bri'onte Dunn is still committed to Ohio State "for now" ($, info in header). His dad told Tom that they've yet to discuss re-opening his recruitment, but several weeks back, there was mention of Dunn going back on the market if something catastrophic (I think this qualifies) were to happen to Ohio State - a bowl ban is 99% certain to come down, and that's a "big deal" to Bri'onte. Considering how different the news is than what's coming directly from the source, it seems like Dunn's high school coach is pushing him to remain a Buckeye.
OH WR Dwayne Stanford says this hurts Ohio State with him, and OH OL Kyle Dodson is "shocked," though he doesn't mention any impact on his recruitment (he'll narrow his list soon). More impact
Big Section for Big Dudes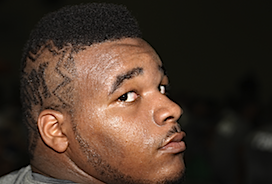 So, MO DT Ondre Pipkins, you've just won the Defensive Line MVP at the Columbus Nike Camp, what are you going to do next?
"I'm going to Disneyland pick up a ton of offers!" Ohio State and Oklahoma are among the recent entries to the Ondre Pipkins sweepstakes, though until further notice, I'd assume the Wolverines and Spartans have as good a shot as anybody.
Allen Trieu gives his take on Pipkins from the camp in a free Scout article:
We knew he was good, but I don't think anyone expected the big man to be as dominant as he was. At 6'4, 322-lbs, he showed power, quickness, and all the makings of a big time defensive tackle. As I said before, he can play for anyone in the country and his offer list is starting to match that. We had limited film on him before, so he was ranked conservatively, but I think a big jump is possible for him.
5-star is probably out of the question for now, but it's sounding like he'll come damn close next time Scout updates their rankings. ESPN named him t their all-camp team, along with Michigan commits Shane Morris ('13), James Ross, and Terry Richardson, along with a few Wolverine targets.
Going from big (6-2, 320) to bigger (6-9, 300), WA OL Zach Banner was the subject of this week's Sam Webb column in the Detroit News. The kid insists he wants to be a 2-sport athlete, but more useful for our purpose is the recruiting info he drops on Sam:
"I guarantee that I will be taking an official visit to Michigan," he said emphatically. "I have already scheduled an official visit to Notre Dame and that is going to be Oct. 22, and that is going to be their first night game in 25 years (against USC). I am also going to take an official to Michigan. I want to come to a rivalry game where it is primetime football."
He plans to narrow his list of 30+ schools to a more manageable Top 10 over the summer, and it definitely sounds like both Michigan and Notre Dame are locks to be included.
Banner isn't the only Evergreen State blocker getting Michigan interest, as WA OL Joshua Garnett is also hearing from the maize-and-blue:
JOSHUA: Michigan has a great football tradition and is also one of the top academic schools in the nation.

TOM: Are you interested enough that you think you'll take a visit to Michigan?

JOSHUA: Yes definitely. It will most likely be an official visit... I have always wanted to play in that Michigan - Ohio State game. I think that is a big reason why I like Michigan. That game is probably the biggest in college football, and the rivalry is unexplainable.
Despite considerably less hype, Garnett is actually more highly rated than Banner.
AZ OL Andrus Peat has cut his list to 13 schools, and Michigan makes the grade. Nebraska, USC, Notre Dame, Florida State, Arkansas, Texas, Auburn, Florida, Oregon, Stanford, Miami (YTM), and Alabama are the other lucky suitors.
Tom's Weekly Update is heavy on offensive linemen.
Michigan might be close to offering OH DT Alex Pace. He's a product of Glenville High School.
Michigan was in-school with Stanford commit CA DT Aziz Shittu last week. Despite his Cardinal pledge, he may take an official visit to Ann Arbor.
Happy Trails
Happy Trails, CA QB Jake Rodrigues. He committed to Oregon.
CO OL Shane Callahan committed to Auburn.
Happy trails, FL OL John Theus, who trimmed his list to 6 (non-Michigan) schools.
Happy Trails, CA OL Max Tuerk has committed to USC.
CA LB Scott Starr also committed to USC. The Trojans have already filled 9 of their NCAA-mandated 15 slots in this class. I bet you infinity dollars that Lane Kiffin goes well over 15 and the NCAA does nothing about it.
Caution: Bleacher Report article do not click! Michigan is not in the final 5 for GA CB Geno Smith.
Etc.
MI LB Commit Royce Jenkins-Stone has been selected to the 2012 Army All-American Game (H/T: Blue_in_Cleveland).
I'm pretty wary of the source, but OH S Jarrod Wilson is reportedly high on Michigan State, West Virginia, Tennessee, and Illinois. Gant's commitment could be a factor there, as well.
TN OL Blake Bars picked up a Michigan offer ($).
Tennessee still leads for MI DT Danny O'Brien - though a second article states he has no favorites, but will visit Knoxville this summer ($, info in headers).
2013
Keep an eye on MI OL Steven Elmer, one of the state's top prospects next year. He already holds a MIssissippi State offer ($, info in header).
PA TE Adam Breneman has picked up a Michigan offer ($).
MD TE/DE Henry Poggi is showing a Michigan offer. His older brother attends Iowa, where he was one of the players hospitalized with rhabdomyolysis.
Michigan is "turning up the heat" on IL RB Ty Isaac ($, info in header).
Duane Long releases an early 2013 top 25 for the state of Ohio.