Wednesday Recruitin' With Grill Marks
Sione Houma and Chris Wormley Go Blue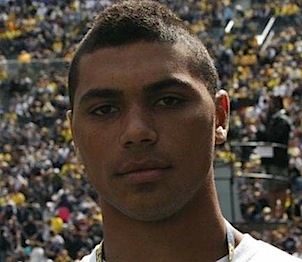 Local commitment article as UT FB Sione Houma kicked off the commitment pair on Monday, picking Michigan over offers from Utah, Washington, and Utah State. Another local article is a bit more fleshed-out. His high school coach insists he has the skills to play FB or RB. (HT: UMGoBlog). The Wolverine Blog talks about his development down the road:
Houma could be able to get up to 240 without losing anything…or maybe he won't be able to surpass 225. It's hard to tell at this point. If he can gain a solid 20 or so pounds, I'd be much more enthusiastic about this commitment.
Touch the Banner on his game:
he probably doesn't have the speed to break 50-yard runs or receptions, but he does have the ability to outrun linebackers and turn a 4-yard swing pass into a 10- or 15-yard swing passes. That skill won't turn him into a superstar, but having a fullback who can gain some yards after the catch will be a valuable commodity when Michigan runs split backs
For more on Houma check out Hello: Sione Houma.
OH DE Chris Wormley ended his actually-not-that-long recruitment (it felt much longer thanks to holding Michigan as a favorite for so much of it) at the BBQ at the Big House on Saturday - local article from The Blade. Go Blue Michigan Wolverine tackles "the motor issue" with Chris:
Although it may be a bum rap, Chris has been the subject of many sites discussing a low motor. Many very talented athletes gain this perception because the observer expects super performance from a super athlete.
The Wolverine Blog is withholding judgment until after this season:
All in all, it seems like his attitude changed. Obviously, the physical potential is there. But is he still the thrashing, crashing, mauling pass rusher we saw two years ago? He wasn't last year, but things change. That's why I'll be watching his senior film more intently than any other recruits.
For more on Chris, check out Hello: Chris Wormley.
Cookout Quick Hits
MO WR Jehu Chesson talked to Tom about the experience:
We mostly talked about that and he was straight up with me and said that if two wide receivers commit then the receiver position is done. I feel like they're letting me know in advance what's going on with recruiting, which I like. I'm going to stay on my own track because I want to make sure I see all the schools I'm interested in.
Ha also said he'd have a narrowed list by the time school rolls around.
Quality fluff on preferred walk-on IL WR Bo Dever (far left in the photo above). His sister Morgan, a rising junior field hockey player, has also committed to Michigan.
MO DT Ondre Pipkins was making noise about nearing a decision ($, info in header) coming into the BBQ, but obviously his visit came and went with no commitment. Making that particularly odd is that it was better than he'd been expecting ($, info in header).
MI DT Danny O'Brien narrowed his focus to a top 6 coming into the weekend:
TrieuA Flint Powers (MI) DT Dan O'Brien's top 6: Michigan, Iowa, Alabama, Florida, Michigan State & Tennessee. In no order. More later.
He talked shop with Rivals readers Thursday night.
2013 QB Commit Shane Morris (center, in brown) gets some love at the Gridiron Kings 7-on-7 tournament. Ron Thompson and Dwayne Stanford (who was only available for some games due to AAU basketball) were among the top targets on his team. More on Morris.
2013 IL RB Ty Isaac was there ($, info in header).
2013 RB/DE Ath Wyatt Shallman was there, and told Tom what he thought:
This visit was pretty sweet, I liked it a lot. Anytime you go on a visit and get good food and get to go on the field it's going to help. Plus the coaching staff is awesome, they're all really funny guys.
Michigan fans were cautiously hopeful for a Shallman commitment, but he'll remain true to his timetable for now.
OH LB Ben Gedeon was in the house for the BBQ ($, info in header). Local fluff on him:
"He's a guy who's been kind of earmarked (by colleges) since his freshman year," said Wright, who believes college programs view Gedeon as a linebacker prospect more than an offensive player at the next level.

Ben's older brother, Alex, who also starred at Hudson, is captain of the football team at Harvard University. Wright said that could help the younger Gedeon navigate the recruiting process. as "his parents aren't rookies to this situation. They know what they're doing."
Looks like good bloodlines from both a football and an academic perspective.
Playing Catch-Up
Since we've been focusing on the BBQ lately, some of this stuff may be just a little old. Phil Steele's top 200 prospects list is out, including a few Michigan commits:
#33 Kyle Kalis
#73 Royce Jenkins-Stone
#74 Terry Richardson
#91 Erik Magnuson
#97 James Ross
#161 Tom Strobel
#163 Chris Wormley
#197 Joe Bolden
A solid group of top-200 talent, though I'm surprised to see Magnuson that low.
Local fluff on MI DE/DT Commit Matt Godin. Relevant snippet:
While Godin said individual glory is not as important to him as team success, he also hopes to improve his statistical totals from last season. In 2010, Godin registered 66 tackles, 28 tackles-for-loss and two sacks. "I'm looking to double my tackles-for-loss, just get a ridiculous amount," Godin said. "I'd also like to up my sacks to around eight."

Godin plays defensive tackle for Detroit Catholic Central because he is the biggest defensive lineman on his team, but will likely play defensive end with the Wolverines.
Mixture of FNL-y stuff and future position news-type-substance.
Rivals fluff ($) on where OH DE Commit Pharaoh Brown will play in college.
Fluff on MI DE/LB Commit Mario Ojemudia.
PA RB Greg Garmon has Michigan in his final five, but not in the top three within that group. HOWEVA, that group may be shaken up by the axing of North Carolina coach Butch Davis. The Wolverines may have a chance to join Illinois and Iowa now. It does sound like he's been put on the backburner by Michigan's staff.
IA WR Amara Darboh visited Michigan early last week, and talked to Tom about how it went:
I feel a lot better with [the coaches]. They all seem like really nice guys and they have a great staff there. This visit helped Michigan a lot, and it also helped with my comfort level, so yeah... I think this is going to help speed up the process a little. I still want to take official visits, but there's certain schools now that I know that I fit in with, so it helped that part.
He's taking his time, but Michigan seems to be in good position.
Cal and Michigan seem to lead for CA WR Jordan Payton - and he may be nearing a commitment.
Michigan may be back in the mix for MD WR Stefon Diggs, as they were named to his top 15.
OH WR Dwayne Stanford apparently released a top 5 without Michigan in it, and it sounds like LSU is atop his list ($, info in header).
MI TE Ron Thompson plans to announce a decision on Friday at Lifting as We Climb Fundation's High School Media Day in Southfield. He seems solidly in "Sad Josh" territory at this point, so don't expect him to pick the Wolverines - although Shane Morris has been in his ear.
WA OL Josh Garnett will trim his top 11 (which includes Michigan) to a top 5 soon. Local video fluff with Garnett.
IL DT Tommy Schutt does not mention Michigan in a video interview with Tom Lemming. With Ondre Pipkins and Dany O'Brien both high on Michigan, it seems unlikely that he's an option for the Wolverines.
PA DE Noah Spence will cut his list to 7 soon (then to 5 within a month). Michigan's needs on defensive line are minimal at this point (aside from a true tackle or two), so Spence probably isn't a realistic option for the Wolverines.
Steve Wiltfong says Michigan is giving attention to MA CB Armani Reeves. As you may recall, Michigan and Reeves originally parted ways when the Wolverines landed other DB commits. Tom talked to Reeves, who sounds torn, because he likes Michigan but wishes they hadn't parted ways with him in the first place.
Onetime silent commit NY CB Wayne Morgan is not mentioning Michigan among his top schools. With limited spots, it's unlikely there's room for him anyway.
Happy Trails
IN QB Gunner Kiel - notoriously quiet about his recruiting process - told ESPN that he planned to announce a decision before the start of his high school season. Shortly thereafter, he committed to Indiana. I'll fess up: I was secretly rooting for the Hoosiers (if not Michigan).
FL QB Bennie Coney committed to Cincinnati.
FL QB Tyler Cameron picked USF.
OH RB William Mahone will announce Sunday between Notre Dame, Penn State, Michigan State, and Pitt. His teammates, twins Demitrious and Chris Davis, chose the Panthers last week.
MI WR Aaron Burbridge committed to Michigan State, ending the Wolverines' hopes up pulling in the Farmington Hills Harrison triumvirate.
MN OL Jonah Pirsig picked Minnesota. With Michigan's current OL haul, I doubt he held a committable offer anymore.
OH DE LaTroy Lewis committed to Tennessee.
2013
PA QB Damion Terry has Michigan interest.
TX WR Jake Oliver will "take his time" coming to a decision. He has Michigan interest, but with everyone in the Big 12 after him (and his dad on A&M's staff), it's tough to see him coming North.
Cass Tech CB Jourdan Lewis loves Michigan ($, info in header). That's infinity classes in a row with a D-1 corner out of Cass Tech.