Wednesday Presser 11-19-14: Brady Hoke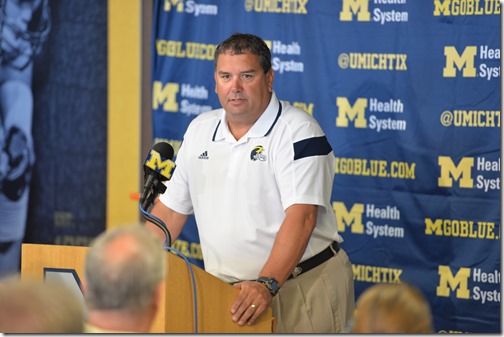 file
News bullets and other items:
Hoke has spoken with Frank Clark since Monday

The team practiced inside yesterday, except for the special teams unit; they wanted them working in the wind

Ty Isaac has dropped some weight and impressed in the intrasquad scrimmage last week

Hoke said the problems in the passing game seem to change from game to game

Hoke and his staff turned down Jake Ryan when they were at SDSU after watching his recruiting tape
Opening remarks:
"Thanks for coming. Yesterday we had a very productive practice as far as both execution and the intensity of it and the finish, and that's one of the things we talk about all the time but the consistency of the finish we want to do every play and I think we accomplished a lot of those things yesterday. We went inside. A little surprising to some of you. Mr. Glick might be upset if we didn't go inside but we did punt and snap and catch punts outside for about 12 to 15 minutes. We usually always go outside for that specialist [portion] and it just helps those guys fielding the punts in the wind yesterday. The other problem that you have, and it's not a problem, but your filmers, your student filmers being up in those towers [where] the wind gusts can get pretty good and we don't want to take any chances with that.
"As far as- you always track the weather and you want to try and be ahead of it. It does reflect sometimes on if you want to have two returners on a punt [or] if you want to have three returners on the punt back and because of the weather and what the wind can do to the football. Doesn't affect a lot in the passing game unless it's just unbelievably  from the side especially if you're doing a great job of spirals with the ball.
"The one thing we've talked about is there's 12 seniors that are going to play their last football game in Michigan Stadium, and I think that's important. You try and remind guys that they're going to be seniors soon, those young guys, and we talk about that constantly and I think some of them you've had an opportunity to talk to this week because we're trying to give the seniors time with you. It can be emotional for some of them and some guys will be emotional but it won't hit until after the game has been played."
/someone opens door, noise from a snowblower fills the room
"SO WE HOPE AND WE ENCOURAGE PEOPLE TO COME OUT AS WE HONOR THEM AND WE RECOGNIZE THEM AND WE'RE EXCITED ABOUT THAT."
/doors closes
"And we're blowing snow."
You don't face a lot of three man fronts. Appalachian State was one, but this one's a little bit different from Appalachian State because they're a lot more up front, a lot more aggressive. Does it present some different challenges than what you face in a normal week?
"Well, it does in some areas, and they'll kick it to be an under or an over front depending on where the tight end's lined up or what they feel is a receiver strength or just formational strength, but the present some thing because they've got really good quickness. [They] present some problems because of the quickness they have as a team, and I think they have pretty good team speed. They're not the biggest guys up front, but I think they do a nice job of what they're trying to get done when you look at gap integrity in the run game and then obviously we want to stay out of those third downs that can be a problem because whoever you play there's only so many things that you can do."
You talked about him a lot early on in terms of eligibility, but what have you seen from Ty Isaac on the practice field to make you feel that he is what you thought he was?
"Yeah, yeah. A couple things. Number one, I think Ty from a standpoint of where he is getting at now physically from when he got here- you know, he was in Chicago in the summer taking classes, doing those things so didn't have an opportunity really to work out with our guys at all in the summer so he did a nice job and he's continued to do that. His weight's down. When we had the scrimmage the other day he was one of the guys [I forgot]; I said there'd be guys I forgot to mention. He ran the ball pretty daggone well."
[After THE JUMP: Hoke talks about Hagerup's improvement after dropping an old-school technique. Yes, that happened. Yes, in the punting game. Why would you accuse me of making that up?]
You look at a guy like Matt Wile or Will [Hagerup], these two guys are progressing as the season goes. Do you agree with the sentiment that they're getting better? At least Matt and Will both probably had some of their best games in these recent weeks.
"Yeah, I think Matt had a couple issues early, as we know, but I think the way he's bounced back and really his confidence level. I mean, you can start there with everybody but I think he figured out mechanically some things he needed to do differently. Give a lot of credit to the snapper and the holder because it takes all those guys to get it done and run right when you look at timing.
"And I think Will, the one thing with Will [is] probably his biggest weakness is what they used to call the coffin corner kicks and those kind of things, but I think he's really improved in that style. It's more of an Australian style of punting the ball. He's really gone out and worked at it, because that wasn't something as of a year ago that he really tried to do. He was kind of old school in how he was mentored and trying to hit the coffin corner. Well, I think he's really gone to work improving on the style using the technique he's using now."
MGoQuestion: Do you anticipate any of the younger guys getting additional playing time based off of what you saw in the intrasquad scrimmage during the bye week?
"You know, most of those guys, a lot of those guys are guys we determined we were going to redshirt, so you have a guy like Ty who because of a transfer he won't be able to- you know, you look at some of those guys and you'd like to be able to play them, but you get down the road so far and to be fair with them you've got to really look at it. Like all freshmen it takes them some time to really understand what the game's about at this level, especially different positions. For Mason Cole to do what he's done [/Hoke raps on the wooden podium] to this point in the season being a true freshman playing left tackle in a pretty good football league...that's pretty incredible."
You guys brought in Sam Coad I think in September. What was the objective there and how has that worked out so far?
"You know, I am probably the worst guy to talk to in terms of the GPS system that our guys are in but it measures a lot during practice as far as yards a guy has run at sprint speed during practice. Chesson and Darboh at one time in one practice were at like 8600 yards. I think that's almost five miles. [/Hoke motions to us] Come on, think."
You're talking to the wrong group.
"Yeah. He really is the expert and we're really concerned with the health and welfare. Unless you look at how you practice- now, the only negative we have right now is probably two things. Number one, when you're inside, because it's all off satellites, it hurts you in some of the metrics that you want to use and the other thing is our baseline, setting that baseline. Talking to Sam it took him about three years in Australian rules football and rugby to really get an idea of what data is significant data. But I think Oregon really as much as anybody started it when Chip was there and I think we're ahead of most teams in this league with it, and I think we're learning something all the time about it."
How'd you find out about him?
"Uh, that would be coach Wellman. Aaron. He gets into stuff really in a scientific way with what he does and what they do down there, but he was the one who recommended him."
Do you get emotional for the seniors, playing in their last game here?
"Yeah, no question about it. You look at guys who have worked their tails off for four or five years. You look at guys as a coach and as a mentor how they've grown, not just from a football standpoint but guys are graduating, guys who've grown as men so there's always that. I don't know if you get emotional about not being able to coach this guy again, that part of it but the relationships that you've built, I think those things really are the emotional part of it."
You said you wanted to speak to Frank [Clark]. Have you had a chance since Monday?
"Yeah. Yep, I have."
Can you talk about what that was-
"No. I'm going to support Frank and I think that conversation is [between] Frank and I."
You said yesterday on the call when somebody asked about bowl eligibility that it didn't mean much to you personally. Can you expound on that?
"Well, yeah. I guess when I said that it means something to me personally for those kids. We haven't really, we haven't talked about it as a team. We've focused on the three game season that we started before the Indiana game and playing our butts off in those three football games and that's kind of where we've focused in, so as far as us talking about it not really. We've talked about Maryland. We talked about Northwestern two weeks ago. We talked about Indiana the week before that, so these guys have been very grounded and very focused."
Does a bowl mean anything at this point without [playing for] league championships and anything like that?
"Well, I think it's always nice. There's no question. I mean, that's pretty obvious."
You've talked a number of times about this being a grinder team, which I guess implies that it's not a passing team and not lot of explosive plays and stuff. When you and Doug talk about the passing game, what do you pinpoint is the reason? You guys have been over 200 yards [passing] I think twice.
"Well, I think some of that varies from game to game. Inaccuracy, dropped balls, you can different things and I think that's part of what's hurt us a little bit with the passing game."
Is it more concerning that it's not one issue you can target?
"I don't know if it's more concerning or you know exactly what the issues are and making sure that every week and every day you're on top of those issues."
Maryland only ran for six yards last week against Michigan State. The bulk of their offense came on the pass. How much of an emphasis will pass defense be this weekend?
"I think you always go into a game, we did last week or two weeks ago with Northwestern trying to establish hard down and distances for the offense, and the one thing you see with Maryland is because of the bubble screens of rocket screens, those kinds of things are like stretch runs for getting the ball out there on the routes. In the running game we really have a lot of respect for CJ Brown. I'm talking about the running game and the passing game because of what he does with his feet, but we have a lot of respect for him. Some of the games if you watch there's times like [against] Syracuse where they ran the ball very effectively. You look at tempo, because they're going to be a tempo team and for us that's always a great challenge that you have to have everybody on the same page. Is the passing game going to be a big part of it? Yeah, no question about it, but it will only be a big part of it if we do a nice job versus the run."
For senior day the fans see a lot those guys compete every weekend, but what do the guys contribute who don't necessarily get the playing time contribute behind closed doors to the program?
"Well, there's guys who have been on the look team or the scout team or whatever you call it but there's been a bunch of those guys, Mitropoulos being one. Alex, I mean, he's a guy who just totally for not playing football in high school and being a rugby guy he he's one of the best scout players you'll see out there. I'm singling him out because he plays in the trenches which is probably a little bit more difficult. All those guys, every one of them has a role on this team and that's something we try to establish. Sometimes that role isn't what you want it to be at this time, but at the same time there's guys who very effectively understand their role and come out every day and get after it, and there's a bunch of guys who have done that."
Alex told me that he didn't know if anyone on the coaching staff knew that he didn't play college football when he first got on the team...
"I didn't know when he first started. I had no clue."
When did you find out?
"Oh, gosh...probably this year sometime."
I just want to ask you quickly about Jake Ryan. Have you seen him grow up at all this year, and has he taken a more professional approach day-to-day?
"You know, he always has kind of been like that. If you know his family, his dad played at Boston College. It's a football family. Connor, his older brother, we recruited to play for us at Ball State. Zach's down there playing at Ball State.
"The funny thing is we turned Jake down at San Diego State, because we had recruited his brother Connor and his dad contacted us and the time he only had Ball State as his only offer. So they sent the tape out and Brian Sipe was our quartberack coach, the Brian Sipe who played for the Browns had pretty good relations with people still back in Cleveland so we looked at him and turned him down. So the first time I came in the first year I said, 'You know, Jake, I turned you down as a linebacker.' I still tell him that, especially when he messes up."
What didn't you like about him on tape?
"You know, to be honest with you he was playing kind of inside linebacker and just didn't see enough flashes from him. Good reason? Probably not. Probably should have done a little more homework on him. Knew it was a quality family, though, from recruiting Connor. His growth as a leader- and he's a guy who does everything more or less by example. He's not going to be the guy in the locker room leading a chant or anything like that. He's going to be what I do and what you see me do out on that field or in the weight room, it's going to be that kind of leadership. I think he's provided more of that. He's a little more vocal with things, but he's obviously done a great job at Michigan playing football too."