We Will Both Agree That I Am Mean
11/7/2015 – Michigan 49, Rutgers 16 – 7-2, 4-1 Big Ten
[Patrick Barron]
This was never much of a game; it was never expected to be much of one. The line rose to a whopping 24 points before kickoff. Michigan hit that number early in the third quarter. For big chunks of the first half Rutgers had 55 yards of offense from one run on which Joe Bolden was held rather blatantly and literally nothing else. This was a walkover.
So there's not much emotional impact to be drawn from this one. Other than the sudden appearance of Good Iowa Rudock pretty much everything went as expected. Back in the day I'm pretty sure I shrugged at these games, wrote a couple paragraphs about how this wasn't really a thing, and moved on to gleaning what could be gleaned from an uncompetitive game. More recently that kind of column has been reserved for dismal contests in which a moribund Michigan team gacked it up against, oh, say, Rutgers.
There will come a day in the next couple years when Michigan takes on the dregs of its division and drops the hammer and I say that there's no point in a column. This is not that day. Because last year Gary Nova threw for 400 yards against this defense. Because last year Michigan did the classy thing and apologized for putting a piece of metal in Michigan State's field. We are not yet far enough removed from that to simply shrug.
---------------------------
So at halftime, Rutgers did something dumb. They poked the bear.
"They were just saying things like, 'Oh, it's our time this second half,' 'We the comeback kids,' 'These guys can't really finish games,'" safety Jabrill Peppers said, kind of rolling his eyes at the last remark.

"That's pretty much all I heard."
I'm impressed they hadn't checked out entirely, but it does not do to poke the bear.
"They were excited. They were down, what, 19, and Coach didn't like that they were celebrating," Lewis said. "(He said), 'Put the foot on the gas, finish these guys off.'"

Those were his exact words?

"I don't want to use those words out here," Lewis said, with a laugh.
Many, many opposing fans are going to complain about Harbaugh the jerk, Harbaugh the sociopath, Harbaugh the serial killer who kept stabbing our face long after we were dead. I perused a good number of these comments after this game… for some reason. Wilton Speight played most of the fourth quarter and Michigan put up just 14 points in the second half.
Even so the Rutgers beatwriters are really stretching to make something out of Harbaugh's two-point conversion:
Is there a beef between Rutgers coach Kyle Flood and Michigan coach Jim Harbaugh?
Evidence cited: a two point conversion with 26 minutes left in the game and a couple of coachspeak comments from Flood that could be spun into a veiled shot if, say, you were desperate for anything to talk about after a 49-16 loss. Steve Politi, the guy who wrote that column about Harbaugh being a phony compared to the real Kyle Flood, is trying to stoke the flames by citing the sneaky Jake Butt play—which happened in the first half!—Jake Rudock throwing in the third quarter, and Jabrill Peppers fair-catching punts.
I guess when you cover Rutgers you're on the cutting edge of "not in the face!" research. But it's clear Harbaugh is taking heat here solely because of his reputation.
I am fine with this. At Stanford he told his players to "win with character, win with cruelty." This is what I want a football program to do.
I want it to be angry up 35-16 at halftime. I want it to step on available throats within the rules of the game (except for certain substitution rules). I don't care if someone's feelings are hurt by a justified two-point conversion, or an unjustified one. I endorse all fourth-quarter passes against teams five scores down. I look forward to a point in the future when an apology will not be forthcoming.
HIGHLIGHTS
Parking God:
AWARDS
this is both #1 and #2 [Fuller]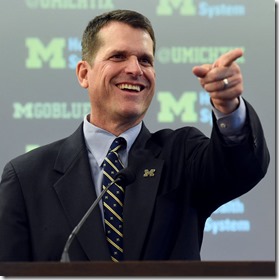 Known Friends And Trusted Agents Of The Week
you're the man now, dog
#1 Jake Rudock had 13.5 yards an attempt despite two drops from his receivers. Even against an atrocious pass defense, that'll do. Rudock also escaped the pocket and tiptoed the sideline for a touchdown and scrambled for the two point conversion.
#2 Jake Butt had 104 of those receiving yards on four catches. Rudock is now hitting the high window where Butt can show off his height and leaping ability. I have him with zero drops on the year. Butt has 418 receiving yards on the year, almost 150 clear of his nearest competitor… that Minnesota TE who was delivered a couple gifts last week.
#3 Chris Wormley re-asserted himself after a few relatively quiet weeks with two sacks, one on a stunt Rutgers didn't pick up, the other just a straight up pass rush around the corner. Wormley also helped Michigan's rush defense to another dominant day.
Honorable mention: Jourdan Lewis set the single season Michigan PBU record. Jarrod Wilson wasn't hit in coverage and had a pretty spectacular interception. Mason Cole was probably pretty good.
KFaTAotW Standings.
9: Jourdan Lewis (#1 UNLV, #1 Northwestern, #1 MSU), Jabrill Peppers(#2 BYU, #2 Northwestern, #2 MSU, #1 Minnesota)
6: Chris Wormley(#2 Utah, #1 Oregon State, #3 Rutgers)
5: Jake Butt(#1 Utah, #2 Rutgers)
4: Maurice Hurst (#2 Maryland, #2 Minnesota), Jake Rudock (#3 Northwestern, #1 Rutgers)
3: De'Veon Smith(#2 Oregon State, #3 BYU), Ryan Glasgow (#1 BYU), Desmond Morgan (#1 Maryland),
2: Ty Isaac(#2 UNLV), Willie Henry(#3 Utah, #3 MSU).
1: AJ Williams (#3 Oregon State), Channing Stribling(#3 UNLV), Blake O'Neill(#3 Maryland), Drake Johnson(#3 Minnesota)
Who's Got It Better Than Us Of The Week
This week's best thing ever.
Jabrill Peppers does his Denard-vs-WMU impression.
That acceleration after he dodges the tackle is ridiculous.
Honorable mention: any number of pinpoint midrange Rudock passes but we'll go with the 50-yard catch and run to Butt; Jarrod Wilson's un-boring interception; Smith rips off a big run late on a textbook power play; Harbaugh goes for two for Reasons.
WGIBTUs Past.
Utah: Crazy #buttdown.
Oregon State: #tacopunts.
UNLV: Ty Isaac's 76 yard touchdown.
BYU: De'Veon Smith's illicit teleporter run.
Maryland: Jehu Chesson jet sweeps past you.
Northwestern: Chesson opening KO TD.
MSU: the bit where they won until they didn't.
Minnesota: form a f-ing wall.
Rutgers: Peppers as Denard.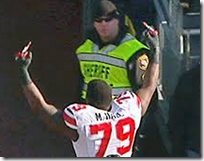 MARCUS HALL EPIC DOUBLE BIRD OF THE WEEK.
This week's worst thing ever.
A weirdly short kickoff from Kenny Allen is returned for a touchdown.
Honorable mention: Targeting overturned; Rutgers rips off a 55-yard run thanks in large part a pretty obvious hold on Joe Bolden; Michigan struggles to run yet again.
PREVIOUS EDBs
Utah: circle route pick six.
Oregon State: Rudock fumbles after blitz bust.
UNLV: Rudock matches 2014 INT total in game 3.
BYU: BYU manages to get to triple digit yards in the last minutes of the game.
Maryland: Slog extended by deflected interception at Houma.
Northwestern: KLINSMANN OUT
MSU: Obvious.
Minnesota: The bit where the lost it until they didn't.
Rutgers: KO return given up.
[After THE JUMP: no ghosts this week, tiniest band ever, screens, defense hole-seeking]
OFFENSE
Oh, look, Iowa Rudock. It took nine freakin' games but that's the guy I saw when I broke down Rudock's 2014. That Rudock was highly accurate between 10 and 20 yards, maybe somewhat conservative, able to get you some yards on the ground, and confident in his reads. The highlight video above is mostly Rudock throwing intermediate dimes. Mostly these guys are really open, but sometimes not so much.
Rudock felt a little bit like Mitch Leidner after Leidner got on a roll thanks to bloody fortune. By the end of the Brown Jug game Leidner was slinging inch-perfect slants to a very covered KJ Maye;  by the end of Rudock's participation against Rutgers he was hitting guys for TDs in small windows that felt a whole lot more confident than anything he'd done this season. Rudock did badly underthrow the one deep ball he attempted, but even that turned into a pass interference penalty.
Hopefully we get a similar performance against a similar quality of defense next week, and then Rudock will be permanently transformed into a very good quarterback who storms through the final two weeks. That's the ticket.
Screens! Every week we get a number of plays that seem to be specifically targeted at the opponent's issues. This week it was a series of screens that were bogglingly wide open. The first saw Rutgers send six guys across the line with nobody even checking Johnson; the only way that play doesn't rip off a chunk is if Ben Braden doesn't duck so the pass doesn't hit him. Three other screens tore up big chunks of real estate, and only the latter two were even kind of defended.
[Fuller]
They ran the exact same FB wheel that MSU got them with. In retrospect it was obvious that Michigan would steal that. There is no fullback-oriented play Michigan will not drop right in the playbook. Harbaugh also likes plays featuring two different play action aspects—the pro set double-fake to Hill against BYU, the 40-yard Butt screen against Maryland, a big screen to Smith in this one.
Michigan ran theirs from under center instead of out of the gun; everything else was exactly the same.
Peppers the decoy. On that fancy wheel route play three different guys bit hard on the Peppers sweep action. It's weird that Michigan is breaking that play out against Rutgers, right? I bet they're working on a version of that where the danger comes from somewhere else. The overreaction to Peppers will probably be exploited at some point.
Also, if you hit the highlight video above you'll get a great explanation of how the Peppers effect opened up that post touchdown to Chesson from Matt Millen. The defensive back lined up over Chesson is in a zone; he loses focus on Chesson and doesn't disrupt his route at all; LBs and S do not have time to rally after the play action.
I know Millen spent most of the Maryland game shouting "follow the fullback" until I wanted to poke holes in my eardrums, but that's an example of Millen offering interesting, clear analysis that you don't get from many color commentators. He's very adept with the telestrator, too.
zoom [Fuller]
Peppers the guy with the ball. As mentioned, Peppers's little screen touchdown felt a lot like Denard Robinson's first snap at quarterback: a bit of trouble early, a crack, and then seeya. They returned to that play on the next drive and Rutgers did not bite on the screen fake—it was a little too obvious. Rudock just dumped it to Peppers anyway and you half expected him to ninja his way into the endzone. Instead, three yards.
Peppers isn't Charles Woodson in coverage but Woodson was not Peppers with the ball in his hands. (Remember that before the OSU punt return Woodson was actually a disappointing punt returner.) Going forward one of the most interesting questions Michigan has is "where are Jabrill Peppers's snaps best used?"
Michigan limited him a bit in this game, whether it was due to a thigh bruise or just because they didn't want to overextend him in what projected to be a laugher. Going forward does Michigan play him more on offense and give more snaps to backup nickel guys? Or do they stick with the current deployment?
shouldn't have said anything [Barron]
Couple of drops. So of course I mention that Michigan hasn't dropped more than a few balls all season and both Darboh and Chesson put the ball on the ground on routine catches. Michigan is still very good in that department.
Houma the tailback. Michigan decided to try the Weisman route at tailback, putting Sione Houma back there for a few moderately successful carries. That seems to be mostly for options since Smith and Johnson are still a little banged up; it is really not a good sign for anyone stuck behind a converted fullback.
Grant Newsome is comin' [Barron]
Next year's OL. Late we got to see the second team line, which was Newsome/Dawson/Kugler/Strobel/Bushel-Beatty. The main surprise there is the absence of Blake Bars, who is either injured or headed for a firm handshake after the season. Given that it seems like Bars is at best the #9 OL now I'm guessing the latter.
Meanwhile, Newsome had another couple of impressive blocks in a dozen or so snaps. He certainly looks the part out there. Would not be surprised if Michigan goes into spring trying to make him the left tackle. That would either push Cole to center or right tackle depending on which configuration goes more smoothly. I wouldn't count out Kugler or assume the starting guards are 100% safe.
Hello Shallman. Wyatt Shallman got on the field for about the first time, taking a few late handoffs. On one he thundered through a couple tacklers. With Houma and Kerridge graduating there is going to be an opportunity at fullback, and Shallman might fit the bill. His size and ability to carry the ball entices. Now if he can just stay healthy.
DEFENSE
Standards. You're probably a little ticked at the defense, right? A little worried they're not as great as we all assumed they were? Yeah. They gave up 225 yards and six points. I felt vaguely disappointed after the game and then I realized that I am being totally Looney Tunes. Expectations are the worst.
[Fuller]
A fitting way to set the record. Jourdan Lewis is your all-time Michigan single-season PBU record holder, and the picture above his how he did it. That's the 2015 Michigan secondary's impregnable strength: nobody can hit them on fly routes down the sideline because they whip those routes so bad that Lewis can get matched up on 6'5" guys and it's no problem.
This was not a 6'5" guy but Lewis still dominated the route and got the PBU. He's got four games to extend the record. FWIW, 31 is the national record. That's probably out of reach unless a couple of opponents go with the full on Peloponnesian War strategy Michigan State did.
Weekly Maybe We Should Run A Screen Against Jabrill Peppers check. They didn't even block him! What are you even doing? Peppers, shocked by the lack of guy trying to deal with him, missed the tackle. He delayed things enough for the rest of the D to rally, and then he rallied himself, deadlifting Grant. At that point I was worried he would do the thing that a lot of players do and suplex the dude, but instead he waited for the whistle and then politely set Grant on the ground as if he was a football he had just fair caught.
Jabrill Peppers is a master at polite smack, along with defensive backery, slot receiving, and 18th century choral music.
This was almost a terrific interception and is thus emblematic [Fuller]
Thomas as Jonas Mouton. If you don't remember Jonas Mouton's rep around these parts, he was a high-variance player. He'd get huge depth on a zone drop and pick off Notre Dame; he'd blow a run fit about three times a game. Watching Dymonte Thomas play reminds me a lot of watching Mouton.
We got a longer look at Thomas in this game as he played a lot in nickel and regular packages. I get it. Delano Hill's last couple weeks have been subpar and Thomas has flashed promise over the same span of time.
Thomas is clearly an elite athlete. His up-back kickoff return demonstrated that speed. He also had a PBU on which I was like "great job, Jourdan Lew—oh." He identified and jetted to a screen early in the fourth quarter. That was a great play… and then he missed the tackle. Thomas was also responsible for the last 30 yards of the one long Rutgers run as he biffed his run fill so badly he couldn't even get a hand on the back.
Big potential, frustratingly uneven. Next year is going to be interesting.
RJS back to buck. The one-game experiment with James Ross as a defensive end didn't really work out, so RJS was back out there, looking good. Ross did come in on a number of passing downs, which is fine. He's probably about as good at coming around a stunt as RJS and it is nice to rotate defensive linemen so that everyone is fresh.
Worrying DL depth, somehow. Speaking of defensive line depth, Michigan finally took a sufficient number of hits that I was getting a little worried about health. Godin was still out, for the most part. (He got one snap, IIRC.) Glasgow left with a shoulder injury. By the end of the game they were down to their starters and Taco Charlton. This is still an above-average situation but please, gentlemen, return hale and healthy.
THIS IS BAD THIS IS VERY BAD –QB [Fuller]
Wormley back. Michigan DL take turns having monster games; it was Wormley's turn this week. One sack was a bit of a gift as Rutgers didn't pick up a stunt but the other was a pure power rush around the edge that reminded you of Brandon Graham. Can't wait to see what a senior version looks like.
Shoo, NFL. Shoo.
SPECIAL TEAMS
A couple of problems, but I mean come on. Michigan gave up a kickoff return touchdown on which Wayne Lyons was ridiculously held:
Not really sure what Lyons thinks he's doing there since all his help is to the inside, but a hold is a hold and that's not even close.
And they gave up a punt return that featured one pretty obvious block in the back and the targeting call that we'll talk about in the next section. Michigan also did not have Peppers on that kick return as they limited his snaps somewhat; he is the safety and would normally have been there to mitigate the damage.
I'm not too worried about what either of those things says about Michigan's special teams since both returns required refereeing malpractice to happen.
On the other hand. You know that timeout that Michigan spent before a kickoff that you were kind of irritated about? Here's what Michigan looked like before the TO:
Thomas is on the 35 just inside the numbers to the bottom of the screen. After the TO they've moved Thomas into prime squib return territory on the 30:
Thomas returned that to the Rutgers 40. That timeout was worth 30-40 yards.
Lyons screwed up and got held and that's bad, but I'm much more likely to attribute that to a player instead of a systematic coaching deficiency sine stuff like the above screenshots go down in the same game.
Lewis pretty credible as a returner himself. We saw a glimpse of Lewis's ability when he jetted to the endzone against BYU; his speed helped him bust a kickoff to around the 50 in this game. I'm a little surprised Michigan hasn't seen what he can do as a slot receiver, because Harbaugh.
Missed FG. I haven't seen a replay yet but I think the field goal Allen missed was largely a fluke. The wind was dead calm up until the moment Allen put foot to ball, and then a gust came up that visibly moved the ball to the left. Allen is still 10/12 on the year, which is way better than preseason reports had the kicking situation.
MISCELLANEOUS
At some point you should probably just forget about the band entirely. This is that point.
[Patrick Barron]
Noted rappist in the house. Big Sean was in the Big House, and people several decades younger than me tell me this is a big deal. The phonograph artist is all the rave amongst the flappers, and he hit the locker room afterwards to provide encouraging words to the Wolverine 85.
Big Sean in the Big House! Whose got it better than us?! @BigSean @CoachCPartridge @CoachJim4UM @zeisendrath pic.twitter.com/CbR8yZb84c

— Sonny Anderson (@SonnyEquipment) November 8, 2015
I am old.
Going for two. Two reasons to: the one Harbaugh cited where being up 26 means you lose with 3 TDs, 3 two-point conversions, and a field goal. Also if Rutgers does score four touchdowns you're tied if they botch an extra point. (That isn't super likely but their kicker has missed three this year.)
Chance that ends up relevant is about one in a million but, uh, we have experience with long odds mattering rather recently.
"Intent to deceive." Jake Butt's long reception off tricky business towards the end of the first half was wiped out when the refs threw a flag on it. The play:
No simulated replacements or substitutions may be used to confuse opponents. No tactic associated with substitutes or the substitution process may be used to confuse opponents (Rule 3-5-2-e) (A.R. 9-2-2-I-V).
Michigan thought they could get away with it because they ran three guys on and three off, only sending Butt to the sideline after the guys who were leaving had covered probably 20 yards. Since the rule is feelingsball on which the ref is given wide latitude, it's the right call.
I wonder if Michigan could have gotten away with it if they'd lined up Butt on the numbers instead of the very edge of the field.
The debate about whether this should be kosher is something else. These rules came into being after Joe Tiller started doing stuff like running 15 guys on and then taking four off just before the snap. Playing Purdue was a substitution nightmare and doing something about that was clearly necessary. Allowing the above wouldn't result in the kind of three-ring circus that Tiller threatened football with. I'd prefer a football world in which the rule was specific, if only because allowing referees discretion should be avoided wherever possible.
By the way. Harbaugh got one of these plays to work with the 49ers in 2012.
Injuries. Michigan's walking wounded, near as I can figure:
Jabrill Peppers has a thigh bruise. Michigan limited him a little bit—Lewis returned kickoffs and there were a number of snaps on which Watson played nickel—but there shouldn't be many, if any, effect past this week given how much he played.
Matt Godin dressed and got in for at least one snap after Glasgow's exit. He seems on the verge of a return.
Ryan Glasgow supposedly could have returned if it was necessary, but after the game Harbaugh made a slightly alarming comment about finding out about whether his issue was a "strain or a tear" in the aftermath of the game.
Drake Harris didn't dress and is probably a couple weeks away.
No idea on Ben Gedeon.
Ty Isaac is back on the depth chart this week after his None Of Your Business.
Hopefully all these folks will be back by PSU.
Targeting outrage of the week. The replay official decided this blindside hit was totally cool.
That is pretty much the exact play the targeting rule is supposed to get rid of: a defenseless player getting nailed in the helmet. The rulebook even says that "when in doubt, it is targeting." I mean.
At this point there's nothing left to say. Big Ten replay officials are incompetent. College football needs to move to a national center like the NHL has so that these calls can have any consistency at all.
Other targeting outrage of the week. This was also overturned, giving OSU a pick six:
— Cash4Claeys (@MVofDT) November 9, 2015
As I said on the twitters, it would be a lot easier to be in favor of the targeting rule if they ever got it right.
HERE
Best:  Karma

I normally don't care all that much about other teams, even past opponents and current rivals, once UM plays them.  I pay attention to the games, but I'm usually more rooting for a good game than a particular outcome.  But I made an exception for Nebraska-MSU and that last couple of minutes because, well…

You make a dumb shirt commemorating the time you got one of the flukiest finishesin recent college football history to escape a game you deserved to lose?  Yep, ain't going to feel bad when you can't stop Tommie Armstrong and 3-6 Nebraska from moving 91 yards in 4 plays to score a TD on you, crappy officiating and all.  And yes, I think it's dumb that calls like that still happen and it has to suck to lose a game in such a fashion, but when you've played with fire all season with late-game wins and crappy secondary play, you have to expect at some point it would bite you in the ass.  On replay I couldn't tell if the receiver was forced out of bounds, but the corner definitely made contact with him when he tried to come back in, and it was close enough on that sideline to be the type of judgment calls we apparently are happy to give 50-ish year-old men who seemed kinda gassed by the end of the game to make in the moment.
Tacos and Peppers
* I wish I had thought of the "Pepp-O-Meter," but I wouldn't have wasted that on tallying his number of plays. I'm sure there are some tempo teams that have players playing 80+ plays a game. It's what Peppers does with his plays that stands out. Peppers ran twice for 8 yards and a TD, caught a pass for 3 yards, decoyed twice setting up a couple big plays, held for a kickoff, fair caught up to 7 punts (they don't list these in the boxscore, but Rutgers did punt 7 times,) was third on the team with 6 tackles, had a TFL, and I'm sure a BrUp or two that wasn't credited to him. And he handled the post-game interview with aplomb.
* Morgan and Bolden led the team in tackles, with 8 and 7, respectively.
* There were plenty of other stats, including 7 TFLs, 1 forced fumble which we of course didn't recover, 1 interception, 4 BrUps, 4 sacks, and 2 QHs.
* Early season Chris Wormley returned with 4 tackles and 2 sacks for 21 yards.
ELSEWHERE
At first, I saw this tweet and laughed, like I've laughed many times before when having the pleasure of reading an amusing Harbaugh tweet, one assuredly sent without irony (which makes it all the funnier).

Then, I thought about its content: one man can change the world.

And really, could anything be more true for Michigan football right now?

That man, of course, is Jabrill Peppers.
HSR:
My favorite thing is the sense of wonderment some of the current Michigan players express towards Coach Harbaugh's competitive fire.  These young men, by virtue of being Division I football players, are blessed with talent that most of us can never dream of possessing, and even then, they speak in curious, awed tones of just how competitive their coach is.  It is not mocking, it is not reverent, but it is appreciative.  It is "OK, this guy, wow, I can't be him, but maybe I can be a little bit like him."  We're not all wired like that, and I think that's OK.  Those who are need to find a way to channel that competitiveness in to positive avenues for growth, lest they become self-destructive.  Coaching is definitely one of those realms where that competitiveness can be rewarded, as soon as you can get buy-in from those whom you lead, your players, your coaching staff, your fans.
Jabrill Peppers on offense. On the one hand, I like the way that Michigan is strategically using Peppers on offense. Instead of giving him a series of plays, they are rotating him in and out of the game, showing different formations, etc. Sometimes you see teams give a guy a series or two throughout a game, but I think defenses can key on the guy and get used to him being on the field. With the way Michigan uses him, the defense has to adjust on the fly to a guy who can line up at WR, RB, and QB and be the most dynamic player on the field. It's a good strategy. On the other hand, I think Michigan will have to unleash Peppers a little more down the stretch if it's a closer contest. The thing that's missing at times is the play where Peppers runs exactly what the play looks like it's going to be – a go route, a toss sweep, etc. He is Michigan's most dynamic player, but I think he needs to touch the ball in conventional ways, too.
DEFENSIVE CHAMPION – So many defensive guys played rock solid on Saturday, but Taco Charlton stood out in my mind.  He may not have had the best game statistically (3 tackles and 1 sack) but he seemed disruptive throughout the game and I think that is why Rutgers had zero passing yards for most of the first half.  If that D-Line is not getting to the QB, I think they are least getting into the MIND of the opposing team's QB – just as good in my opinion!
MVictors. Parachutin'. Maize and Blue Nation.
PFF grades the game:
–CB Jourdan Lewis (+4.1) had another excellent performance, and currently leads NCAA cornerbacks with a +19.0 overall grade. Rutgers QB Chris Laviano was 1-of-8 for 20 yards when targeting Lewis, including a pass defensed. LB Desmond Morgan (+3.0) also stood out in coverage, allowing two catches on four attempts, for 0 total yards.

–QB Jake Rudock (+4.6) had his best game of the season by a wide margin, just the second time that he has earned a positive grade this season. He finished 9-of-11 for 212 yards, 2 touchdowns and a +3.5 grade on passes thrown 10-plus yards. Rudock was pressured just nine times, but was 7-of-8 for 138 yards and a +1.5 grade on those plays. TE Jake Butt (+2.5 receiving grade) was Rudock's top target.
Good to see Morgan bounce back. On the Rutgers side of things, PFF says Laviano was pressured on more than half of his dropbacks and they "held their own against a potent Michigan rushing attack," which sounds half-right to me.
The Rutgers fan take is pretty much whatever.
Michigan is an 11-point favorite against Indiana. Grades. Numbers and such. Wojo. Spencer on FSU-Clemson. Here are Nebraska fans being happy. Plaxico Burress took it well.
So Plaxico Burress didn't agree with the Michigan State Nebraska ending pic.twitter.com/6g5OGlmzIQ

— Mitchell Widmeier (@m_widmeier) November 8, 2015