Upon Further Review 2017: Special Teams vs Purdue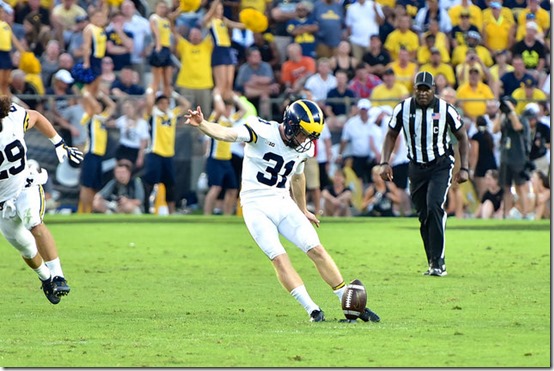 in need of a prospecting name [Fuller]
Formation/Substitution notes: Only change of note is subbing Kekoa Crawford out for Ambry Thomas on kick return. Crawford was the deep man for the first two returns of the game, both of which went out of the end zone. Michigan then inserted Thomas to start the third quarter. Timing is a bit odd considering Crawford didn't have a shot to return the first two kicks before ceding his spot, but there's a chance he can earn it back considering how the third-quarter return went. More on that later.
It's not a substitution, but Brad Robbins' redshirt is gone and Will Hart's on the bench. Robbins did an excellent job getting distance and hangtime on his punts. It's hard to tell whether they just drifted or were intentional, but it seems more likely that Robbins executed two directional kicks—Hart's bête noire—in the second half. All told, it was an excellent debut for the touted freshman.
Other than that, Michigan would often hold three guys in a zone short of the sticks on punts. This was a smart decision and likely something Michigan picked up on film, as Purdue was frequently motioning out one of the members of the shield wide. The only all-out rushes were when Purdue was punting from inside their 10-yard line. They also went safe on Purdue's lone field goal.
Makes perfect sense considering Purdue's Brohminess and where the ball is located.
[After THE JUMP: Robbins' new gig; roughing vs running into the kicker; and Foug, god of hangtime, ruler of return teams]
Field Goal Defense

Qtr
Time
Ln
Dn
Ds
FGDis
Hash
2
6:08
M11
4
7
29
Right
DO. Otherwise nothing of consequence (including no rushers off the edge or push up the middle). Players on the edge set up and stayed in place, so they're likely (and rightly) protecting against a fake here.
Punt Return
Play
Qtr
Time
In-Air Yd
From
To
Player
Rtn
Rlt
Middle
1
13:23
44
50
O6
DPJ
2
M8
Over DPJ's head, but it takes an advantegous two-yard bounce for Michigan.
Left hash
1
10:14
47
O17
M36
DPJ
-3
M34
DPJ decides to field this despite pressure. He makes a man partially miss before being taken down by two others.
Right hash
1
6:45
43
O17
M40
DPJ
M23
Hits well in front of DPJ and skims the grass. He looks like he wants to field it off a hop and holds off. It's too low to the ground to pick up and go without fear of fumbling. Loses yardage, but DPJ makes the best decision possible.
Middle right
1
3:16
40
O44
M16
DPJ
FC
M16
Fair catch under duress. No chance he could get anything other than hit (hard) if he chose to return.
Left
2
3:50
45
O7
M48
DPJ
FC
M48
Fair catch decision made quickly.
Left sideline
2
00:25
34
O38
M28
DPJ
0
M28
DPJ calls the clearout, picks it up on a bounce, and gets shoved OOB at the spot. Jabrill lite though.
Right hash
3
10:34
48
O10
M38
DPJ
FC
M38
DPJ calls for the fair catch. It's a good decision at the time of the signal made better because they end up crowding him, too.
Right hash
3
8:14
57
O29
M14
DPJ
FC
M14
DPJ calls for the fair catch. It's a good decision even though there might be a few yards to gain running it right. That yardage isn't certain enough to neg him, so this one's logged as neutral.
Right hash
3
1:22
O5
DPJ
FC
Running into the kicker goes against Thomas. The punter's only hit because of Crawford and Kelly-Powell running into each other and that change in direction causes Thomas to hit the kicking leg, so the five-yard penalty seems correctly applied here.
Left hash
3
1:22
54
O13
M35
DPJ
FC
M35
FC
Middle left
4
9:39
54
O16
M24
DPJ
FC
M24
FC. Punt backs up DPJ, who could have taken it and gotten blasted or called for the FC. He avoids the temptation to take it (there was a fairly large gap between the nearest man in coverage and himself). Excellent decision-making on display again; this is a different calculation if the guy's coming at an angle, but he's tearing down the middle of the field on a line.
Left hash
4
5:00
67
M17
DPJ
FC
M17

FC. DPJ again gets backed up, this time significantly. He's moving far enough back and having to track with his head up long enough that I don't think he can see where Purdue's gunners are. No negative yardage applied because he's thinking secure the ball first at the expense of the return; if a punt that long bounces, there's a good chance Michigan loses a big chunk.
Punt

Play
Qtr
Time
Kicker
In-Air Yd
From
To
Rtn
Rlt
Tackle
Right Hash
1
11:34
Robbins
57
M7
O43
FC
O43
n/a
Fair catch called with Schoenle about two yards away.
Right Hash
1
8:49
Robbins
55
M30
O15
FC
O43
n/a
Fair catch called again. This one had tons of hangtime; the FC was signaled over two seconds before the returner caught the ball.
Left Hash
1
4:46
Robbins
56
M6
O38
FC
O43
n/a
Interference on Shoenle (-15 yards) that was completely unnecessary. Anthrop called for the fair catch with enough time for Schoenle to pull up.
Middle
2
4:52
Robbins
56
M20
O28
7
O34
Wangler
Schoenle's in with enough speed to flush the returner to his left. Poggi dives and misses, but this causes the returner to plant his foot and try to cut up. The slowdown there provides Wangler enough time to form up and rip him to the ground.
Left (numbers)
2
1:58
Robbins
47
M32
O21
FC
O21
n/a
Punt pulls the returner to his right. Schoenle is there early enough to mirror his movement laterally for two yards while keeping a two-yard cushion in case he chose to return it. Calls for the FC around the numbers.
Left (numbers)
3
11:48
Robbins
50
M30
O20
FC
O20
n/a
Anthrop is again pulled to his right to field. Thomas tears past his Purdue counterpart and leaves no decision but to call for the FC.
Left hash
4
2:44
Robbins
52
M13
O35
1
O36
n/a
The return was just the returner falling forward.
You are an absolute stan.
Off to a roaring start. Go on, explain.
You lobby for Will Hart's job and look what happens. You are nothing more than a Will Hart stan.
I would not say what I was doing is anything resembling "lobbying." Hart was doing a fine job with the exception of the directional punts, and that turned out to be a big exception. Robbins must have shown something in practice the week prior to Purdue. I think I know what he was showing, as he was excellent last week.
You are an absolute Brad Robbins stan.
Being positive isn't the same as being a fanboy, but that seems to nuanced for you. Anyways, the best way to frame the Hart vs. Robbins argument is, of course, with numbers. Hart has averaged 49.3 in-air yards on his 10 punts this season. His three shortest punts are 31, 32, and 36 yards; the 31-yarder came from Michigan's 24-yard line and the 36-yarder came from Michigan's 24-yard line. I wrote off the 36-yard punt because Harbaugh said they were called a punt to the left and Hart missed, and I thought one of the short ones the week before was a similarly botched directional kick. It seemed like a guy learning on the fly; he also had a nice corner kick against Cincinnati, so the growing pains were warranted.
Enter Brad Robbins. There's a fair amount of evidence of his ability thanks to an offense that took three quarters to get on track. He punted seven times against Purdue for an in-air average of 53.3 yards with his shortest punt traveling 47 yards. The moments he appeared to grab the job came in the late second and early third quarter, when he booted punts long and to the numbers.  He almost did it in the first quarter as well, but that one was about halfway between the left hash and the numbers and was the punt where Schoenle interfered with the returner.
It's going to take a really good improvement week to unseat a guy who can do that.
While we're on the topic of things you got wrong, how about that roughing the kicker penalty on Michigan's punt return team.
It wasn't roughing, it was running into the kicker.
Not what you wrote down in the box.
It's hard to hear up there, alright?
Anyone who has suffered through this banter for this long deserves to know what happened there. Did Michigan get something to break their way?
Nope, this one was simply called correctly by the officials. First, watch the play and keep a careful eye on the punter's kicking leg.
Kelly-Powell and Thomas run into each other, and it looks to me like Thomas first hits the kicking leg before sliding under and landing on the plant foot. Brian sent me an article this week about roughing vs running into the kicker, an article written because of recent confusion surrounding the issue in the NFL. The NFL rulebook is far more specific about what constitute which penalty, but this seems to fit even the more stringent NFL definition of running into the kicker. The NCAA rulebook just says that running into the kicker occurs when the kicker is displaced from their kicking spot but not roughed. An automatic first down is a massive thing to have determined by a rule as vague as that, so here's hoping that running into the kicker is clarified in the offseason. At least this crew was able to parse it.
That's great and all, but there's a more important kicking foot to talk about.
I actually agree. James Foug was mentioned in Bruce Feldman's SI column as being a major source of stress for Purdue's special teams coach because he just gets so dang much hangtime. So much hangtime, in fact, that I'm adding a new column to the—
CHART!
…yes, the chart. Ace and others suggested tracking what yard line Michigan's coverage team is at when the returner receives the kick.
This is Purdue's longest return of the day. It is also their only return of the day. The returner is halfway out of the end zone when he decides to field it; anything that reeks this badly of desperation is lucky to get more than 10 yards. The notable thing about this return isn't that it got 20 up the sideline, as that's just something that's going to happen when pursuit swings to the sideline as rapidly as it did here. The thing to note is that Thomas is at the 10-yard line when the returner exits the end zone with Glasgow at the 15. Purdue's special teams coach said return teams are typically inside the 35 when a returner fields the ball and Michigan's impressed him because they're usually inside the 25. Here they're at the 10 and 15. Foug's hangtime is so good that I've yet to track a fielded kick that the opponent took past the 20-yard line.
What does it mean for Michigan State and beyond?
James Foug is kickoff Thanos. Beware his wrath.
Brad Robbins likely to start unless he doesn't. I can see why Robbins no longer has a redshirt and it has everything to do with his ability to force a returner to the sideline. His consistent distance is nice, too. I suppose Hart could theoretically re-enter the competition and emerge on top, but it seems like getting Robbins game reps is more valuable considering his ceiling.
Ambry Thomas sub didn't go so well. Still confused by the timing, but won't be confused if Crawford gets another chance against State. He's bled yardage, too, so this is easily a job that could go to someone else. Have to figure DPJ gets a shot at some point, but returning punts and kicks are so different that it's foolish to predict when.
DPJ's decision-making continues to evolve. He showed great restraint on three or four of his fair catches, and the one that he fielded off a bounce made sense. There was a turf-burner that would have been tempting to field that just as likely could have taken a hop and turned into a fumble as it could have gone for big yards. DPJ let it go by, and with it any concerns about his ability to process on the fly. He has been excellent since that one bad outing.
WILD THING. Sometimes the offense doesn't need you to do things.