The Unwavering Focus of Tyree Kinnel
"I just needed to get one, especially against those guys," says Tyree Kinnel, reflecting on 14 seconds he has thought about often for the last 727 days.
To fully appreciate the woe of the play Kinnel cannot get out of his mind requires an understanding of the forces that shaped him from birth. Enter Chris, Kinnel's father, who put a Michigan-branded football in his son's hands mere hours into his life. Erica, Tyree's mother, was something of a rarity among Ohioans: a non-Buckeye fan. Her older cousin was a Michigan fan, and she and Chris made gamedays a family bonding experience, Erica putting a spread together for the family to snack on, and Chris leading their kids in chanting "It's great to be a Michigan Wolverine." They attended spring games religiously, and their annual trip to the Big House turned into a weekly affair the past four falls after their eldest son committed to Michigan.
And there was that son checking into the 2016 Michigan-Ohio State game on second-and-goal from Michigan's 6-yard-line. Defensive packages had been designed that season that utilized him and even played to his strengths, but this was different; Dymonte Thomas had been flattened by a block on the previous play, and Kinnel was checking in for the first time as an every-down safety. Kinnel stepped toward the line of scrimmage, saw receiver Noah Brown was running a drag route, and flowed over the top of two oncoming receivers to stick with Brown as he emerged on the right side of the line. Ohio State quarterback JT Barrett took a jab step forward for nominal play-action before rolling right, straight into a blitzing Ben Gedeon. Barrett lobbed the ball to the end zone. It sailed just over the hand of Michigan linebacker Mike McCray and was headed right for Kinnel before the would-be interception grazed the tips of Brown's fingers, the flight path adjusting ever so slightly. Kinnel jumped in response to the new angle and stretched his left arm out as far as he could to corral the wobbling ball. It hit the top of his hand and then the turf, bounding out of the back of the end zone. Third-and-goal, 7:43 remaining. "I still live with that today because it could have been a big play in that type of game and everyone knows how it ended, so I've always thought about that and kind of slept on that," Kinnel says. "It stays with me for a long time."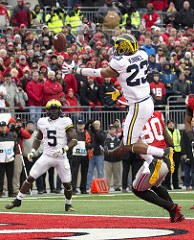 "I still look at the picture a lot," Kinnel adds. This surprised precisely zero people that I spoke to for this piece. The goals of players and fans don't necessarily align often, but when you're a player who grew up a fan, your penultimate goal is the same: Beat Ohio State.
When Kinnel says he wants to beat the Buckeyes it is not lip service and it is not fan service. We're sitting in front of the massive window that runs the length of the front of Schembechler Hall one night in November when our interview seems to be wrapping up. I turn off my recorder and start the small talk that I make at the end of interviews attempting to minimize the awkwardness of an interview simply ceasing. Usually there's a little bit about logistics--here's when I plan to write this, do you have anyone else in mind that I should talk to, etc.--and we go our separate ways. In the middle of this, Kinnel tells me that he doesn't mind if I write about how much this Ohio State game means to him or how badly he wants this win. We're weeks away from The Game. I flip the switch up again on my recorder and hit the red circle.
[After THE JUMP: converting Buckeyes, landing The offer, a career ahead of schedule, and Saturday in Columbus]
You don't escape unscathed when you live in the belly of the beast, and you certainly don't escape unscathed when you wear your Michigan gear to the grocery store or out to eat. "He's had to hear about Ohio State all his life," says Chris. "He gets teased on it. We do as a family, but it makes for thick skin. We're used to it."  Almost everyone around the Kinnels was a Buckeye fan. Most still are, but they've figured out how to assuage their cognitive dissonance. "A lot of our family and friends will tell us that they're Ohio State fans and they don't really root for Michigan, just for Tyree personally," says Shauntel Wright, Kinnel's girlfriend of seven years. There have been some converts, though. Debbie Kidd, who co-founded the youth football league Kinnel played from first through sixth grade, became a close family friend, including being called "Aunt Debbie," and as a consequence, the one thing she could never have envisioned. She was at the airport getting ready to head back to Ohio after the Citrus Bowl in early 2016 when Kinnel looked at her and, seeing all the gear she had on emblazoned with block Ms, made a declaration. "Aunt Debbie, you're a Michigan fan now," he said. The former Buckeye fan didn't hesitate. "I sure am, baby. I sure am."
It's not surprising that Debbie ended up wearing Michigan gear. Everyone who knows Tyree likes Tyree. He does things that make you like him, that make you want to follow him--in some cases, literally. We originally sat down for our interview in the area with couches and chairs behind the Towsley Museum's wall of footballs. A Michigan staffer stopped by to let us know that we could move if we needed to, as Chase Winovich was a couple dozen feet off to our side doing an interview with a European media outlet. I demurred but Kinnel was decisive and thoughtful of my purpose: we should move to a quiet spot by the elevators on the opposite side of the floor. I listened to my recording the next day, quietly nodding in appreciation.
Chris Angert, who met Kinnel's father through work and quickly became a friend of the family, has a similar tale of an encounter with Kinnel's conscientiousness, albeit one that wasn't 10 minutes in the making but 10 years. Angert and Kinnel's father discovered their mutual love of football quickly in the course of small talk. Chris told Angert about his son's innate grasp of football fundamentals, the way he would shift the ball to his right hand when cutting outside to the right sideline. Angert went with Chris to a camp when Tyree was in elementary school to see this in action. Afterward, the trio decided to make a quick stop at Dick's Sporting Goods to get Tyree a new pair of cleats. Angert told Tyree to pick whatever pair of cleats he wanted on one condition: hold onto them, and when you make it to Michigan, sign them and give them back. "He hung them up in his garage when he outgrew them and his last day in Ohio before he went up to Michigan they all came over for pizza and wings and he had a little bag for me and inside were those cleats, signed, all the original mud on them that they had the last time he wore them, same condition, everything," says Angert. "It was incredible. He held his word. We're talking third grade to twelfth grade, getting ready to leave for his freshman year at Michigan. That's who he is."
Family and friends say he's a natural-born leader. "He probably led the pack between me and my brother," says his sister, Tyson. "He was always kind of like the dad of us; he was a leader. Kind of told us what not to do, what to do, not to act up in public, stuff like that." Kinnel fields the same role for his teammates. "He's a leader, man," says Khalid Hill, Kinnel's former roommate. "That's the vibe you get from him. That's what he brings to the table. That's what he brings on the field. He's a leader."
It's a role Kinnel falls into naturally, so it was no surprise when he was named one of Wayne High School's captains for the 2014 football season. On senior night, he told his coach that he wanted to let a player start over him who had never started. His coach reminded Tyree that he had started for four straight years for the varsity squad, already a record. Didn't he want to keep his streak alive? Tyree told his coach "No." "He doesn't care about that record," says Erica. "He just wanted some other kid to feel what he has felt for four years every Friday night."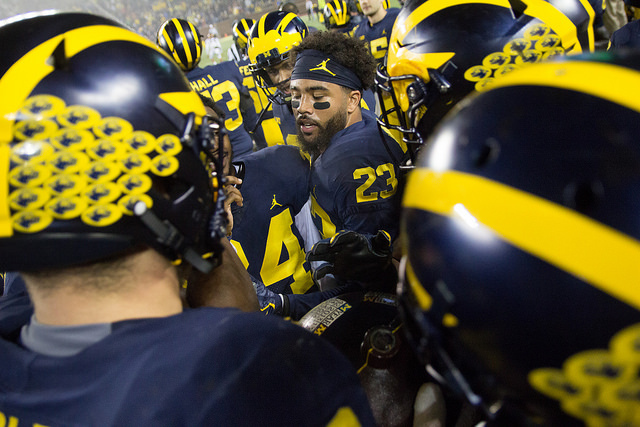 ​
[Eric Upchurch]
With senior night behind them, Kinnel's Wayne squad began what would end up a long playoff run. Wayne played every week in November and through the first weekend of December, which provided Kinnel a much-needed respite from having to contemplate recruiting; at this point questions were swirling about the stability of his (and everyone else in the class') commitment to Michigan as the future of Brady Hoke and his staff grew muddier. Wayne lost the state championship game to St. Edward at—where else—the Horseshoe, and Kinnel now had to decide whether his best decision was to stay committed to now-coachless Michigan.
Kinnel and his parents had agreed that they would evaluate any school strictly on its merits during the recruiting process, but you don't grow up starry-eyed over winged helmets and post-spring game meet-and-greets with players without the scales being slightly tipped in a certain university's favor.
"Tyree had a dream and he stayed focused to stay on that path and his dream was to one day play at Michigan," says Erica. "We have videos of him saying that when he grows up, he's going to play for the University of Michigan, and he stayed focused. He knew what he wanted and he did everything that he had to. He's there because of the decision he made, because of what he wanted."
"I don't really know for sure, but I think most people his age are into going out a whole lot and doing a lot of what the typical college student would do, but he's just very different," says Wright. "He's very mature. I think he's just really, truly focused. He's not into anything that will distract him from his goal."
There was, however, one bump in the road. Kinnel was around 11 or 12 years old and his grades had started to slip. One of Kinnel's family members knew Roy Roundtree, who is also from the Dayton area, and set up a phone call for the then-Michigan receiver to give Kinnel advice. "Him being young, he didn't really realize it and there was some things that didn't really hit him clear because he didn't really know as many people in college at the time and he didn't really know what it would take for him to be a college student," Roundtree says, "and it was just something that I basically just hit on, just the little things. School first and everything else will take care of itself on the field, and if you do that then big things will happen."
Chris got a call one late-July afternoon before Tyree's junior season. Tyree needed a ride home from practice. This was common; typically either Chris or Erica would run out and pick him up. Tyree's request, though, was not. He asked Chris to have both parents come and get him. The whole family piled into the truck, knowing nothing of the phone call Tyree had just been called into his coach's office to take. Tyree jumped into the truck. "I got it! I got it! I got it!" He never said what he got. He didn't have to. There were no dry eyes in the truck.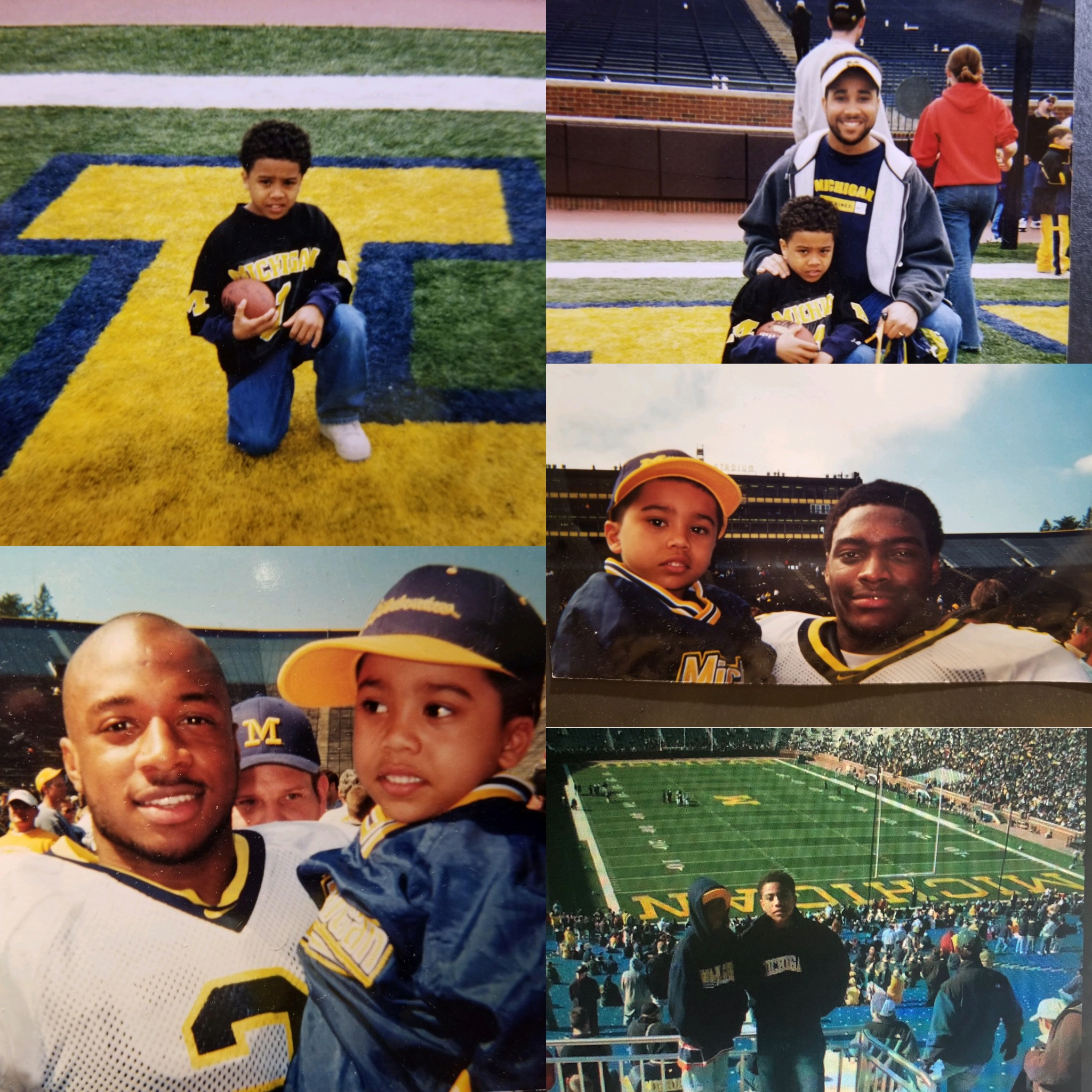 ​
[Courtesy Erica Kinnel, bottom right courtesy Shauntel Wright]
Even Kinnel's offer, the moment that he had worked practically his entire life to achieve, couldn't come off Ohio State getting tangled up in the story. Kinnel had gone to a number of camps that summer of 2013 (he even went to one at Michigan), but it was at Ohio State's Friday Night Lights camp that saw the national spotlight shift onto him. Recruiting services raved about his coverage skills. Michigan offered Kinnel a scholarship three days later.
Notre Dame recruited Kinnel hard throughout 2014, and in December he took an official visit to South Bend. He waited to see who Michigan hired, and a little under three weeks after said visit, he had his answer. On December 30, 2014, Michigan hired Jim Harbaugh. Kinnel didn't have to wait long to find out where he fit in Harbaugh's plans. Harbaugh found time to call Kinnel amidst the craziness of his introductory press conference and later being introduced at the basketball game. "Even though my heart was at Michigan, I was really close to going to Notre Dame," Kinnel says. "Coach Harbaugh came and he called me and it pretty much sealed the deal when coach Harbaugh called me, and I was excited to be here." Kinnel took an official visit to Michigan in January, at which point his family fell in love with the new staff. The recruiting process was over; Kinnel signed with Michigan two weeks later.
Things got off to an inauspicious start, at least from Kinnel's perspective. While his parents thought he would redshirt, he thought about how badly he wanted to contribute. He didn't play in the first four games, at which point he realized he needed to practice harder if he wanted to get playing time. Kinnel did just that and his name was soon tossed around by coaches as someone who could contribute on special teams. He was told the Monday before the Maryland game, the fifth game of the season, that he would be playing special teams that weekend.
Kinnel had a better grasp of the defense his sophomore year, but it didn't come from age or time in the system. Kinnel found DJ Durkin's playbook difficult, while he was able to quickly download Don Brown's. "I feel like that's a reason why I was able to motivate myself to get a defensive role and upgrade myself," Kinnel says. "I felt like that playbook of Coach Brown's was an extreme help." Kinnel found himself behind two current NFLers in Dymonte Thomas and Delano Hill, but the experience as their understudy allowed him to sponge up information about man-to-man technique and how to slow the game down. He also found himself getting his first playing time on defense as Don Brown installed a few packages for Kinnel. They worked, with Kinnel finishing the year with 17 tackles and a tackle for loss that came against Maryland on a play where Kinnel spotted a tendency from their offense's film, predicted where the run was going, and flew down to make the stop. The supporting role also worked well for one of Kinnel's parents. "I kind of liked that and I kind of liked the fact that he wasn't starting because I knew my nerves would be up a little more," says Chris. Erica quickly follows with, "Well, nothing has helped my nerves. My nerves still to this day when he gets on that field I'm like, 'Oooh.'"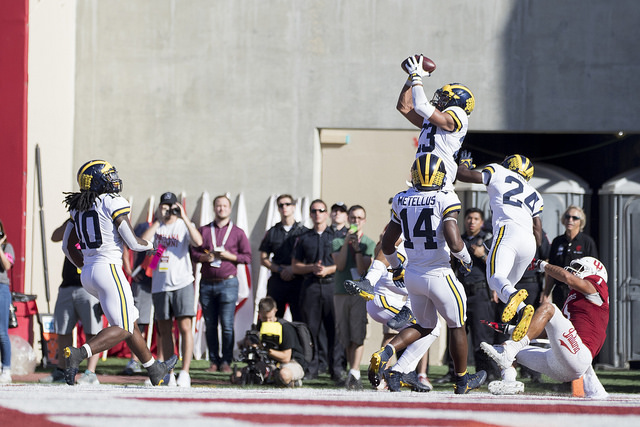 ​
[Marc-Gregor Campredon]
There was more opportunity for nerves to manifest in Kinnel's parents his junior year, as he locked down a starting safety role. Things started well against Florida and got even better against Cincinnati, a game for which Kinnel was named Big Ten Defensive Player of the Week after he posted eight solo tackles (one of which saved a surefire touchdown), two PBUs, a sack, and an interception returned for a touchdown. The early-season excitement waned with losses in rivalry games and others that sparked this season's Revenge Tour. It also served as a moment of growth, both individually and as a team. "If I make one mistake now it's not the end of the world. I know there's other opportunities, other plays that I can make. I don't get down," Kinnel says. "Last year in some games I would make a bad play or something and it would just stay with me the whole game and that would affect my performance throughout the whole game and then that just led to week after week after week, so I feel like I'm doing extremely well this year, doing way better than I did last year. Not just physically but mentally, preparation, film work, just getting myself ready for the future." Despite Kinnel's frustration with his own play, he was named All-Big Ten honorable mention by coaches and media and also won the team's Most Improved Defensive Player award.
It's entirely unsurprising after reading the above quote that Kinnel wasn't satisfied with last season. His film habits reflect that. Wright says that Kinnel watches film from the game he just played in on Saturday night if the game is early, or Sunday Morning at the latest (if Saturday's game was a late kickoff). It doesn't reflect in his statistics, but habits like this are among the reasons his teammates voted to make him a captain this season. "He more leads by example, but he does have the vocal aspect with him as well," says Roundtree. "You do see him coaching the younger guys up on the practice field and you see him communicating in the secondary. That's key for our safeties having to make the right checks and do what they're supposed to do in coach Brown's defense."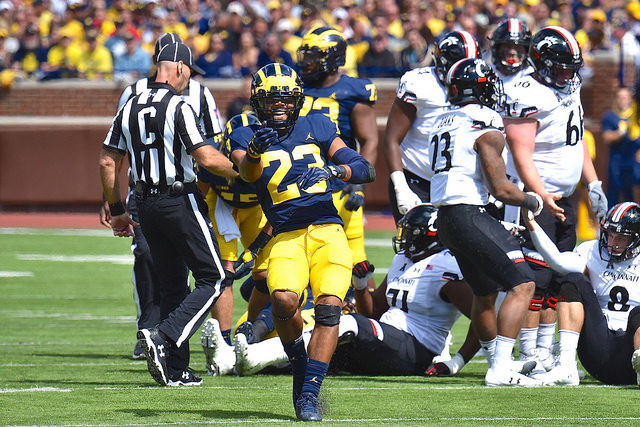 ​
[Fuller]
On the field, Kinnel and his personality grow even louder. He dances before plays and sometimes he *gasp* talks trash, and these are the only things friends and family can't reconcile with the rest of his personality. "We don't really hear much of the trash talk, and sometimes when I go, 'Hey, what'd you say to that guy?' he won't tell me," says Tyson. "But the dance moves, that kills me because that's not really like him. Sometimes I'm like 'What is he out there doing?'" Wright agrees. "I would say he's pretty laid back, which is funny because watching him on the field, he might talk a little crap or talk some stuff or he gets in people's faces and he seems so wild and crazy and he's dancing and I'm like, Is this the same Tyree that I know? He's so different off the field." Khalid Hill thinks he has it figured out, though. "Just bring the energy. Just bring the energy. That's all it is."
Kinnel has brought energy and effort for four years. His love of the game is the reason he worked hard enough to get a special teams role when he could have just redshirted. His love of the game is the reason he doesn't take a day off working out when he goes home to visit family in Ohio. The love of the game is the reason he watches film late into the night. But layer the love of Michigan on top of that, and it brings us back to the place that his high school career ended with a loss and the place he had a game-changing play flutter away. "It would mean the world, especially because he does not like Ohio State at all. He's so passionate about not liking them," says Wright. "He thinks this is the year. He's so confident. He just believes in himself and his teammates. He's really anxious to play that game and it's bittersweet that it's the last one, that it's his last opportunity to beat them, so he's always saying 'I can't wait to play them' and 'I just can't wait to be a part of it' because it's been a couple years since they have beat them and he just thinks this is the year, and he talks about it quite often."
He has dreams, but he's not a dreamer. His goals have been grounded in reality; he has always strived, working not toward some endgame but simply for the next opportunity. On Saturday, he gets one more. "My main goal is to beat Ohio State. I'm glad we're doing extremely well and we've got all our goals in front of us: we've got the Big Ten in front of us, the playoff berth in front of us, but this Ohio State game is definitely big for me."